Power play
U.S. Open 2022: The key to Matt Fitzpatrick's triumph came as a shock to his fellow pros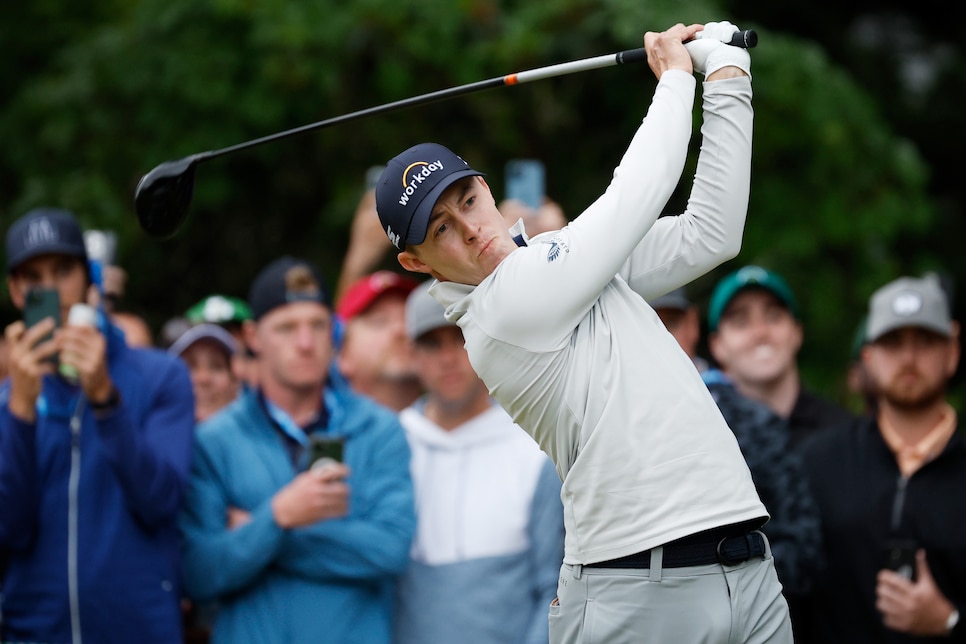 Matt Fitzpatrick drives from the 15th tee during the final round of the U.S. Open.
Jared Tilton
Bluntly, Matt Fitzpatrick's slight, seemingly unathletic frame would tend to identify him as an underdog in a pillow fight with your 15-year-old. The 155-pounder makes the spindly Francis Ouimet look like Bryson DeChambeau. Even Rory McIlroy has a linebacker's frame by comparison.
But this is golf in the 2020s, when guys can disappear into a lab, flanked by incredibly bright and motivated people, who possess the latest of high-tech gadgets, and emerge a far better player. And in Fitzpatrick's case, as a U.S. Open champion.
If the 27-year-old Englishman, who prevailed to win his first major on Sunday, didn't exactly overpower The Country Club the way DeChambeau did Winged Foot in 2020, he didn't dink it around either. For the week, Fitzpatrick ranked second in the field in strokes gained/off-the-tee at 4.82—his best stat. No. 1 in that category is one of the game's longstanding bombers and another U.S. Open champ, Gary Woodland.
It is a number significantly boosted by the fact that Fitzpatrick hit the ball far and straight. While tying for 10th in the field in driving distance at 309.20 yards, he was fifth in fairways found (70 percent) and was a machine on Sunday, reaching the short stuff on 11 holes en route to hitting 17 greens in regulation. So this was not "bomb and gouge." It was bomb and birdie. Fitzpatrick scored in the red a field-best 19 times over the 72 holes, including 4-for-4 efforts on the short par-4 fifth and the par-5 eighth.
Believe us, the players are beginning to take note of Fitzpatrick's power. Why? Because only three years ago, he ranked 151st on the PGA Tour in driving distance, averaging 287 yards. By the end of last season, he'd gained 12 yards, and in a stat for which players are often separated by tenths of yards, that's a lot.
"Tip of the hat to Fitzy. He's been playing really good golf, and he definitely deserved to win this event," Scottie Scheffler said. "I don't know if you guys noticed, but I feel like he has made some extreme improvements off the tee in a matter of months.
"I played with him in Austin this year, and he was not hitting it nearly as far as he is now. I don't know what he was doing. Maybe he was on the Bryson program or something."
When Scheffler's praise and quote about DeChambeau was relayed to Fitzpatrick in his own press conference, he flashed his braces, laughed and and offered, "I've done my drug test, and it was negative, so we're all good."
In reality, the gains have come from painstaking work with some brainiac stuff thrown in. Fitzpatrick explained that he was been working with his coach, Mike Walker, and biomechanist Sasho Mackenzie on a system called The Stack. Without diving too deep, it uses a speed stick and an app to improve sequencing and swing speed.
"I'll be honest, it's worked wonders," Fitzpatrick said Sunday.
If there was a hole in the final round that displayed Fitzpatrick's newfound power, it was the 561-yard par-5 eighth. Hs striped his drive 288 yards on a string, and while playing partner Will Zalatoris chose to lay up, Fitzpatrick chose 3-wood and chased it 267 yards to nearly pin-high on the green. From there, he made a tap-in birdie while Zalatoris could only manage par. And as we know, Zalatoris, along with Scheffler, lost by a single shot.
"I feel like maybe three years ago if I was in this position … and I was playing with Will in the final group, I'd be concerned that I'm going to be 15, 20 [yards] behind him," Fitzpatrick said. "And I felt comfortable all day that I was going to be past him—which, to me, gives me confidence, obviously going into the next shot knowing that you've got less club."
Then Fitzpatrick uttered two sentences he'd never have dreamed when he first turned pro: "There's a bit of a mentality thing that when you're hitting it past people, it's quite nice."