BROOKLINE, Mass. — It stayed left. It looked like it wanted to go right, felt like it should have gone right. As the ball made its way to the hole, the massive crowd around the 18th green did its best to will it to the right. However, a fan sitting behind the green, seconds before Will Zalatoris' pulled his putter back in an attempt to send this U.S. Open past 72 holes, whispered, "I'm afraid he's going to miss left," and whether he is a prophet or spoke it into existence, Zalatoris' ball stayed left. Hands on his head, elbows on his knees, Zalatoris was both in disbelief and indignant the ball did not disappear and the crowd's "OOOOOOOOOhhhhh" signaled it was hoping for the same fate. He glanced one more time at the cup, double-checking what he knew didn't need to be checked, and when it was confirmed Zalatoris' head went down again as Matt Fitzpatrick's arms went up.
The claps came, eventually. Begrudgingly. It's not that the crowd was anti-Fitzpatrick. It simply wanted more of this week and didn't want it to end, for it has been a much-needed antidote. Though the crowd didn't get its wish that's about the only thing that didn't work out in this aesthetically pleasing, delightfully cruel, charming, chaotic, instant-classic U.S. Open.
Early in the week, before most players reached The Country Club grounds, there was hope this tournament would serve as a palette cleanser from the potential schism that threatens to tear the professional game in two. That aspiration got off to a rough start with the press conference Monday afternoon, and the bizarro performance of Phil Mickelson—a once brazen man reduced to anything but—seemed to portend the storm LIV Golf has brought to the game would hover over Boston, too.
But then play started, and the focus went where it belonged, and the U.S. Open did not let the spotlight go to waste.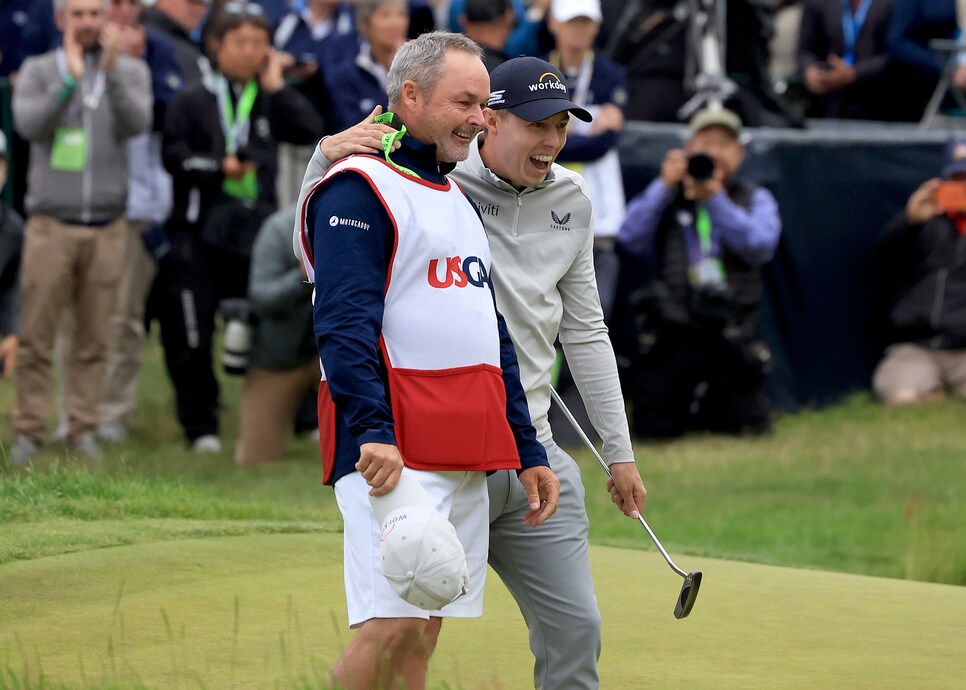 There was the run of everyman Joel Dahmen. No sport so nakedly illustrates the conflict between self-doubt and self-belief like golf, and no golfer epitomizes that struggle like the 34-year-old from Clarkston, Wash., so much so that he considered not trying to qualify believing he did not have what it takes to compete at this event. Dahmen ultimately did, which is how he ended up here and he made the most of his visit. He led the tournament after 36 holes and entered the final 18 in shouting distance, and while he could not muster a Sunday surge he managed to finish in the top 10, proving to his colleagues—and more importantly, to himself—he does not just brush shoulders with golf's best but that he has the capacity to be one of them.
"I'm happy with where—I kind of impressed myself, I guess, in this situation," the ever-modest Dahmen admitted Sunday night. "I hung in there."
After years of existential angst of what this tournament is supposed to be and how it's supposed to achieve an increasingly-challenging aspiration, there was a Saturday that turned this U.S. Open into a real U.S. Open, mucking up scorecards and breaking psyches and doing so in a way that was not nefarious or artificial. Speaking of which, there was worry The Country Club could fall prey to modern technology and strategy; instead this Golden Age gem stood tall and played mean through all four days, winning over fans and players alike for its endless beauty and nuanced difficulty. Throw in a spirited and surprisingly respectful Boston crowd, it would be a shame if another three decades pass for the national championship to return.
Rory McIlroy again flirted with contention, and when he dropped a birdie and reserved fist pump at the first on Sunday afternoon—turning the volume of an already amped gallery to 10—it sure felt like today might be the day. It was not—a handful of unforced errors saw to that—errors that will keep the questions that follow McIlroy endlessly at major championships there until he provides a proper response. Nevertheless, this week also proved the magnetism he possesses and the excitement he conjures are the fulcrum this sport needs to revolve around in a world absent a certain 15-time major winner.
There was Collin Morikawa, who shot a Saturday 77 yet still managed to finish in a tie for fifth for an eye-popping sixth finish of T-8 or better at a major in the past three years. There was Jon Rahm, who put forth a formidable and meritable title defense. There were the antics of Grayson Murray, who hurled a putter into fescue and snapped a club over his knee, and though it sounds mean to make fun of others misfortunes let's be honest, the U.S. Open is partially fueled by the schadenfreude that comes with seeing pros look like us. There was New England's own Keegan Bradley, giving the crowd a local favorite to holler and cheer and see themselves in. He ultimately finished seventh, though the hero's welcome he received coming up the 18th Sunday sure made it seem like he's leaving here the winner and served as a reminder there are things far more important than numbers on a card.
"Man, I'll remember that the rest of my life," Bradley said, searching for the right words but knowing none would quite do. "It was really special. I'm happy that my family was here to see that, and it was just amazing."
But what gave this U.S. Open its juice was its final hours. The World No. 1 was looking for major No. 2, and when Scottie Scheffler took the lead on the front nine everything we've learned about Scheffler over the past five months foretold he would be the last man standing. The U.S. Open, though, does not care about the past and certainly doesn't have an appetite for narratives, and as bad of a man as Scheffler is this tournament showed it was just a bit badder. Bogeys on the 10th and 11th put him in a two-shot deficit, and though his birdie attempt was true at the 17th he could not finish with consecutive red numbers, falling short by one.
Which brings us to the final pairing of Fitzpatrick and Zalatoris, who turned this golf tournament into a prize fight. After exchanging blows for four hours, that fight seemed called at the 15th, where a Fitzpatrick birdie gave him a two-shot lead with three to play.
Now, anyone can look tough when things go well, when the crowd and momentum is on your side and the issue is not in doubt. The trust test of a competitor, of a man, is how he responds when he is down and the world has counted him out. As he stood at the 16th, when anything less than good would not do, Zalatoris showed that while he was down he sure as hell wasn't out, hitting the shot of his life to six feet and cleaning up what remained to cut his deficit to one.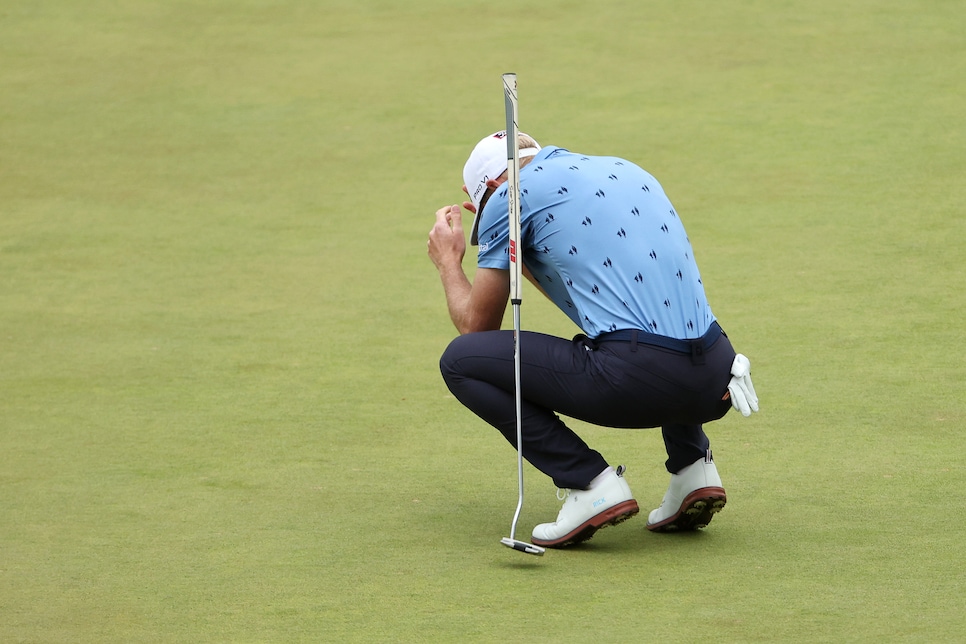 Pars on the 17th brought us to the 18th, where security briefly lost control, forcing the remaining two to wade themselves through a frothy crowd. They were literally and figuratively the men in the arena, and as surreal as the scene was Fitzpatrick's approach from a seemingly-dead spot in the sand topped it. There were still putts to be had, and we suppose, technically, it was those putts that ended the tournament. But that approach from Fitzpatrick proved to be the closer and proved the Englishman's ball-striking is only bettered by the vigor required to attempt it. In a game increasingly dominated by cookie-cutter prototypes, Fitzpatrick is an old-school, ball-striking bulldog, and the game should be lucky it still has the space for such throwbacks to exist and thrive.
"Unbelievable," Fitzpatrick said afterwards. "Yeah, it's just—the feeling's out of this world. It is so cliche, but it's stuff you dream of as a kid. Yeah, to achieve it, I can retire a happy man tomorrow."
Now, four days do not erase the past four months, or ease the months and years of uneasiness ahead. Even Sunday was not totally immune to the aforementioned threat, as word of Abraham Ancer's departure made the rounds with more names expected to follow suit in the coming days. The sport and its constituents have some very difficult problems to address and how they counter will be far from comfortable.
However, in a time when the sport has never felt more divided, the U.S. Open gave us a show that doubled as a respite and asserted itself as a vehicle with the capacity to unite. Golf, after all, is supposed to help us forget about life's problems, not remind us of them. This week lived up to that promise, allowing golf to be just that, golf. That unity may be fleeting, but as the saying goes, any port in a storm.
As this show's hero, Fitzpatrick, was engulfed by friends and family at the 18th, Zalatoris headed in the other direction. The tall, lanky Texan combed his hands through his blonde, wispy hair. He looked pained. He looked betrayed. He looked spent.
"I think this one—I'm just fresh coming off of 18 because I thought I had it, and it just happened to stay out there," Zalatoris said afterwards. "This one hasn't sunk in."
But as he made his way up the stone steps to the brick building that houses the pro shop, Zalatoris looked back at the green, ever so briefly. It wasn't the ending he had hoped for, but Zalatoris knew he helped deliver the show that was needed.