News
U.S. Open 2020: A late-night range session has turned Bryson DeChambeau into a serious threat at Winged Foot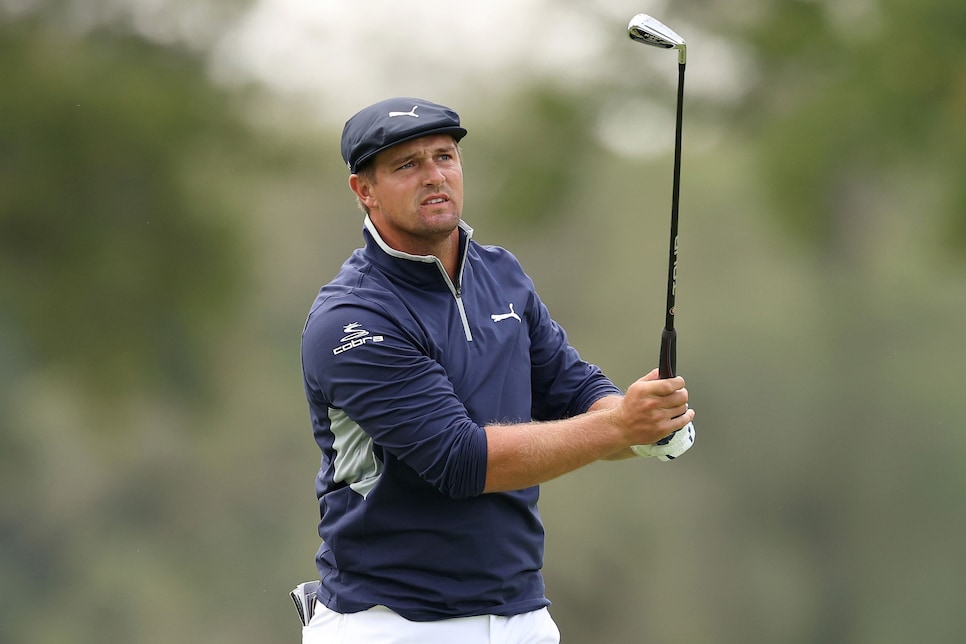 Bryson DeChambeau is oozing confidence after shooting a Friday 68 to climb the leader board at Winged Foot.
Gregory Shamus
MAMARONECK. N.Y. — He had his doubters. Bryson DeChambeau always does. When you put on 40 pounds of muscle in three months and post videos of your launch-monitor readings and argue with rules officials on national television, well, it comes with the territory.
Still, the skeptics seemed more emboldened than usual this week. Excited to watch him fail, one could say. DeChambeau told reporters on Tuesday that his plan for this U.S. Open was, in essence, to hit driver whenever possible. He knew he hadn't been driving it recently as straight as he had been right after the PGA Tour's restart in June, when he posted four straight top 10s and won the Rocket Mortgage. But driver is his biggest weapon, and he didn't put on all that muscle and add all that speed to hit 3-irons off tees. So he was going to stick with it.
The general consensus from armchair strategists: not a good idea. Naïve. Immature. Haven't you studied your golf history? This is Winged Foot. The rough is too penal. The angles are too important. Knowing when to attack and when to play for position. He'd be scrambling too often. Wouldn't have the right looks to use the contours of these greens.
At the halfway point: Advantage, DeChambeau.
The newly-turned 27-year-old—his birthday was Wednesday—made five birdies and one breathtaking eagle on Friday to shoot a two-under 68, a remarkable score given the wind and pin placements he faced (only two players broke par in the morning). At three under for the tournament with the afternoon wave set bracing for its thumping from Winged Foot, there's a chance DeChambeau will go to bed in a position he's never been in before: leading a major championship.
"Confidence is at an all-time high right now," DeChambeau said. "Driving it well, iron play is fantastic, wedging is getting better each and every day, and I'm putting like I know I can. So very happy."
It was DeChambeau's fourth score of 68 or better in six major championship rounds this year. Prior to 2020, he had done that only once in 44 career tries. A big reason why: he's first in in strokes gained/off the tee, the same stat he led the PGA Tour in during the 2019-'20 season.
About that monstrous eagle. It was the perfect illustration of DeChambeau's power. The ninth hole at Winged Foot played 557 yards on Friday. It's slightly downhill, and a 10-15 mile per hour breeze at the player's back made it perhaps the only hole on Friday where par is a disappointing score. It was DeChambeau's last hole of the day, and he mashed his baby draw 380 yards right down the center. From there, a pitching wedge—a pitching wedge!—that was perfect for distance. It landed on the front edge, hopped, checked, and rested six feet from the cup. The putt was dead center.
About that perfectly weighted pitching wedge. It's what DeChambeau was working on when he closed the driving range on Thursday night. After finishing his round around 6:15, he headed to the practice tee to dial in his wedges. The problem? They were going too far, naturally. He normally flies his 47-degree wedge 145 yards, but on Thursday, they were carrying close to 155. So he "recalibrated it," which gave him a healthy dose of confidence heading into the second round.
"If my iron play is great, I feel like I can play from anywhere," he said. "I know my driver is going to be going far. Sometimes straight, sometimes a little crooked. But if I can hit my irons really well, then I feel like I'll be good for the rest of the day."
DeChambeau did have to scramble quite a bit on Friday. He missed seven of 14 fairways and made five bogeys. But he knew this going in—the thought process was to be as close to the green as possible when you do inevitably miss these ultra-tight fairways. Most green complexes at Winged Foot offer at least a sliver of a lane to run the ball up, and DeChambeau felt he could muscle balls onto the green if he was close enough.
In other words, take the good with the bed. He's accepting the scrambling because he knows the times he does hit the fairway will yield birdies. He played the seven holes he did find the fairway in a combined four under, with a bogey. DeChambeau leads the field in strokes gained/off the tee.
But will this persist? Can he continue to hit driver everywhere and miss half his fairways and simply overpower the U.S. Open, the same way he overpowered the Rocket Mortgage Classic?
"That's a question for the Gods," DeChambeau said without a hint of irony. "That's a question for God. I don't know if you can. I mean, Tiger has been able to do something like that many times before, so I think there is something. But human scientific research does not say anything about that."