Ny name is Buck ...
This is it, this is the greatest college football name ever
On Wednesday, college football Twitter shared a nice chuckle when it news broke that number-one ranked CB prospect and Alabama commit Ga'Quincy "Kool-Aid" McKinstry had inked an endorsement deal with his nickname's namesake. Thanks to his epic birth name, seemingly plucked from a Key & Peele bit, and newly monetized moniker, for one brief, shining moment McKinstry stood atop college football's lofty name heights and gazed into the sun. McKinstry's reign, however, was short lived, as a new champion quickly began his ascent. Ladies and gentlemen, we give you the greatest college football name ever … probably … maybe.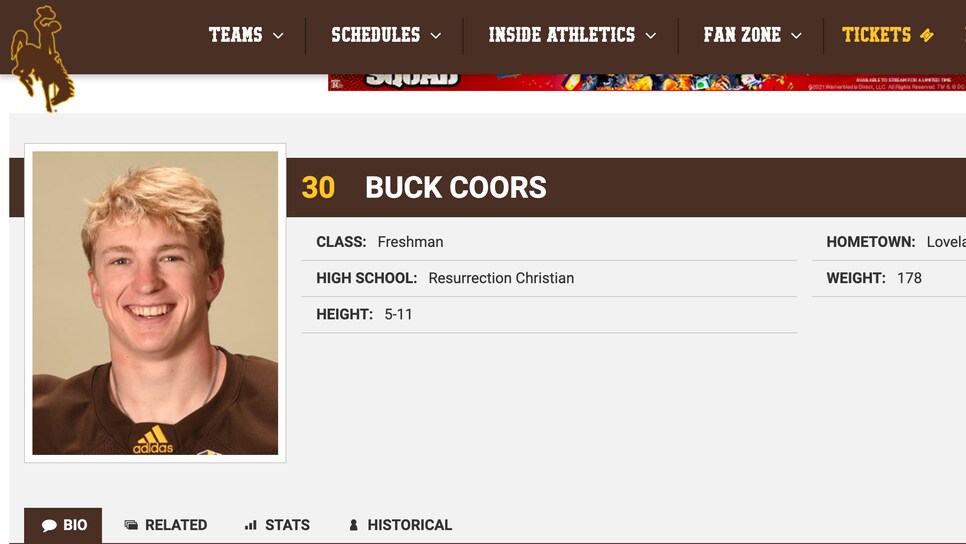 First name Buck. Last name Coors. Or in the immortal words of Drake, last name ever, first name greatest. We've seen and heard plenty of great football names over the years—Red Grange, Bronco Nagurski, Donte "Hitner." We've written about fellas by the names of De'Coldest Crawford and Steele Fortress. But never, ever in our wildest imaginations did we ever think we'd see a Buck Coors. Nothing could be more wholesome. Nothing could be more pornographic. It truly is the best of both worlds.
Coors, a freshman safety at the University of Wyoming, hails from Loveland, Colorado. He might actually be a member of the Coors family, we'll have to check on that for you. He isn't really expected to get too much playing time for the Cowboys this season, which is obviously a shame considering the sponsorship opportunities that might present themselves when he turns 21. But even if he never plays a snap, he's already left his mark on football, on sport, on humanity. Thanks for everything, Buck. Your next Coors is on us.