OH YEAHHHH
Alabama defensive back Ga'Quincy "Kool-Aid" McKinstry signs NIL deal with, you guessed it, Kool-Aid
It's a brave new NIL world out there, folks. Bo Nix is repping sweet tea, Quinn Ewers kombucha. A South Bend pizza parlor is sponsoring the entire Notre Dame offensive line and the Hawkeyes' playmakers are pushing queso for Carlos O'Kelly's Inspired Mex. But of all the deals struck in the six weeks since college athletes became eligible for endorsements, none has been bigger than Alabama defensive back Ga'Quincy "Kool-Aid" McKinstry signing with Kool-Aid. You really can't make it up (well, actually you could, but we promise this one is real).
But wait, it gets even better. To celebrate the occasion, Kool-Aid swapped their entire Twitter persona with McKinstry, giving the top-ranked CB prospect in the entire nation the full digital might of the sugary drink giant. To quote Mr. Kool-Aid himself, OHHHH YEAHHHHHHH.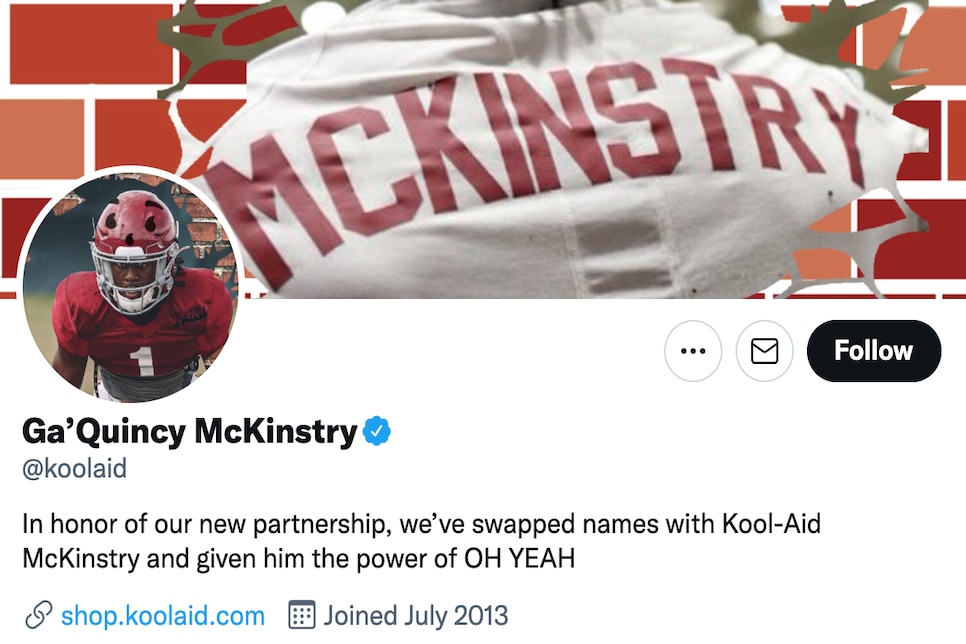 Great, albeit slightly confusing, stuff for those looking for McKinstry's actual page or just hoping for some straightforward Kool-Aid kontent. We also can't help but feel for the likes of Taco Charlton and Mighty Taco, who must be watching this wondering where college football's new NIL policies were a few years ago. All in all though, the sky is the limit for this partnership, and we eagerly await Kool-Aid's inevitable new "Crimson Tide" flavor, coming soon to a supermarket aisle near you.