News
U.S. Open 2020: That '3-iron into someone's bedroom' is no longer a 3-iron. Or a bedroom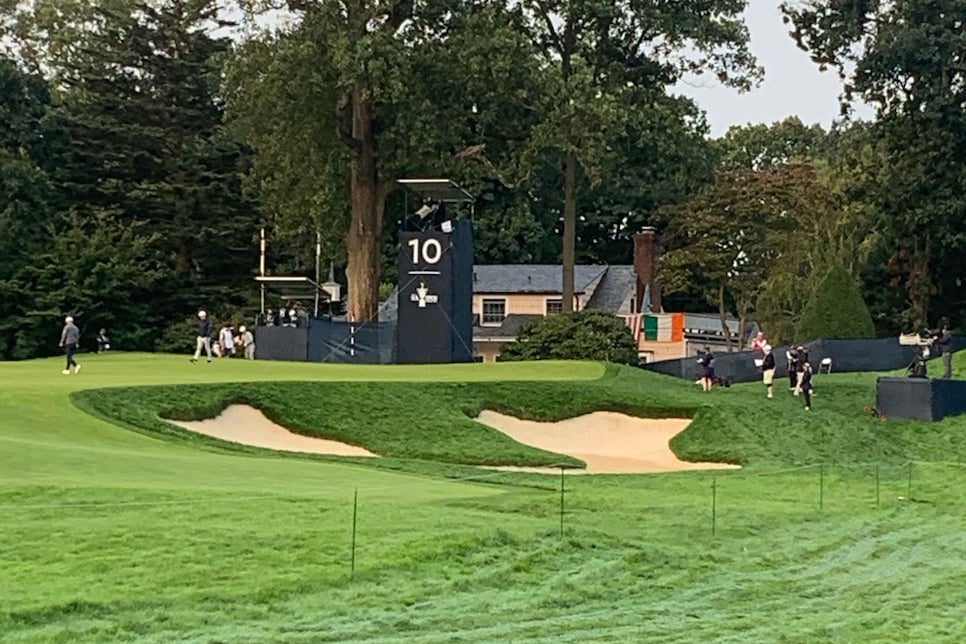 The Callahan home behind Winged Foot's 10th hole. The Irish flag was a tribute to Open champion Shane Lowry. Photo courtesy of Paul Callahan.
In the late 1990s, shortly after Winged Foot Golf Club hosted the 1997 PGA Championship, Paul Callahan learned of a home for sale in suburban Mamaroneck, N.Y. It was a charming peach-colored house in a lovely neighborhood, with good schools for when he and his Kathy began a family. But as a Winged Foot member since 1985, Callahan mostly knew the home for its connection to one of the most famous holes in golf.
"I remember saying, 'That house is iconic,'" Callahan, 66, recalled on Friday. "'We have to move on it.'"
The iconic part is not just a reflection of its location behind the 10th hole at Winged Foot West, what architect A.W. Tillinghast considered his finest par 3. More specifically, it was due to a quote from Ben Hogan, who while playing in the 1959 U.S. Open, said the shot at 10 West was a "3 iron into someone's bedroom."
The tag has been synonymous with the hole for decades, and the Callahans, who have raised two daughters in the home, relish the small place it has in golf history. We caught up with Paul Callahan on Friday, after he finished his shift as a volunteer spotter for the U.S. Open, to discuss his famous address, his own strategy on the hole and his busy U.S. Open week.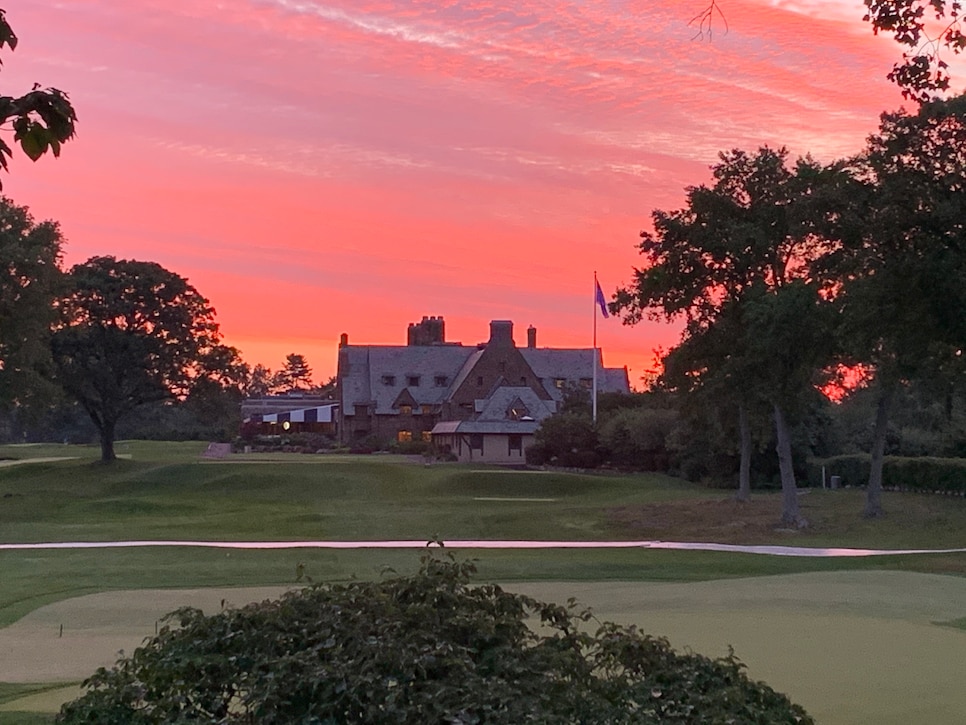 The view from Callahan's house to the Winged Foot clubhouse at sunrise. Photo courtesy of Paul Callahan.
Well, it was meant as a bedroom, but we actually use it as an office.
So really it's a 3-iron into someone's office?
In 21st century reality, that is true.
And then there's the other part. What club do you hit into the green?
Well, it depends. If it's a front pin and the tee is up, it's like 160 yards so it can be a 6-iron. (Editor's Note: the U.S. Open distance for the hole is 214 yards). But now that I'm a little older, and it plays a longer for me, I've started to use a 7-wood.
Are you using the same bedroom window as a line?
Oh, I wish I was that good a golfer. I'm just trying to hit the green. I'm an 11 handicap so for me I'm just trying to get it up around there. I'm a better scrambler than I am a ball-striker.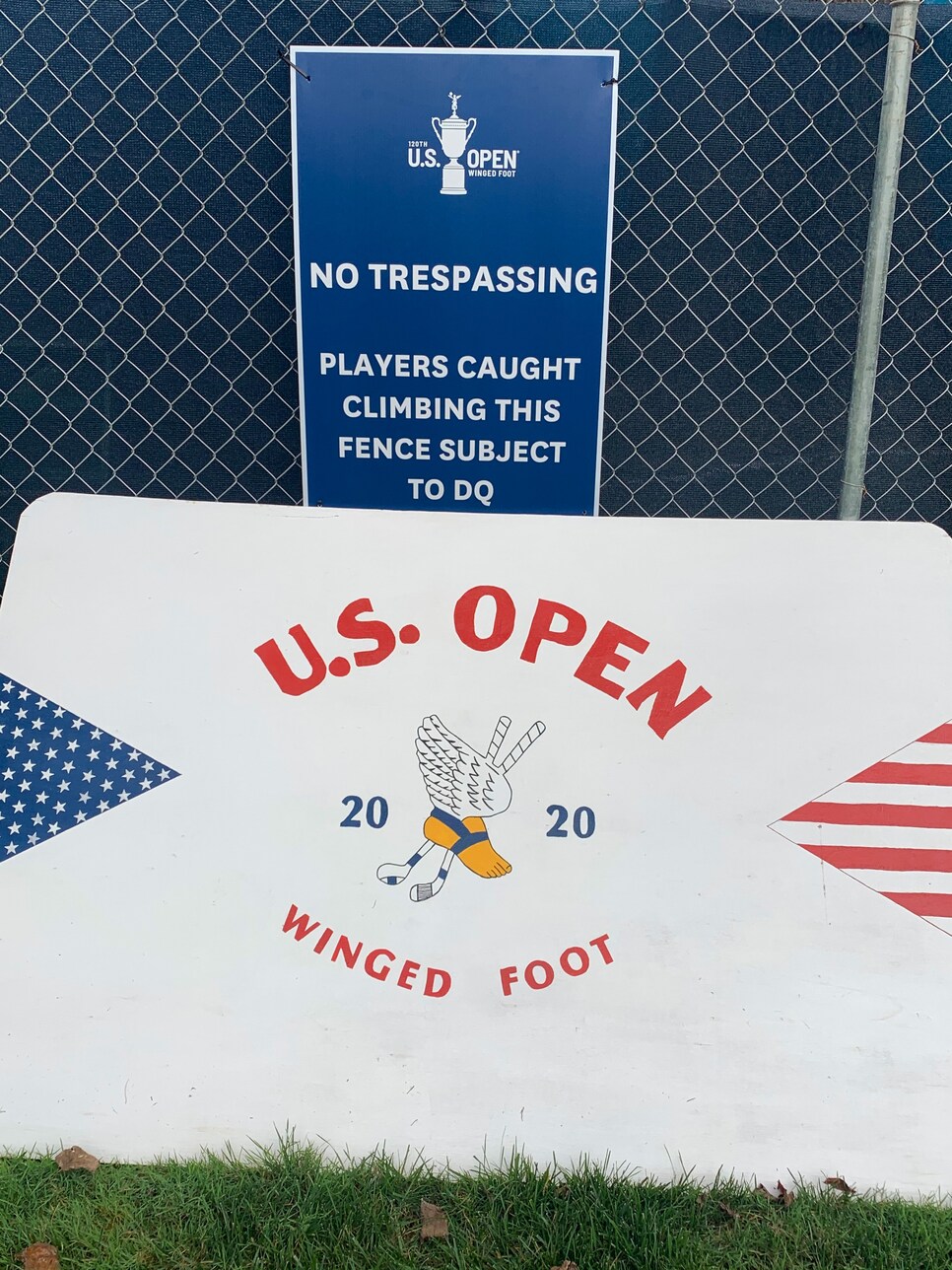 The Callahans are hosting Matthew Fitzpatrick and his team this week. The table was made by Callahan's daughter Maggie and friends. The sign was a joke by Fitzpatrick's caddie, Billy Foster. Photo courtesy of Paul Callahan.
What's the best part of living where you do?
First and foremost it's been our home for the past 21 years. We've raised both our daughters here, and we've entertained numerous times people from Winged Foot and beyond. And it's a wonderful place to sit in our backyard and wave at people as they come by. It's just a parade of interesting people, because golfers by and large are interesting people. And then winter comes and it's like living in Central Park. It's very peaceful.