Ryder Cup Prep
Tommy Fleetwood couldn't believe he was named a captain for the Hero Cup. Neither could his father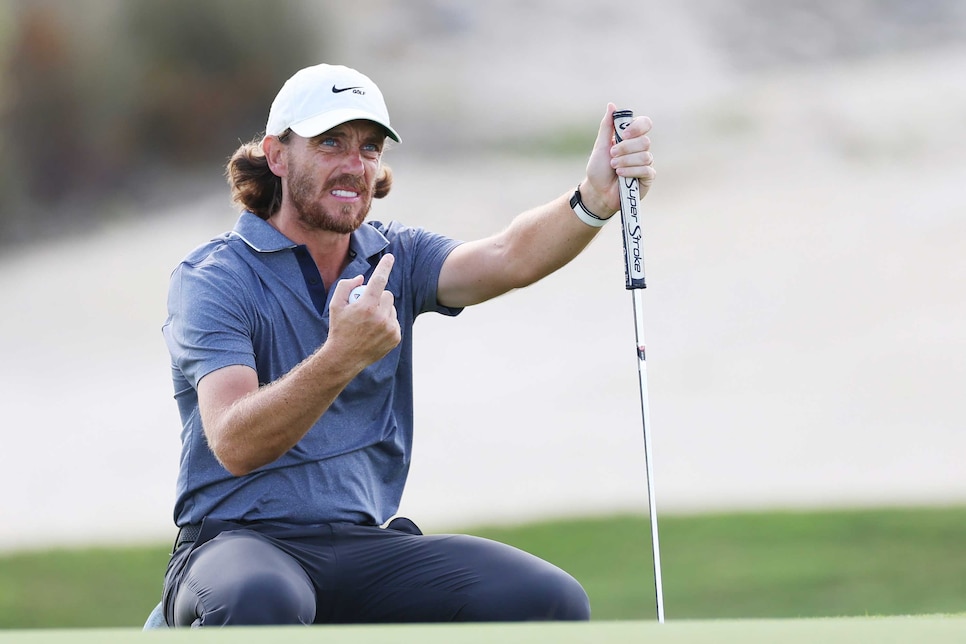 At just 31, Tommy Fleeetwoo was flattered to be considered for a captain's role in the Ryder Cup prep match. And anxious to see how he'll do.
Mike Ehrmann
NASSAU, Bahamas — When Luke Donald asked fellow Englishman Tommy Fleetwood last month to serve as playing captain for the Great Britain & Ireland team in the inaugural Hero Cup next month in Abu Dhabi, Fleetwood couldn't wait to tell his father.
"When I told my dad Luke had asked me to be a playing captain of GB&I, he was like more proud of that than anything I've won," Fleetwood, 31, said with a laugh on Thursday after opening with a one-under 71 in the Hero World Challenge. "So, you know, that for me is a really cool part of it."
Donald, who is captain of the 2023 European Ryder Cup team, was tasked with choosing the captains, and more recently the players, for the 20-man team match-play event that was created in the wake of Europe's record 19-9 setback against the United States in the 2021 Ryder Cup at Whistling Straits in Wisconsin. While Fleetwood leads the GB&I team, Donald also picked Italy's Francesco Molinari as playing captain for the Continental Europe side.
The Hero Cup, scheduled for Jan. 13-15 at Abu Dhabi Golf Club, essentially replaces the Seve Trophy, which was contested from 2000 to 2013 and also pitted Great Britain and Ireland golfers against those from Continental Europe. The demise of the Seve Trophy is believed to be a factor in Europe's dismal effort at Whistling Straits.
"I'll talk about as Europeans as a whole, I think it's an important part of the process to how we want to perform at the Ryder Cup," said Fleetwood, who has been on two European teams and admitted that the loss in 2021 hurt. "I mean, literally, on the flight home from Whistling Straits, that was something that we were discussing on the plane, that we wanted a team event. Again, we wanted a way to play sort of, um, another chance to play team golf and, and set us up a bit better for the Ryder Cup."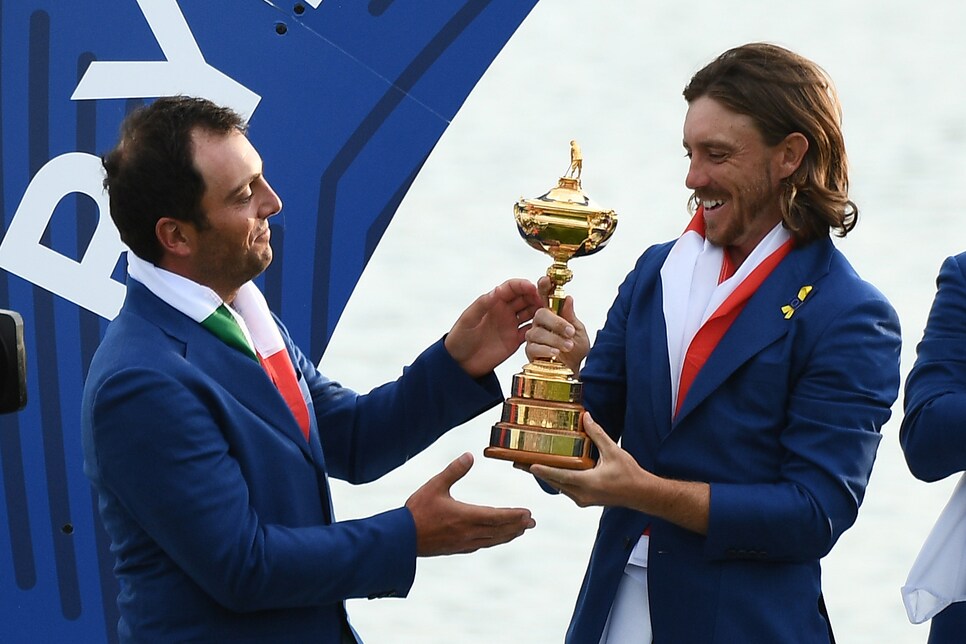 Fleetwood's opposing captain in the Hero Cup will be Francesco Molinari, who he teamed with to score four points at the 2018 Ryder Cup.
FRANCK FIFE
"Luke asked me, and I was quite taken aback, and so it's just a lovely thing to be asked," he said. "And, you know, I would say I'm not really at the age that I would be thinking about being a captain of anything, to be honest with you. But I think it's a nice thing that guys like Luke or, you know, whoever selected it, sort of sees those qualities in me. I think it's good for Ryder Cup preparation."
Of course, both Fleetwood and Molinari want to play for Europe in the next Ryder Cup slated for Sept. 30 to Oct. 2 at Marco Simone Golf and Country Club in Guidonia, Italy, near Rome. The Hero Cup will be good preparation for both down the road as potential captains, but they can also start the process then and there of impressing Donald, not that they won't both already be on the radar the way they performed in France.
"We'd both love to be there [in Italy]," Fleetwood said. "I think the whole theme of the event is definitely Ryder Cup themed and knowing that we we're looking and we're aiming towards September. I think there'll be a lot of things that we're doing together. However, you know, you say that [but] I think both me and Frank would love to be a winning captain, and you know what, whatever happens, it's going to be a great experience.
"I just think whatever team you've played in with GB&I, whether it be Europe, whether it be in EurAsia Cup or Presidents Cup or whatever it is, you always have a certain different level of bonds just from playing with each other as a team. So, I'm looking forward to that."