Letter from Europe
This week Europe gets a little closer to winning the 2023 Ryder Cup. Here's how
Rory McIlroy, Matt Fitzpatrick and Viktor Hovland are coming with a purpose to the Italian Open at Marco Simone G.C., site of next year's Ryder Cup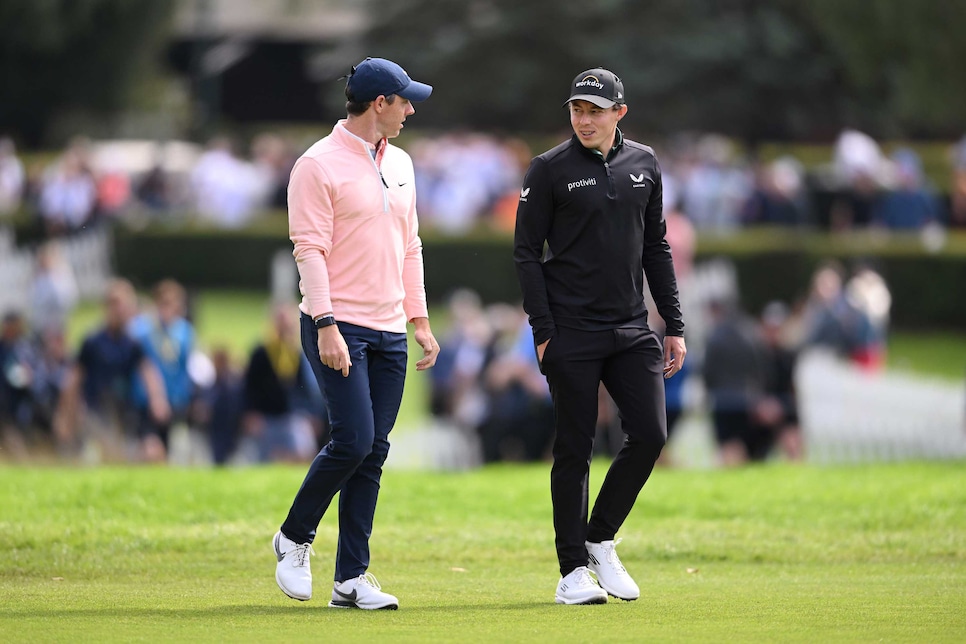 It was all oh-so clear. Given the depth of young American talent—eight players in their 20s delivering the punishing defeat in Wisconsin—Team USA would surely dominate the biennial transatlantic contest for the foreseeable future and probably beyond. Normal service would be resumed, a flurry of star-spangled banners adorned with victories fluttering in the breeze. After an inconvenient and lengthy period of Old World success, at long last everything would once again make perfect red, white and blue sense.
Hang on though. Not so fast Uncle Sam. Across the pond (at least figuratively), things they are a'changin. For the better.
Success in team golf, while seemingly endlessly complicated in these statistically dominated times, isn't difficult to create. It's simple really, European teams first forging the formula in the 1980s led by the late Seve Ballesteros: Find four or five outstanding players and have them win most of their matches. Then, armed with that success at the top of the order, rely on the remainder of the squad to garner enough points to cross the finishing line. See 1985, 1987, 1995, 1997, 2002, 2004, 2006, 2010, 2012, 2014 and 2018 for proof of that particular theory.
And it's happening all over again. I give you Rory McIlroy, Jon Rahm, Matt Fitzpatrick, Shane Lowry and Viktor Hovland. Five players all well capable of accumulating, say, four of five points at the next Ryder Cup. And, should even three of the five players do that, Europe wins when the Ryder Cup reconvenes at the Marco Simone Country Club just outside Rome a little more than a year from now.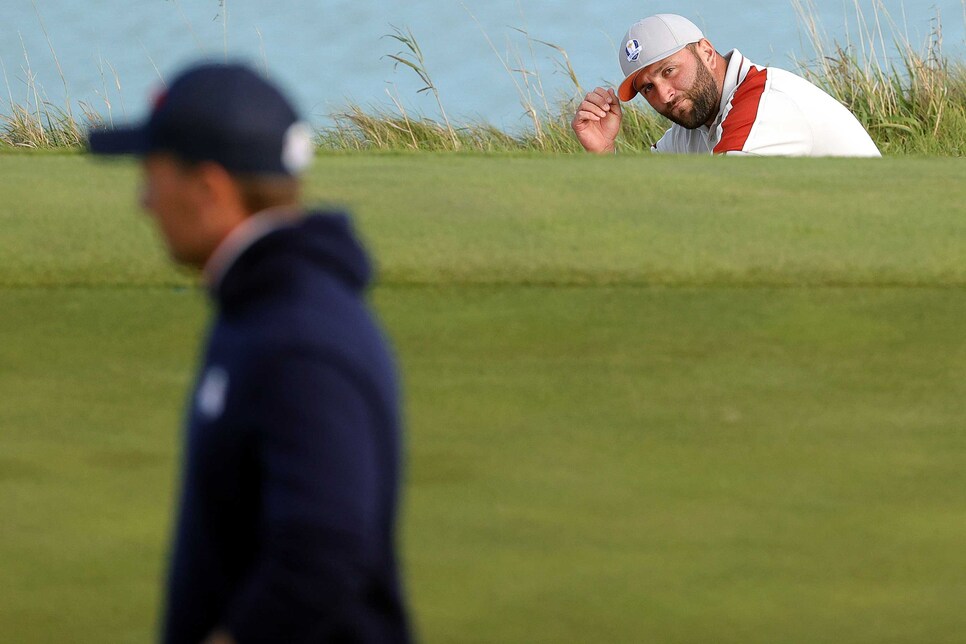 Jon Rahm went 3-1-1 at Whistling Straits in 2021, hinting that he'll be a formidable foe for the Americans for years to come.
Stacy Revere
Throw in the likes of Tyrrell Hatton, Tommy Fleetwood and Thomas Pieters, all of whom have more than creditable records in past Ryder Cups, and Europe is well on the way to owning a team the right side of formidable. And there's more. It's early days, but there are signs that the 2018 Open champion, Francesco Molinari, might just be heading back to the form that saw him go 5-0-0 in the 2018 Ryder Cup in Paris. Should that happen, European captain Luke Donald will have, in effect, found a sixth member of the aforementioned Gang of Five. Certainly, with the matches taking place in Italy, the man from Turin won't need to search too far for incentive. And yes, he's already making positive noises in the wake of last week's BMW PGA Championship. Molinari finished T-9 playing the last round in McIlroy's company.
"The next Ryder Cup is a big motivation for me," says Molinari, whose elder brother, Edoardo, will serve as an assistant captain next year. "I've made it clear to my team that it is a big goal. And the matches are why I took some time away after the Open to get ready for the start of the qualification period. It's a long way off, but I want to get off to a good start. I am already pleased that the feels and thoughts in my swing are working well. I'm already more confident off the tee. I'm not there yet, but it is improving. I don't just want to be [just] on the team. I want to be a big contributor to the cause. I want to be there playing well, contributing and helping Luke win the cup back."
This week the DP World Tour and the Italian Open are at Marco Simone. A large contingent of probable and possible Ryder Cuppers are in attendance. McIlroy is there. So is Fitzpatrick. And Hovland. And Hatton. Clearly, preparatory minds are already looking forward 12 months.
In contrast, none of what might be termed likely members of the U.S. team have made the trip to the Italian capital. Perhaps it's understandable, given several will be playing in next week's Presidents Cup. But a lack of familiarity with the venue could become a significant issue, reminiscent of what happened to the Americans in Paris in 2018. Recall that only one member of the U.S. side had any previous experience on a Le Golf National course that had been specifically and carefully set up to suit most of the home team. It was surely no coincidence that the most successful visitor that week, Justin Thomas, was the only American who played in the previous year's French Open.
It is hardly outside the realms of even an average imagination to see a similar scenario playing out next year. It's safe to assume that Donald will follow the example set by Thomas Bjorn four years ago. Only when the set-up of the course came into view did the Dane's picks to round out the European lineup make sense. He selected straight drivers like Ian Poulter and Sergio Garcia, players who were perfectly suited to a course all but covered in long grass. In contrast, none of U.S. captain Jim Furyk's four picks, Phil Mickelson, Tiger Woods, Bryson DeChambeau and Tony Finau, are famed for their accuracy off the tee.
We're not quite done yet, not when the spector of LIV Golf hangs over anything and everything in professional golf at the highest level. But here's the thing. While the Americans have lost the likes of DeChambeau, Brooks Koepka, Dustin Johnson, Patrick Reed and Pat Perez (just kidding), at least so far, the European cause has emerged relatively unscathed in the face of the Saudi Arabian threat. Garcia, Paul Casey and Bernd Wiesberger might just have had one more Ryder Cup in them, but no one will be claiming that Europe has no chance now that none of them will (likely) play in Italy. As things stand, the core of the European team remains available for selection.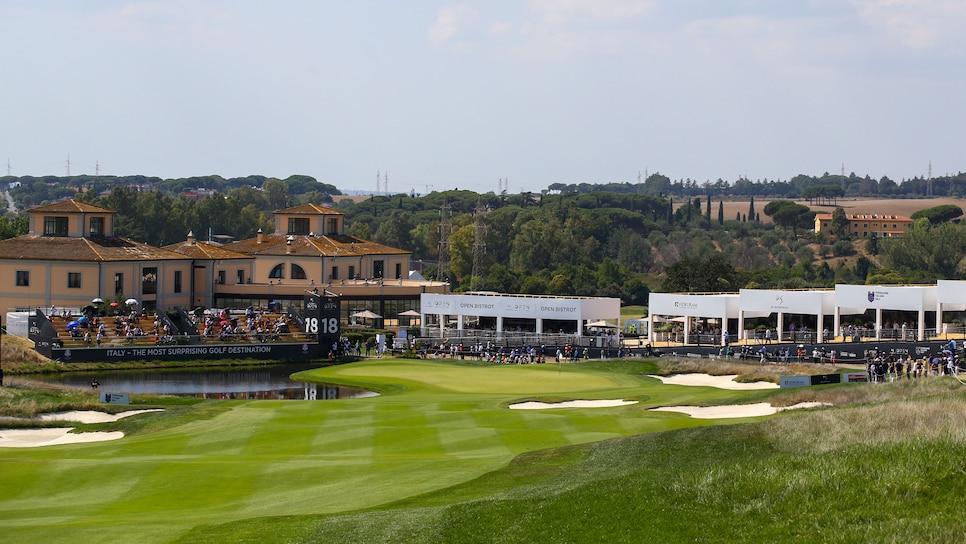 Chances are that European captain Luke Donald will have Marco Simone C.C. set up tight with thick rough in 2023 to play to his team's strengths.
Luke Walker
Anyway, with a year to go before the friendly hostilities recommence, three places remain available in our ideal version of Donald's side. There is no shortage of candidates, promising youngsters and more experienced campaigners with a bit to prove, plenty of talent and no shortage of desire. We're talking Adrian Meronk, who would be the first Polish golfer to make a Ryder Cup team; the Danish twins, Nicolai and Rasmus Hojgaard; Victor Perez of France; Belgium's Thomas Detry, Irishman Seamus Power, Sepp Straka of Austria and Alex Noren of Sweden. And, no doubt, someone who has yet to emerge.
Whatever, it all adds up to a potent-looking 12-man squad, one well capable of seeing off what will unquestionably be an extremely strong-looking U.S. team. America, you have been warned.