News
Solheim Cup, Ryder Cup to be played in back-to-back weeks in 2023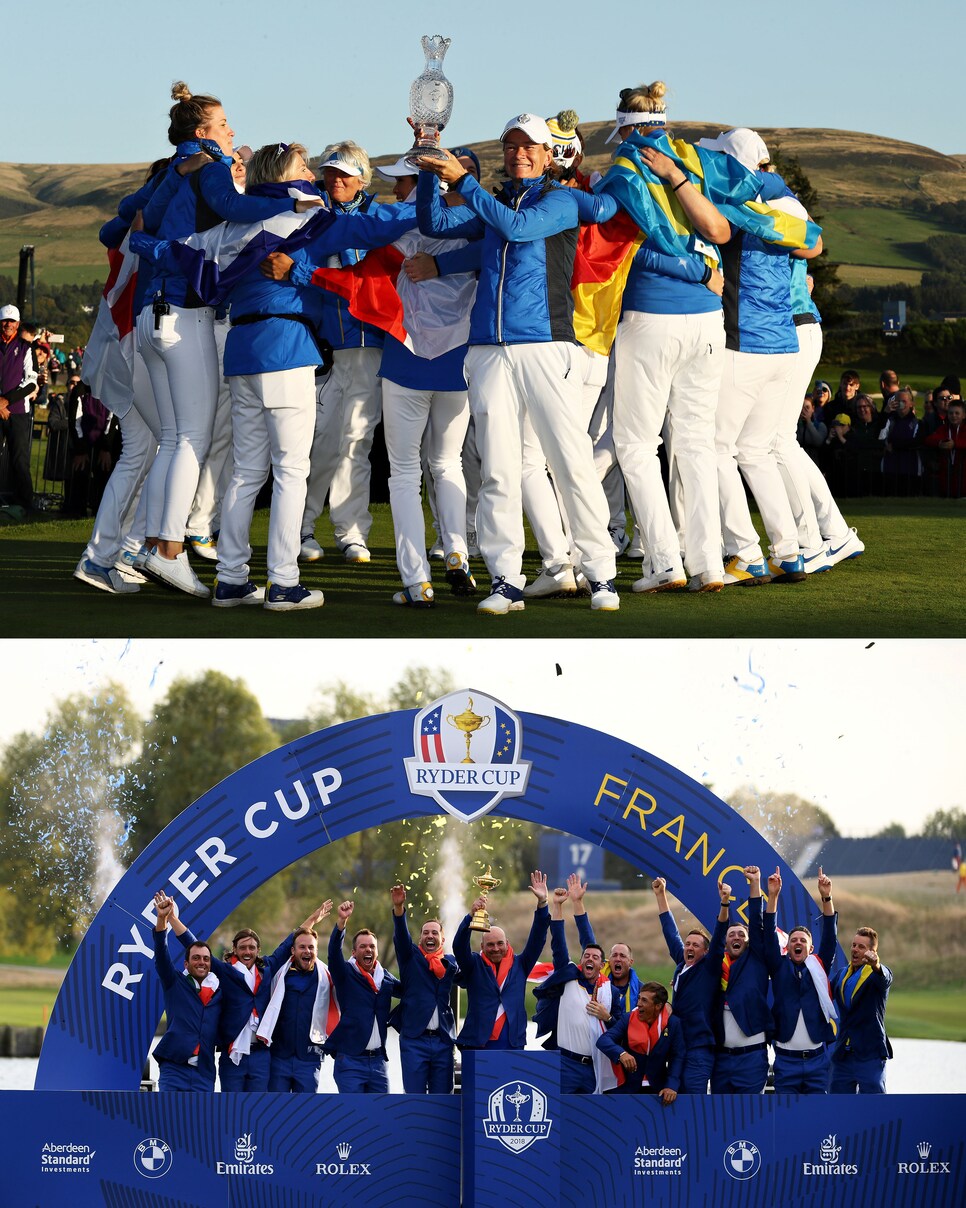 Europe will hope to repeat its Solheim Cup (2019, Gleneagles) and Ryder Cup (2018, Le Golf National) victories when it hosts the two events in back-to-back weeks in Spain and Italy in 2023. (Getty Images, 2)
A two-week festival of match-play golf between the best professionals in Europe and the United States. That's how officials with the Solheim Cup and Ryder Cup framed the announcement on Monday that they would hold the two events back-to-back for the first time in 2023.
On Sept. 22-24, Spain's Finca Cortesin will host the Solheim Cup. Italy's Marco Simone Golf & Country Club will then see the Ryder Cup played from Sept. 29-Oct. 1.
"The Solheim Cup is truly one of the most dramatic and interesting golf events on the global sporting calendar," said Alexandra Armas, Ladies European Tour CEO in a press release, "and it has the ability to transcend golf to new audiences. And if the 2023 edition is anything like 2019 [a dramatic European victory at Gleneagles in Scotland], fans will be left wanting more and they will be lucky enough to go straight onto the Ryder Cup in Italy where the men's version of Team Europe and Team USA will go head-to-head."
Ordinarily, the women's and men's biennial events are staggered in opposite years. But when the COVID-19 pandemic forced the postponement of this year's scheduled Ryder Cup at Whistling Straits to 2021, it bumped the Ryder Cup calendar into odd-numbered years. In turn, Italy would no longer host in 2022 but instead in 2023, the same year that Spain was set to hold the Solheim Cup.
Potentially the Solheim Cup could have moved a year, as it did when the schedules for both events changed after the Sept. 11, 2001 terrorist attacks. This would have avoided potential conflicts with trying to attract fans and sponsors to two different European destinations in the same calendar year. Instead, officials with the two groups coordinated their dates and tried to the collective interest the two events could generate to help lift them both.
"Match play golf between Europe and the USA brings a totally unique perspective and atmosphere to our sport and it is tremendous for fans in Europe that our continent will play host to the Solheim Cup and the Ryder Cup in consecutive weeks in 2023," said Keith Pelley, European Tour chief executive.
"The fact it is also a first for both hosting nations simply adds to the anticipation, and if we can recreate the excitement generated at Le Golf National in 2018 and at Gleneagles in 2019, the whole world of golf will be in for a truly fabulous fortnight."
The next edition of the Solheim Cup is set for Sept. 4-6, 2021 at Inverness Club in Toledo, Ohio. The delayed Ryder Cup at Whistling Straits will be held 25-27, 2021.