Almost without exception on either side of the Atlantic, the appointment of a Ryder Cup vice captain follows an easily discernible pattern. Friends invariably pick friends, the appointee at least a close acquaintance of the non-playing skipper. The man in charge needs to know his new sidekick can be relied upon to tell him "what I need to hear rather than what I want to hear."
Which makes sense. But European captain Henrik Stenson's recent choice of Edoardo Molinari as the second of his vice captain (Thomas Bjorn was the first) is a little different from the norm. Instead of naming a trusted lieutenant then finding him a role within the team structure, Stenson has reversed that well-worn procedure. Knowing he needed a man schooled in the shot statistics many players now use to analyze their performances with every club in the bag, the former Open champion has gone for the best man available in the former U.S. Amateur champion.
"I can't remember who it was, but a few years ago I was told by someone, not a player, that not looking at stats is like running a company and not knowing where you are making and losing money," says Molinari, who was part of the winning European side in the 2010 Ryder Cup at Celtic Manor. "Or what your policy should be going forward. Or who your best clients are. I know some guys on tour who don't keep stats. They don't realize how much of an advantage it is to know exactly what is going on in your game. They don't know why they play well. They don't know their strengths or their weaknesses. They don't know what courses suit them and which ones don't."
Molinari owns an engineering degree from the University of Turin. The 41-year-old first became interested in the numbers game when it became clear that his impression of his own game was actually far from the reality.
"A couple of years ago at Wentworth I felt like I hit the ball well off the tee, but was poor with my irons," he says. "The rest of my game was pretty average. Or so I thought. But when I looked at my stats at the end of the week my coach asked me if I had noticed anything with my irons. I told him I felt like I had hit a lot of pulls to the left. Anyway, over the four rounds I missed 25 greens. And I missed 16 on the right and nine on the left. So the pulls I remembered represented only about one-third of my total misses. My mind deceived me."
From then on Molinari used numbers to plan his on-course strategy. "I look at the ideal line on every hole given my tendencies," he says. "I've been playing much better doing that. I stand on every tee knowing the perfect line. For me. So I know that club to hit. That is vital, especially when there are a lot of bunkers in play. I also know where to aim and what to hit on every approach shot. I think that helps separate myself from the rest."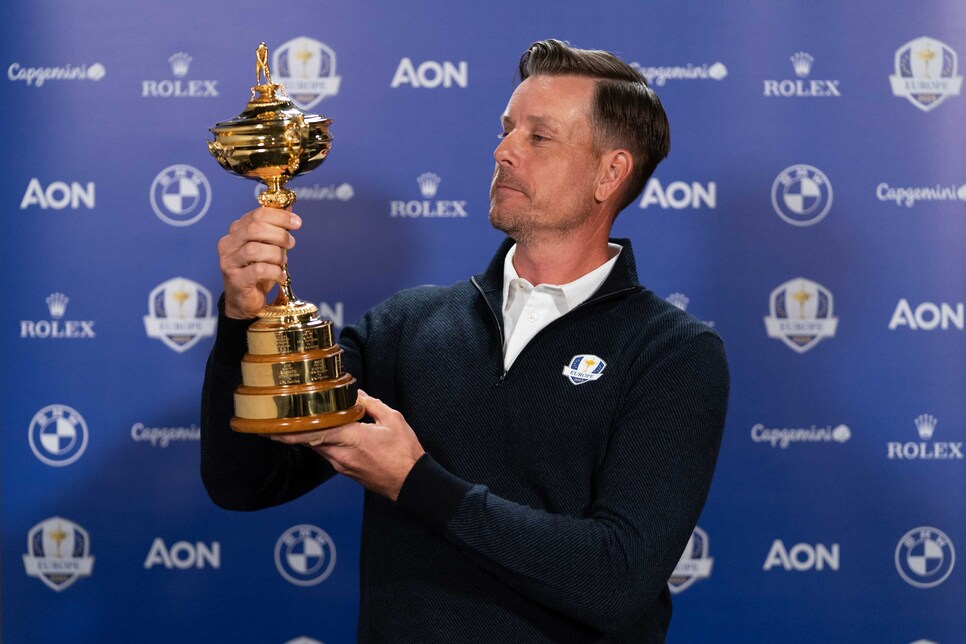 In picking stats maven Edoardo Molinari, Henrik Stenson changed how Ryder Cup vice captains are normally choosen, picking a specialist to help on a specific task rather than a friend who he'd find a role for.
Getty Images
Answering those sorts of questions for others on Stenson's behalf is Molinari's responsibility over the next 16 months or so, long before the Italian takes his place alongside the Swede at the Marco Simone Golf & Country Club just outside Rome. Indeed, most of Molinari's work will be finished before the Ryder Cup starts. And while he will be looking at the strengths and weaknesses of the European players, the Americans also will come under his microscope. All of which will then help Stenson create the course set-up that will, statistically at least, be most advantageous for the home team.
"I have already had a look at the course," Molinari says. "We have all the shot-by-shot data from last year's Italian Open. I'm not going to go into detail at this stage, but we already know what kind of player is best suited to the course. So we also know what subtle changes we need to make in order to favor our best players. When it is a home Ryder Cup, perhaps the biggest edge you have is the golf course.
"The wildcard selection process will be a combination of tweaking the course to suit the team and tweaking the team to suit the course," he continues. "Even at this stage, everyone can probably figure out the core of our team. So you start with those. Then you do the same with the Americans who will almost certainly be there. Then, as we get closer to the matches, you make any adjustments that will best suit our guys. It's all based on probabilities and outcomes."
Indeed, but only one figure really matters of course—14½—the number of points Europe will need to regain the Ryder Cup.