Winning formula
10 valuable Ryder Cup lessons for Zach Johnson to follow as U.S. captain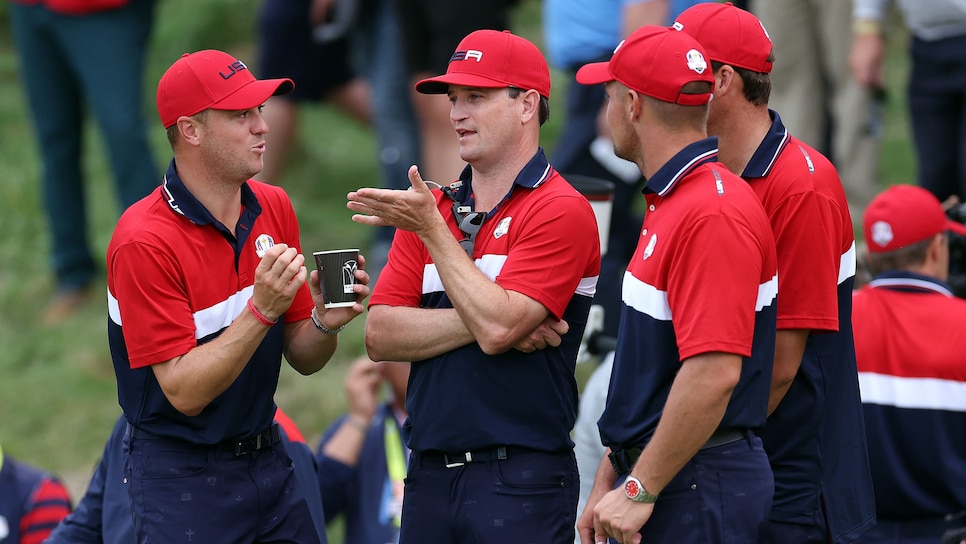 Photo By: Richard Heathcote
On Monday, Zach Johnson was officially installed as captain of the 2023 U.S. Ryder Cup team that will compete against the Europeans in Rome. The 46-year-old, 12-time PGA Tour winner steps in at a time where the American side seems to have hit its tactical stride following the 2014 debacle at Gleneagles and the formation of the infamous task force. After a 19-9 massacre at Whistling Straits, there's a lot of hope among American fans and the PGA of America that his team can win on European soil for the first time in 30 years. They certainly have a great chance, but to pull it off Johnson will need to internalize what's taken place that has allowed the U.S. to turn the Ryder Cup around. Here are 10 broad lessons that every captain should know, and that will give Johnson his best chance to win a massive victory in Rome.
1. Take as many captain's picks as … oh, OK. Good job.
Yup, ZJ is already on this one. One of the very first announcements he made during Monday's introductory press conference was that they'd stick with six captain's picks. This makes the first time any team in modern Ryder Cup history will start with that many picks. Stricker started with four in 2019 but seized the chance to increase to six once COVID-19 hit, and then kept the full six even after the Cup was re-scheduled. The fact that Johnson is keeping it going is a very good sign for the Americans. Statistics show that players who make the team via captain's pick perform better than those who qualify at the bottom of the list. Aside from the data, this flexibility is extra important when playing in Europe. We all saw how Jim Furyk was handcuffed in Paris, essentially forced to take Phil Mickelson and Bryson DeChambeau on a tight course that didn't suit them. With more picks, Johnson will have a ton of flexibility in what he called a "horses for courses" strategy, regardless of how the Europeans manipulate the course at Marco Simone. (It will be interesting to see how the Europeans respond here; Harrington made a tactical error decreasing his number of picks, and at the very least you'd expect them to go back to four.)
2. Course familiarity is paramount
Steve Stricker's primary goal from the very start of his captaincy was to get all his players to Whistling Straits a week before the Cup. He nearly pulled it off—only Koepka stayed back, and that was just to rest an injury. By all accounts, the trip paid dividends, both in learning the course, playing in the kind of wind they wouldn't see again until the actual event (Padraig Harrington would later lament this) and team bonding. The task is much harder for Johnson, who will have to get his players to go all the way to Italy, but the good news is that unlike Furyk in 2018, he'll have several off weeks between the end of the FedEx Cup playoffs and the start of the Cup. Johnson said on Monday that he's going to put this idea out to the team immediately, in the hope that it can work out.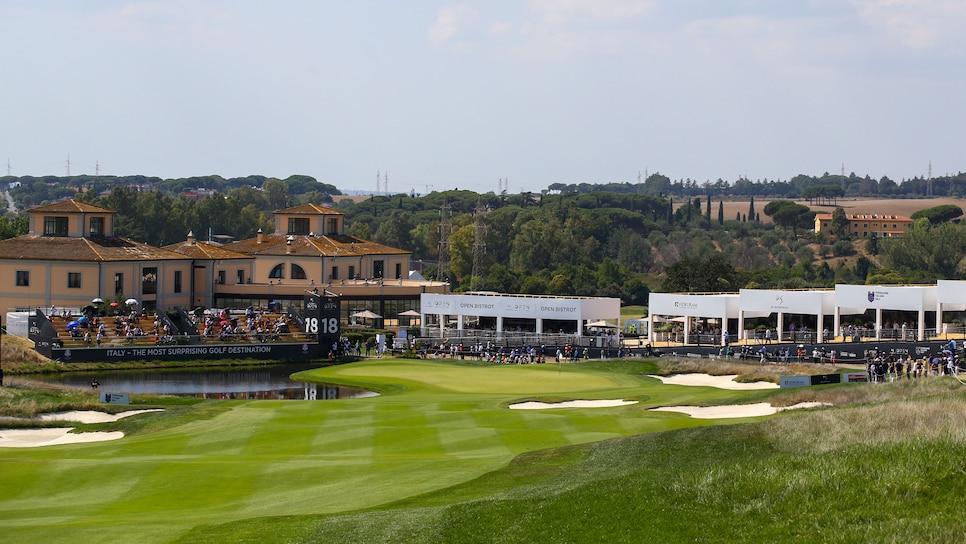 Marco Simone Golf Club has been redesigned for the 2023 Ryder Cup, and Johnson hopes his American team will grab an early look before the week of the Match.
Luke Walker
3. Pods work for a reason
It was Paul Azinger in 2008 who first had the epiphany: It's strange in an individual sport like golf to ask 12 competitors to suddenly become a tight-knit unit, but it's far less strange to get them to bond in groups of four. Pods foster unity and camaraderie, and require less of a complete philosophical shift from players who play an inherently selfish sport. Here, yet again, there's very little reason to worry: Though Azinger's success at Valhalla didn't catch on immediately, it's now practically dogma among the Americans.
4. No detail is too small
One of the astounding things that came up in a conversation with Davis Love III after the Whistling Straits Ryder Cup was that he and the other leaders were already trying to assess what went wrong. That's right—what went wrong, in an historic victory. Pressed for details, Love mentioned transportation and food, among others. It proved that the U.S. has come a long, long way from the team that would respond to losses by saying "we just have to play better." Johnson, a neighbor of Love's in Sea Island, Ga., often meets with him to obsess about these small details. Johnson and Stricker, who will serve as first vice captain in 2023, have already been hashing out details over the phone. This level of focus, even on details that might seem arbitrary or mundane, can have an outsize impact on how things play out on the course.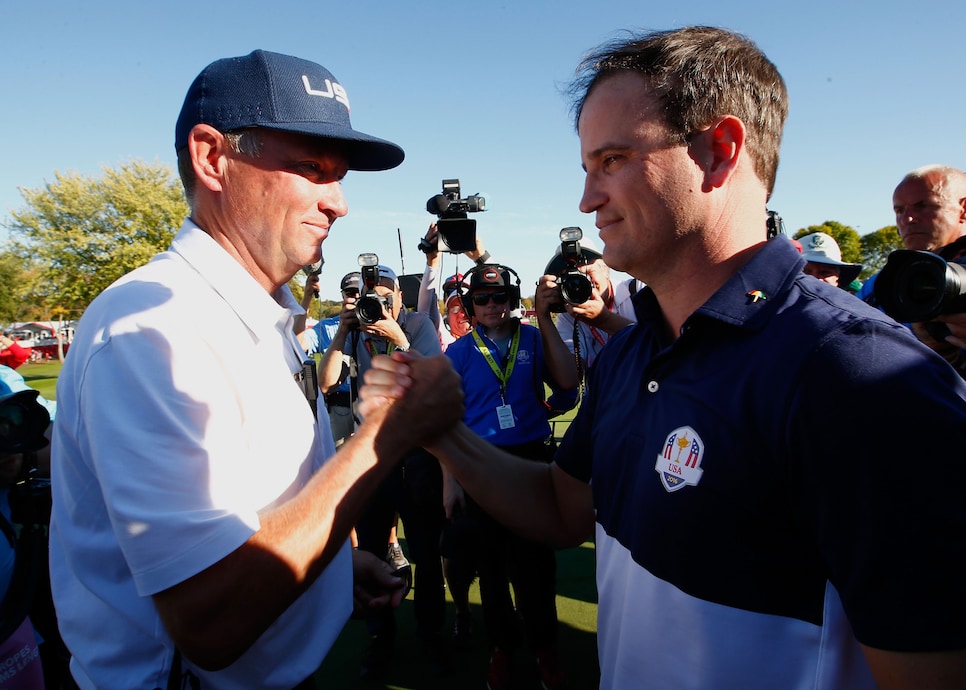 Love and Johnson have been together in past Ryder Cup, and the Sea Island neighbors are already talking about what it will take to win in 2023.
Jamie Squire
5. Keep the week fun and easy for the players
While the captains agonize over the big and small stuff, an important part of their job is creating an easy, stress-free atmosphere for the players. Koepka's remarks to Golf Digest's Matthew Rudy last summer about the rigors of that week, while not particularly well received around the golf world, were also not unique to him. Stricker himself felt the same about the various obligations, and his goal from the start was to keep life simple for his team, and reduce the number of dinners, galas, and other events they had to attend. Stricker got a big assist from COVID-19 in that regard, and Johnson may have a tougher time. Still, it's imperative that Johnson lets the golfers be themselves, go through their ordinary routines and limits the string of annoying obligations.
6. Don't be afraid to exclude the players who should be excluded
Once you have six captain's picks, they should be treated like six captain's picks. As in, if you aren't among the top six automatic qualifiers, you don't have an inherent right to make the team. It may be that the smartest players to take are Nos. 7 through 12 on the points list, and that's fine. But if that seventh player is someone who doesn't fit the course, or is in the midst of a bad slump, or has a personality that rubs others the wrong way, and could make for an unpleasant dynamic, Johnson has to be ruthless enough to exclude him.
7. Keep bringing statistics into the fold
The "cold war" of the modern Ryder Cup is the battle between each team's respective statistical gurus. The Europeans have the Twenty First Group, the Americans have Scouts Consulting, and both outfits have been invaluable to their respective captains. The last three Ryder Cups have been blowouts for the home team, and in each case, the winning captains have pointed to one of these two groups as having given them a critical edge. The reality is that playing at home is a massive edge, both in terms of course manipulation and a home crowd, and a quality statistical team can heighten that advantage. To combat that deficit, Johnson will need to lean heavily on Scouts Consulting, and he said on Monday that they plan to continue the relationship that started at Hazeltine National in 2016.
8. Front load the Sunday singles lineup, no matter what
After the 2012 Ryder Cup in Medinah, when the Europeans came back from a 10-6 deficit on Sunday, Darren Clarke and U.S. captain Davis Love III had a conversation on the grounds, and Clarke said, "You knew we were going to load the boat. Why didn't you?" Love still asks himself that question, and it's one of his big regrets. The truth is that "loading the boat"—putting your best players out first—is now fundamentally the only tactic that makes sense. If you're losing, failing to load the boat cedes the momentum to the winning team, which makes a comeback almost impossible. If you're winning, you have to expect the losing team to seek that momentum by coming out with a strong lineup, and if you don't match them strength for strength at the top, you invite disaster. Love found that out at Medinah, and it's a lesson Johnson needs to remember for Italy.
9. Be proactive to minimize controversy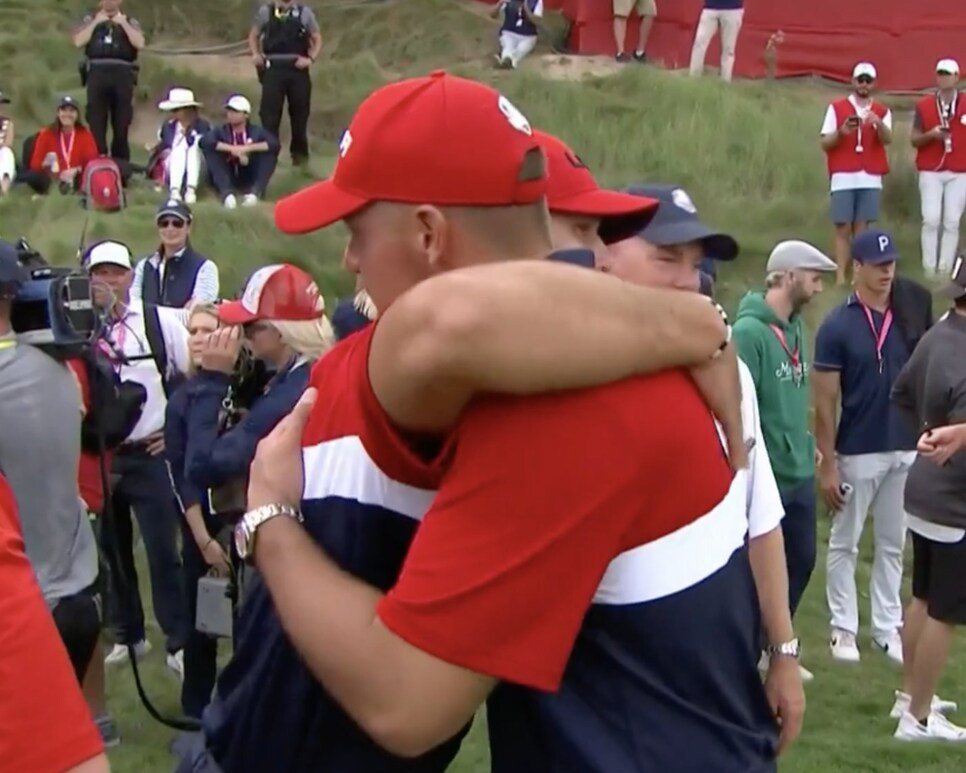 Here again, Azinger was ahead of his time as an American captain. In 2008, it was his misfortune to lose Tiger Woods to injury. He knew his team would be asked about that, along with a few other pertinent topics ("what was it like to get blown out the last two Cups?"), so he printed out a series of answers for common questions and handed them out to his team. It was an effective way of snuffing out the oxygen and avoiding distractions. It's a rule of Ryder Cup life that there is always some controversy. At Whistling Straits, it was Koepka's comments, and the Koepka-DeChambeau feud more broadly. Stricker made sure to meet with both players several times to ensure that there would be no fighting on the ground, they had a staged hug on the driving range, and while I don't know if the team all had the same talking points, they certainly sounded alike. By Wednesday, there was nothing to write about the feud, or about Koepka's alleged disdain for the Cup, and the stories all but died. Controversy can be a killer—see Hal Sutton's Tiger-Phil disaster, or Danny Willett's brother—but as Stricker showed, it can also be managed.
10. Have a solid plan and solid contingencies, and make sure the players know it
There are certain things you can plan in advance for a Ryder Cup, and pairings on Friday is one of them. It's doctrine at this point to play everyone on the team at least once the first day—barring any injuries or someone who is slumping to a ridiculous degree—and the U.S. has learned from some painful past incidents that the sooner everyone knows, the better. You can expect Johnson's team to know the Friday plan as early as Monday or Tuesday. Golfers thrive on routine, and last-minute adjustments are the enemy here. There are also things you can't plan in advance, but among the captain's group, you can have contingencies so that the Plan B or Plan C is waiting to be deployed. To an extent, the players can also be informed of these contingencies, even if vaguely. In short, if the U.S. takes a 6-2 lead after Day 1 again, there's no need to change anything. But if they're down 2-6, Johnson and his vices should know exactly what to do, and while the details of what comes next may not have been written down, it shouldn't shock the players either. Once again, you can't win if you don't plan.