Memory Lane
Ryder Cup 2021: The 15 most inconsequential moments in Ryder Cup history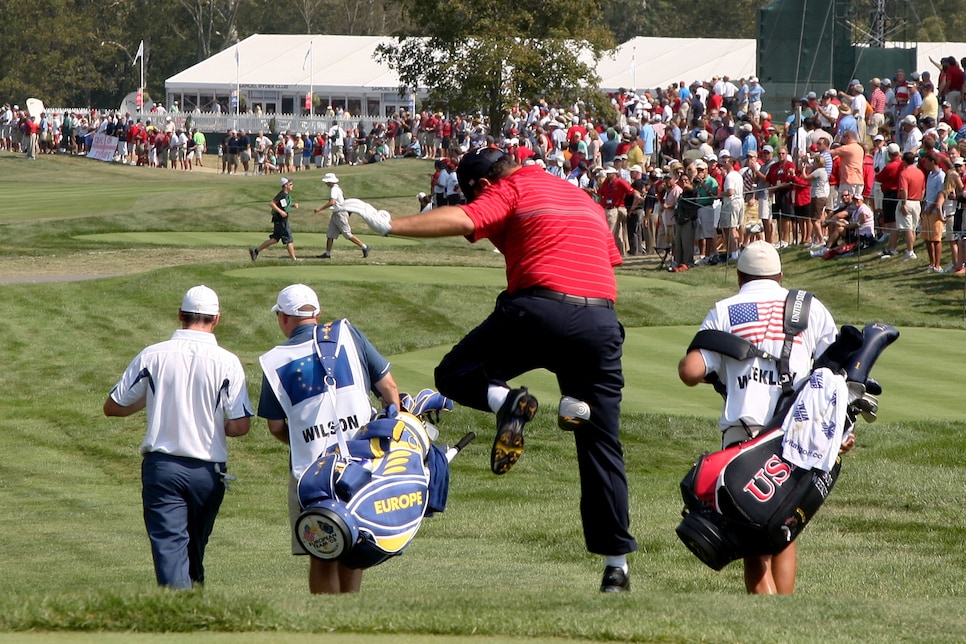 Thanks to the extra juice that comes with playing for your country—or contintent in Europe's case—the Ryder Cup has become golf's most intense competition in recent decades. Having the 1991 installment garner the nickname "The WAR by the Shore" only added to the drama. Same with "The BRAWL by the Mall (of America)" in 2016.
OK, so we made up that last one, but you get the point. This is serious stuff. And to cover that side of this biennial event, our Shane Ryan wrote about the 15 most consequential moments in Ryder Cup history. But this is definitely NOT that. In fact, it's literally the opposite of that.
So without further ado, here are the most inconsequential moments in Ryder Cup history. Well, recent history, at least.
The most hideous golf polos in history were part of the most beautiful U.S. comeback. But let's be serious, it didn't matter what the Americans were wearing that day at Brookline. They were rolling in putts from all over Massachusetts.
Anyway, you can buy one of these bad boys (emphasis on bad), but it's going to cost you. A LOT.
Chris Riley tapping out (2004)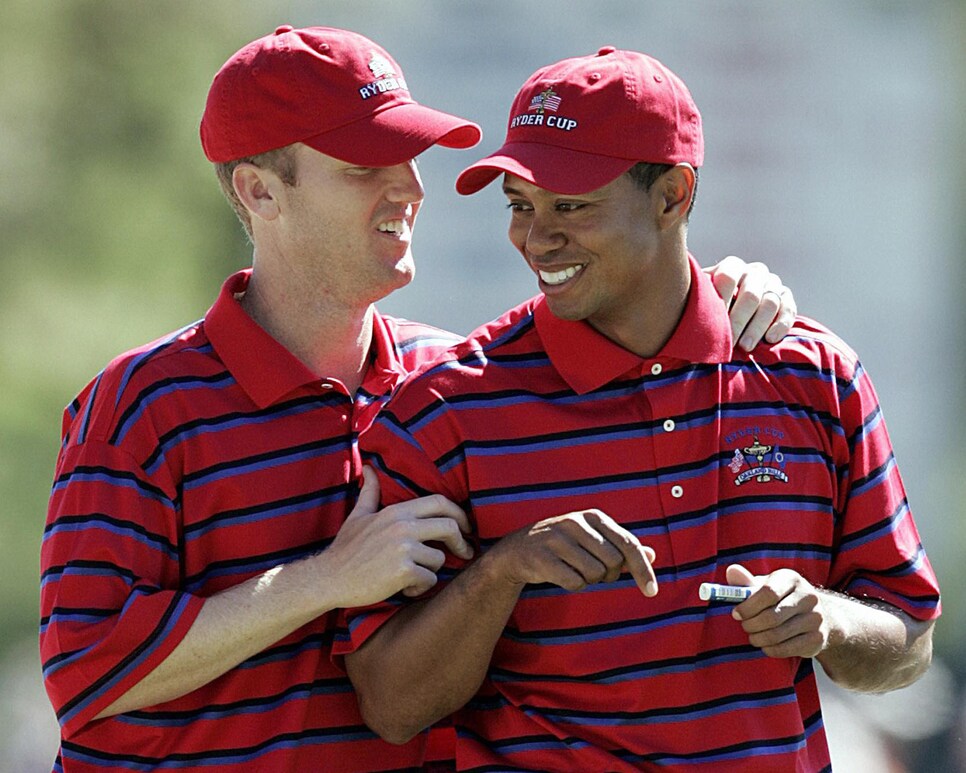 This is not to pile on Riley for opting not to play the second session that Saturday after a dominant morning win with Tiger Woods (No, but really, Chris, WTF?), but again, it wouldn't have mattered. The Americans got their butts kicked all week, even when Woods played with Phil Mickelson earlier. Woods and Love should have made for a formidable pair that afternoon, but instead they got dusted by Padraig Harrington and Paul McGinley. Besides Tiger has a history of rotating partners—then again, maybe that instability is a big reason for his disappointing Ryder Cup record. In any event, Riley's decision is an interesting footnote, but not nearly as consequential as many believe.
Team Europe has had more than its fair share of fine moments during the past four decades. But getting run off the course by arguably the weakest (at least, on paper) American team in recent history while Boo Weekley literally ran around the course imitating Happy Gilmore? A guy who didn't even know you could concede putts in match play until earlier that year? Yeah, that's pretty rough.
Anthony Kim's abrupt exit (2008)
How locked in was Kim during the 2008 Ryder Cup? He didn't even realize he had beaten Sergio Garcia during their Sunday singles match:
Of course, the match mattered a lot in terms of setting the tone for that final day. But by the time what we're talking about happened, the match was literally over so it couldn't have mattered less. That doesn't mean it still wasn't awesome. In fact, if we were doing a ranking of the most awesome moments in Ryder Cup history, this would be up there. Miss you, AK. Miss you every day.
This trademark celebration from Jeff Overton following a hole-out eagle could have been consequential, but the U.S. got beat (once again) that week anyway.
Remember, this was the year they wore those disastrous rainsuits. Now those were definitely NOT inconsequential.
No, not Justin Thomas, Justin Timberlake. And no, it wasn't his own poem he recited during the opening ceremony, but one called "Golf," by Randy Sabados. And no, it wasn't particularly well received.
Seriously, whose idea was this?! They brought in one of the greatest entertainers of our time to do … that?! He should have performed "What Goes Around Comes Around" instead. Or "Cry Me A River." Or, pretty much anything.
Rory's police escort (2012)
JT voice: I'm bringing sexy Rory back (Yeah)! Actually, this was potentially very consequential. McIlroy barely made it back to Medinah for his Sunday tee time after a time zone mix-up thanks to help from local authorities.
And he went on to beat Keegan Bradley in what turned out to be an crucial point in Europe's Mircale at Medinah win. Do we really think Team Europe would have forfeited that match, though, if McIlroy didn't make it? And that Team USA and Team NBC would have accepted that free point? And if so, do you also believe in the Easter Bunny?
Rory's kilt and wig (2014)
Everyone focuses on what happened at that gloriously awkward Team USA press conference when Phil Mickelson criticized Tom Watson—while sitting a few feet away from him—and rightly so! I was there and that was quite a scene! But despite the matches being over, that moment had its consequences with the Americans forming a task force and taking this event more seriously (not that it helped in 2018). So instead, we present a victorious Rory McIlroy wearing a wig and a kilt. And not much else.
Good times. And while we're talking about good times …
Jamie Donaldson's drunk interviw (2014)
We've seen some inebriated winning Ryder Cuppers through the years (See: Rory, above), but the unlikely hero at Gleneagles was clearly still boozed up the following morning for this chat.
Wow. Ain't no party like a Euro party, 'cause a Euro party don't stop.
On the eve of the 2016 event, a fan in the gallery at Hazeltine National named David Johnson became a legend.
Actually, this may have broken the confidence of Team Europe. And it certainly fired up that infamous Hazeltine crowd. Maybe it wasn't so inconsequential after all. In any event, our Joel Beall caught up with David recently. And if he shows up at Whistling Straits, the Euros better watch out.
This guy is going to be great in the team room as a vice captain this year. But now that he's 51, maybe he should avoid using his teammates as stunt props.
Rickie the bachelor (2016)
One of the greatest photos ever taken: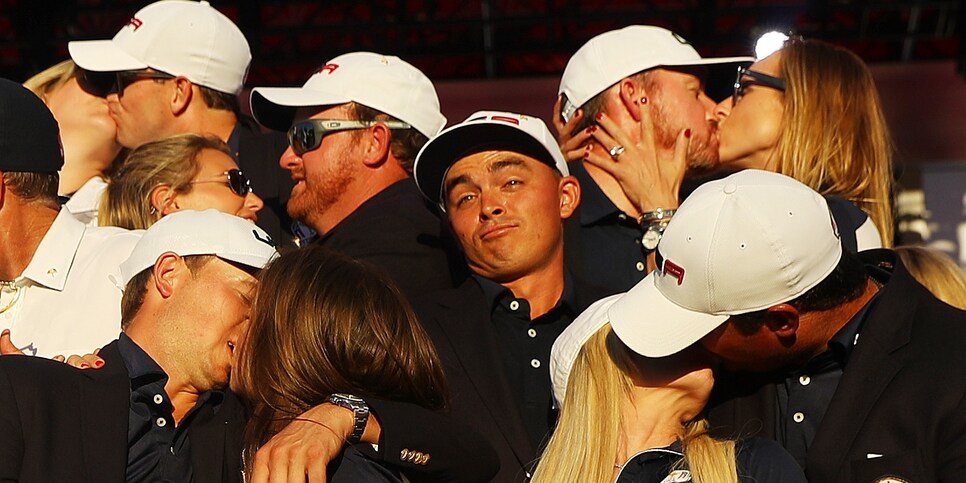 PGA of America via Getty Images
Rickie Fowler amid a sea of WAGs PDA. Tough spot. Of course, the story has a happy ending. Fowler soon found his future wife, Allison Stokke. Unfortunately, he seems to have lost his game now.
DJ the photographer (2018)
One of the greatest photos ever taken of someone taking a photo: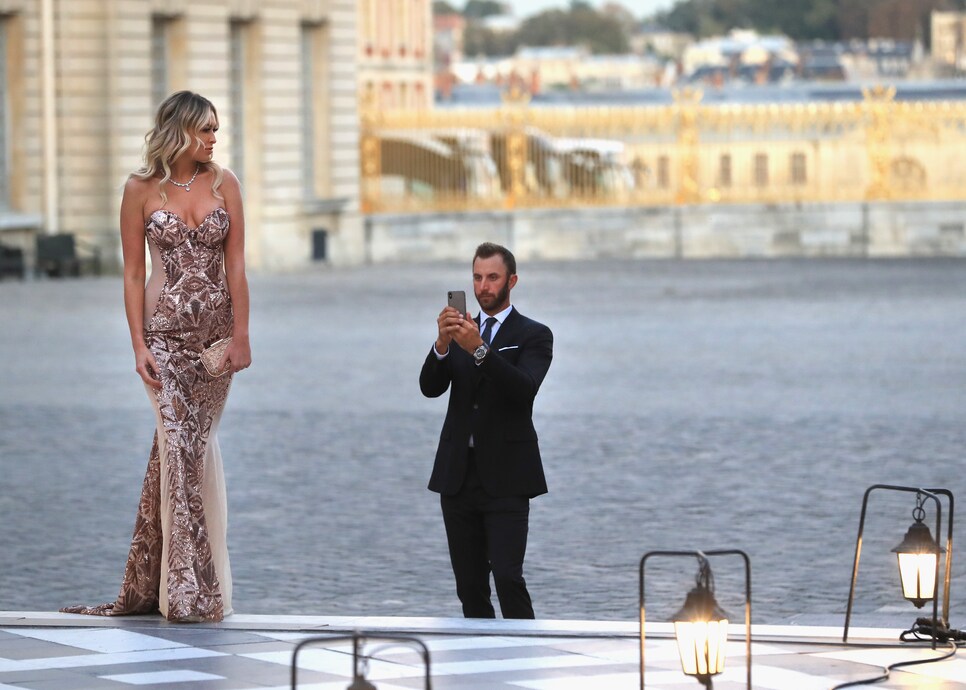 Actually, this was kind of a big deal at the time since there were rumors that Dustin Johnson and Paulina Gretzky might be a done deal before they were seen together at the Ryder Cup gala and content makers around the world gave a huge sigh of relief. But obviously, pretty inconsequential to what happened at Le Golf National, where DJ and the rest of Team USA got their butts kicked. Again.

The "Moliwood" bed video (2018)
The fantastic play of Francesco Molinari and Tommy Fleetwood was the biggest storyline in Paris (well, other than Team USA completely self-destrucing and Patrick Reed eventually throwing everyone under the bus). But this "Moliwood" moment happened after the event was over, and, it's, well, see for yourself:
Unfortunately, Molinari didn't make the 2021 team. But luckily for this cute couple, there's still FaceTime.
The axe-throwing contest (2019)
The gauntlet was thrown down ahead of the 2021 Ryder Cup two years ago. Or, rather, the axes were thrown down as captains Steve Stricker and Padraig Harrington had an interesting competition (go to the 5:20 mark of the video) to promote the event:
Let's hope the golfers at Whistling Straits don't get bored playing ping pong, because that looks dangerous …