Ryder Cup
Ryder Cup 2018: A ranking of Tiger Woods' 12 previous Ryder Cup partners
If there's a disappointing area on Tiger Woods' career résumé it's his record in team golf, specifically at the Ryder Cup. While Woods has compiled a 4-1-2 record in singles in the biennial event, he has struggled to a 9-16-1 mark when playing with a partner. However, it probably doesn't help that Tiger has had nearly as many pairings (12) as he's hoisted major trophies (14) in his illustrious career. There's speculation that Bryson DeChambeau will be the latest to get a chance to tee it up with Tiger in Paris, but before we find out if he's a lucky No. 13, here's a look back at the dozen Americans Woods has been partnered with—half of which he only played one match with—in his previous seven Ryder Cups.Complete coverage of the 2018 Ryder Cup →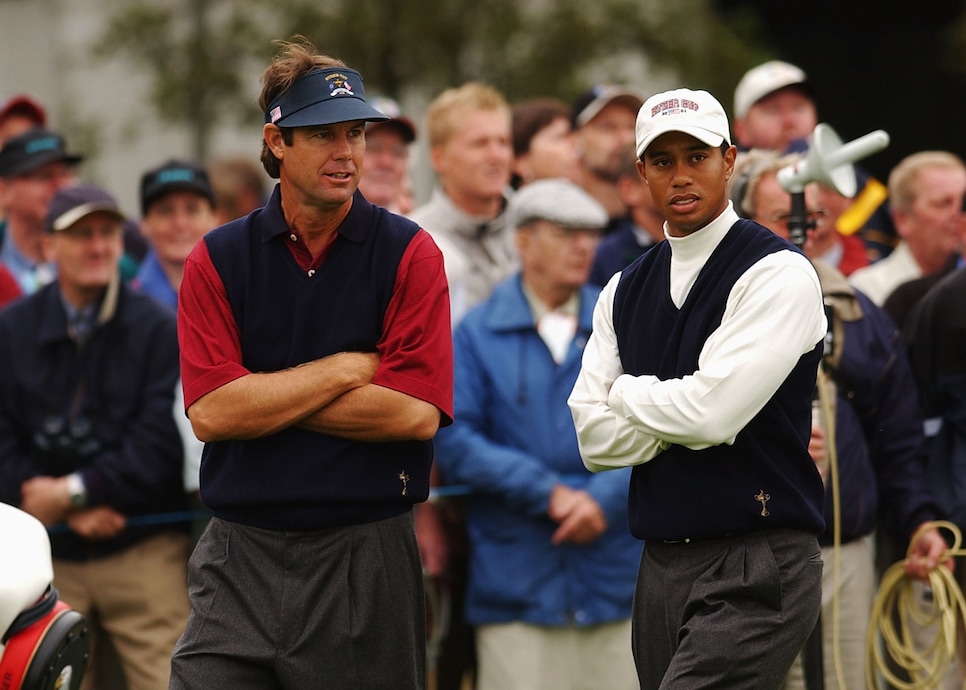 Photo By: TIMOTHY A. CLARY
Photo By: Montana Pritchard/PGA of America
Photo By: Al Messerschmidt
Photo By: Barry Batchelor - PA Images
Photo By: Michael Steele - EMPICS
Photo By: TIMOTHY A. CLARY
12: Paul Azinger
Record: 0-1-0Summary: Although he'd garner acclaim as a winning Ryder Cup captain in 2008, in 2002 Paul Azinger probably shouldn't have been on the team. The final of two captain's picks by Curtis Strange, Azinger was just 22nd on the points list, 51st in the Official World Ranking, and nearly three years removed from his final PGA Tour win. Azinger and Woods lost, 1 down, to Darren Clarke and Thomas Bjorn in the opening match of the event, and Strange didn't partner them again. Sadly, we also never got to see who "The Podfather" Azinger would have put Woods with at Valhalla in 2008. Maybe this never-ending game of musical chairs could have been settled once and for all.
Photo By: Ross Kinnaird
11: Mark Calcavecchia
Record: 0-1-0Summary: Another pairing of Woods with someone past his prime, Calc and Tiger lost in foursomes to Sergio Garcia and Lee Westwood in 2002 after Tiger and Azinger had lost in their morning four-ball match. Like many of Woods' Ryder Cup pairings, this one was forgettable. But it certainly wasn't as bad as those baggy pants the Americans wore. Good lord, was Michael Jordan in charge of Team USA fashion that week?
Photo By: JEFF HAYNES
10: Tom Lehman
Record:
0-1-0
Summary:
For some reason, Woods was almost exclusively paired with golfers in their 40s his first few Ryder Cups, and Lehman, 40, was no exception. A captain's pick by Ben Crenshaw, Lehman played fantastic golf during the Americans' historic Sunday comeback in 1999, but in the opening foursomes session, he and Woods lost to Sergio Garcia and Jesper Parnevik. And as we recently heard from
Chris Riley (more on him later) on the Golf Digest Podcast
, there's nothing Tiger hates more than losing to Sergio, so that was the end of that.
Photo By: TIMOTHY A. CLARY
9: Steve Pate
Record: 1-1-0Summary: After Woods lost his first two matches in 1999 with two different partners, he and Pate played together twice, winning 1 up in foursomes and losing 2-and-1 in four-ball. This was yet another instance of a captain pairing one of his weak links with the world's best golfer—and perhaps, there's merit to such a strategy—but Pate was also in sneaky-good form that year, finishing 13th on the PGA Tour money list (Remember when that was the big thing and not FedEx Cup points?) and winning the Comeback Player of the Year Award (Remember when the tour gave that out?). Pate never made another Ryder Cup team, though, so this pairing never had another chance.
Photo By: Montana Pritchard/PGA of America
8: Phil Mickelson
Record: 0-2-0Summary: You're probably saying, How is Mickelson not ranked the lowest? That pairing with Tiger was a complete disaster! But it really wasn't that bad. Wait, hear us out! Sure, Hal Sutton's move to pair his best two players backfired with two Friday losses at Oakland Hills in 2004, but both were close to strong European pairs (A 2-and-1 loss to Colin Montgomerie and Padraig Harrington in four-ball and a 1-down loss to Darren Clarke and Lee Westwood in foursomes). And keep in mind that Mickelson had just switched to playing Callaway equipment. Had they played together at a different Ryder Cup, things could have been different! Who knows, maybe they would have become buddies a lot sooner, and we'd be watching the 10th anniversary of THE MATCH this Thanksgiving. That being said, pairing them again in Paris 14 years later would be a bold strategy.
Photo By: Al Messerschmidt
7: Justin Leonard
Record: 0-0-1Summary: That year's 21-year-old Masters champ paired with that year's 25-year-old Open Championship winner. Not only is that a formidable pairing, but it was one that potentially could have given Europe nightmares for the next couple decades. Instead, Woods and Leonard only played once in 1997 (and never again), getting a half point in Saturday's afternoon foursomes against Jesper Parnevik and some guy named Ignacio Garrido. (Kidding, Ignacio. Sort of.) But seriously, this could have been a chance for Tiger to actually have some long-term consistency with a partner, but instead, Leonard became one of SIX guys Woods only played with once. Oh well.
Photo By: Barry Batchelor - PA Images
6: Mark O'Meara
Record: 1-2-0Summary: Woods playing with his best friend on tour upon turning pro was a lock at his first Ryder Cup in 1997. And the two got off to an auspicious start with a 3-and-2 win in four-ball in Friday's first session. But they dropped their next two matches, which prompted Tom Kite to break them up for the fourth and final team session (That's when Woods played with Leonard and earned a half point). And Ben Crenshaw didn't go back to the pairing of pals in 1999, which turned out to be O'Meara's final Ryder Cup. Too bad. We loved hearing Tiger call O'Meara "Marko."
Photo By: Michael Steele - EMPICS
5: Chris Riley
Record:
1-0-0
Summary:
Riley will forever be known as that guy who won a Ryder Cup match with Tiger and then sat out the afternoon session. As
Riley said on the Golf Digest Podcast
, this was in large part due to a pre-determined plan to have Tiger play with Davis Love III that Saturday in 2004 at Oakland Hills, but it would have been nice to see if there really was a magical chemistry between these two who have been friends since their days of playing junior golf in southern California. In any event, the partnership wouldn't have worked for the long haul anyway with Riley never making another Ryder Cup team and becoming college golf coach in 2017. But Riley can claim to be the only person to have a perfect record (albeit, the smallest of sample sizes) with Woods as a teammate. That's a pretty persuasive pitch to recruits.
Photo By: TIMOTHY A. CLARY
4: David Duval
Record:
0-1-0
Summary:
Despite battling for the top spot in the Official World Golf Ranking in 1999, Duval and Woods became friends and played the pre-cursor to this year's THE MATCH with the SHOWDOWN AT SHERWOOD in August. The following month they were partnered at Brookline by Ben Crenshaw—in a super 1-2 pairing that got a lot less attention that Tiger-Phil five years later—for a Friday afternoon four-ball. Despite losing, 1 down, this is a team that could have worked as evidenced by it working at the 2000 World Cup of Golf and nearly again in the same event the following year when they lost in a playoff after
Tiger pulled off the "hardest pitch shot" of his life
. It's a shame that T-Dub and "Double D" (as Woods still calls him) didn't get more than a single match together.
Photo By: JEFF HAYNES
3: Davis Love III
Record: 2-1-0Summary: With Love possessing similar power off the tee as Tiger, and being arguably more age-appropriate than some of Woods' early partners, it's surprising these longtime friends only played three Ryder Cup matches together and none in the Presidents Cup. But after winning both their matches in the 2002 Ryder Cup, Hal Sutton broke them up in favor of that ill-fated pairing of Tiger and Phil on Day 1 at Oakland Hills in 2004. And on Day 2 when they got another chance, they lost badly (4 and 3 to Padraig Harrington and Paul McGinley), thus beginning the Furyk-Stricker era of Tiger Ryder Cup partners. In other words, this is something else Sutton can be blamed for.
Photo By: Jamie Squire
2: Steve Stricker
Record: 2-4-0Summary: Here's another crazy stat: Stricker is the only Ryder Cup partner Woods has played with since 2006. However, the duo isn't exactly Seve Ballesteros and Jose Maria Olazabal, playing only six matches (three in 2010 and three in 2012) in that span thanks to Tiger's myriad injuries and producing a losing record, dropping four straight after winning their first two in Wales. That being said, we're giving them some credit for their 4-1 record at the Presidents Cup, including a sweep of all four matches they played in 2009, and the fact they lost some close ones, including that time Nicolas Colsaerts dropped like 15 birdies on them at Medinah in 2012. Woods won't play with Stricker this year in Paris, but he'll still be able to seek putting tips from his friend, who is now a vice captain.
Photo By: Andy Lyons
1: Jim Furyk
Record: 2-2-0Summary: We're giving Furyk a slight edge over Stricker for a slightly better record (2-2 at the Ryder Cup and 5-3-1 when including the Presidents Cup). Furyk is actually the only golfer to play four matches with Woods in one Ryder Cup (all came in 2006), but after Tiger teamed up with Stricker at the 2009 Presidents Cup, he only had eyes for the Strick Show in this biennial event. Although, not in the Presidents Cup, where Woods put up a 3-1 record with Matt Kuchar in 2013 and did that funky "Fresh Prince of Bel-Air" celebration. Too bad they never played together at a Ryder Cup … Anyway, with Stricker and Kuchar as vice captains and Furyk as captain, though, Woods will need to expand his horizons in when it comes to his Paris partner(s). Don't despair, though, Tiger. Whether you play with someone new, like Bryson DeChambeau, or someone old, like (gulp) Phil Mickelson, the high-five chemistry can't get any worse than what's pictured here.
Photo By: Donald Miralle