News
Ryder Cup 2018: How Tommy Fleetwood and Francesco Molinari became the greatest team in Ryder Cup history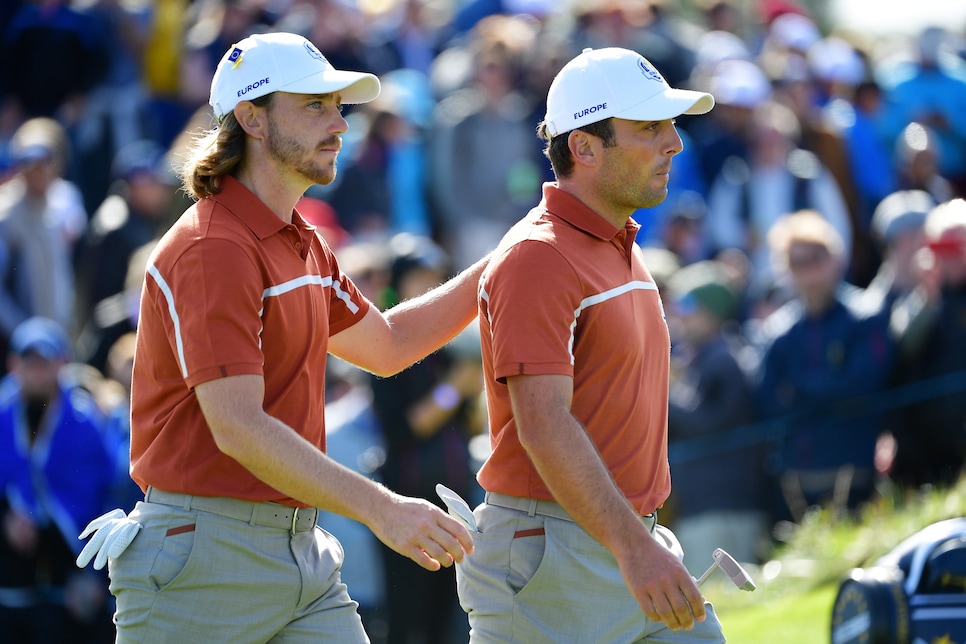 SAINT-QUENTIN-EN-YVELINES, France—These things can go either way. Yes, good friends can often make great golf partners. But just as frequently seemingly logical and obvious combinations can be less than effective. By way of example, great buddies and long-time neighbors Mark O'Meara and Tiger Woods managed only one point in their three Ryder Cup matches together.
This time though, it has worked. Has it ever. With four points from a possible four so far in this 42nd Ryder Cup, no pair has ever contributed more to a European cause at any of the previous biennial battles than close pals Francesco Molinari and Tommy Fleetwood.
They go back a ways, both professionally and personally. Fleetwood's wife, Claire, was once Molinari's manager. And the Englishman calls the Italian, "one of my best friends, not just on tour but in life."
"They have been close for a long time," confirms Denis Pugh, Molinari's long-time swing coach. "Their personalities are so similar. And when Francesco is around Tommy it seems to bring out how he is normally. When you see Francesco on the course, people who don't really know him think he is reserved and a bit dour. But actually he is full of laughs and jokes. He has a sarcastic sense of humor that only comes out when you meet him off the course. He's good for a 'wind-up,' as is Tommy."
Not that there has been much 'hitting and giggling' going on over the 60 holes it has taken Fleetwood and Molinari to see off just about the best the American side has to offer. Three times, for example, Woods has had to offer congratulations at the end of match.
"Tiger doesn't intimidate Frankie like he did a little bit when they first played in the Ryder Cup," says Pugh. "And every time Tommy has played with Tiger this year he has performed brilliantly."
Still, Tiger is far from alone in feeling an Anglo-Italian bite this week. The same losing feeling, albeit only twice, has befallen Masters champion Patrick Reed. Add Jordan Spieth, Justin Thomas and Branden DeChambeau to the list of the vanquished and it is clear how well the European pair has performed over the last two days. Over their four matches they have won 27 holes and lost only ten. Only once have they been taken past the 15th green. We're talking overwhelming here.
"I'm a little bit emotional right now," said Fleetwood in the wake of win number four, a 5 and 4 mauling of Woods and DeChambeau. "We were really, really good this afternoon. And to make a piece of history together is very special."
To be fair, the (formerly) traditional U.S. Open-style narrow-fairway, thick rough set-up at Le Golf National has played right into the hands and styles of two players whose games are built more around accuracy than raw power. Hitting fairways and greens is their mutual strength. And when what Pugh calls their "streaky" putting kicks into gear as it has done here, they have been unbeatable.
Ironically, however, Fleetwood and Molinari came close to being separated after their 3&1 victory over Woods and Reed on the opening morning. European skipper Thomas Bjorn presented his assistant captains with a proposed afternoon lineup that did not contain Fleetwood's name. Only after Swede Robert Karlsson spoke out persuasively in the Englishman's favor was he restored to his pre-lunch position.
Bjorn, of course, was not admitting to any of the above in the wake of Molinari and Fleetwood seeing off Thomas and Spieth by 5&4 at the end of Day 1. But he did offer one hint. "I couldn't promise Tommy that he was going to play two sessions today," he said cryptically.
Otherwise, Bjorn was singing nothing but praises, talking of the "very special bond and relationship" enjoyed by Fleetwood and Molinari. "They love being on the golf course together," he concluded. After this week, who can blame them?