Random Daggers
Luke Donald's drinking dig at Team USA gives Europe early lead at the 2023 Ryder Cup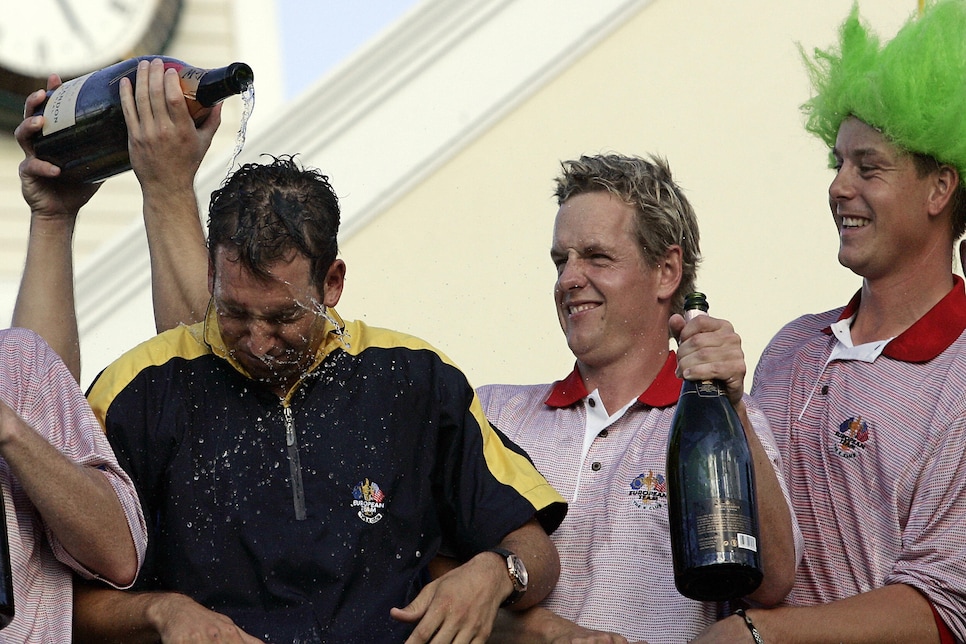 To the victor of the Ryder Cup go the spoils—and the drinks. And the Presidents Cup is no different. If you've ever witnessed one of these wild victorious press conferences, you've seen the best golfers on the planet getting pretty loose. And guys like Kevin Kisner completely in their element.
Of course, it's different when you lose. The bubbly doesn't flow like water and those press conferences are much more sobering. Literally. But what's the difference in bar tabs between the winners and losers? Well, thanks to one of this year's captains we now have an idea.
Luke Donald appeared this week on the Beef's Golf Club podcast with Andrew "Beef" Johnston and shared a little nugget he learned from a member at Oakland Hills, site of Europe's blowout victory at the 2004 Ryder Cup. According to "folklore within the membership" there, the Euros ran up a bar tab of more than $30,000(!) that Sunday. In comparions, the Americans drank only $600 worth of booze. Have a listen:
That's a lot for a team of a dozen golfers to spend in one evening. Of course, there are captains and wives, etc., but still, that's more than $2,000 per man. And this was 18 years ago! Long before the rampant inflation we're seeing today!
You'll also notice that Donald didn't only mention the quantity of booze, but also got in a nice little dig at the end about the quality of what the Euros drink as well. "No Bud Lights in our team room."
Shots fired by Captain Luke! You going to take that, Zach Johnson?!
Actually, with next year's Ryder Cup being played in Rome, there's a chance there won't be Bud Lights in either team room. But one thing's for sure: the winners there will run up another big bar tab.