The Loop
A Tiger Woods guarantee, Tony Romo rumors, and the best Johnny Miller quote of all time
Welcome to another edition of The Grind, where we learned the hard way that putting off going to the dentist for more than three years is never a smart idea. The result was a two-trip (and counting) root canal procedure that I wouldn't wish upon anyone. Well, other than that bozo who screamed during a Tiger Woods putt on Sunday.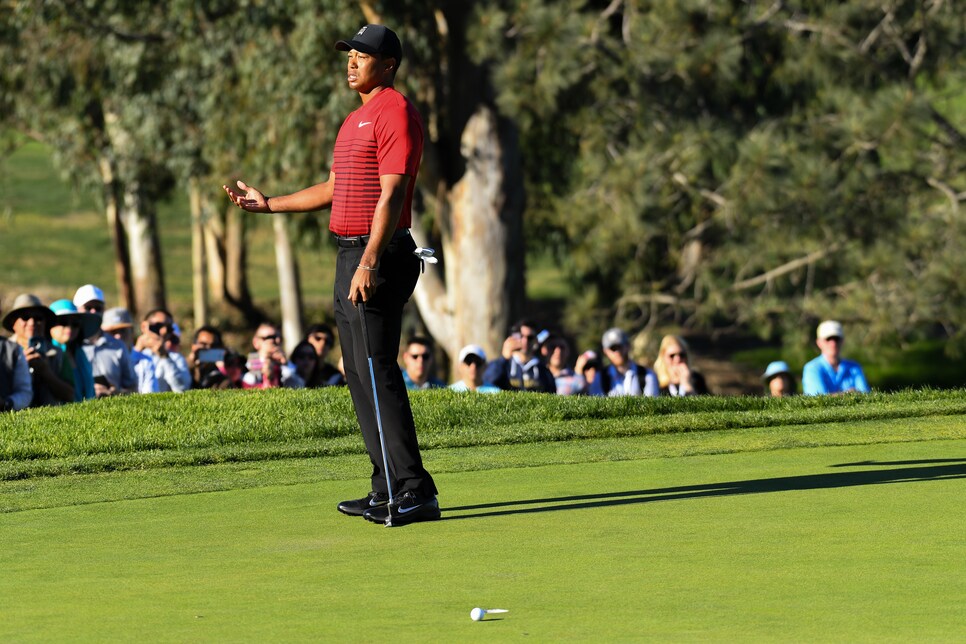 But if Tiger can win a U.S. Open on a broken leg and make a successful PGA Tour return following back fusion surgery, I should be able to suck it up and grind out another Grind. So let's talk some golf. At least, until the Advil wears off.
Tiger Woods: On one hand, it's sad how excited everyone is about Tiger making the cut on the number and finishing T-23 at an event where he used to win on a semi-yearly basis. On the other, when you consider how far he's come in a few months, it was one heck of an accomplishment. Sure, hitting a total of nine fairways over the past three rounds was, as he put it, "Gross." But that vintage short game was there and he didn't hold back on any shot, even from Torrey Pines' lushest patches of rough. If he makes 15 starts this season, he's going to win at least once. Book it. It's a LOCK.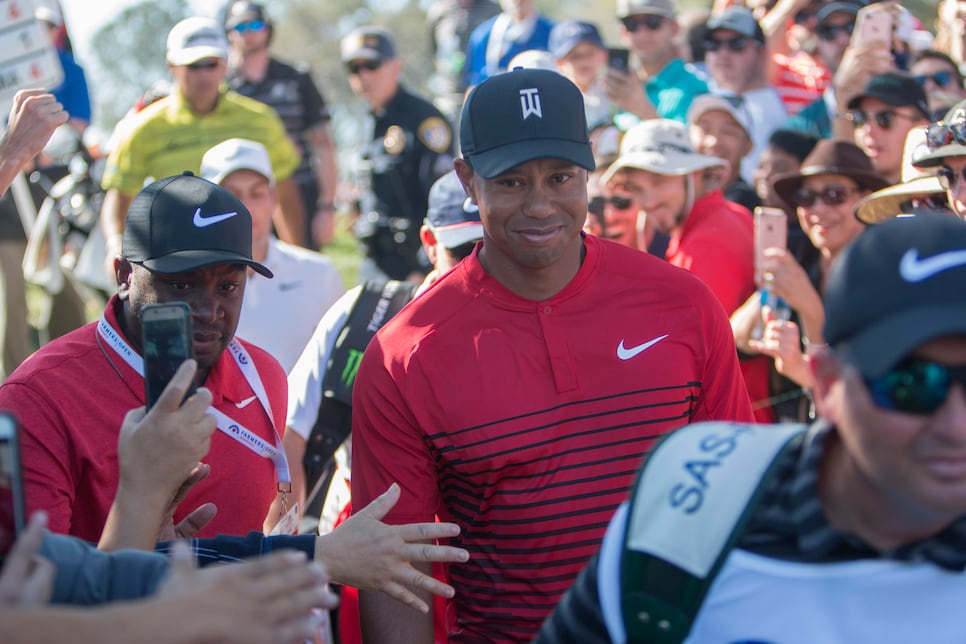 Jason Day: Lost in the Tiger hoopla was another former World No. 1 with a balky back making a long-awaited return to the PGA Tour. And he didn't disappoint, either. Well, except for the people he was supposed to play with in Wednesday's pro-am. But after sitting that out and opening with 73, Day flashed the form that made him a near-unstoppable force from late 2015 to mid-2016, particularly in his epic playoff with Alex Noren, where he birdied the 18th hole all four times. The last of those came in front of empty grandstands because fans weren't permitted to come to the course for the conclusion, but that didn't stop Day from saluting the non-existent crowd: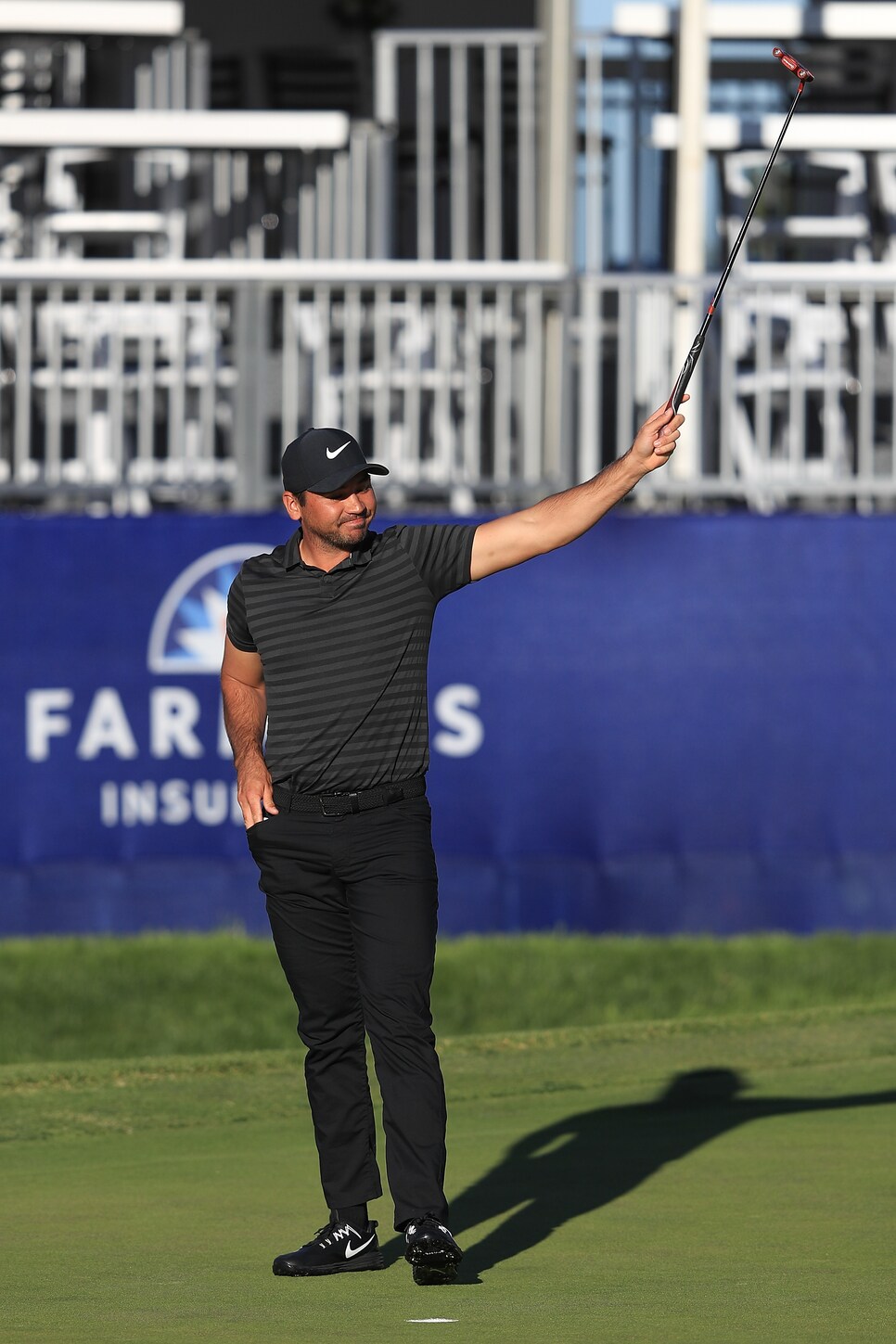 There was already jostling among a host of players near the top of the Official World Golf Ranking, but now Day and Rory McIlroy, who added a runner-up in Dubai to his T-3 last week, look intent on getting into that mix. This season should be a lot of fun.
Li Haotong: This budding Chinese star broke through with a 63 in the final round of last year's Open, but his performance at the Dubai Desert Classic was even more impressive. Haotong went head-to-head with Rory down the stretch, matching McIlroy's closing two birdies to win by one. With the win, Li moved up from No. 60 to No. 32 in the Official World Golf Ranking, and at 22, the best is yet to come.
That screaming fan: Woods could have threatened a top 10 if not for two brutally bad breaks on Sunday. A full 360-lipout on a 15-footer for par, and this clown, who screamed "GET IN THE HOLE" right as Tiger was stroking an eight-footer for birdie:
This guy is basically the Steve Bartman of the PGA Tour, only he actually did something egregious. Ban him from tournaments for life! And let this serve as a warning to all golf fans of the danger of yelling things at a tournament in general. Stop doing it. Please.
J.B. Holmes: Actually, we wouldn't have minded someone screaming, "ANY DAY NOW!" while Holmes put us (and his playing partners trying to win the tournament) through that interminable wait before hitting his second shot on 18 on Sunday. Needing an eagle to get into a playoff, Holmes hemmed and hawed and eventually. . . after more than four minutes. . . laid up? Are you kidding?! It was so bad that a number of his colleagues called him out. No one more so than Mark Calcavecchia:
Well said, Calc. And seriously, when is the PGA Tour going to start cracking down on slow play?
Tony Romo playing in a PGA Tour event: Jim Nantz, Romo's CBS booth partner, started this rumor last week, but we're not sure it's going to happen. And even if it does, we're not big fans. The criticism Steph Curry received for playing on the Web.com Tour last year will pale in comparison to the potential Romo blowback. And keep in mind that Curry, who posted a respectable pair of 74s at the Ellie Mae Classic, beat Romo by 10 shots at the American Century Celebrity Championship at Lake Tahoe last July. Tony, everyone finally loves you now! Don't ruin it!
The PGA Tour heads to TPC Scottsdale for the Waste Management Open, aka that place that has that hole that seats/stands/crams 40,000 fans. It's also the place where Hideki Matsuyama has won the past two years in playoffs that have spilled into Super Bowl coverage. Take care of business a little quicker this year, Hideki, will you?
Random tournament fact: MillerCoors and AriZona are debuting their new Arnold Palmer Spiked Half & Half drink this week among all those fans hooligans at TPC Scottsdale. So don't expect the atmosphere to be any less rowdy.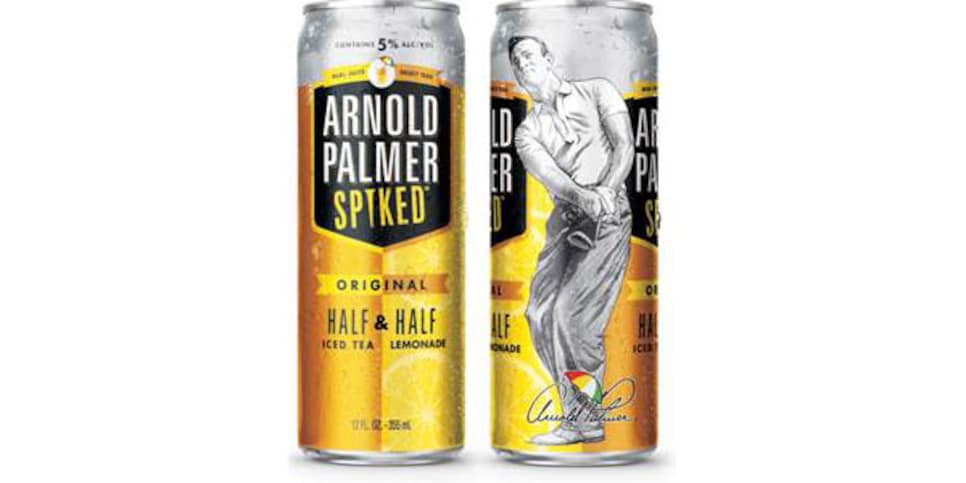 RANDOM PROP BETS OF THE WEEK
-- Hideki Matsuyama will three-peat now that he's on my fantasy team: 1 MILLION-to-1 odds
-- Tiger Woods will win a major this year: 5-to-1 odds (Actual bet! Wow. . . )
-- They will run out of those spiked Arnold Palmers in Phoenix by Saturday: LOCK
About the only thing good to come from the glacial pace during Sunday's round at Torrey Pines was this meeting between Tiger and Andre Iguodala:
Our favorite part is that the Golden State Warriors star has inside-the-ropes access as a photographer. Kevin Durant is going to be jealous.
He also fired the caddie, Brandon Davis, who took to YouTube later that night to make a spirited (and shirtless) defense of his actions:
Long story short, we don't expect Rhein, Brandon and the rules official who called the penalty to be hanging out anytime soon.
VIRAL VIDEO OF THE WEEK (TRICK SHOT DIVISION)
Introducing a new, more fun way to play Jenga:
"I was very little. When I graduated from ninth grade, I was 5-2, 105 pounds. I was a phenomenal putter. I'll bet you when I was 12, I was in the top 10 in the world putting. I once had 16 putts for 18 holes [at San Francisco's Lincoln Park]. On terrible greens, by the way." There it is, folks. The greatest Johnny Miller quote of all time. The best part? It comes from a fantastic Jaime Diaz piece about TIGER WOODS. Johnny Miller forever.
THIS WEEK IN TOUR PROS BEING FRUGAL
Xander Schauffele is still driving the same "scuffed up" Toyota Camry he had well before he won PGA Tour Rookie of the Year. Why? "The lease isn't up yet." Dig your style, Xander.
THIS WEEK IN TOUR PRO-WAG PUBLIC DISPLAYS OF AFFECTION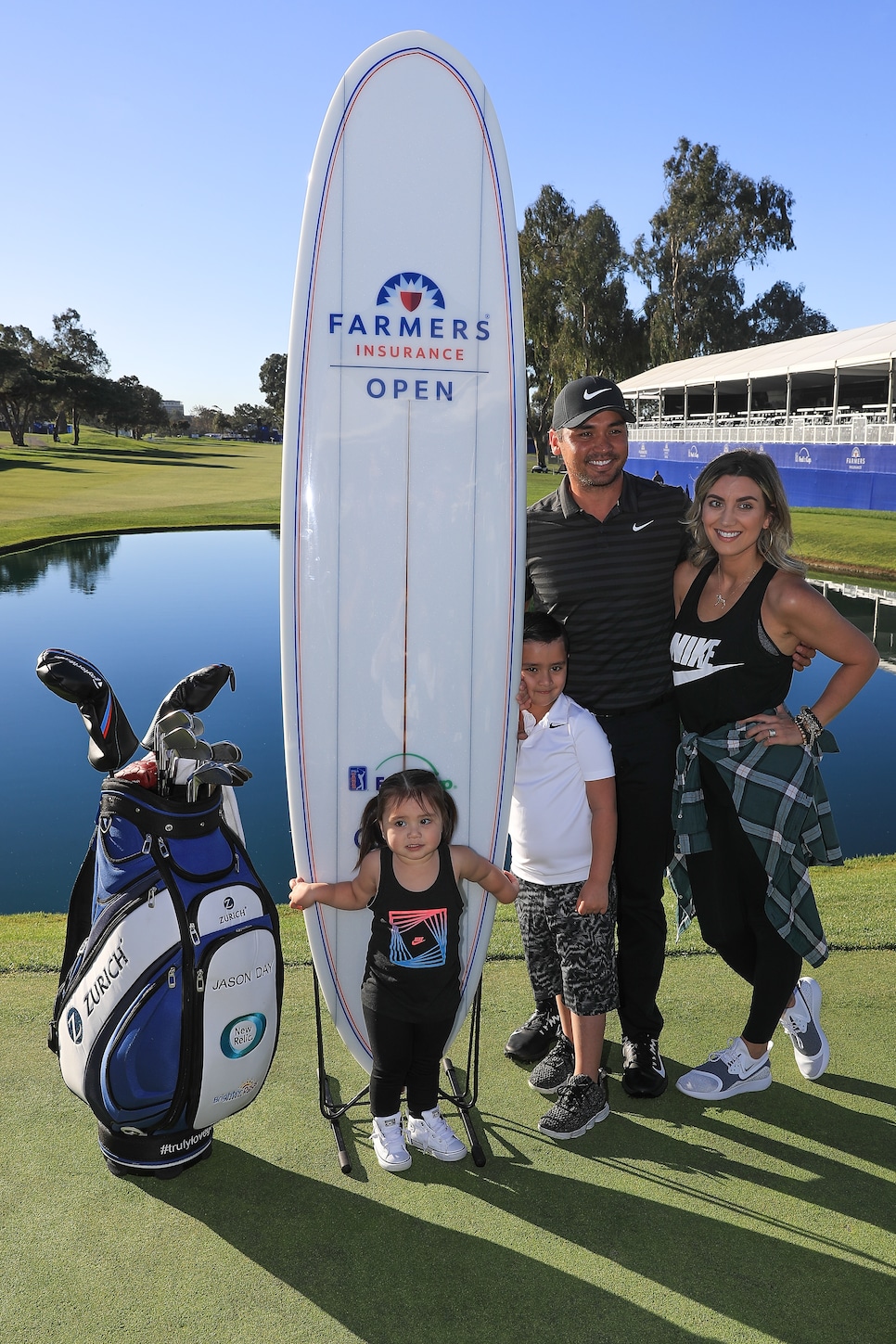 It had been far too long since we've seen Dash celebrating on the 18th green.
Congrats to Brittany Lincicome for successfully defending her title at the Pure Silk-LPGA Bahamas Classic. Shaving cream to the face never tasted so good. . . . Juli Inkster has been invited back to captain the U.S. Solheim Cup team in 2019. Seems like a no-brainer. . . . Vineyard Vines is collaborating with Jim Nantz on a golf clothing collection due out next spring. Also a no-brainer. . . . And finally, I recently discovered this delicious Moore's buffalo sauce and now Sunday nights are unofficially "Wing Nights" in my house: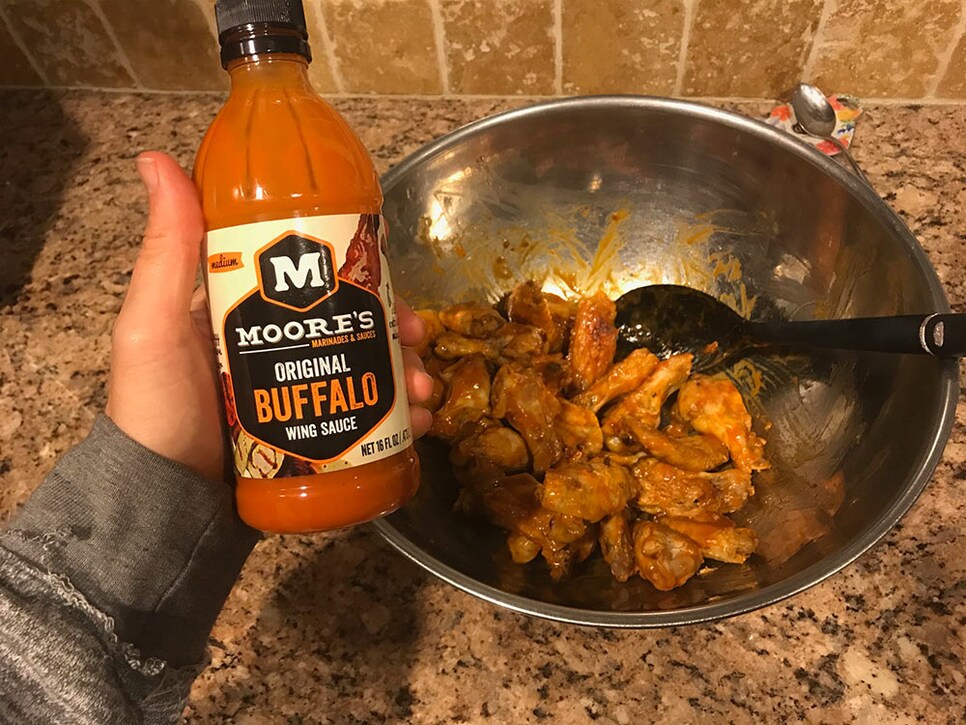 My wife does the heavy lifting when it comes to making the wings, but I must say, I'm pretty good at mixing in that sauce.
RANDOM QUESTIONS TO PONDER
How many buffalo wings have I eaten in my lifetime?
Whose back is feeling better this week: Day or Tiger?
Is there any chance the Patriots lose the Super Bowl?