News
Could Tony Romo be given a sponsor's exemption into a PGA Tour event? The answer is more complicated than you think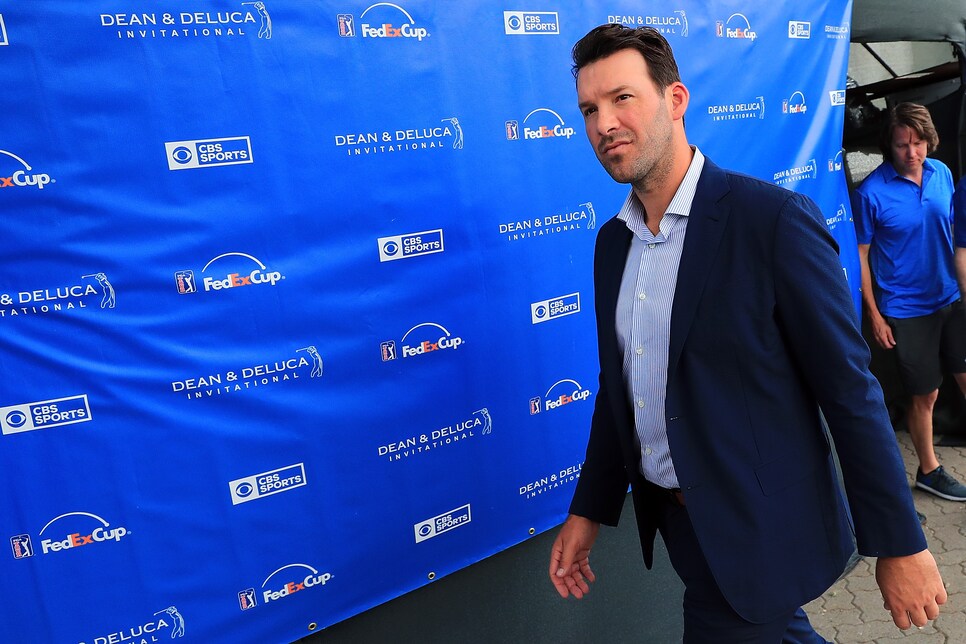 Jim Nantz revealing Tony Romo's plans to play in an upcoming PGA Tour event sparked curiosity as to where this potential debut could come. But more important, is the question of whether such an appearance would even be allowed at the game's highest level.
The answer is yes. But it's a bit complicated.
In recent years, we've seen several sponsor's exemptions given out on the Web.com Tour to celebrities from Jerry Rice to John Smoltz. Last year, Stephen Curry shot a pair of 74s to miss the cut at the Ellie Mae Classic, and country music star Jake Owen has been given a spot in this year's Nashville Golf Open. The PGA Tour, on the other hand, has kept such celebrity appearances to pro-ams. At least, since 1992.
It was that year when Washington Redskins Super Bowl hero Mark Rypien was invited to play in the D.C.-area's Kemper Open. Rypien shot rounds of 80 and 91 to finish dead last by 13 shots and miss the cut by 28 shots, which didn't sit too well with PGA Tour pros. And now, at least one tournament manager thinks that quarterback's performance could keep the former Cowboys QB from getting his crack inside the ropes.
"PGA Tour exemptions must be given to players who are trying to 'make a living' playing golf, or who soon expect to be making their living playing golf," Dean & DeLuca Invitational tournament manager Dennis Robison told the Star-Telegram on Thursday. "It is affectionately referred to as the 'Mark Rypien Rule.'"
But that doesn't jibe with what the PGA Tour told GolfDigest.com on Friday. Vice president of communications Joel Schuchmann explained that unrestricted sponsor's exemptions (spots that don't have to be used for other PGA Tour pros) can be granted to any amateurs provided they have a USGA handicap of 0.0 or better. The criteria for such invites used to be 2.0 or better, but was made stricter in 2004, 12 years after Rypien's rough start. (Rypien had a 1-handicap at the time.) However, Schuchmann also acknowledged that tournaments need to run any sponsor exemption requests that are outside the norm past the tour.
It should be noted the Web.com Tour technically has the same guidelines, but clearly has allowed for more wiggle room in special cases like Owen, who is currently holds a 3.0 handicap, but is also a Nashville resident with ties to the Snedeker Foundation helping run the event. Curry's handicap wasn't quite at a scratch level when he was awarded his exemption last year, but he was a +0.7 (better than scratch) when he played in the Ellie Mae Classic. Not that that distinction kept Curry from getting some criticism for accepting a spot in the field.
Back to Romo, he'd almost certainly receive more criticism than Curry—not that he couldn't handle it after a career of playing one of the most scrutinized position in sports. And it could happen soon. His CBS broadcast partner Nantz told Golf.com earlier this week that "He's going to get an exemption in the next—let's just say two months." Most took that to mean Romo would tee it up in the next two months, but perhaps Nantz was just referring to the timing of him being given the exemption. In that case, Romo could play in May at the AT&T Byron Nelson, which moved this year to one of his home courses, Trinity Forest.
AT&T Byron Nelson tournament directors didn't immediately respond to GolfDigest.com's questions regarding this year's sponsor's exemptions, but according to PGA Tour regulations, Romo could be given one based on his handicap index. Barely. Here's a look at Romo's current card on GHIN: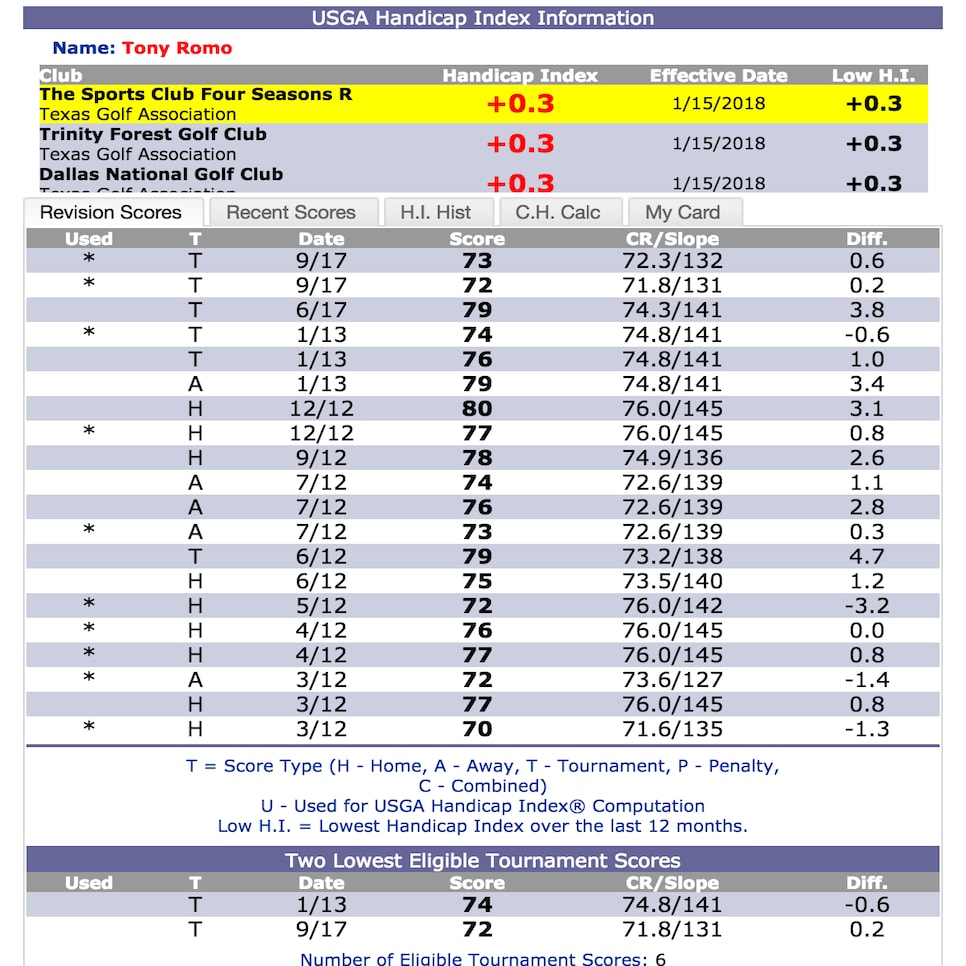 As you can see, Romo is a sparkling +0.3, but he's only posted three scores since 2013. He also doesn't appear to have entered any of his three scores from his T-16 appearance at the American Century Celebrity Golf Championship at Tahoe in July, when he shot 79-77-74. Nor is his 75 from a local U.S. Open qualifier in May posted.
So yes, in theory, golf fans could see Tony Romo tee it up at a PGA Tour event in the coming months. Just don't expect to see any drastic changes to his handicap in the meantime.