Crunching the Numbers
Tiger Woods, LIV Golf among Google's most searched golf subjects in 2022. But who else makes the list?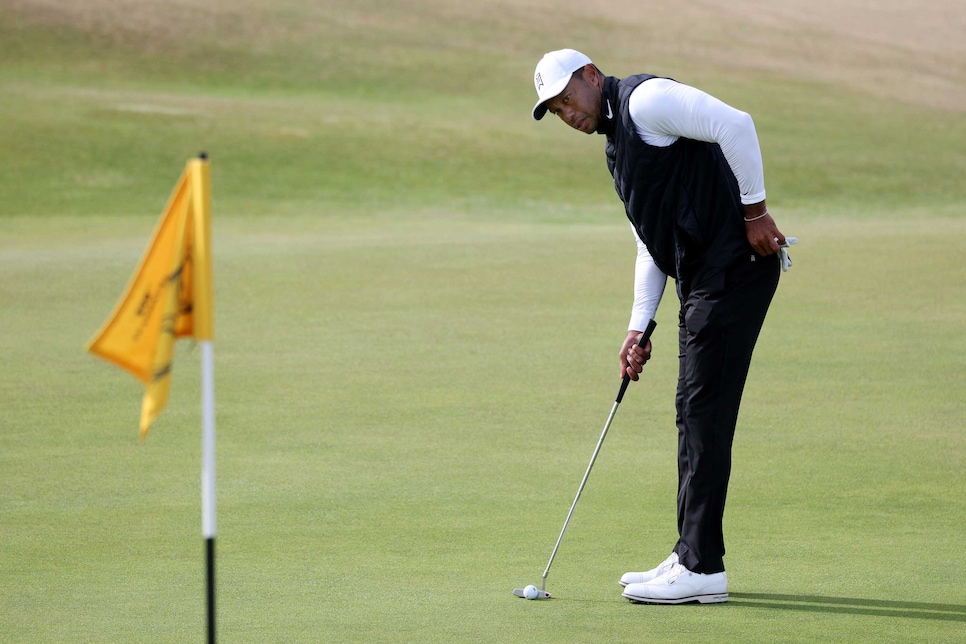 Tiger Woods practices ahead of The 150th Open at St. Andrews.
Harry How
Tiger Woods and LIV Golf were Google's most searched-for golf subjects in the United States in 2022, according to data the search engine provided Golf Digest.
The most "googled" golf topics can be broken out by categories—golfer, golf-related terms and golf questions. To get a top-10 ranking in each, Google ranked searches according to its trends data within the search engine—analysing "search interest" for subjects using a sample of all searches and then indexing the topics in relation to the top item on each list. Google did not provide raw numbers for the year regarding search volume.
Woods, despite playing just three official tournaments this year as he continued to recover from his February 2021 car accident, was No. 1 in Google's top-searched golfers. That shouldn't be a surprise given the frenzy the 15-time major winner created while weighing his return to competition at the Masters in April. Woods arrived early to Augusta National and never officially announced whether he was playing, eventually teeing it up in Thursday's opening round and posting an impressive 71, then grinding out a 74 on Friday to make the cut. He would finish 47th.
Coming in third was Rory McIlroy, who won three PGA Tour events, including the season-ending Tour Championship and with it the FedEx Cup title. Additionally, McIlroy won the DP World Tour's season-long points title and finished in the top 10 in all four majors. He shared the lead entering the final round of the 150th Open—and was the fan favorite to claim the claret jug—only to finish third to Cameron Smith, who was seventh in Google searches having won three PGA Tour events, including The Open, before joining LIV Golf in August.
Paige Spiranac, a former pro golfer who now hosts the Playing A Round podcast, was the only non-PGA Tour player in the top 10.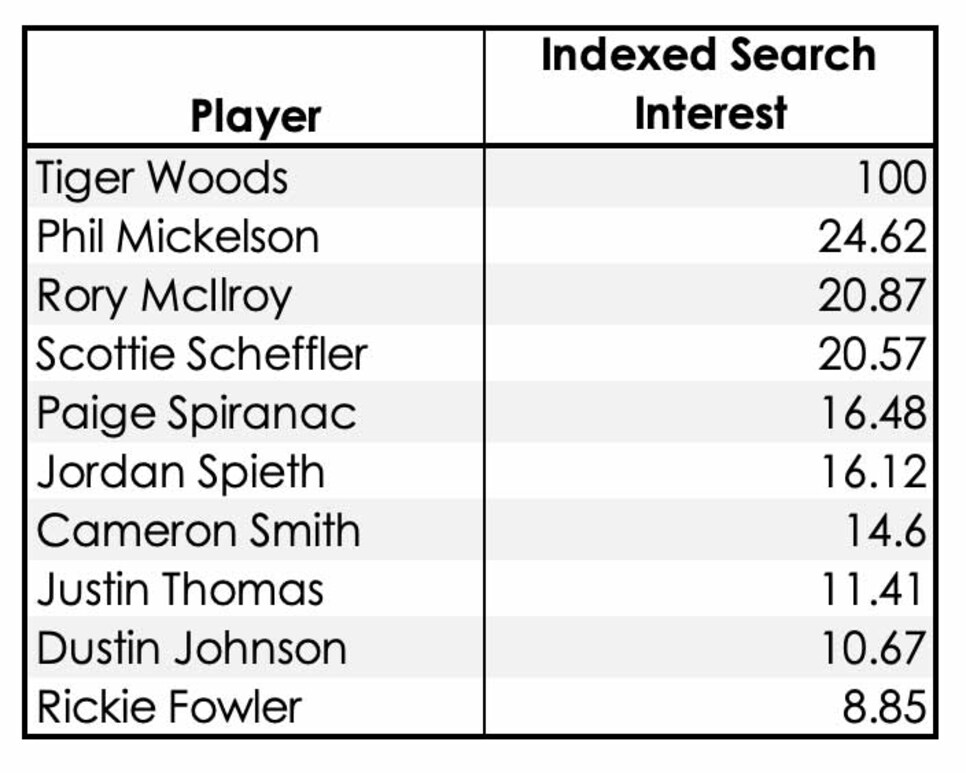 The most searched for golfer on Google in 2022 was Tiger Woods, indexed with a score of 100. The remaining top players' numbers are based on the search interest they generated compared to Tiger.
For golf-related terms, LIV Golf topped the list in 2022, while "LIV Golf leaderboard" was second. "U.S. Open golf" came third, but generated 10 percent of the search interest compared with LIV Golf.
LIV, controversially financed by Saudi Arabia's Public Investment Fund, launched this year with two-time Open Championship winner Greg Norman as its chief executive. The upstart league debuted with seven tournaments that featured 54 holes with no cut, 48-player fields and $25 million purses. A $50 million team finale was then held at Trump Doral in Miami. LIV lured a host of stars away from the PGA Tour including World No. 3 Smith and fellow major winners such as Dustin Johnson, Brooks Koepka, Bryson DeChambeau and Patrick Reed.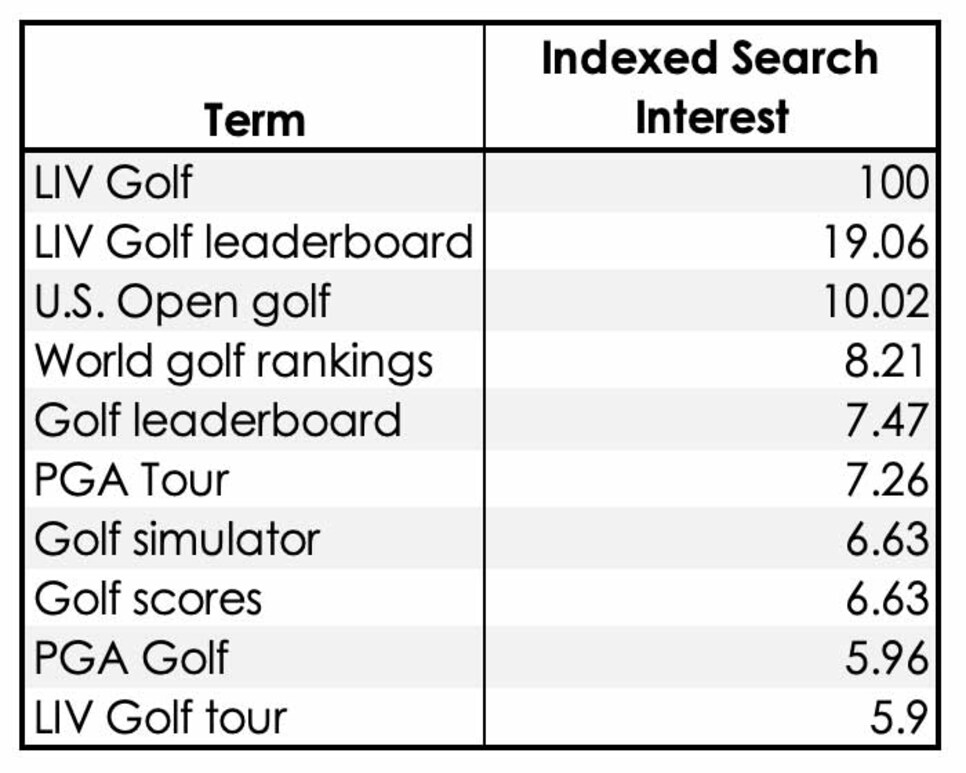 The most searched for golf-related topic on Google in 2022 was LIV Golf, indexed with a score of 100. The numbers corresponding to the remaining topics are based on the search interest they generated compared to LIV Golf.
The top questions searched for in 2022 included "What is a scratch golfer?", "Who is the best golfer of all time?" and "How much do pro golfers make," as well as searches to find the nationality of U.S. Open champion Matt Fitzpatrick (English) and Smith (Australian)
Top questions on golf in 2022
1: What is a scratch golfer?
2: Who is the best golfer of all time?
3: How much do pro golfers make?
4: Who is the number one golfer in the world?
5: How to become a professional golfer?
6: What does the average golfer shoot?
7: Where is golfer Cameron Smith from?
8: How far do pro golfers drive?
9: Where is Fitzpatrick the golfer from?
10: Who won the Masters 2022?