Mickelson watch
Phil Mickelson to make return to golf at LIV Golf London event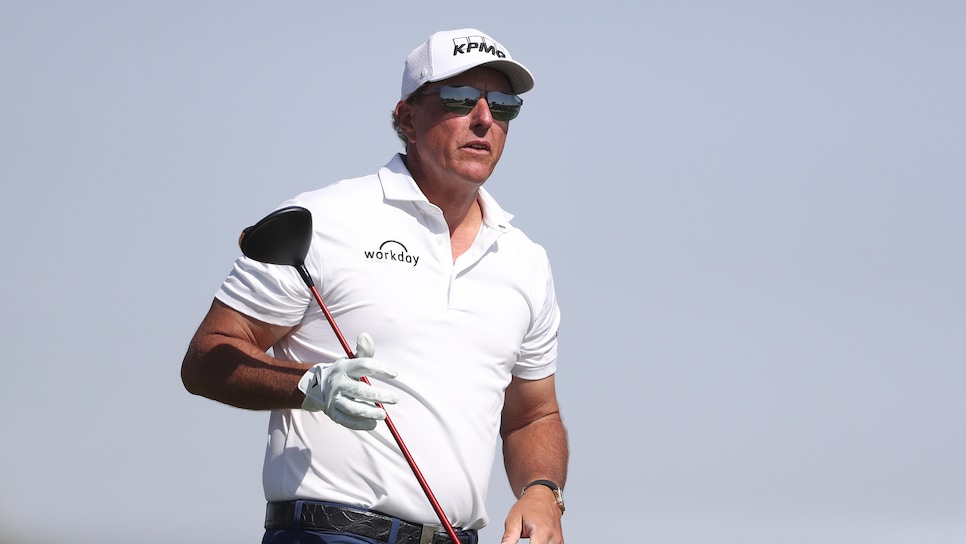 Phil Mickelson has jumped to LIV Golf and will play in this week's London event, ending the 51-year-old's three-month sabbatical from golf.
The news is not necessarily surprising; Mickelson has been among the most prominent names connected to the LIV Golf operations and he noted in a February interview with Golf Digest that the PGA Tour's "obnoxious greed" had him looking elsewhere to play professionally. Moreover, Mickelson's agent, Steve Loy, acknowledged in April that Mickelson had requested a release from the PGA Tour to play in LIV Golf's inaugural competition at the Centurion Club.
However, Mickelson has remained out of the public eye since late February when the Fire Pit Collective published an interview in which Mickelson claimed he was using the Saudi-backed golf circuit as leverage against the PGA Tour and claimed he had paid lawyers to draw up the league's operating charter. The story caused backlash, with Mickelson issuing an apology for his "reckless" comments and stating he would be taking time away from the sport.
"The past 10 years I have felt the pressure and stress slowly affecting me at a deeper level," Mickelson said in a Feb. 22 statement. "I know I have not been my best and desperately need some time away to prioritize the ones I love most and work on being the man I want to be."
In the fallout Mickelson's primary sponsors Callaway, Workday, KPMG and Heineken/Amstel distanced themselves from Mickelson, all ending or pausing their business relationships with him. Mickelson skipped the Masters—a tournament he's won three times—for the first time since 1994, and three weeks ago dropped out of the PGA Championship, a tournament where he was the defending champ. Mickelson's last appearance was at the Saudi International in February. He has not played in the United States since the Farmers Insurance Open in his hometown of San Diego in January.
In a statement Mickelson again apologized for his comments but expressed that he is "thrilled" to join LIV Golf.
"I am ready to come back to play the game I love but after 32 years this new path is a fresh start," Mickelson said, "one that is exciting for me at this stage of my career and is clearly transformative, not just for myself, but ideally for the game and my peers."
Mickelson said he still intends to play in the majors, including next week's U.S. Open.
Mickelson joins Dustin Johnson as headliners for the LIV Golf series. Other notable names signed up for this week's London event include Louis Oosthuizen, Sergio Garcia, Lee Westwood, Talor Gooch, Martin Kaymer, Kevin Na and Ian Poulter.
PGA Tour Commissioner Jay Monahan has promised that any tour member who competes in an event on the rival league would face suspension from the PGA Tour and possibly a lifetime ban. The tour denied conflicting-event releases to all tour members who requested to compete in the London event.