The Grind
Tiger Woods' tremendous self dagger, Brooks Koepka's questionable offseason choice, and an LPGA star's star-studded wedding
Welcome to another edition of The Grind where all we want for Christmas is to see Tiger Woods play golf again. And, incredibly, it's happening this week. Thank you, Santa. And golf gods. And modern medicine and science. Just 10 months after being in a car crash that was so bad he nearly had to have his leg amputated, Tiger is teeing it up with his son. Yes, it's just a hit-and-giggle exhibition, but it might be the most excited I've been to watch golf all year. And I suspect I'm not alone. Anyway, welcome back, Tiger. Now let's get to everything else going on in the world of golf.
Kevin Na/Jason Kokrak: First of all, with a win at the QBE Shootout, Kokrak now has four victories in his last 29 events. OK, so this one doesn't really count, but still, that's an impressive run. Of course, it was Na's walking that stole the show, as he showed he walks in putts for teammates as well:
Man, he would have been fun at the Ryder Cup. Na also showed his candid and emotional side again after winning—and suddenly the "silly season" didn't seem so silly anymore:
Rob Labritz: Speaking of getting emotional, how about this from the club pro who is headed to the PGA Tour Champions next season after being Q School medalist?
So good. And so happy for Rob, the longtime director of golf at GlenArbor Golf Club in Bedford, N.Y. One of the first times I realized how good covering golf could be was when I attended a luncheon to interview him after he was presented with the Metropolitan Golf Association Player of the Year—and I even got a free lunch! We've both come a long way since then. Well, Rob has, at least.
The "Uresti Rule": The PGA of America has finally put an end to allowing Omar Uresti to compete in club pro events. Unlike our guy Rob Labritz, Uresti was only competing against club pros due to an old loophole—and, not surprisingly, dominating that scene.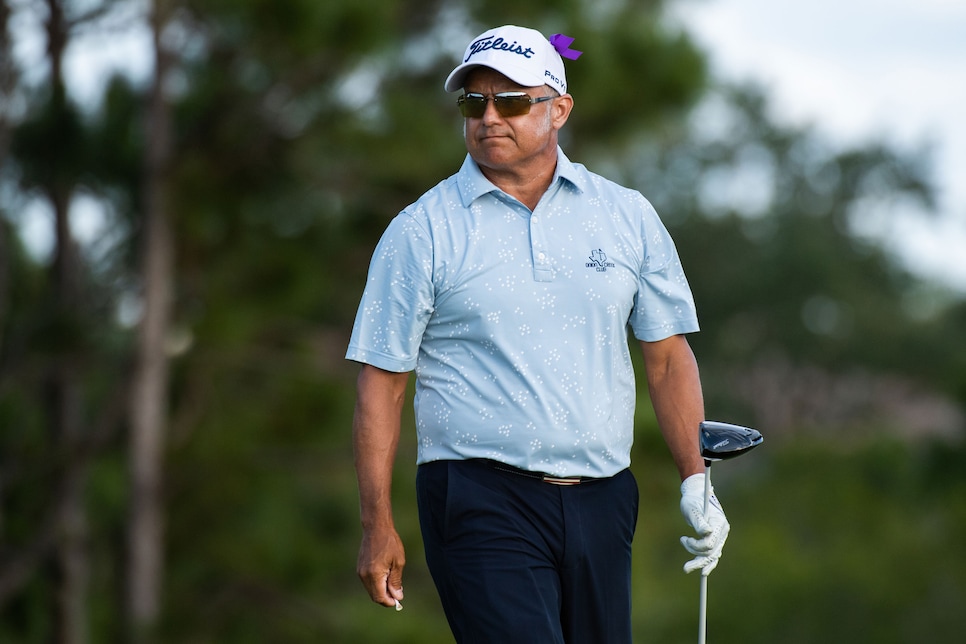 Montana Pritchard/PGA of America
Uresti is a two-time winner of the PGA Professional Championship, including last year, and he also won the 2020 Senior PGA Professional Championship. He's qualified for the PGA Championship five of the past seven years by playing in those events after never getting into the event when he competed on tour. So this was an obvious change that needed to happen. The only drawback is I'll miss all the bitching about Omar on Golf Twitter.
Matt Every's latest meltdown: Well, we're actually selling that it wasn't caught on video because it sounds pretty legendary. Thanks (as usual) to Ryan French for providing the details:
Amazing. There should be a camera following that guy around at all times.
Brooks Koepka's offseason activities: Specifically, one activity. Skiing. Brooks has been banged up for a couple years now and he's using his time off to hit the slopes?!
The list of golfers who have gotten hurt skiing is scary, from David Duval to Phil Mickelson. Heck, Tiger claimed he had a tooth knocked out just watching the sport! Anyway, according to Jena Sims, Brooks emerged unscathed. This time.
Mother Nature ruining a great invite: Imagine you finally get the nod to play Cypress Point and it comes on a day with hurricane-level winds? Not great!
Kudos to this guy for toughing it out, but that sucks.
As mentioned earlier, Tiger Woods and his son, Charlie, are back in the field at the PNC Father/Son Challenge. Just an incredible turnaround in less than a year.
Random tournament fact: Justin Thomas and his dad, Mike, a longtime PGA professional, are the defending champs and the heavy 2-to-1 favorites to win again. It's not quite Davis and Dru Love winning, but it also doesn't seem like a fair fight. Just saying.
RANDOM PROP BETS OF THE WEEK
—Club pros will be upset about the "Uresti Rule" next year: 1 MILLION-to-1 odds
—Tiger and Charlie will win: 10-to-1 odds (Actual odds)
—This will be the highest-rated Father/Son Challenge ever: LOCK
"Less than my son." —Tiger Woods, when asked what his swing speed is right now. Boom. Roasted. Himself. Actually, check out Tiger's entire Q&A with our Dan Rapaport:
VIRAL VIDEO OF THE WEEK (FEEL-GOOD DIVISION)
What a cool scene as sisters and teammates at University of Arizona Vivian and Yu-Sang Hou congratulate each other after they both earned LPGA Tour cards for next season:
I can't imagine how proud their parents are.
VIRAL VIDEO OF THE WEEK (FLUKE DIVISION)
Bubba Watson nearly aced a par 4. By banking it off some fan's elbow.
Crazy stuff. Then again, maybe it's not so crazy when you consider the only official par-4 ace in PGA Tour history was Andrew Magee banking in a tee shot off someone's putter at TPC Scottsdale.
VIRAL VIDEO OF THE WEEK (LOOKALIKE DIVISION)
And as far as we know, the World No. 1 hasn't quit his day job.
THIS WEEK IN PUBLIC DISPLAYS OF AFFECTION
Congrats to Jessica Korda and Johnny Delprete tying the knot!
And on having a guest list that rivals the wedding in the Season 3 finale of Succession!
Of course, the people at this wedding look like they had a lot more fun.
THIS WEEK IN PUBLIC DISPLAYS OF AFFECTION ATHLETICISM
If we gave you one guess which golfer chipped in barefoot while holding a drink in one hand, who would you guess?
I think Pat might be onto something here. When he hangs it up, he should think about going into consulting.
Congrats to Na Rin An for being medalist at LPGA Q School at 33(!) under par in the eight(!)-round event. Actually, congrats to everyone who advanced from playing that much pressure-packed golf. . . . Congrats to Max Kramer for winning a Mad Tour event in Turkey by 20 shots. Yep, TWENTY! Apparently, Max is the Tiger of Turkey right now. . . . And, finally, thanks to everyone for reading along with The Grind in 2021. I haven't checked the numbers, but I'm pretty sure that Year No. 9(!) was our biggest yet. Enjoy this Lindt Lindor chocolate truffle for your troubles: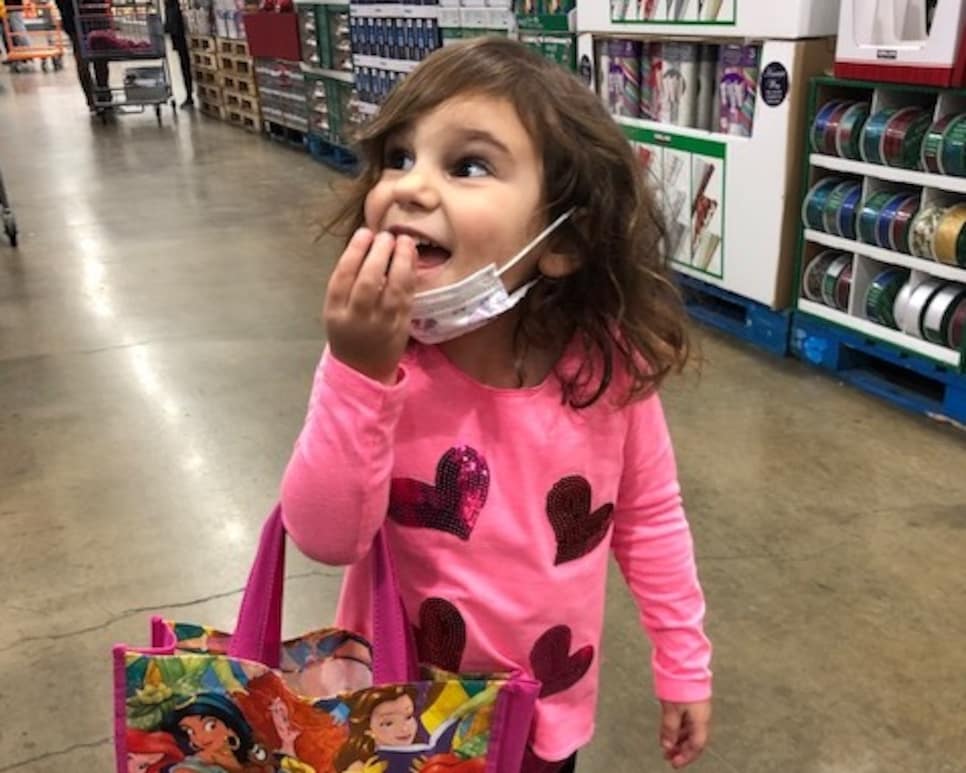 Sorry, Julia already ate it. But if you hurry to Costco, they might still be giving out free samples. Anyway, happy holidays, and see you next year!
RANDOM QUESTIONS TO PONDER
What's the best Christmas present you've ever received?
Will Tiger be dressing up as "Mack Daddy Santa" this year?
How much chocolate will I eat this month?
Watch the latest episde of The Grind below: