pga tour champions
New York club pro lives the dream by taking medalist honors in Champions Tour Q School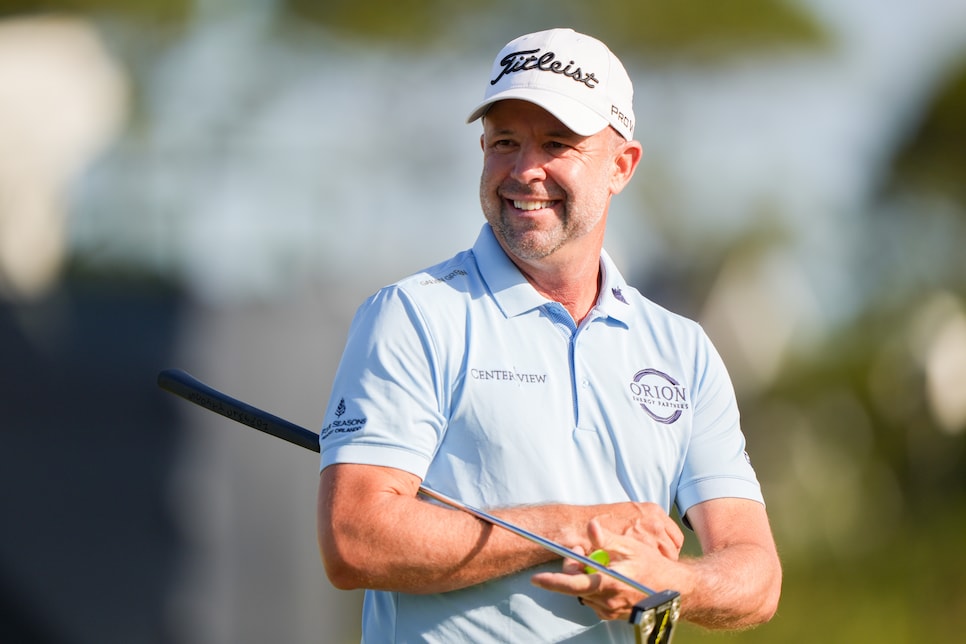 Rob Labritz has competed in eight PGA Championships, including this year's event at Kiawah Island.
Darren Carroll/PGA of America
There are hundreds of PGA professionals around the world who grind on the range day after day and play in their section tournaments, dreaming that it seasons them for the big leagues once they turn 50 years old. The odds are incredibly long, considering the talent pool of proven tour pros and the miniscule number of opportunities for fulltime status.
Yet, every once in a while, someone pulls of a stunning breakthrough that lends hope to all of those who still believe. This year's PGA Tour Champions Qualifying School finals produced not one, but two of those stories.
On Friday in Lutz, Fla., longtime New York PGA teaching pro Rob Labritz not only exceled in his first senior Q School he dominated it, closing with a bogey-free eight-under-par 64 at TPC Tampa Bay to earn medalist honors with a 17-under total.
The top five finishers earned fully exempt status for the 2022 PGA Tour Champions season, and among the other four qualifiers was Roger Rowland, a 54-year-old pro from Jacksonville, Fla., who closed with a 65 to finish solo fourth at nine under. Rowland never played on the PGA Tour and last competed on the Korn Ferry Tour in 2000. He has five senior starts since 2018, with a T-43 as his best finish.
Also getting their fulltime cards after tying for second at 14 under were former PGA Tour player David Branshaw, 52, and Thailand's Thongchai Jadee, who had to return to Q School after playing a limited schedule in 2020-21 because of the COVID-19 pandemic. Tom Gillis, 53, finished alone in fifth at eight under.
The sixth through 30th finishers are eligible to compete in Champions Tour open qualifiers. Included in that group are Guy Boros, Skip Kendall, Paul Stankowski, Esteban Toledo and Ken Duke. Among the notable players among the 71 who finished all four rounds and didn't earn status were Harrison Frazar, Omar Uresti, Olin Browne and Frank Lickliter.
Labritz, 50, is a highly regarded pro who is the director of golf at GlenArbor Golf Club in Bedford Hills, N.Y. His impressive resume includes eight appearances in the PGA Championship, including twice being the low club professional (in 2010 Whistling Straits and '19 at Bethpage Black). Labritz also has three victories in the New York State Open.
After the third round, Labritz considered what reaching the Champions Tour would mean and said, "This is what I've worked for my entire life. Every time I'm out hitting golf balls, I'm thinking of this. I'm thinking of the shots I need to hit to make sure this happens. It's super important, but it's super fun, too. I'm doing what I love, and there's nothing better."