Tiger Watch
Tiger Woods set to return to golf, will play with son Charlie at PNC Championship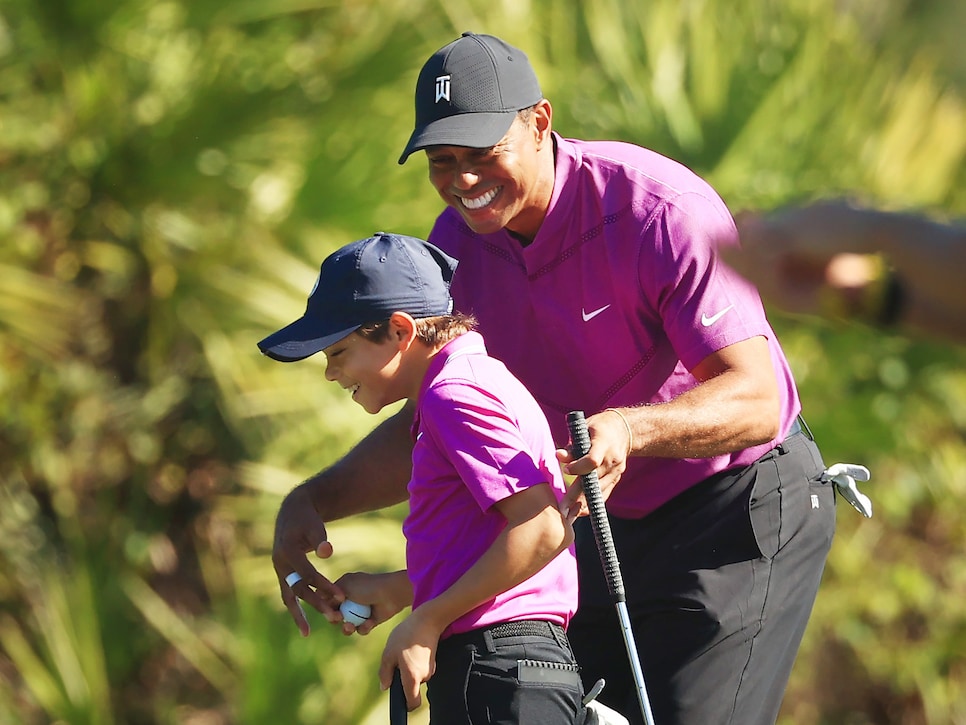 Tiger and Charlie Woods react during the first round of last year's 2020 PNC Championship. The father-son team will return to the two-event next week as Tiger competes for the first time since his February car accident.
Mike Ehrmann
Tiger Woods will play in next week's PNC Championship alongside his 12-year-old son, Charlie, the tournament announced on Wednesday. The two-day event, which begins Dec. 18 in Orlando, will mark Woods' return to tournament play after sustaining traumatic leg injuries in a single-car accident outside Los Angeles last February. Team Woods made its debut in the event last year.
"Although it's been a long and challenging year, I am very excited to close it out by competing in the PNC Championship with my son Charlie," Tiger said on his Twitter account. "I'm playing as a Dad and couldn't be more excited and proud."
That Woods would be swinging a golf club less than 10 months after the crash, let alone competing in an event of any kind, seemed ludicrous until a few weeks ago when he posted a swing video with the caption "Making progress." That sent the comeback hype train rolling, even as Woods appeared to downplay the idea of an imminent return when, in his first video interview since the accident, he told Golf Digest he would never play the PGA Tour full-time again and that he remained a long way off competing at the highest level.
"I think something that is realistic is playing the tour one day—never full time, ever again—but pick and choose, just like Mr. [Ben] Hogan did. Pick and choose a few events a year and you play around that," Woods said during a Nov. 29 Zoom interview with Golf Digest's Henni Koyack. "You practice around that, and you gear yourself up for that. I think that's how I'm going to have to play it from now on. It's an unfortunate reality, but it's my reality. And I understand it, and I accept it."
"I'll put it to you this way," Woods said ahead of the Hero World Challenge. "As far as playing at the tour level, I don't know when that's going to happen. Now, I'll play a round here or there, a little hit and giggle, I can do something like that."
The PNC would certainly qualify as a hit-and-giggle. Played at the Ritz Carlton Golf Club Orlando, the format is two rounds of scramble that involves just 20 teams, and Woods will be permitted to take a cart. Last year, as his back began to ache, Woods had Charlie tee off first from the up tees. If the younger Woods hit a good one, the older Woods didn't bother hitting his tee shot. The scramble also allows Woods to opt out of hitting any uneven-lie shots that might put additional stress on his body.
Woods has spoken at length about the joy he gets from spending time on the golf course with Charlie, and images of the Team Woods playing alongside Justin Thomas and his father/coach, Mike, went viral last year. Some of the first images that emerged of Tiger post-accident were of him watching Charlie at junior tournaments across Florida.
"I went to golf tournaments to watch him play," Woods told Golf Digest, "and I'm looking at some of these scores he's shooting and I said, How the hell are you shooting such high scores? I gotta go check this out. So I'd watch him play and he's going along great, he has one bad hole, he loses his temper, his temper carries him over to another shot and another shot and it compounds itself. I said, 'Son, I don't care how mad you get. Your head could blow off for all I care just as long as you're 100 percent committed to the next shot. That's all that matters. That next shot should be the most important shot in your life. It should be more important than breathing. Once you understand that concept, then I think you'll get better.' And as the rounds went on throughout the summer, he's gotten so much better."
Team Thomas will defend its title from 2020 after shooting 25 under to win their first appearance in the event formerly known as the Father-Son Challenge. The two-day event will be broadcast on NBC. Here is the full 20-team field competing; pros must have won a major or the Players Championship to be eligible for the event.
Pro/Partner
Bubba Watson/Wayne Ball
David Duval/Brady Duval
Gary Player/Jordan Player
Henrik Stenson/Karl Stenson
Jim Furyk/Tanner Furyk
John Daly/Little John Daly
Justin Thomas/Mike Thomas
Lee Trevino/Daniel Trevino
Mark O'Meara/Shaun O'Meara
Matt Kuchar/Cameron Kuchar
Nelly Korda/Petr Korda
Nick Faldo/Matthew Faldo
Nick Price/Greg Price
Padraig Harrington/Paddy Harrington
Rich Beem/Michael Beem
Stewart Cink/Reagan Cink
Tom Lehman/Sean Lehman
Tom Watson/Michael Watson
Tiger Woods/Charlie Woods
Vijay Singh/Qass Singh