Tiger Watch
Tiger Woods sure appears to be in driving-range grind mode at the Hero World Challenge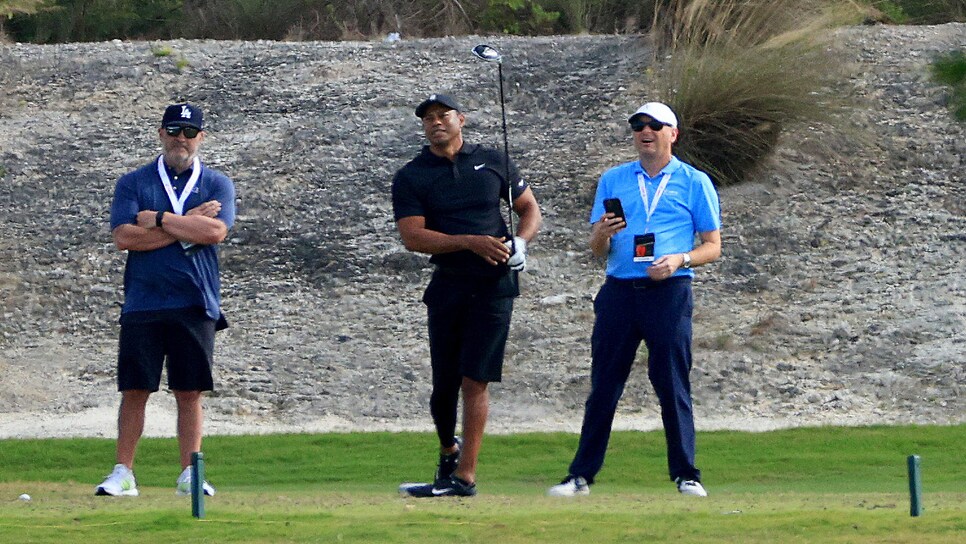 Tiger Woods hits balls on the range during the third round of the Hero World Challenge.
Mike Ehrmann
NEW PROVIDENCE, Bahamas — Twenty of the world's finest golfers are teeing it up in this week's Hero World Challenge, but it's the actions of a certain non-competitor that have the golf world buzzing.
Just nine months after his single-car accident resulted in traumatic leg injuries, Tiger Woods is on-site at Albany this week to host the Hero, which benefits his TGR Foundation. His hosting duties include a bunch of photo ops, beachside parties and corporate shindigs … and, most notably, a bunch of range sessions.
Yes, just days after telling Golf Digest that he would never play the PGA Tour full-time "ever again" and that he's a long way off competing at the tour level, Woods has been seen hitting balls at least three times over the last four days in the Bahamas. On Wednesday, the PGA Tour's official Twitter account posted video of Woods hitting two 3-woods off the hitting area toward the back of Albany's driving range, some 350-plus yards away from the primary practice tee being used this week.
On Friday, Woods went back to the back area to hit balls alongside Bryson DeChambeau. A source told Golf Digest that the two friends engaged in a light-hearted closest-to-the-pin challenge, and that Woods got the better of the World No. 7 at least twice.
On Saturday, Woods was photographed hitting what appeared to be full-swing drivers, once again making use of Albany's back range.
"I can hit it, it just doesn't go as far," Woods told Golf Channel on Saturday. "The power's not there."
He was then asked if he feels like he's taking a risk when he swings. "It has before, and if I go at it at what I would say is my old speed, yes it is [a risk]," Woods said.
There is ongoing speculation that Woods will participate along with his 12-year-old son Charlie at the PNC Championship, which begins in Orlando on Dec. 18. He will make a decision on that matter next week, sources tell Golf Digest, and he said at his news conference on Tuesday that he is much closer to playing a "hit-and-giggle" than competing on tour. The PNC is a two-round team event that allows pairs to ride in carts, and its scramble format would let Woods only hit shots he feels comfortable with. Tiger played with Charlie in the event for the first time last year.
That Woods is hitting drivers and even considering playing an event—even an exhibition—less than 10 months after a horrific accident qualifies as remarkable.