Tiger Watch
What Tiger Woods' future schedule might look like
Tiger said if he returned to competition, he'd play a limited number of tour events. Here's an educated guess at which events they might be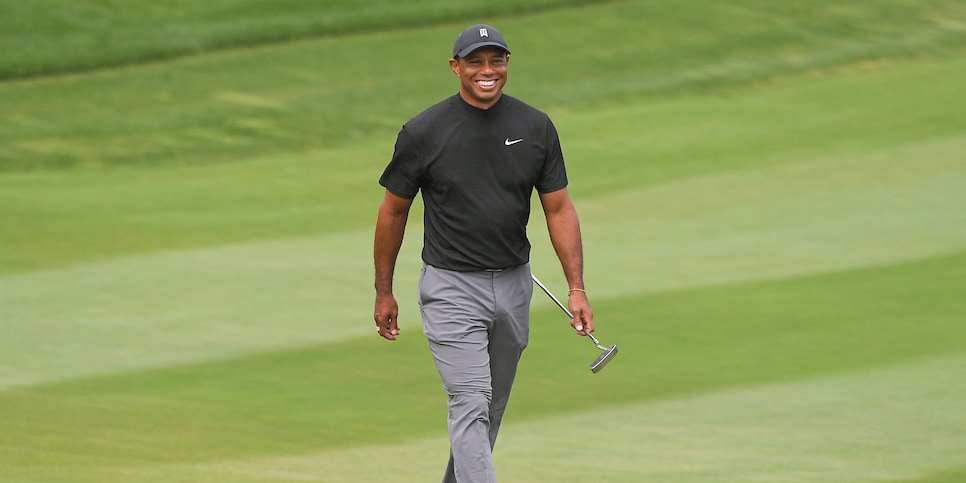 NEW PROVIDENCE, Bahamas — When Tiger Woods told Golf Digest he'll never play the PGA Tour full-time "ever again" and that he'll have to "pick and choose" which events he plays, some pointed out that Woods had already been playing a limited schedule before his February 2021 accident. Yes and no. In 2018—his first year back after his spinal fusion surgery—Woods played 19 events. In hindsight, it was far too many. Woods himself admitted as much, citing fatigue as the reason he played so poorly in that year's Ryder Cup. Vowing not to make the same mistake again, Woods played 14 events in 2019, which included an extended break after he won the Masters in epic fashion. The 15-time major winner played nine events in 2020, but that number is skewed by the three-month COVID-19 hiatus.
Woods has cruised in the 14-event-a-year range, but given his comments in the last couple days, there's almost no chance he plays that much going forward. So if those were limited schedules, these will be extremely limited schedules. It's also worth noting that Woods might not play on the PGA Tour ever again. It's not likely, but it's possible.
"I haven't proven it to myself that I can do it," Woods said Tuesday. "I can show up here and I can host an event, I can play a par-3 course, I can hit a few shots, I can chip and putt, but we're talking about going out there and playing against the world's best on the most difficult golf courses under the most difficult conditions. I'm so far from that. Now, I have a long way to go to get to that point. Now, I haven't decided whether or not I want to get to that point. I've got to get my leg to a point where that decision can be made."
Video: Which Events Will Tiger Play When He Returns to Golf?
For the purposes of this piece, we are going to assume that Woods' leg will, in fact, progress to the point where he can play a select few tournaments. With that in mind, here's our best educated guess as to how Woods would rank events—from the one he'll play so long as it's physically possible, to the ones that have all but certainly hosted Tiger Woods for the last time.
If he plays one more event in his life, it's this one
No event has played a bigger part in Woods' career arc than the Masters. It's where he won his first major, blitzing the field by 12 and shattering a color barrier in the process. It's where he completed his Tiger Slam in 2001, the most dominant stretch of golf in the modern age. And it's where he won his 15th major in storybook fashion, summiting golf's Mount Everest after virtually everyone counted him out. Woods has deep reverence for golf's most famous event, and if he can only play one more event for the rest of his life, it's this one.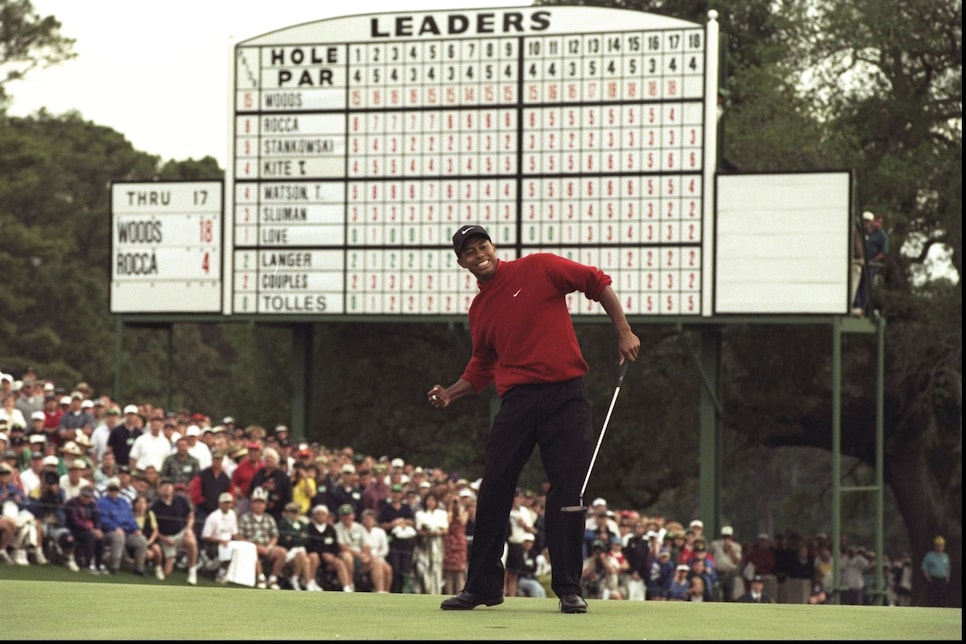 Woods' victory at Augusta in 1997 began a lifelong connection to the tournament that will probably keep him playing the event until he officially retires.
It's not just that Woods cherishes the sport's oldest championship; it's that it fits his current game—at least, what we think his game will look like—perhaps better than any other. Links golf prioritizes guile over girth, precision over power. On a baked-out course that will neutralize length (insofar as that's even possible), Woods can plot his way around and rely on his strength, his iron play. Woods said Tuesday that he'd love to play in the 150th Open at St. Andrews; that feels a bit far-fetched, but don't bet against him playing in at least one more Open.
It's his event. He's the host, it benefits his foundation and it's on his home turf of Southern California. Despite his lack of success at Riviera—nowhere has he played more tournaments without a victory—it is the site of his first PGA Tour start, and Woods will do whatever he can to bolster his foundation. His presence as a competitor at this event would certainly do the trick.
See above regarding the foundation work. It's also a chill week in the Bahamas, with a limited field and a flat, generous golf course.
Woods has fared quite well on PGA of America setups throughout the years (though that can be said for basically any golf tournament), and Phil Mickelson proved at Kiawah that it's absolutely possible to, amid a terrible season, peak for one week and poach a major championship out of nowhere. Tiger has always built his schedule around the majors, and with the event now coming in May—when it's not oppressively hot—he can take a full month off after the Masters to get himself ready again.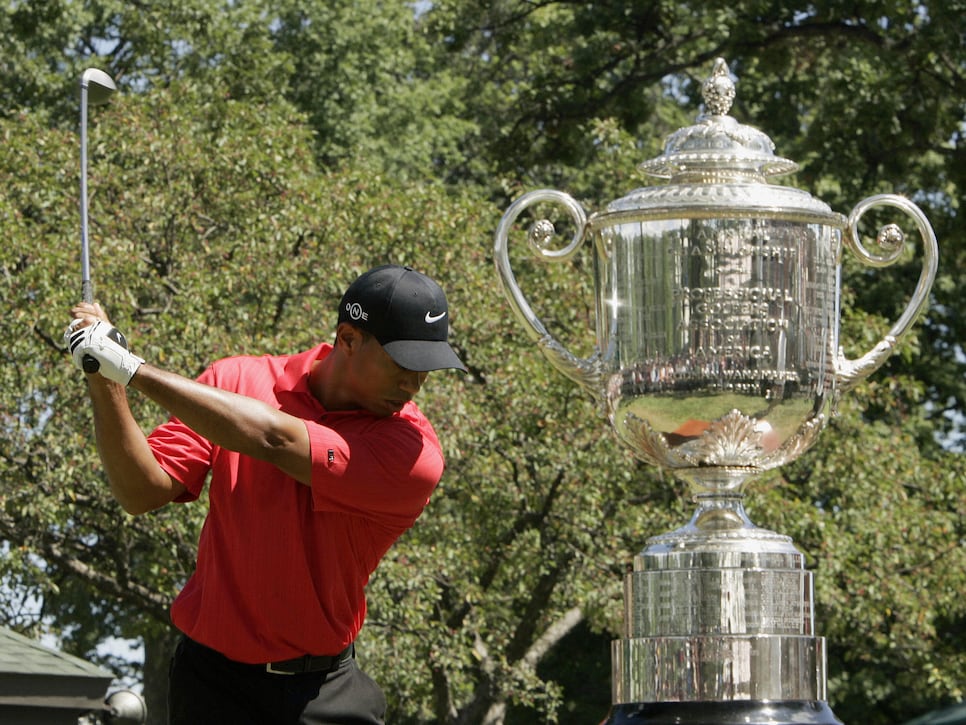 Four of Tiger's 15 major titles have come in the PGA Championship.
TIMOTHY A. CLARY
Only four men have their own tournaments on the PGA Tour: Tiger, Byron Nelson Arnold Palmer and Jack Nicklaus. Woods takes pride in being one of those four, and he feels a kinship with the only man who has more major championships than he. It doesn't hurt that he's won the event five times. The Memorial, you may remember, was the first event Woods returned to after the COVID hiatus in 2020. He'll want to play for Jack.
The Players Champioinship
The Players is popular ridicule fodder for Golf Twitter, but Woods himself holds the event in high regard. "Our championship," as he calls it. And TPC Sawgrass is another course that rewards precise iron play more so than brute strength. Woods also threw his full support behind the PGA Tour on Tuesday—he's not open to joining Greg Norman's venture, it's safe to say—and this is the tour's crown jewel. He almost singularly responsible for the large purses the tour hands out today, and the tour is hugely grateful to him for the attention he's brought to golf. There's a lot of love there.
Yes, it's a major. But you couldn't possibly cook up a worse fit game-wise for a late-40s man with his injury history. The courses are long. So is the rough. It's a grueling test, both physically and mentally. And while he has three U.S. Open trophies on his mantle, he's missed the cut in three of his last four appearances. If there's one major he'd feel comfortable skipping, it's this one.
Arnold Palmer Invitational
He's won the event eight times, and it has the same sentimental value that the Memorial does. The only difference here is this comes directly before the Players, and we can't see him playing back-to-back weeks again.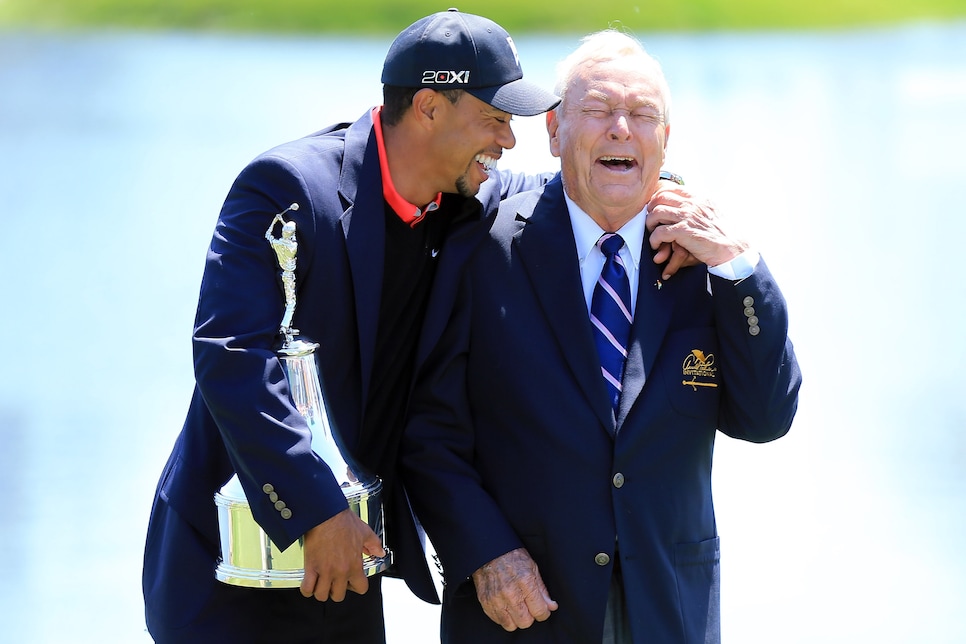 Woods has won Arnie's event eigth times in his career.
David Cannon
He's also won this one eight times, and Torrey Pines is the site of perhaps the signature performance of his career. But it comes in January, when it rarely gets to 60 degrees in La Jolla, and Woods has spoken in the past about how important warmth and humidity are for making his body feel better. The course is forever long and plays soft. It's just not a great fit, but he could well feel that he can win it with his B game.
Tournament organizers who need a miracle
Every other event in existence
Count 'em. If he plays all the ones listed above, even the hard maybes, that's 10 events. Hard to think he ever plays more than that. As Woods said: "It's an unfortunate reality, but it's my reality. And I accept it."