News
Charlie Woods gets off to roaring start in PNC with a spectacular eagle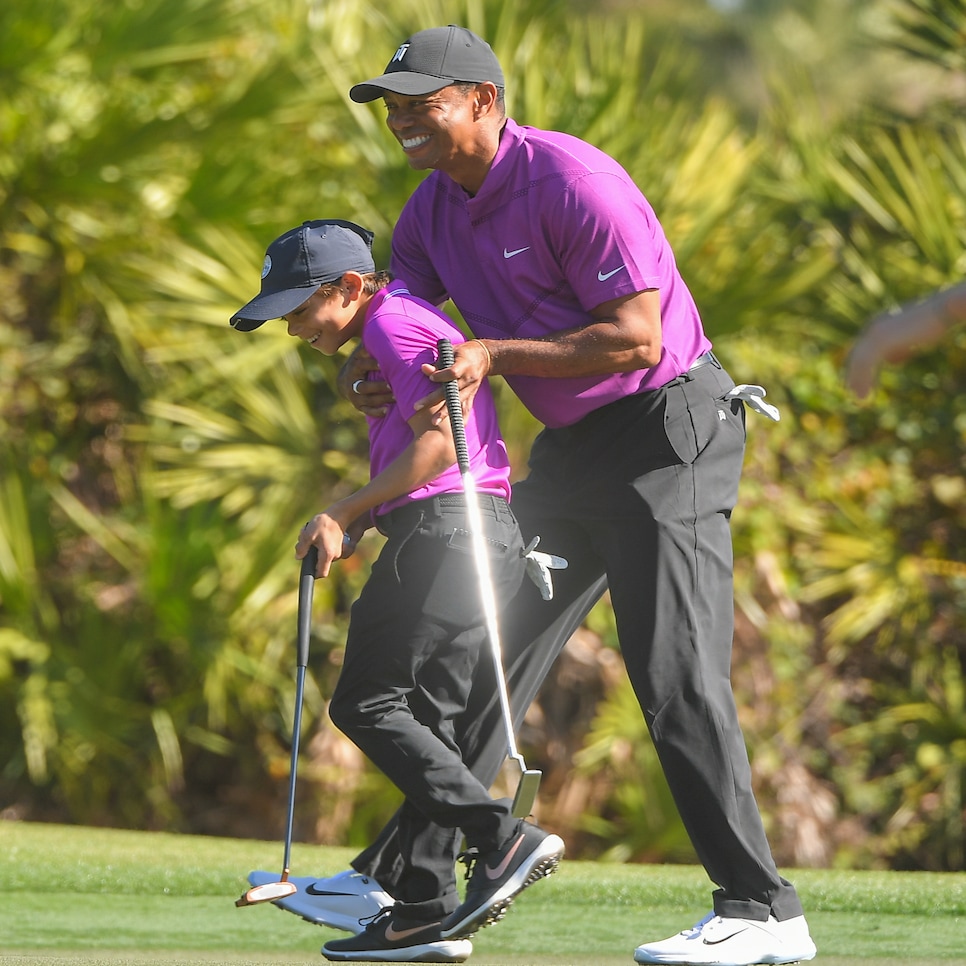 Tiger Woods hugs his son Charlie Woods he made eagle on the third green during the first round of the PNC Champions.
Ben Jared
Charlie Woods is apparently just like his dad. A ham in the spotlight.
In the first true look at Charlie Woods' golf game in live tournament action, Tiger Woods' 11-year-old kid pulled off one of those shots that have made his dad an icon.
On the par-5 third hole of the PNC Championship in Orlando for pro golfers and their family members, Charlie, after putting his drive in the fairway, hooked a 5-wood around trees from 175 yards. The ball landed short of the green and then skipped up to within two feet of the hole. A spectacular shot for anybody! Charlie celebrated with a little fist pump. Charlie then calmly rolled in the putt—for a natural eagle!—and Tiger was smiling from ear to ear, clapping for his son and playfully grabbing him by the shoulders.
"First eagle!" Tiger said as they walked of the green.
Later, at the ninth, Charlie made another birdie putt in the scramble format, confidently walking after the ball before it dropped into the cup. Justin Thomas, playing with his dad in the same pairing at Team Woods, got a big chuckle out of that.
Watching Charlie is easily the highlight of the broadcast. On the back, he hit a big drive and let his dad know he didn't even need to pull out his own driver.
The Woods twosome got off to a scorching start, making the eagle and six birdies for a front nine of 28 that tied Matt and Cameron Kuchar for the best score at the turn.
Charlie Woods, dressed just like his dad in black pants and purple shirt, is the youngest competitor ever in the PNC.