The Year in PGA Tour WAGS (2017)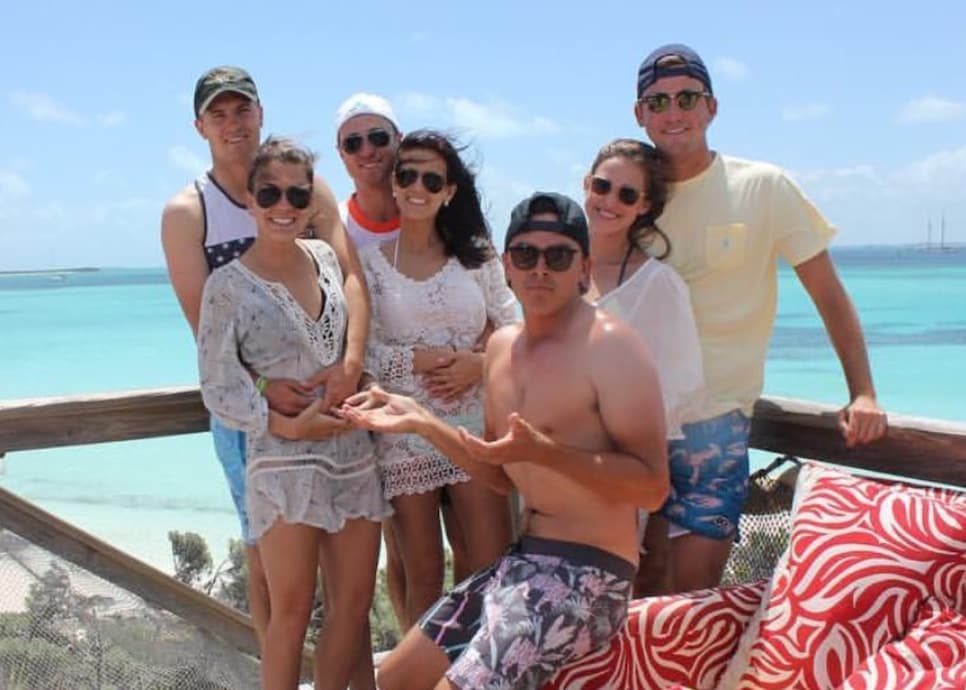 We start with an engagement. Before Sergio Garcia slipped on that green jacket, he slipped a ring on Angela Akins' finger:
From romantic beach dinners to hanging with exotic animals to running perfect post patterns, these lovebirds did a lot together:
But nothing was more entertaining than this car singalong on their way to taste wedding cakes:
The two settled on what icing they wanted and eventually tied the knot in July:
Garcia kept the green jacket off until the reception, but his Masters prize was present in spirit throughout the proceedings with the wedding's official hashtag (Yes, that's a big deal these days). And look at the snazzy green robes Angela got her bridesmaids:
And later, how about this cute baby announcement?
They also took to the football field after a New Orleans Saints game to give everyone one final
Justin Thomas may have won PGA Tour Player of the Year, but it's tough to argue 2017 wasn't the Year of Sergio. And Angela.
Although, Garcia wasn't the only major champ to get married. Rory McIlroy and fiancée Erica Stoll also tied the knot in what was dubbed "The Wedding of the Decade" in Ireland and featured performances by Stevie Wonder and Ed Sheeran. The couple did a fantastic job of not letting any photos of their big day get out, however, so you'll have to settle for this photo of them at the 2016 Ryder Cup: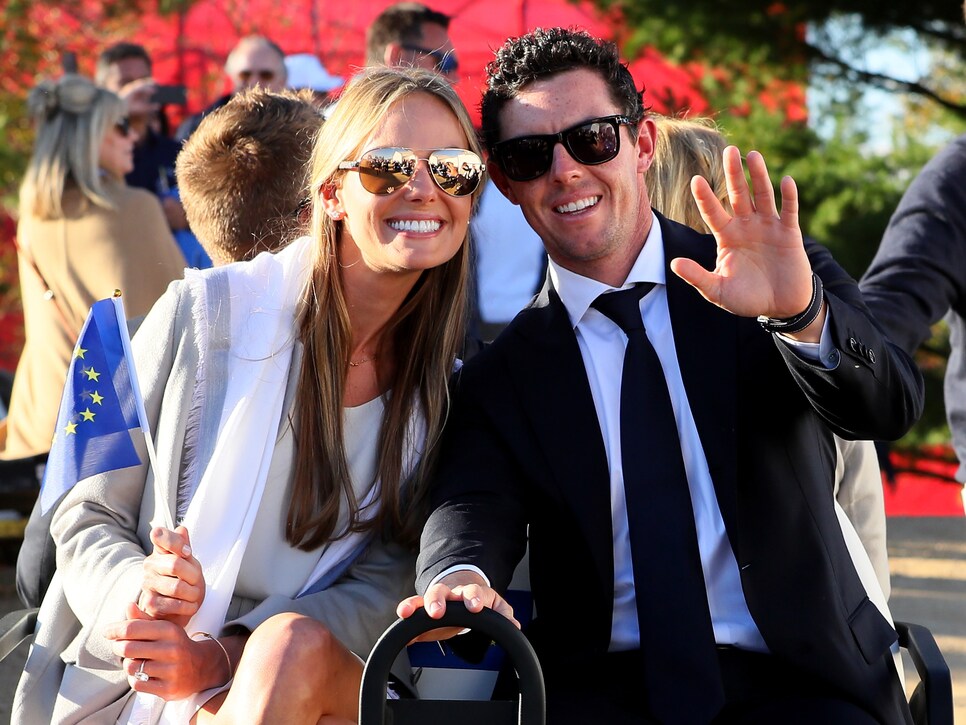 Other golf marriages in 2017 included Rafa Cabrera Bello and Sofia Lundstedt:
Tommy Fleetwood and Clare Craig, who also had their first child (Double congrats!):
And Brandel Chamblee and Golf Channel colleague Bailey Mosier:
Come to think of it, Brandel has seemed a bit more upbeat on TV this year. . .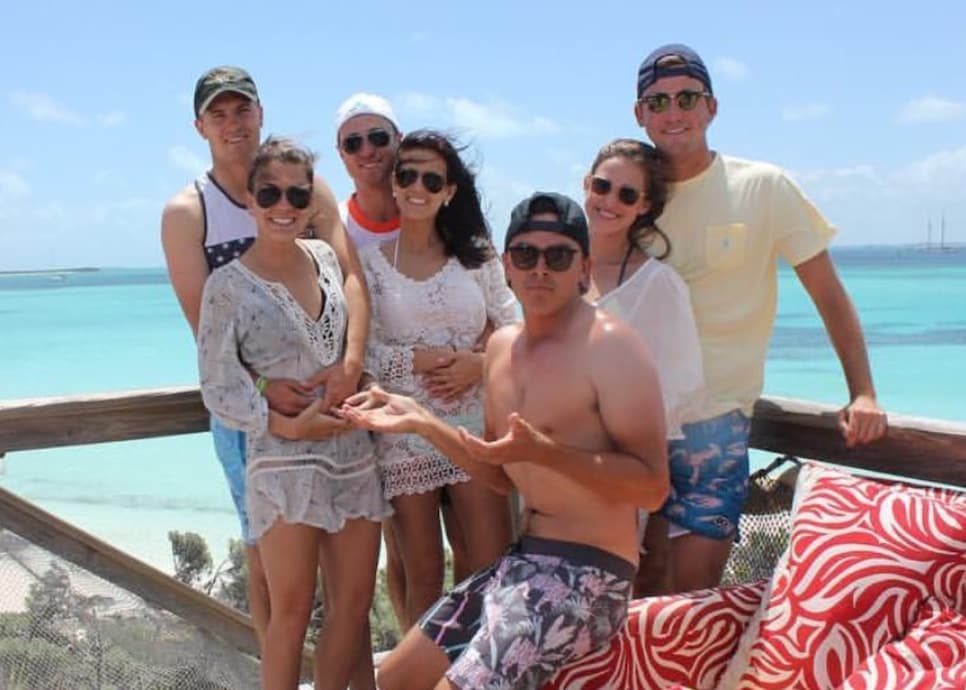 As you can tell by the photo, Jordan Spieth is still going strong with high school sweetheart Annie Verret.
(UPDATE: It appears Jordan and Annie got engaged on Christmas eve:
Meanwhile, Justin Thomas and Jillian Wisniewski's big year included a first major championship and a trip to the Kentucky Derby:
Oh yeah, Rick found a chick (his words).
And once he started hanging out with pole vaulter Allison Stokke, the two were basically inseparable.
They even workout together:
Allison's presence has helped Rickie's fitness. And she clearly hasn't hurt his golf game, either:
We also saw a couple of creative baby announcements this year from Keegan and Jillian Bradley:
And Dustin Johnson and Paulina Gretzky:
Congrats to both couples on the births of their boys.
Of course, we saw plenty of DJ and Paulina otherwise. Even with two kids now, the two still managed to have plenty of fun in the sun:
Although, Paulina seemed to leave out DJ, who was playing in Shanghai at the time, when it came to her Halloween costume:
We also saw a lot of the Walkers. Jimmy and Erin enjoyed being defending champs at the PGA:
And Erin kept winning show jumping medals:
Daniel Berger and Tori Slater also stayed busy on social media.
And it looks like Tori's modeling career is taking off:
But it's not all fun and wardrobe changes in WAGs world. Check out this Thanksgiving kitchen disaster for Pat and Ashley Perez: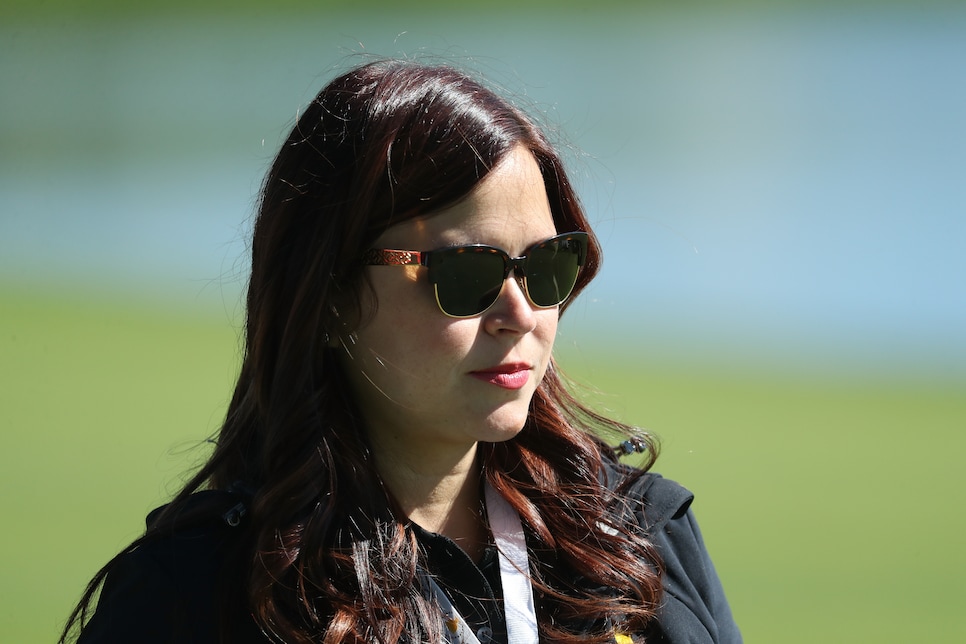 And Chelsea Gates couldn't resist telling MLB superstar Mike Trout that her boyfriend, Peter Uihlein, had traded him away in fantasy baseball:
Also harsh was the blowback Joe Buck got (Yes, some of it was from us) for misidentifying Brooks Koepka's girlfriend, Jena Sims, when he won the U.S. Open.
You are using an unsupported version of Internet Explorer. Please upgrade to Internet Explorer 11 or use a different web browser.
But Jena didn't seem to mind.
In fact, she almost had as big of a year as her boyfriend by modeling swimwear (and Brooks' line of merchandise):
Trying to swim away from sharks in Sharknado 5.
And taking over The Loop's Instagram account during the Northern Trust:
Thanks, Jena. We also learned about the talents of Ashley Perez, who is a great pianist:
And can hold her own on the golf course:
And their was a happy ending for the world's undisputed best golfing couple as Team USA won and Martin wrapped up his tour card a few weeks later. Well played, guys.
But we can't mention a team golf event without talking about the biggest PGA Tour WAGs get together of 2017: The Presidents Cup.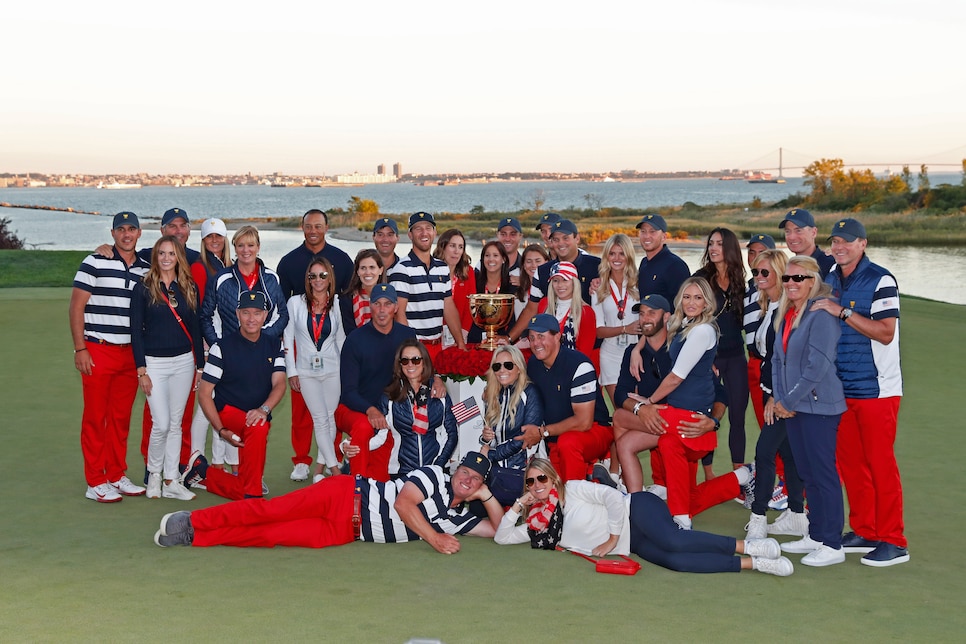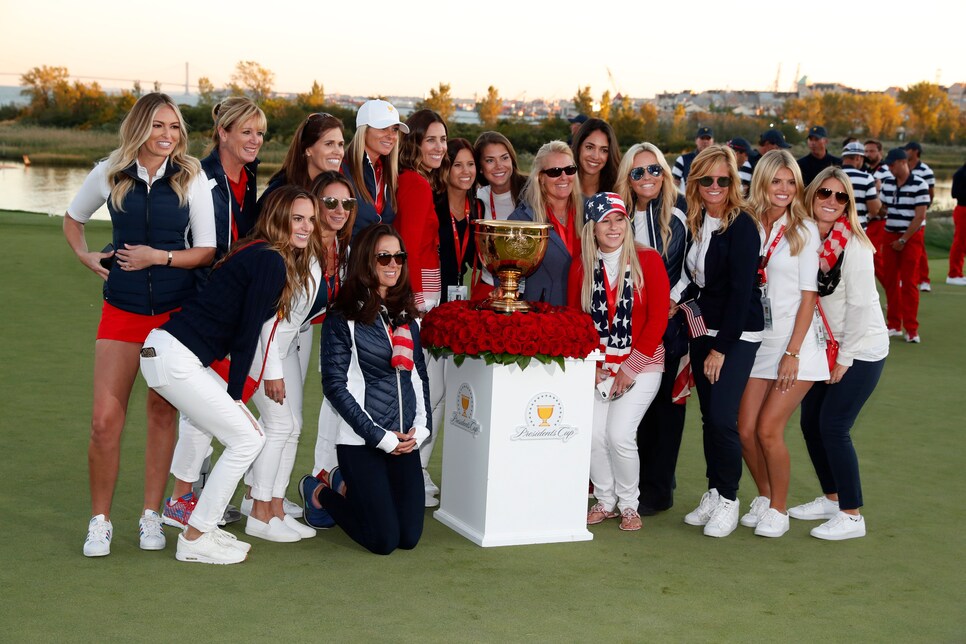 This year, the WAGs did some off-course squad bonding of their own:
And were introduced to three former Presidents as well.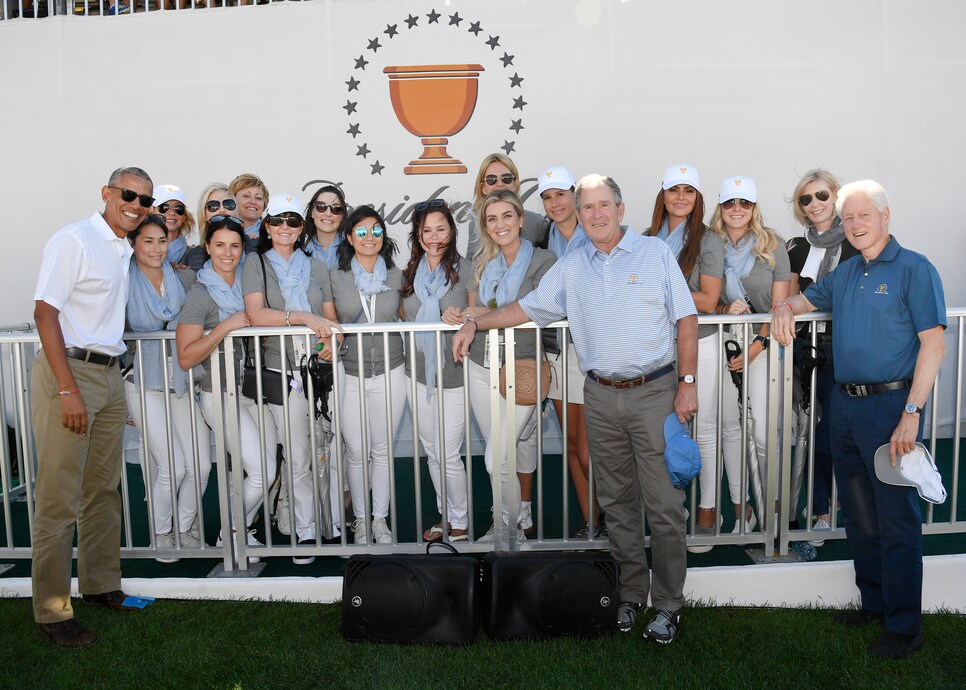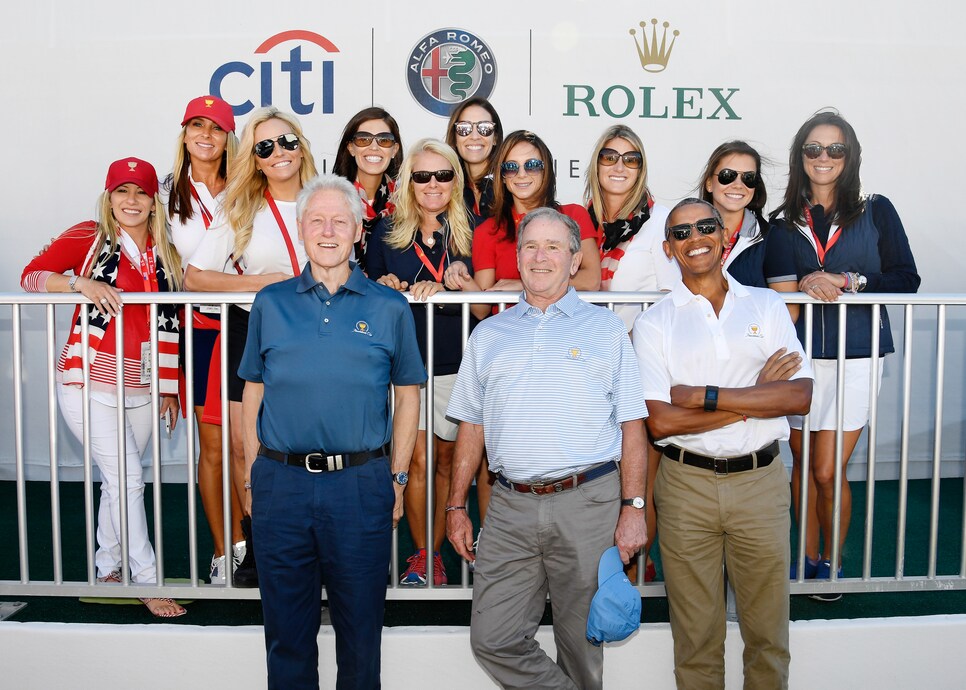 Pretty cool. The Presidents Cup was also where there was some breaking WAGs news when we were introduced to the new lady in Tiger Woods' life, Erica Herman: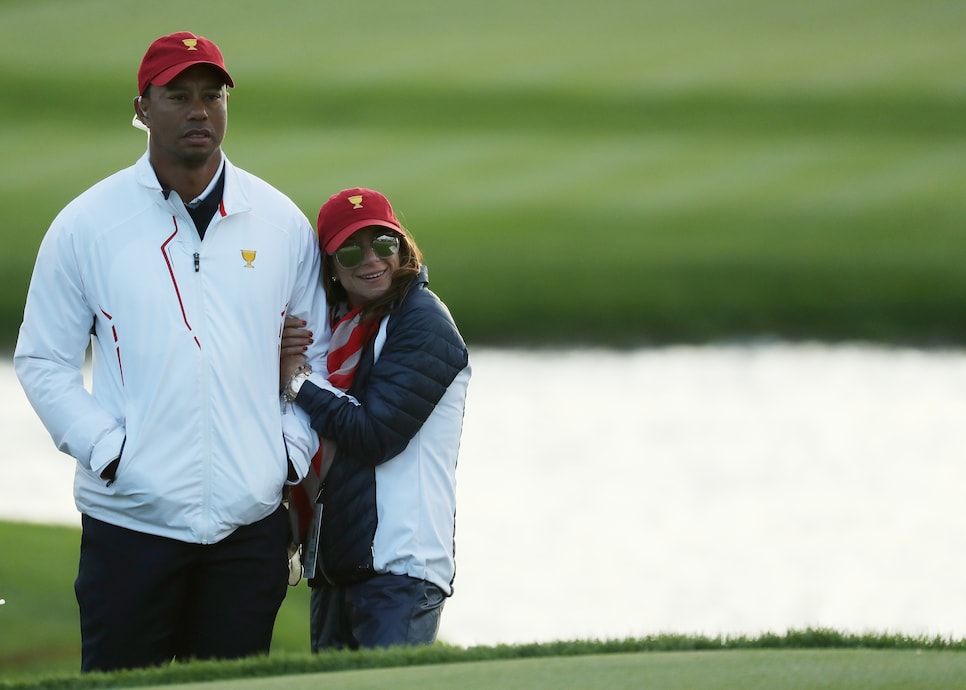 Aww. We wish them and all the happy golf couples the best. See everyone out there on tour next year. We hope.