The Grind
A look back at 2016 through the lives of the wives and girlfriends of the PGA Tour.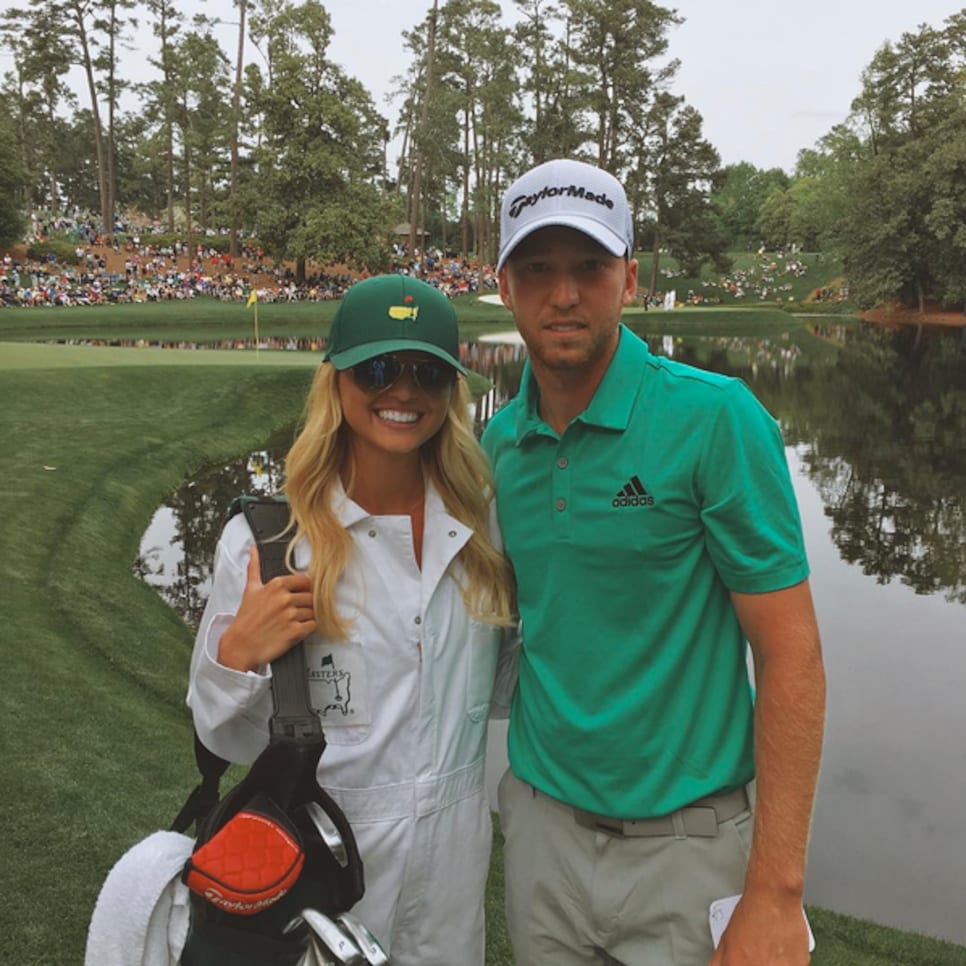 Photo By: David Cannon/Getty Images
Photo By: R&A via Getty Images
Photo By: David Cannon/Getty Images
There are breakout stars each year on the PGA Tour. There are also breakout WAGs. And this year, that honor goes to Daniel Berger's girlfriend, Victoria Slater.
In addition to turning heads on the golf course, Victoria had time to model dresses.
Of course, we saw a lot of the usual suspects as well. Here, Paulina Gretzky wishes Dustin Johnson (and everybody with access to the Internet) a happy Valentine's Day.
Paulina also showed a tougher side when she went after some trolls taking shots at her husband.
With four first-time major winners, there was plenty of PDA at golf's biggest events. However, on Sunday at the Masters, Danny Willett only had Facetime to connect with wife, Nicole, who was back in England after having the couple's first baby.
Photo By: © SkySports
But the two (now three) were re-united the following day.
Photo By: Getty Images
And a couple months later, the Willetts got to watch Wimbledon from the Royal Box. That green jacket comes with a few perks.
No strangers to PDA, Dustin and Paulina finally got to share the love following a major championship victory at the U.S. Open.
Photo By: David Cannon/Getty Images
And it made celebrating July 4th, juuuust a bit more fun.
Dustin's brother and caddie, Austin, and his girlfriend, Sam Maddox, also celebrated the big win at Oakmont. And yes, Sam heads the current list of most famous caddie WAGs on the PGA Tour.
At the British Open, Henrik Stenson celebrated his historic performance at Troon with a kiss of the claret jug -- and one from his wife, Emma.
Photo By: R&A via Getty Images
Matt and Sybi Kuchar gave us arguably the year's most passionate display of PDA at the Olympics after Kuchar claimed the bronze medal. Imagine if he'd won gold?!
But the most memorable PDA moment came when Jimmy Walker gave wife Erin a little slap on the butt after winning the PGA Championship at Baltusrol. This fun tradition was started by Jason Dufner in 2013.
That set off a whirlwind couple of days in which the couple went on a media tour of NYC. . .
And took a celebratory trip to Las Vegas.
They also starred in a commercial together.
And so did Austin Johnson and Sam Maddox. It's good to be caddie for the PGA Tour's Player of the Year.
We also saw a lot of Justine Reed this year. And her patriotic Sunday hat at Bethpage Black proved to be prophetic as Patrick won the Barclays and wrapped up a Ryder Cup spot.
Photo By: US PGA TOUR
Speaking of the Ryder Cup, golf's grandest gathering of WAGs, there were plenty of great photos. Like this one of Dustin and Paulina.
Photo By: Getty Images
This one of Rory McIlroy and fiancee Erica Stoll.
Photo By: David Cannon/Getty Images
This one of Paulina partying with Tiger Woods.
And of course, the WAG photo of the year (possibly the golf photo of the year), involving Rickie Fowler and. . . no one in particular. Hang in there, Rickie. You'll find someone.
Photo By: Getty Images
Although, this photo of Vaughn and Leot Taylor was pretty close. We don't think Clint Eastwood shares our love of PDA on the golf course. . .
Photo By: AP
Halloween also produced plenty of good pictures, including this from the Day family.
This, from the Crane family.
And this, from Paulina, who showed her appreciation of history with this year's costume. She's a gladiator, in case you couldn't figure it out.
It was a huge year for Sergio Garcia and Angela Akins. The couple did a lot together, including racing cars. . .
Taking a carriage ride through NYC. . .
And. . . posing for photos on swings.
You know it's true love when you can get your boyfriend to root for your alma mater. . .
And when you can get your girlfriend to root against her own country.
Toward the end of the year, Keegan Bradley's fiancee, Jillian Bradley, went on her bachelorette party in Las Vegas. And Keegan came along. Sort of.
Keegan and Jillian got married in Palm Beach in December.
And Jillian was kind enough to share this WAGs photo from the swanky reception.
Then the two went to Italy for their honeymoon. No word on whether they ran into Paulina Gretzky at the Colosseum.
Rory McIlroy and Erica Stoll didn't get married yet, but the couple got over a huge relationship hurdle: Rory won his first PGA Tour title as an engaged man at the Deutsche Bank Championship. And a couple weeks later, he won the Tour Championship and the FedEx Cup. That extra $10 million might just change the wedding budget.