The Grind
A look back at 2015 through the lives of the wives and girlfriends of the PGA Tour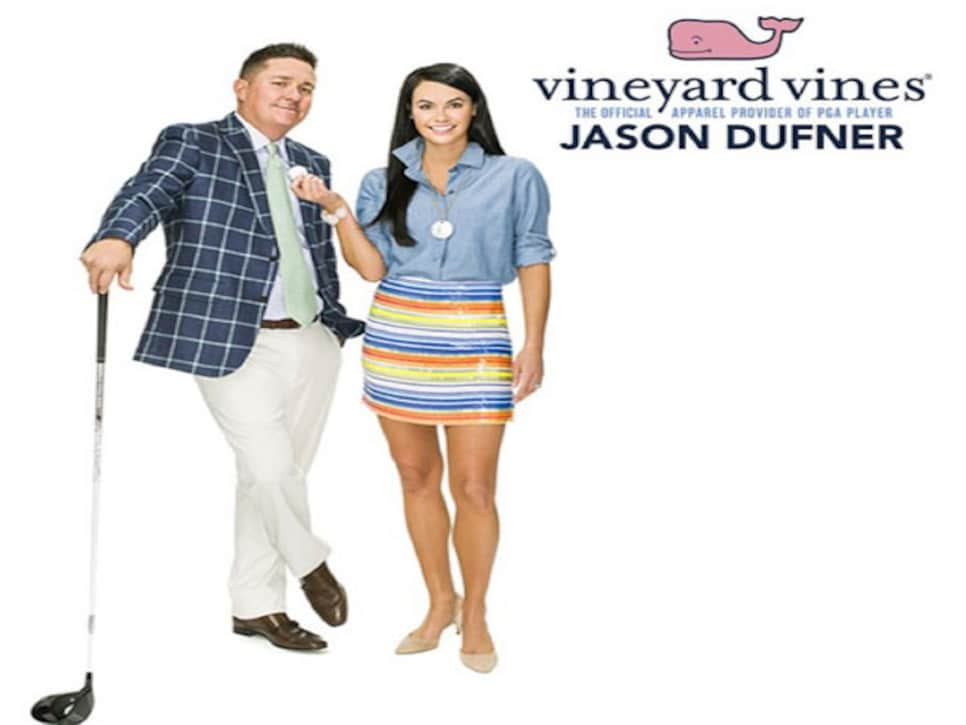 Photo By: Chris Condon/PGA TOUR/Getty Images
Photo By: Chris Condon/PGA TOUR/Getty Images
The Dufners dominated the world of WAGs in 2014, and the couple got off to a fantastic start in 2015 when they inked a clothing deal with Vineyard Vines...
But sadly, the Dufners announced their divorce in March. Amanda resurfaced on Instagram to let everyone know she kept the dog -- and still enjoyed wearing bikinis.
The news was much more positive coming out of the Dustin Johnson-Paulina Gretzky camp. The couple announced the birth of their first child, Tatum, in January.
And in March, Tatum saw his daddy win for the first time at Doral.
Of course, Paulina let everyone know when she was back in bikini shape.
At the Par 3, we also saw a softer side of Tiger as girlfriend Lindsey Vonn escorted Woods' kids around Augusta National. Sadly, like the Dufners, Tiger and Lindsey split soon after.
But love was in the air for the green jacket winner. Jordan Spieth broke a lot of records with his Masters victory. Then he broke a lot of hearts with this kiss for girlfriend Annie Verret, confirming he's a taken young man.
Photo By: AP
But no celebratory PDA topped what we saw from Players champ Rickie Fowler and girlfriend Alexis Randock at TPC Sawgrass. Erin Walker tweeted at husband Jimmy, "We need to work on our post win kisses. Get it @RickieFowlerPGA! #yowza!"
Later in May, the Irish Open brought the first signs of any PDA between Rory McIlroy and rumored girlfriend Erica Stoll. It also gave us this fantastic photo of the two holding hands with some dude in the background.
Back to the Par 3, Keegan Bradley got all romantic to propose to his girlfriend Jillian Stacey -- for her to be his caddie.
But then he popped the question for real in September. Something tells us Jillian was relieved.
Speaking of popping the question, we had a couple of on-course proposals by golf pros. First, Mark Hubbard on the 18th green at Pebble Beach after finishing up his first round at the AT&T Pebble Beach Pro-Am.
And then Andreas Harto at the Made In Denmark on the European Tour. Extra props to Andreas for doing his after the 16th hole to make it even more of a surprise. And yes, both girlfriends said "Yes," avoiding the guys any PDE (embarrassment).
Like the Masters, the Presidents Cup was a fantastic gathering of WAGs. Here, Erin Walker, Paulina Gretzky, and Suzanne Hannemann pose with George W. Bush.
Photo By: Chris Condon/PGA TOUR/Getty Images
Paulina seemed to enjoy attending her first international team competition. Here, she rides on Dustin's lap while Steve Stricker plays the role of uncomfortable chaperone.
Photo By: Chris Condon/PGA TOUR/Getty Images
Of course, how could she not enjoy herself when she was roaming South Korea with Kenny G? Paulina G and Kenny G?! What a dynamic duo.
The Walkers celebrated their 10-year wedding anniversary in September with a fun night that included a trip to TopGolf.
Where Erin took off her heels to show off her fabulous golf swing. Seriously,
check it out
. And be prepared to be jealous.
But the end of the season belonged to the Days, with Ellie and Dash setting up permanent residence on the 18th green at tournaments across the country.
In the fall, Paulina Gretzky brought her "A-game" as usual with her Halloween costume. This time, even DJ got in on the fun.
And then Paulina put on a different type of costume to brighten DJ's spirits after a tough loss in Shanghai.
Melissa Weber Jones, a former Miss Idaho, saw husband Matt become Mr. Australia after claiming the Australian Open. She looked ready for her TV closeup with that stylish ensemble.
And Alicia Carilles looked like a Miss Universe contestant in this stunning gown she wore to her sister's wedding.
She also displayed a great attitude after a rough week by her husband, Gonzalo Fernandez-Castano, at the OHL Mayakoba Classic. "Not the worst place to miss the cut!!" No arguments here.
Speaking of making the most of their time at a tournament, Paulina Gretzky didn't seem to mind a shrunken off-season for Dustin, if it meant sunbathing in the Bahamas during the Hero World Challenge.
But December also gave us the scariest WAG-related moment of the year. In 2014, we chronicled Amanda Dufner meeting LeBron James. But this year, Ellie Day met LeBron's hurdling body when the four-time NBA MVP dove for a loose ball in a Dec. 17 game and took out Ellie, who was sitting courtside next to Jason.
Ellie had to be taken out of the Quicken Loans Arena on a stretcher, but was released from a Cleveland hospital after spending the night as a precaution. She told LeBron, "we good" the next day, and the incident taught us all a valuable lesson: Courtside seats can be both a blessing and a curse.
And finally, Rory McIlroy may have lost his No. 1 spot in the rankings in 2015, but he notched engagement No. 2 to Erica Stoll. Even if you factor in his silly soccer injury, that's a pretty good year in our book.