The Grind
Dustin Johnson & Paulina Gretzky: A Love Story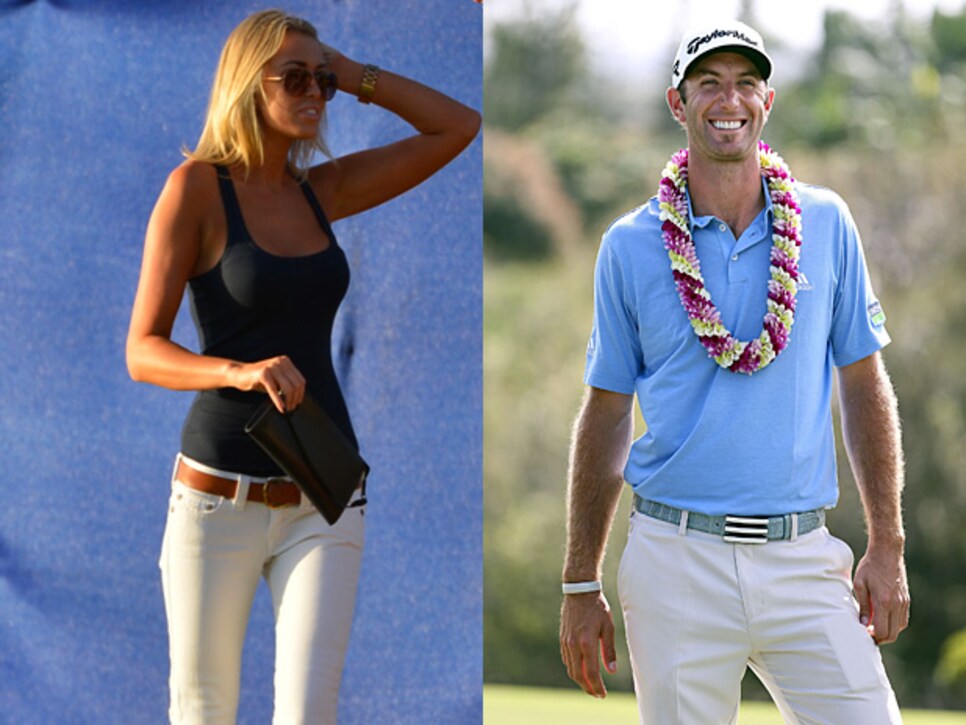 Photo By: PGA of America via Getty Images
Photo By: Andrew Redington
Paulina first appeared in DJ's gallery at the 2013 PGA Tour opener in Hawaii. Sparks flew, DJ won, and the rest was history. There was a slight controversy when DJ withdrew the next week with "the flu," but they never let that -- or anything -- put a damper on their fun. . .
Here, Dustin and Paulina enjoy drinks at the pool. Note: This was a recurring theme in 2013.
Another recurring theme with these two? PDA. Here, they kiss at DJ's birthday celebration in June 2013.
And here's some PDA on a boat.
PDA with other couples at a club.
And another. Can you rack up frequent boating miles?
Speaking of racking up miles, these two lovebirds don't fly commercial very often.
In January 2013, DJ dined with his future in-laws, hockey legend Wayne Gretzky and Janet Jones. DJ and "The Great One" bonded further when they played together at the Pebble Beach National Pro-Am.
And don't forget about Austin! DJ's brother -- and his caddie -- is often around for the fun as well.
The couple also showed their love for other sports. Here, DJ and Paulina attend a Miami Heat playoff game in May 2013 and show off their team spirit.
Then there was that South Carolina college football game in November 2013. Once again, they showed off their team pride and DJ displayed a preppy southern side by wearing loafers. When in Rome, we guess. . .
And in this one, DJ and Paulina get some sun. Oh wait, sorry, that's just Paulina. . .
In June 2013, DJ and Paulina went to Germany and played dress up. Cute!
Whoops. Another solo Paulina pic. How did that get in here?
Then there was the really big news. In August 2013, the couple announced they were engaged. You know what that means, right? Engagement PDA!
Look at the size of that rock! How many months "salary" did that set DJ back?
Then, more big news. In November 2013, Paulina announced she would be on the cover of Maxim's December issue. In other words, she would have a collection of higher-quality bikini pics.
And another one from Maxim's shoot with Paulina. Why? Because it was a BIG deal. That's why.
DJ and Paulina shared a bike on their trip to Thailand in October 2013. Fun!
While in Thailand, they also met an elephant. Don't get jealous, Austin!
In November 2013, DJ got back into the winner's circle at the WGC-HSBC Champions in Shanghai. The two celebrated with a victory kiss -- their first as an engaged couple. History!
Later that month, DJ and Paulina attended the AMAs together and Paulina handed out an award to Justin Timberlake. You know, because she's really big in the music industry. Timberlake then found DJ in the crowd and made a practice golf swing. Forget about the engagement, this was the real highlight of the year!
In February 2014, Paulina exhibited a
surprisingly good golf swing
. Either she inherited a lot of athletic ability from her father or DJ should have gotten more consideration for PGA Teacher of the Year.
In September 2014, Paulina announced she was pregnant. On Instagram. Of course.
A couple months later, it was time for Paulina's baby shower.
And on Jan. 19, 2015, the couple announced the birth of their first child, a boy named Tatum.
Less than two months after Tatum's birth, he was on hand with his mom to watch his dad win the 2015 WGC-Cadillac Championship.
Paulina and DJ go out for Halloween as vampires in 2015.
Paulina put on a different outfit to cheer up DJ after he had a tough loss at the WGC-HSBC Champions in November. . .
DJ, Paulina, and Tatum celebrated their first Christmas as a family in 2015.
Uncle Rickie joined DJ and Paulina for some New Year's festivities.
Paulina wished DJ (And everyone on Instagram) a happy Valentine's Day in 2016.
Add PDA at Augusta National to the list after Paulina caddied for DJ in the Masters Par 3 Contest.
And we can only assume there was some more dancing from DJ, Paulina, and Tatum after Johnson's major breakthrough at the 2016 U.S. Open.
And where did DJ celebrate winning his first major championship? On a boat, obviously.
And then there was more celebrating on a boat. But then it was back to work. DJ had a Ryder Cup to help win. . .
The matches were intense, but there was still time for some serious PDA at Hazeltine.
Photo By: Getty Images
And time to celebrate, of course.
Photo By: PGA of America via Getty Images
Then the two took the party to Cabo.
We're not sure what DJ was for Halloween 2016, but Paulina was a gladiator. Not exactly like the ones you see in history books, but it was a nice effort.
As the year came to a close, DJ and Paulina posted two short music videos,
including this one
, set to Miley Cyrus' "Party In The USA." A fantastic and fitting tune. After all, 2016 was one big celebration for golf's player of the year -- and golf's most famous couple.
Paulina and Tatum were on hand at Riviera to see Dustin win the 2017 Genesis Open at Riviera and take over the No. 1 spot in the Official World Golf Ranking for the first time.
Photo By: Harry How
A week later, the couple got creative with the gender reveal of their second baby. That blue puff of smoke meant another boy was on the way.
And in June, the world was introduced to River Jones Johnson. DJ didn't defend his title at the U.S. Open or win any major championship in 2017, but he was certainly happy to make this major addition to his family.
After a mid-season lull, DJ and Paulina went to the Bahamas in August for some R&R.
And the tropical vacation paid off for DJ's golf game as he returned to beat Jordan Spieth at the Northern Trust. And if anything deserves a big kiss, it was that big drive he hit on the first playoff hole to set up the winning birdie.
Photo By: Andrew Redington