The Loop
The Grind: Dustin Johnson, Paulina Gretzky & other Hawaiian tales
Welcome to the first edition of "The Grind," where we sift through everything golf (and a little beyond) to get you caught up on the week that was -- and to set you up for what's to come. And what a wild first week it was on the PGA Tour. Between the gale-force winds and Johnny Miller in the TV tower, I'm not sure a tour event has ever featured so much hot air. Speaking of which, why was everyone so surprised by the wind delays? When I played Kapalua's Plantation Course a few years back, the thing I remember most was a a guy in my group popping up a tee shot at one point and our group watching in amazement as the ball blew back over our heads. Was that a quick round in tropical paradise? No, it was not. In any matter, let's move on before the wind picks up again. . .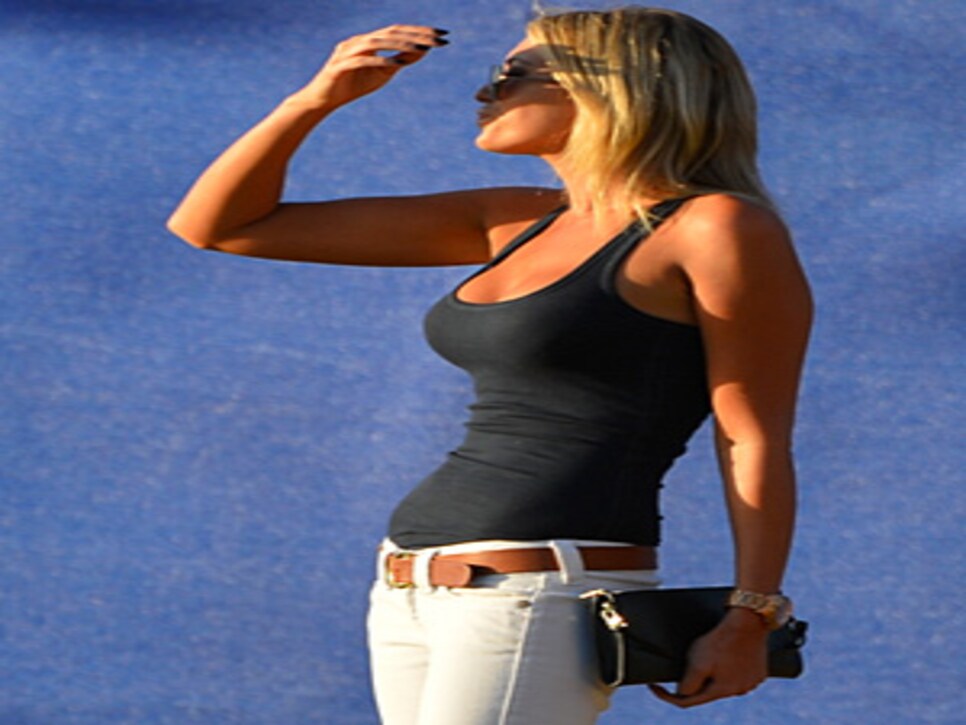 Dustin Johnson. The guy is on top of the world right now. I mean, just look at his new gal pal, Paulina Gretzky (Yes, that's her to the left. Need a minute? I'll wait. . . Still looking? OK, 5, 4, 3, 2, 1, now move on!). Oh yeah, Johnson is also coming off that win in Kapalua. But back to Paulina, the daughter of hockey legend Wayne Gretzky and Janet Jones. I had the pleasure of meeting her when her dad was playing in the 2010 Golf Digest U.S. Open Challenge at Pebble Beach. I didn't even notice her being that attractive*.
Steve Stricker. Starting to enter the retirement phase of your life when you're 46? Nice. Having golf being the working part of said retirement phase? Even nicer. Starting all this having earned more than $25 million in just the past six years on the PGA Tour? OK, now I'm starting to really dislike this guy. By the way, he finished runner-up in his cameo at Kapalua.
NFL Playoffs. Green Bay at San Francsisco this week? A potential matchup between Peyton Manning's Broncos and Tom Brady's Patriots the following week? And all this before the Super Bowl? We should be in for a treat the next few weeks. Why was I mentioning this again? Oh yeah, a lot of these guys play golf as well.
Carl Pettersson. The big Swede played well at Kapalua (solo 8th), but called out the USGA for going on a long putter "witch hunt" and then didn't return a call from USGA Executive Director Mike Davis. Watch out, CP, that could mean a U.S. Open pairing with Kevin Na and Ben Crane. And you thought waiting out some wind delays was rough. . .
College football. The PGA Tour faced a fair amount of criticism for scheduling its season opener to end on the same night as the BCS Championship Game. That didn't end up happening, but shouldn't more of the blame fall on the NCAA for having its break between conference championships and the final bowl game last about as long as golf's entire "offseason"? And speaking of that title game between Alabama and Notre Dame, we waited all this time for that?
Kyle Stanley. Conditions at Kapalua were tough, but Stanley was the only player to put up an 80 during the season opener. His 11-over-par total left him five shots behind anyone else in the 30-man field. Nike will have to wait another week for one of their newest investments to start paying dividends.
The PGA Tour goes island hopping in Hawaii for the Sony Open in Honolulu, where Johnson Wagner and his Tom Selleckesque mustache stole the show last year. It's the first full-field event of the season.
Random tournament fact: Tadd Fujikawa made the cut at 16 years and four days in 2007. Yawn. Nowadays, we have 15-year-olds winning LPGA events and 14-year-olds qualifying for the Masters.
WEEKLY YAHOO! FANTASY LINEUP
Starters -- (A-List): Tim Clark. I'm expecting big things from the small South African this year. Plus, this allows me to link to our "13 Sleepers To Watch in 2013" feature.
(B-List): Dustin Johnson. Stop looking at the picture of Paulina Gretzky!
(B-List): Matt Kuchar. Also my knockout pick of the week.
Bench -- Charles Howell III, Keegan Bradley, Webb Simpson and Scott Piercy.
RANDOM PROP BETS OF THE WEEK
-- Michelle Wie, who played in this event four times as a teen phenom will be mentioned daily during the TV broadcast: 1-to-10 odds
-- There will be a new FedEx Cup leader come Sunday: Even money
-- That the new FedEx Cup leader will actually win the FedEx Cup at the end of the season: 100-to-1
CELEBRITY/ATHLETE WE'D LIKE TO PLAY GOLF WITH
Robert Griffin III and Russell Wilson. I'm not sure if either of these guys even play golf, but do I ever enjoy watching them play football. After what happened to RG3's knee in last Sunday's playoff tilt, however, I hope he isn't relegated to only playing golf just yet.
Yao Ming was a tremendous basketball player, who had his career cut short by foot and ankle injuries. Since his retirement from the NBA in 2011, it doesn't appear like he's played too much golf. The above clip from a couple months ago shows the 7-foot-6 Ming struggling to make contact on a pitch shot. He also seems to be struggling with his wardrobe. The untucked off-white shirt with white pants? Our Mr. Style might have to make an emergency trip to China. . .
UNSUNG TOUR PLAYER OF THE WEEK George McNeill. The two-time tour winner wound up giving a fan a ride to the course when he mistakenly got into his courtesy car. Apparently, the fan didn't recognize McNeill (would most of his fellow tour pros even recognize him?) In any matter, you deserve praise for the fact that you drove this guy to the course and didn't kick him to the curb. I'll let you know the next time I fly to a tour event you're playing in so you can pick me up from the airport.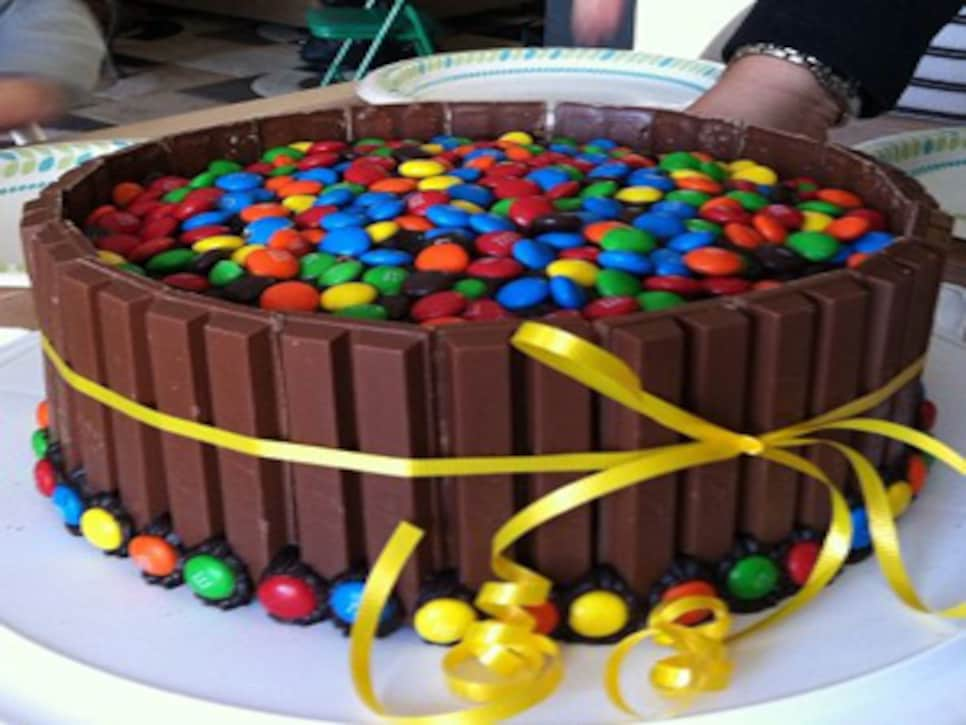 Norm Macdonald is now writing golf columns for Grantland.com. That is not a misprint. . . . Rory McIlroy is set to become a Nike man, but just as importantly, his deal with Jumeirah Estates is done. That means no more of those ugly hats. . . . David Duval took to Twitter to complain about not getting a sponsor's exemption to the Humana Challenge, where he famously shot a final-round 59 in 1999. He also happened to miss the cut by 18 shots there on a sponsor's exemption last year. . . . Why is there a picture of a chocolate cake coated in M&Ms and encrusted by Kit Kat bars? Because it's AWESOME.
RANDOM QUESTIONS TO PONDER
Imagine if there was a "Black Monday" for swing instructors like there is for NFL coaches following the Tour Championship?
The proposed anchor ban isn't set to start until 2016, but when will the nightmares begin to creep in for all of the players who use belly putters?
Does Paulina Gretzky have any sisters?