News
What if Dustin Johnson played in the Masters?
DJ had a successful 2017, winning four times and becoming World No. 1, but he was one unfortunate step away from a monster year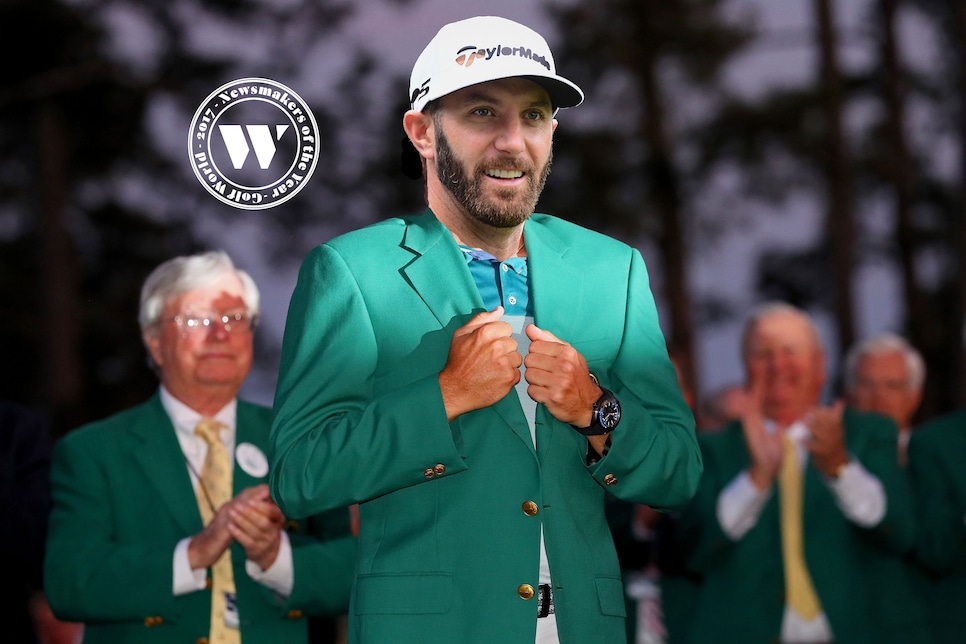 Photo By: Andrew Redington
The ascension to No. 1 in the World Ranking inevitably invites heightened scrutiny that some handle better than others. When history replays how Dustin Johnson—one of Golf World's Newsmakers of the Year—managed this rare air, it will note, perhaps ignominiously, that it wasn't the stares that undermined him. No, it was the stairs.
On the eve of the 2017 Masters, four days away from possibly slipping on the green jacket, the sublimely athletic wonder instead slipped on the hardwood in his rental house in Augusta, landing on his backside and injuring his back. Moments before his first-round tee time the following day, Johnson, the tournament favorite, withdrew.
"I was just wearing my socks. I just slipped as I was going down the stairs," he told the media after his WD. "It's tough. I'm playing probably the best golf of my career, and I look forward to this tournament every year. And to have a freak accident happen yesterday afternoon after I got back from the course, it's tough."
The golf world was thus left to ponder what might have been had Johnson stopped to consider that timeless truth—the first step is a doozy—and taken the requisite measures to avoid the pratfall.
Our conclusion: Sorry, Sergio.
However it goes, confidence breeding success or success breeding confidence, it was all working for Johnson when he arrived in Augusta. In his previous eight major championships, he had finished in the top 10 six times, including his breakthrough victory in the 2016 U.S. Open. In the two previous Masters, he had finished T-6 and T-4.
Moreover, Johnson had won his three prior starts—the Genesis Open, the WGC-Mexico Championship and the WGC-Dell Technologies Match Play—against strong international fields.
Of course, there are no locks in golf, none at least since Bobby Locke. But DJ at Augusta last April seemed to be flirting with it, much as Tiger Woods did in his prime, and the betting odds swung in his favor.

The question then is pressure and a player's ability to disarm it when it's threatening a hostile takeover. Johnson's psyche seems unusually impervious to scar tissue, notwithstanding the well-documented opportunities it had to steer his major championship career in the direction of Greg Norman. The 2010 U.S. Open at Pebble Beach. The 2010 PGA at Whistling Straits. The 2011 British Open at Royal St. George's. And of course, the 2015 U.S. Open at Chambers Bay, where a three-putt from eight feet on the 72nd hole turned a win into a loss. All those disappointments were tempered when Johnson finally walked away with the big trophy at the Open at Oakmont in 2016. Finally his luck had turned from bad to good (or so we thought).
A short memory is the most useful tool in a golfer's arsenal, and whatever is occupying Johnson's mind at any given moment on the golf course apparently isn't susceptible to a coup attempt by demons. Still, stop for a moment to envision how 2017 might well have played out if not for that one unfortunate step:
Says here that DJ wins the Masters, depriving Sergio Garcia of his feel-good story (thankfully, his July wedding to Angela Akins would have proved no less rewarding). In turn the tenor of the rest of the year is dramatically altered. Maybe DJ's win streak stops at four, but he seems a cinch to have picked up another title or two (maybe even another major?). Regardless of the exploits of his pals Brooks Koepka, Jordan Spieth and Justin Thomas, Johnson no doubt runs away with a second straight PGA Tour player of the year, award. (Sorry, Justin.)
With no fewer than two major titles and two straight POYs to top a resume that includes at least 16 victories, the conversation surrounding Johnson begins to move toward whether he's done enough to secure a spot in the World Golf Hall of Fame.
Returning from this alternative history, the reality was that Johnson, did not play again after Augusta until the Wells Fargo Championship a month later. And he did not win again until the Northern Trust Open at the end of August, when he defeated Jordan Spieth in a playoff.
"It was a big win, for sure," Johnson said, "especially after the start I got off to this year, and then having an injury there right before Augusta. It's been a tough road to get back to where I feel like my game's able to compete out here again.
"You know, finally this week's the first week that I felt like my game was in really good shape and is back to where it was, where I feel like I've got complete control over it."
Impressively Johnson never lost his grip on the No. 1 ranking, a testament to all he had accomplished before his fall.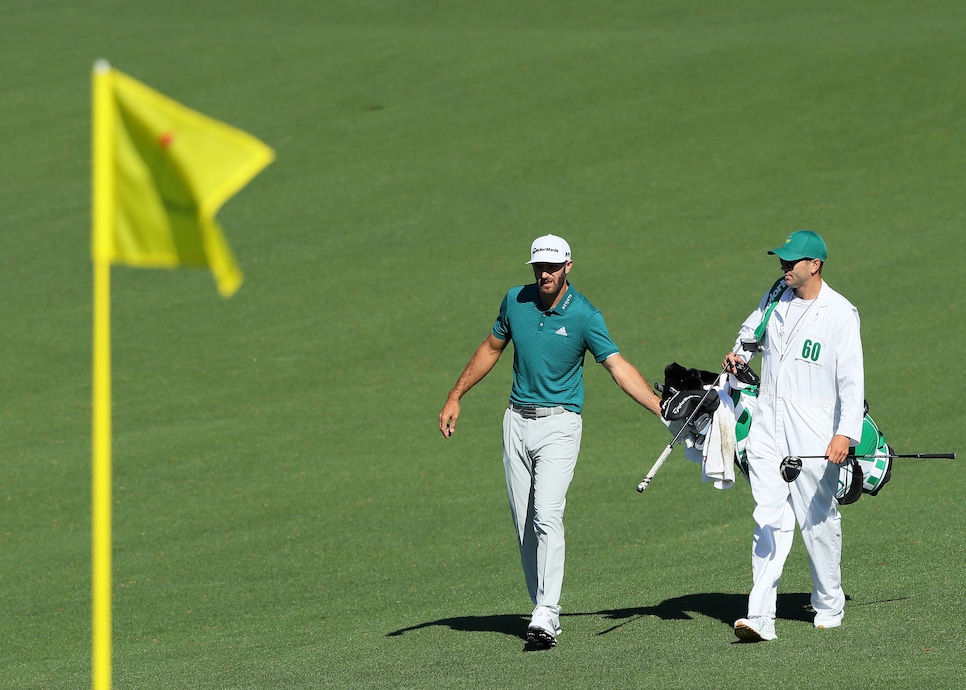 Andrew Redington/Getty Images
They concluded that "this paper has presented a novel approach to identifying potential streakiness and a statistical method but future work should continue to seek out the most appropriate statistical methods for determining streakiness."
The naked eye, meanwhile, doesn't provide scientific evidence, but it is reasonably reliable in discerning patterns in the upper echelons of the game. What we see often are players winning one week and missing the cut the following week. But they're not Dustin Johnson, still a likely future World Golf Hall of Famer, and No. 1 in the World Ranking now for 48 consecutive weeks and counting. He won three straight, fell down the stairs and needed five months to get back up.
And in that moment, what we saw was that the best player in the world, dominating on the world stage, playing a tournament on which his record was trending up, all added up to a 42 long, in green.
If only he'd been able to stick his landing.