The Loop
The final key to Tiger Woods' comeback, Brandel blasts The Match, and the best Bubba Watson impression
Welcome to another edition of The Grind, where we're excited about the prospect of Tiger Woods having his own branded drink again. Remember when Woods would sit at the winning press conference of his own tournament, dressed in his Tiger gear while sipping his Tiger Gatorade? Ahh, the good old days. And with the news Monster might be mixing a new TW beverage soon (Personally, I'm thinking Wipey Watermelon or Tropical Traj), this could be the last piece of the puzzle to getting the GOAT all the way BACK. OK, enough about what might happen, here's what actually is happening in the world of golf.
Jon Rahm: The Spaniard ended 2018 with a four-shot win against a stacked 18-man field at the Hero World Challenge. He then told a fantastic story about beating Tiger Woods at the Ryder Cup and how it moved him to tears. There was no crying this time, but Rahm, who just turned 24, reminded everyone how good he is when he's on and set the stage for a monster 2019.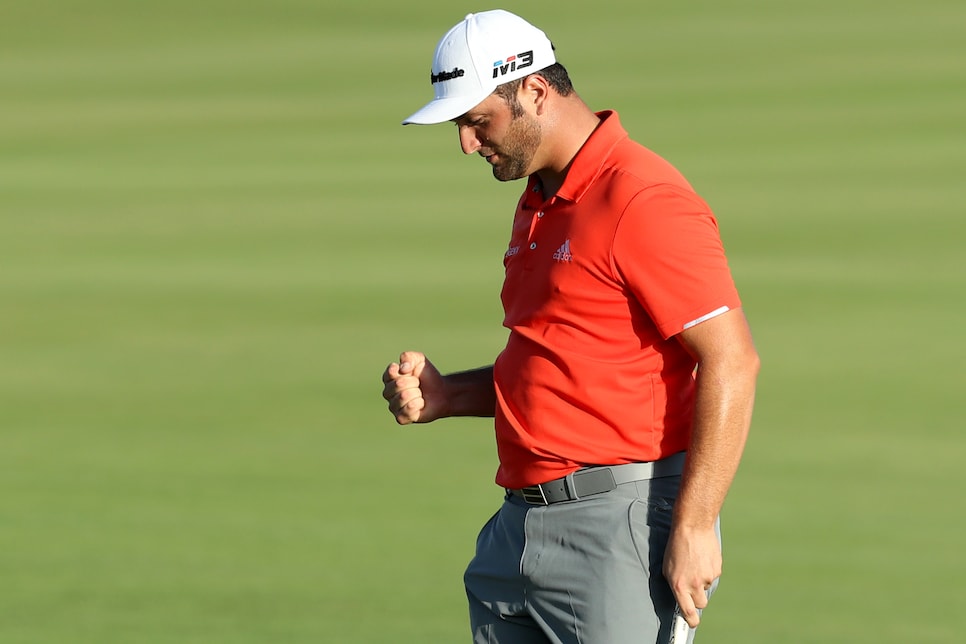 Keep in mind that after Jordan Spieth cruised to victory in this tournament in 2014, he won TWO majors in 2015, so watch out for Rahmbo in 2019! Then again, Rickie Fowler won last year and, well, sorry, Rickie.
Tony Finau: The wins have to come at some point, right? Finau finished off another strong performance with a closing birdie that catapulted him to a solo second and into the top 10 in the Official World Golf Ranking for the first time. Pretty impressive. If I'd messed up my ankle like he did at the Masters, I'd still be on the shelf.
Ryan Herrington's sock collection: I've been stalking the stockings of GolfDigest.com Deputy Editor all year (I'm not weird, you're weird!) and here are the glorious results:

Those Travelers Championship ones are a nice find! Also, check out this pair of claret jug beauties: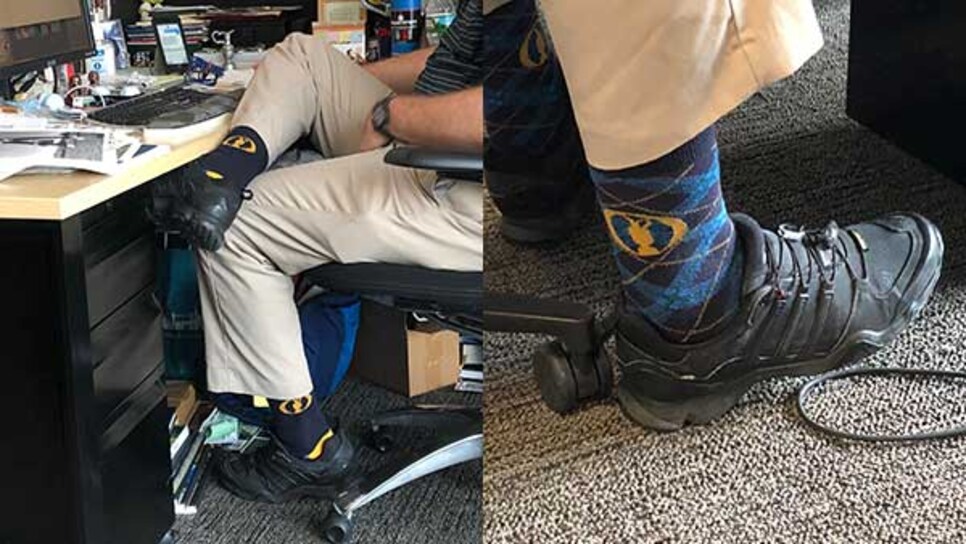 That argyle one? Straight fire. Anyway, if you're friends with Ryan, now you know what to get him for Christmas.
Tiger's finish to 2018: After exceeding all expectations during the PGA Tour season, including that thrilling Tour Championship win, Woods has been a disaster. He lost all four of his matches at the Ryder Cup, came up short in THE MATCH against Phil Mickelson, and capped 2018 by finishing 17th (out of 18) in his own event while getting mixed up in a rules controversy and admitting to battling sore ankles. The soon-to-be 43-year-old needs the break he's about to get, and perhaps, so do golf fans. It's been an exhilarating, but exhausting year.
Brandel's take on The Match: Speaking of THE MATCH, the takes continue to come in, including one particularly hot one from the outspoken Golf Channel analyst. Chamblee blasted Tiger and Phil for "looking like two guys who needed the money," and he went as far as saying they "demeaned the game." I love Brandel, but isn't this a bit much? They staged one of the most talked-about events of the year and drew a lot of eyeballs, including to this website, that wouldn't have even thought about golf over Thanksgiving break. How's that such a bad thing?
The Reed/Spieth partnership: When asked about those explosive post-Ryder Cup comments, Patrick Reed didn't back off, comparing himself to Phil Mickelson knocking captain Tom Watson in 2014. Eh, not exactly, young buck. And when asked if he'd spoken to Jordan Spieth since their public breakup in Paris, Reed told the New York Post, "Nope. . . . He has my number." Sounds like someone didn't get an invite to Spieth's wedding. Reed also said he still deserves the nickname Captain America due to his 3-0 record in singles. That's debatable, but he's certainly not Captain Communication, am I right? Sorry. . .
And sorry again, but that song popped into my head as I was writing. Also, I wanted to prove that I'm cool enough to know Drake is an entertainer and not just an annoying Toronto Raptors fan.
The PGA Tour heads to Nowheresville to take a much-needed break. Finally. Actually, there's still the QBE Shootout, which features two-man teams, none of which are Patrick Reed and Jordan Spieth.
Random tournament fact: Hammering Hank Kuehne picked up the two most lucrative wins of his career in this event when he partnered with Jeff Sluman in 2003 and 2004. Talk about an odd couple.
RANDOM PROP BETS OF THE WEEK
— Brandel Chamblee would have turned down a spot in THE MATCH: 9 MILLION-to-1 odds
— Tiger Woods will win the 2019 Masters: 12-to-1 odds (Actual odds, downgraded)
— Tiger Woods' Masters odds will change a few more times before April: LOCK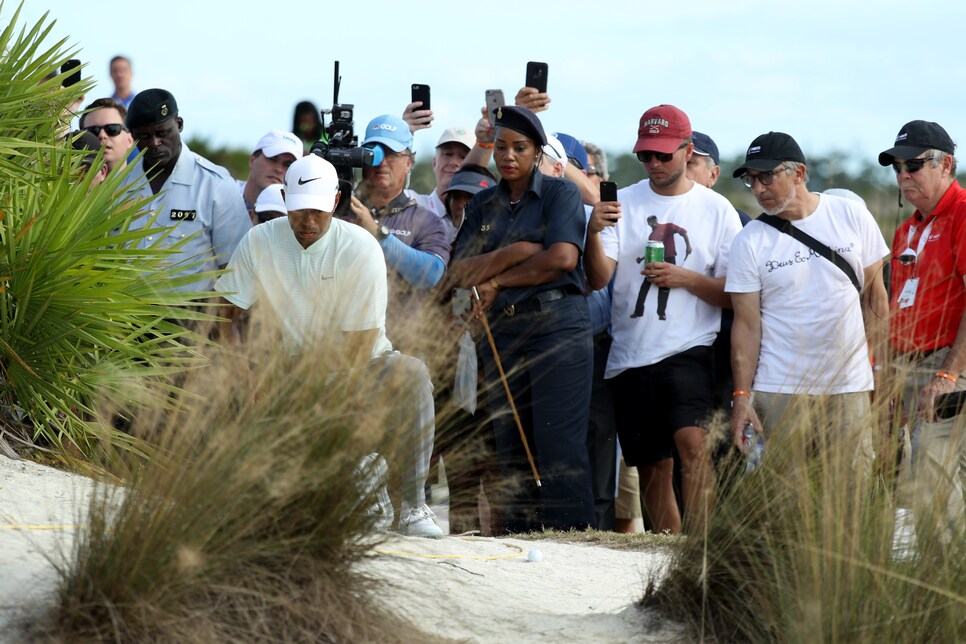 Do you really think Tiger would try to break the rules with those two imposing security guards hulking over him? Do you really think he'd want to break Tiger-Shirt Guy's heart like that? Didn't think so.
Jack is BACK. Golf impersonator extraordinaire Jack Bartlett, that is. And this time, he nailed Bubba Watson. Enjoy:
VIRAL VIDEO OF THE WEEK (NOT INVOLVING JACK BARTLETT)
This is incredible and heartwarming at the same time:
Look out for this duo at future Father/Son tournaments.
"I learned a lot from that guy and we owe him — every golfer on the PGA TOUR owes him a lot because everything we play for is because of him." — Jon Rahm on Tiger Woods. Who says kids don't respect their elders anymore?
THIS WEEK IN DUSTIN JOHNSON-PAULINA GRETZKY BROOKS KOEPKA-JENA SIMS PUBLIC DISPLAYS OF AFFECTION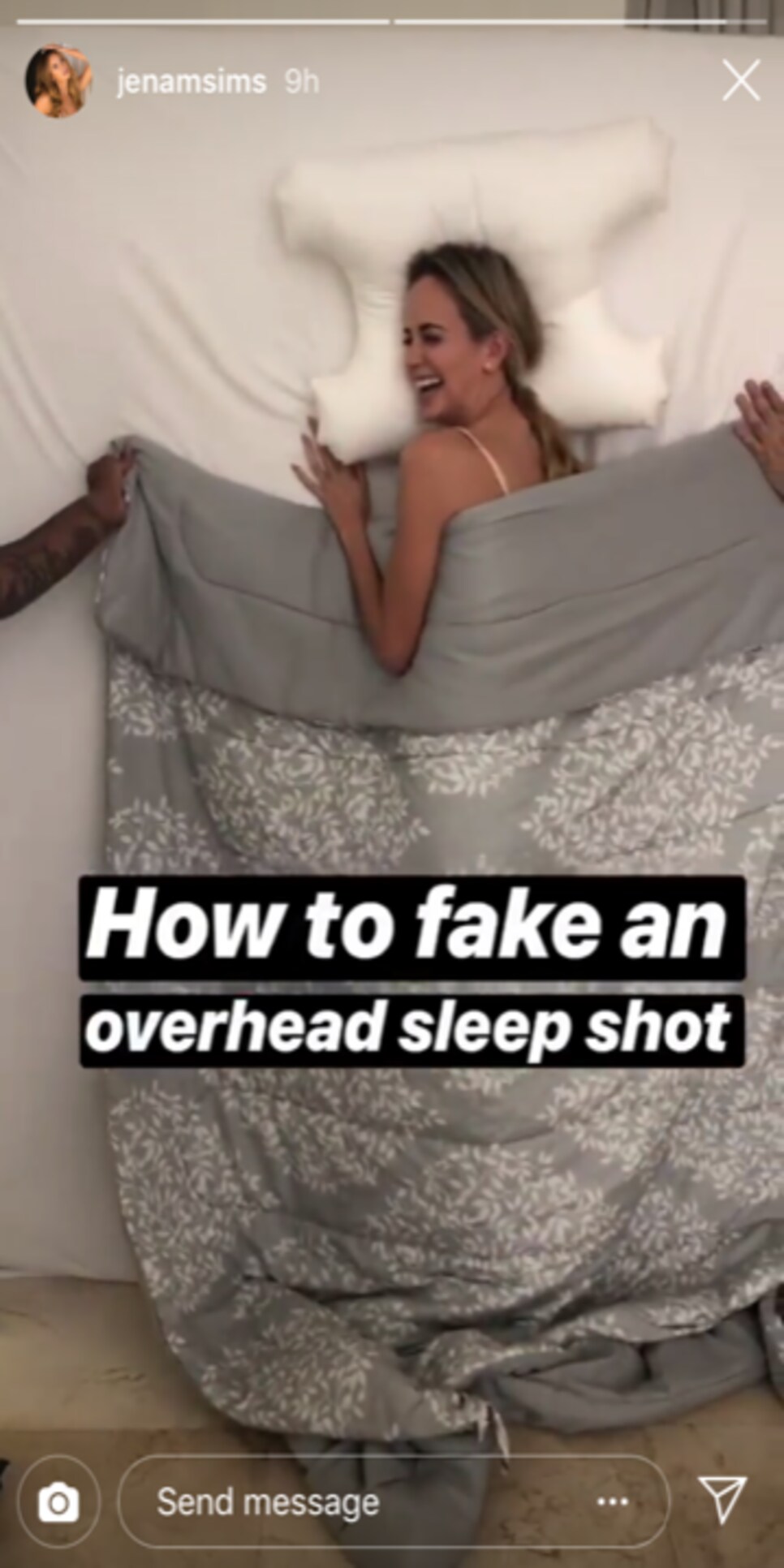 The glamorous life of an actress.
THIS WEEK IN OTHER TOUR PRO PDA
You do you, Beef. Also, if you're willing to dye that thing white, I hear there's good money in Santa Claus appearances.
THIS WEEK IN PROS ARE JUST LIKE US (SORT OF)
Ernie Els admitted he didn't feel comfortable on a lot of the tee shots at the Afrasia Bank Mauritius Open. We've all felt like that before, but there's a key difference. Els DESIGNED the course:
Either Ernie is a super selfless architect, or he didn't make that many trips to Mauritius during construction.
The PGA Tour is working on a draft program for top college players. As long as there's not a one-and-done rule, I love it. . . . The Web.com Tour announced its season finale will be played at Victoria National for the next decade. If you've ever seen what can happen down the stretch there (Look away, Cody Gribble), this should make for some exciting finishes. . . . Cameron Smith successfully defended his title at the Australian PGA Championship. The Aussie is tough to take down Down Under. . . . And finally, I'm glad to see George H.W. Bush will be remembered as both the 41st President of the United States AND as a big proponent of playing golf fast. There's really no better compliment you can pay a person than the latter.
RANDOM QUESTIONS TO PONDER
What's the worst golf break of all time?
What does Tiger actually put in his Monster bottle?
How long would it take me to grow a beard like Beef?