News
George H.W. Bush, 1924-2018: Golf loses one of its greatest advocates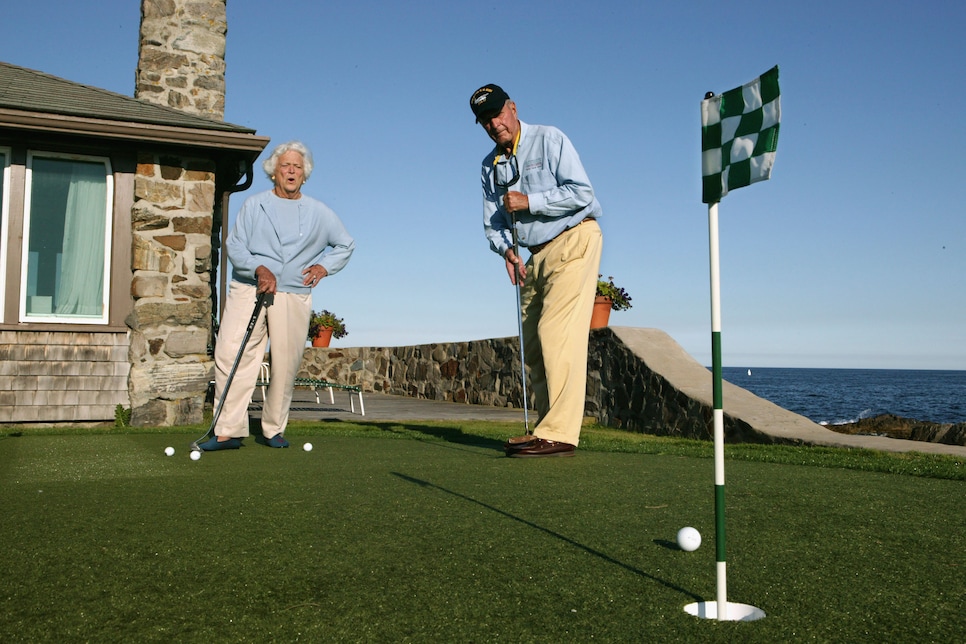 Photo By: David Hume Kennerly
President George Herbert Walker Bush was taught to play golf the proper way, which is to say without undue delay. Aerobic golf, he called it, and the example he set in his dashes around a golf course alone ought to have been sufficient to have warranted his induction into the World Golf Hall of Fame in 2011.
The former president often boasted that he held the course record at Cape Arundel Golf Club in Kennebunkport, Maine. What, a 66 or 67? "An hour and 20 minutes," Ken Raynor, Cape Arundel's professional, would explain.
Golf lost an important advocate on Friday, when Bush, the 41st president of the United States, died, his family said in a statement. He was 94.
His golf pedigree can be found in his name. George Herbert Walker was his maternal grandfather, a former president of the United States Golf Association, who was instrumental in the founding of the biennial amateur competition that bears his name, the Walker Cup. Bush's father, Prescott Bush, was also a former USGA president and a scratch golfer who impressed upon his son the importance of playing golf at a fast pace.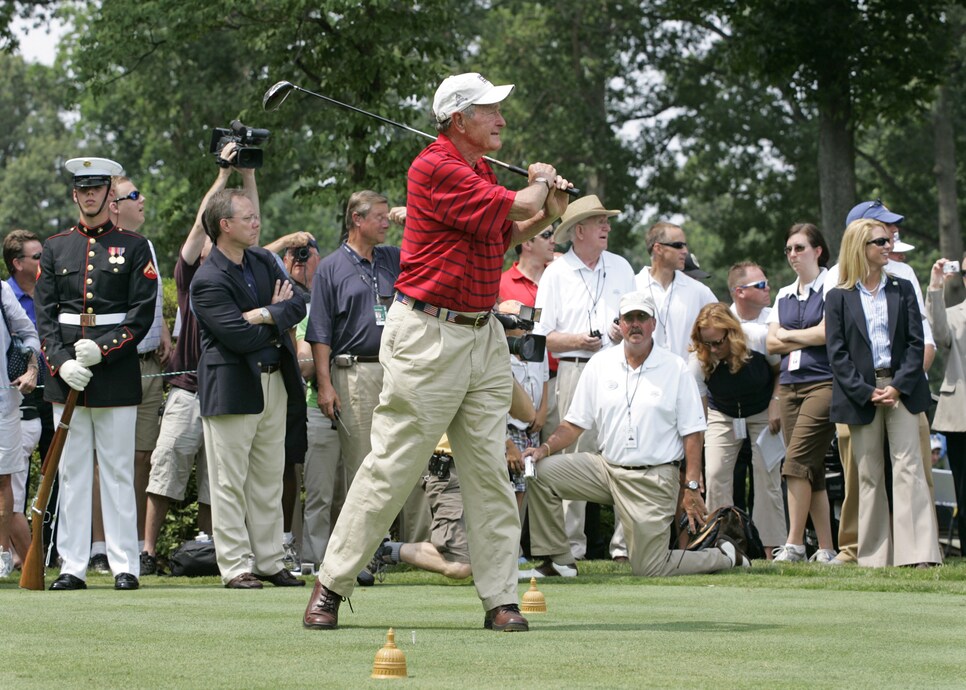 "Speed may be the only thing I'm known for on the golf course," Bush told the authors of My Best Day in Golf: Celebrity Stories of the Game They Love. "My father, Prescott Bush, was a fabulous golfer. … He was the one who instilled the value of fast play in me, and in my son as well. In fact, he once told George W., 'Son, looking at your swing, you're probably not going to be a great golfer, so make sure you play fast.' "
Bush 41 not only played quickly, he played well enough to have won the club championship at Cape Arundel in 1947. Late in 2011, the club announced that it was renaming the clubhouse, 41 House, in Bush's honor.
"President Bush is and will always be one of the most memorable men in Cape Arundel Golf Club's rich history, and this is a way to thank him for all that he has done for this great club," club president J. Pierce O'Neil said at the time.
Both George Herbert Walker and Prescott Bush were members at Cape Arundel, the latter winning the club championship eight times. It was at Cape Arundel that Bush learned the game and played what likely was his most enjoyable golf, often with other luminaries, including Bill Clinton, Prince Andrew, Arnold Palmer, Greg Norman and Golf Digest's Dan Jenkins, who had become a friend over the years.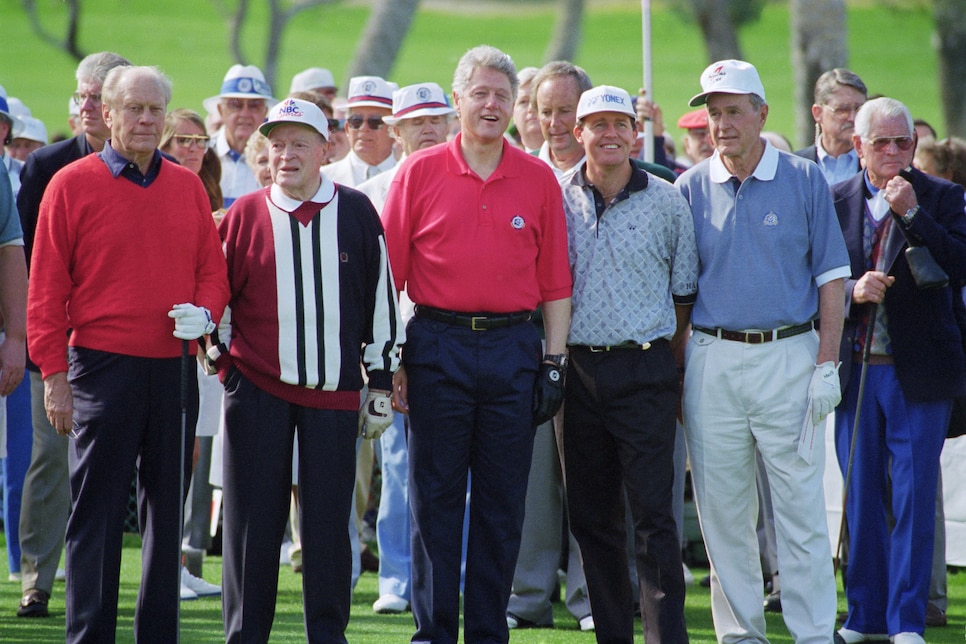 But it was in the Bob Hope Chrysler Classic in 1995 that he played his most newsworthy round, the shots heard 'round the world. He was part of a fivesome that included Clinton, the sitting president, as well as former president Gerald Ford, Hope and Scott Hoch.
It was a round marked by persistent shouts of "fore," though no one added "more years" in what was a Republican stronghold in the California desert. By one estimation, 20,000 spectators were on hand at Indian Wells Country Club that day, many of them ducking for cover at various points of the round. Bush tagged two spectators with errant shots, drawing blood from one when his ball caromed off a tree and struck a woman on the bridge of the nose.
Bush never appeared comfortable during that round, for two apparent reasons. He often spoke of "the humiliation factor," which no doubt was amplified in front of a large crowd. And the pace at which he prefers to play, measured with a stop watch rather than a sundial, was not remotely attainable. The round took "an obscene six hours," former Golf World editor Jaime Diaz, then with Sports Illustrated, wrote.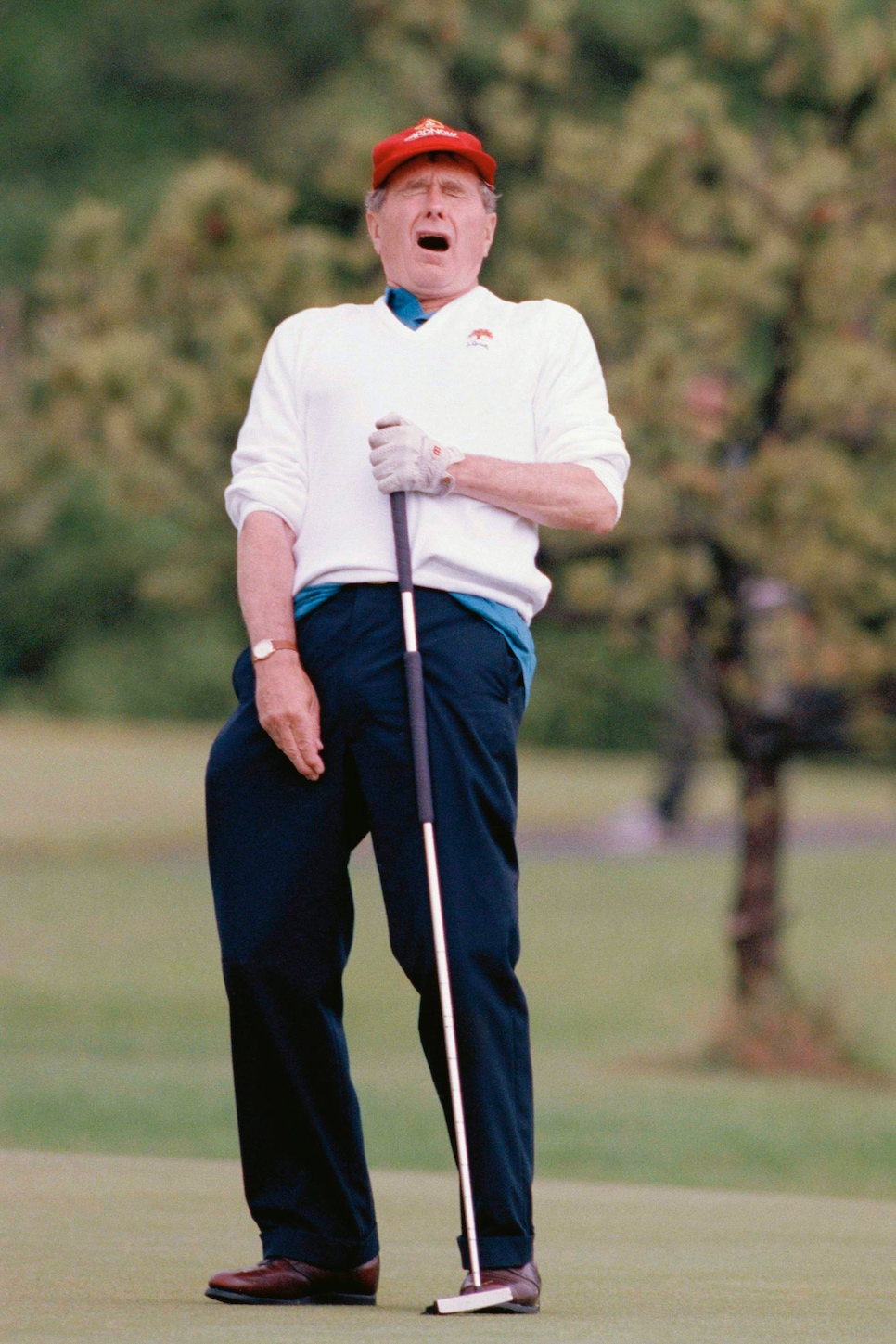 Bush's best work in golf, at any rate, occurred off the course, in the service of others. Service was his calling, as he demonstrated in public life as a war hero, Congressman, Ambassador to the United Nations, CIA Director, Vice President and President. He similarly served the game of golf selflessly and did so with honor and distinction.
When The First Tee was founded in 1997, he accepted the position of honorary chairman. At a World Golf Hall of Fame news conference in 2011, former PGA Tour commissioner Tim Finchem noted "4.7 million young people in the United States have been touched by The First Tee program. But for President Bush, that would not have happened.
"He attended openings of facilities. He wrote letters to people who gave money," Finchem continued. "He traveled, he spoke, he got on the telephone. He wasn't a chairman in name only. He worked at it. But because of his lending his prestige and image and commitment and enthusiasm to what The First Tee is it's the success it is today."
The major golf organizations in the U.S. all recognized his contributions to the game. In 1997, he received the PGA of America's Distinguished Service Award. The USGA presented him its highest honor, the Bob Jones Award, recognizing distinguished sportsmanship, in 2008, and the PGA Tour accorded him its Lifetime Achievement Award in 2009. And the American Society of Golf Course Architects honored him with its Donald Ross Award.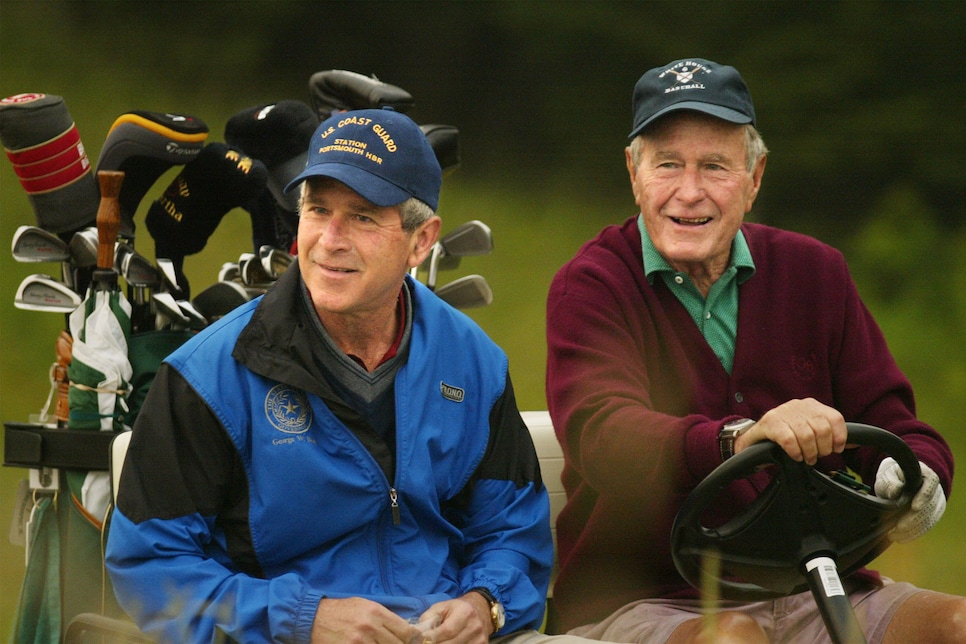 At his core, Bush simply loved the game, whether playing it or watching it. He attended several Presidents Cups and Ryder Cups and was a frequent visitor to the Shell Houston Open and other professional tournaments.
"His passion and love for the game is second to none," Greg Norman said in a video played at Bush's Hall of Fame induction. "It doesn't matter whether you're number one in the world or a 27-handicapper who loves the game, his commitment and dedication in seeing the game go from strength to strength, from one level to the next, has been phenomenal."
It doesn't matter, Norman might have said, so long as you play the game the way Bush and his family understood it should be played. Expeditiously.
"Your Bushes," Jenkins wrote, "don't throw a lot of grass up in the air when they play."