A dozen events into the 2022-23 PGA Tour season, the rightful focus is on Jon Rahm and his incredible play as the World No. 3 heads into this week's Farmers Insurance Open with a chance to win a third straight tour start.
Hidden in that hoopla, though, is the impressive performance of another player, tour rookie Taylor Montgomery. In nine starts, the Korn Ferry Tour graduate has had four top-10 finishes and eight top-15s. Not bad for a golfer who struggled to make the starting lineup after enrolling at UNLV in 2013 because he could not keep his ball within the boundaries of a golf course. Literally.
"There's nobody in the world as bad a driver as I was," Montgomery says now with a chuckle.
The 27-year-old recalls just how flabbergasted Phil Rowe, then an assistant for the Rebels, was when he analyzed the number of strokes the Las Vegas native was losing each round simply to penalty shots. "Here I am in college, with an up-and-down rate of about 90 percent playing our home course," Montgomery said, "and yet I'm shooting in the 80s."
It was absolutely maddening to Montgomery, considering he was simultaneously a whiz with the putter. Numerous clubs were snapped in anger as he obsessed on fixing the problem, aware that knowledgeable golf people were wincing as they watched him hit balls—and telling him he didn't have the stuff to play on the PGA Tour.
"You hear things like that … nothing fires me up more than that kind of stuff," Montgomery says.
While he'd like to have a few words with those naysayers, now, he doesn't have to. If they've been watching PGA Tour's telecasts this season, they know he's got that driver and scoring stuff mostly figured out.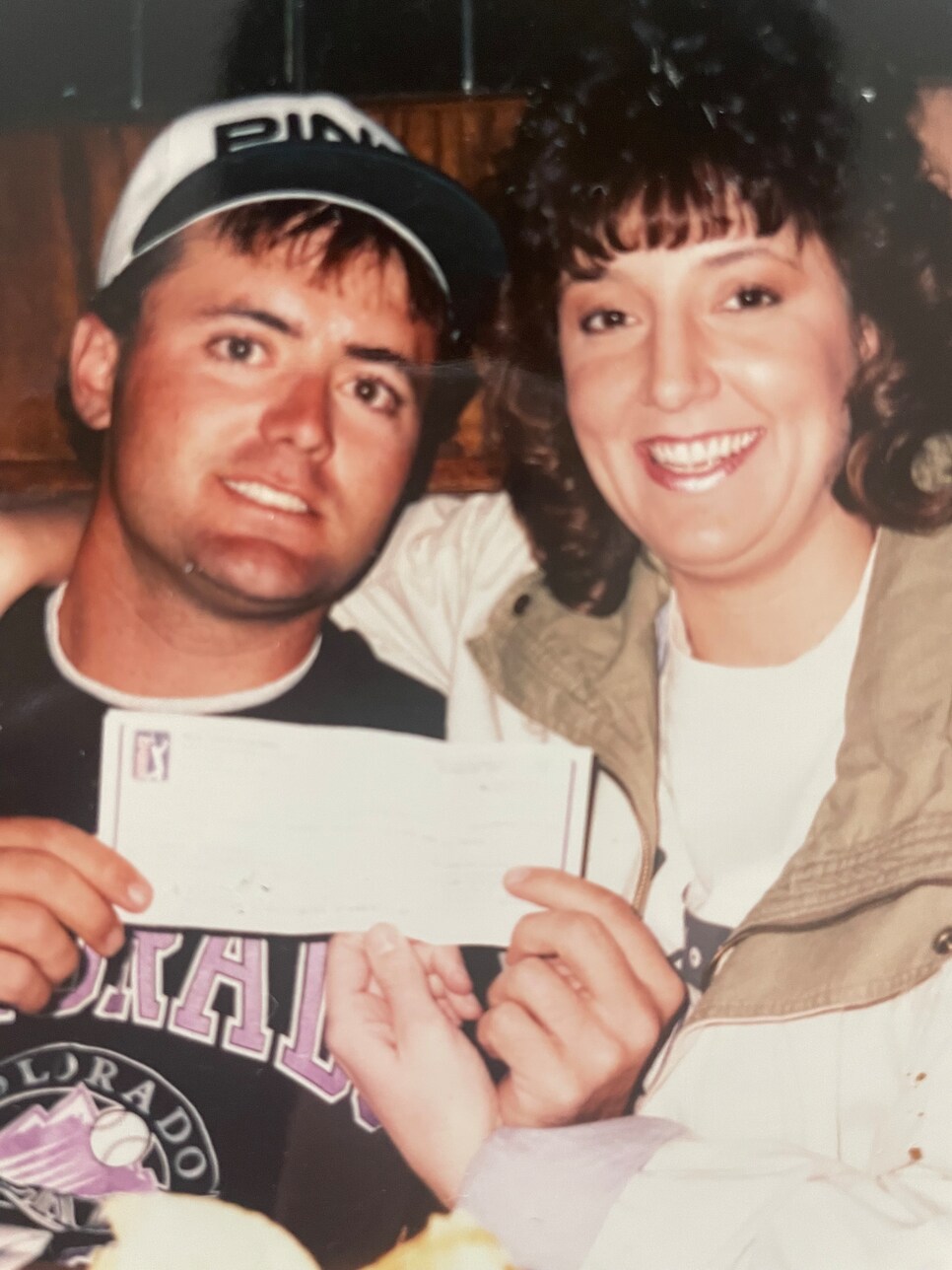 Monte Montgomery and his wife, Mikella, celebrated the check he earned in the 1994 Buick Invitational at Torrey Pines. (Courtesy photo from Monte Montgomery)
Montgomery once again found himself in the Sunday mix last week in The American Express at PGA West, where late in the back nine he had a putt to tie for the lead. He missed and then a cold shank into the water at the Stadium Course's island-green 17th, resulting in an eventual double bogey, drowned his chances for his maiden win. But with a bounce-back birdie at 18 he finished solo fifth.
This week at Torrey Pines, Montgomery competes on courses with which he and his family have deep emotional connections. In 1994, a year before Taylor was born, his dad Monte—the longtime director of golf at Shadow Creek in Las Vegas—made his only PGA Tour start in this same San Diego event. After Monday qualifying to get into the field, he finished tied for 24th.
Taylor, meanwhile, competed in the Junior World at Torrey and played in his first major at the 2021 U.S. Open on the South Course, tying for 57th. Last year at the Farmers, in his one PGA Tour start other than the U.S. Open while playing fulltime on the Korn Ferry, Montgomery shot a 64 in the second round and birdied the last two holes on the final day for a T-11.
"I love Torrey Pines," Montgomery said. "It's a really big golf course, and there's not a lot of out of bounds. There's just thick rough and tiny fairways. You hit driver on every single hole, and I like that."
Montgomery credits his Dallas-based instructor, Jon Sinclair, with turning his game around starting in his senior year in college. Big and strong at 6-foot-3, Montgomery was encouraged by his dad at an early age to swing as hard as he could. Monte was an excellent ball-striker in his day, and he figured the athletic Taylor, who also exceled in baseball and basketball, would have the same skill. But Taylor got in a terrible habit of flipping the clubface at impact, and it took years of work with Sinclair to fix that.
Before Montgomery found Sinclair, his prospects were so bad that he was basically the last bench-sitter on the team for then-head coach Dwaine Knight. He wasn't close to playing in tournaments, and when Montgomery heard through a UNLV booster that the injury-riddled Rebels basketball team was looking for an athlete to fill out the roster, he strongly considered it. "I thought it would have been awesome," he said. "I was playing terrible golf; I was playing basketball and staying in shape."
But when he asked Knight, who oversaw the UNLV program for more than three decades, about it, the Hall of Fame coach had a curt answer: Choose basketball and you're done with golf. Montgomery stuck around and by his senior season in 2017 was a starter who contributed to UNLV reaching the team match-play portion of the NCAA Championships.
Taylor Montgomery ranks among the top 10 on the PGA Tour this season in strokes gained/putting.
Katelyn Mulcahy
Montgomery now believes he's one of the "best drivers in the world," and his tour stats suggest its more than hubris. While teeing it up plenty with 3-woods, he ranks 39th in driving distance (307.6 yards) and 41st in strokes gained/off-the-tee. It's his iron play that still needs work, hitting only 68 percent of greens in regulation to rank 137th.
And yet, Montgomery knows he can rely on his prowess on the greens to him out. While new to the tour, he already ranks seventh in SG/putting.
It's an interesting twist, considering Monte's playing career was sabotaged by terrible putting—in part, he says, because he inherited the "shakes" from his father. Early on, dad emphasized the short game with Taylor, who spent hours on Shadow Creek's slick practice greens. To this day, Monte says, "You won't see Taylor just throw down three balls on the green and putt. He's always practicing with a purpose."
The work means more when there's a reward, and Taylor found that out when he won the $75,000 first prize at the inaugural 2017 Major Series of Putting that was held in a "stadium" a block off the Las Vega strip. He and his UNLV teammate (and current fellow tour player) Kurt Kitayama pocketed another $15,000 in taking the team competition, and it was that cash that bankrolled Montgomery's fledgling pro career.
Early in his rookie PGA Tour season, Montgomery has earned $1.8 million, more than enough to have secured his card for 2024. Yet you can bet he's checking the financial ledger each week. To hear both father and son, money and gambling have always been among the sport's biggest lures for Taylor.
Monte likes to tell a story of the day he says his son, all of 11, decided he wanted to be a professional golfer. A Vegas high-roller was a regular at Shadow Creek and he challenged Monte and Taylor in a match against him and an assistant pro. The stakes were $50 a hole with carryovers.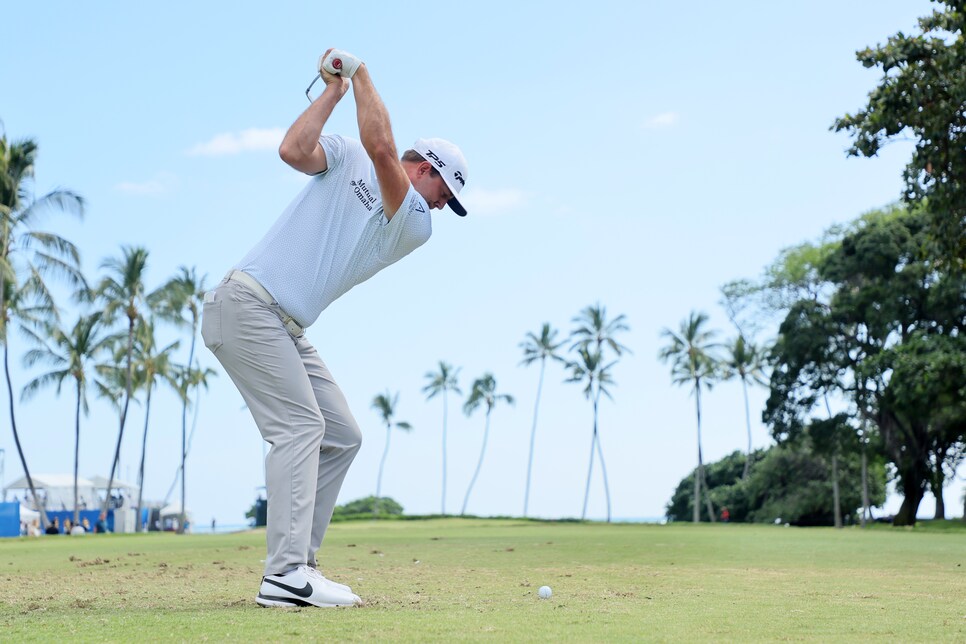 Taylor Montgomery has worked dilligently in recent years to erase a flip in his club that produced wild shots off his driver and irons.
Andy Lyons
"So, we have this 15-footer on the 18th hole to win 450 bucks a person," Monte recalled. "I said, 'Taylor, go up there and hit that putt,' and he drains it! The guest walked over and gave him $900—at 11 years old! … One hundred percent, that day changed Taylor."
Taylor laughs at the memory of that day, but insists the golf bug bit him in a more traditional way—while he caddied for his dad in a U.S. Open qualifier. But he will not deny that gambling on the course and having something to play for, whether it's a $20 nassau or a million-dollar check, gets his competitive drive going.
"The gambling aspect in golf is why we've made it this far," Taylor said. "If there was no gambling, I don't think I would have played, because it's always something really fun to do with friends. It wasn't even about the money; I just loved the competition aspect to it. … I loved basketball, but it's not like you're going to play pickup games with 10 people and expect every guy to put in $5."
Perhaps Monte points to that one gambling win as Taylor's turning point in golf because he experienced a fateful day himself. Married young to his high school sweetheart, Mikella, Monte followed her from their hometown of Grand Junction, Colo., to UNLV after honing his game at a junior college in Florida. Knight was early in his career in Vegas and when Monte asked for a scholarship, coach told him there were none. So Monte walked on to play in a team qualifier at the Desert Inn. He opened with 74-74 and needed to score at least even par in the final round to have any chance to make the team. He clutched up with a 68.
"That changed my life," he said. "I look back and wonder what would have happened if I shot 73. You just don't know. The next week, I'm hanging out with the UNLV team and playing Shadow Creek with [owner] Steve Wynn."
Monte would eventually do some caddieing at Shadow Creek, and only a few years later, with the club in the midst of managerial changes, Wynn tabbed Montgomery as the director of golf. He'll soon celebrate 30 years at the helm of a place he calls "the Disneyland of golf."
Monte's job allowed Taylor to regularly mix with famous actors and businessmen and athletes, of course, including Michael Jordan and Fred Couples. The lesson from those encounters he drilled into Taylor: "Look them in the eye, shake their hand and don't be afraid of them."
Clearly, Taylor listened. You don't keep sharing leaderboards with the best in the world if you're playing scared.