Farmers Insurance Open
Hard work, a father's love and an NFL Hall of Famer are helping make this aspiring pro's dreams come true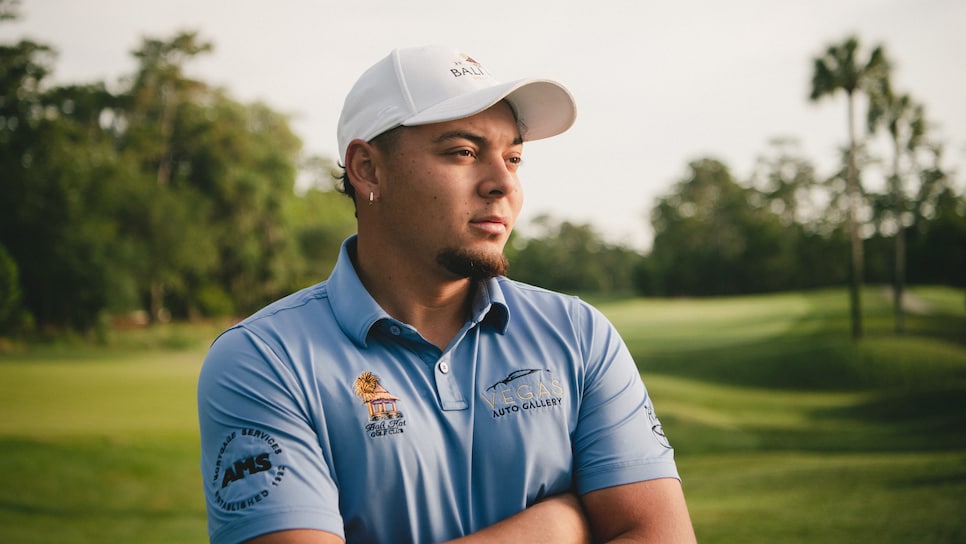 Photo By: Josh Letchworth
In the Herrera family, basketball was a part of life's rhythm, no different than eating, sleeping and working. Golf? It occupied not one second of consciousness for patriarch Hugo Herrera, who had never seen a golf course until he emigrated to the United States from Guatemala as a teenager.
Years later, as he drove his son Michael to basketball practice, the boy would watch intently the swings of the players as they passed the little par-3 Cottonwood Golf Center in Moreno Valley, Calif. The father recognized the look of longing in his son's eyes, but when Michael brought up trying to play one day, Hugo immediately shut him down.
"A white man's sport," Hugo said, the images of golf movies he'd seen on TV playing in his head. "Too much money. That's not for us."
It would take much more badgering from Michael on those car trips before he convinced his dad to at least go into the Cottonwood pro shop to inquire about playing. "He never took no for an answer," Hugo says now. The dad admits he just wanted to silence the kid, to have him understand a harsh reality, but when they found out it was only $20 for both to play, including club rentals, the 10-year-old responded in the way only 10-year-olds can.
"That day we went out," Michael, now 24, recalls, "and we fell in love with it. … Golf was a puzzle we needed to figure out, and that was huge."
The pieces are still on the table, still being scrutinized for every notch, every color, every detail. Michael Herrera, who will play in his first PGA Tour event this week at the Farmers Insurance Open on a sponsor's exemption, did go on to be a star in high school basketball, with the 6-footer averaging more than 20 points a game, and played through a couple of years at Riverside City College. But it's golf that became the focus of his work ethic that is known to be ferocious. And his father supported it—and made enormous personal sacrifices—for every step of the journey.
"I knew he was never going to be OK with being mediocre," Hugo, 48, says.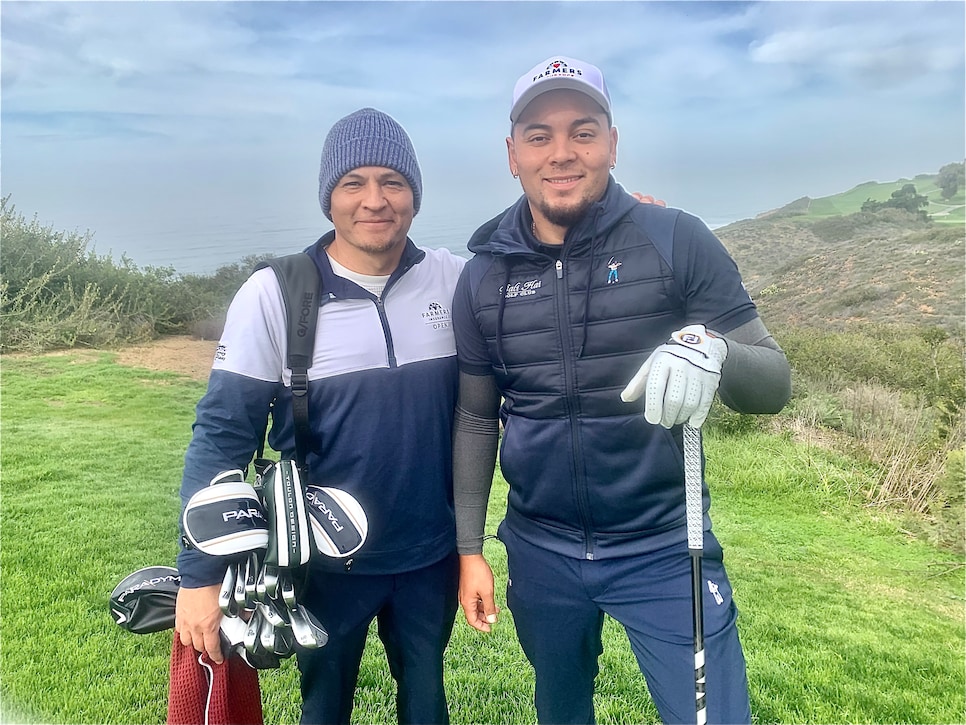 Michael Herrera and his dad, Hugo, shown during a practice round at Torrey Pines ahead of the 2023 Farmers Insurance Open. The pair started playing golf together when Michael was 10 years old. (Photo by Tod Leonard)
Quitting basketball for Michael wasn't easy. He had dreams of being a pro, and Hugo recalls him coming home "crying and crying" when he wasn't getting playing time at Riverside. They talked about a possible transfer. That's when Riverside's basketball coach, Phil Mathews, steered Herrera toward his own college roommate from years ago, Ken Bentley, a former executive at Nestle who founded the Advocates Pro Golf Association tour to support minority pro golfers. Bentley played a round with Herrera and was impressed with what he saw in his game and attitude. He invited him to play an APGA event as an amateur, and Michael posted a top-10 finish.
"What makes him special is that he is a basketball player," said Bentley, a former college tennis player. "He's competitive. He's a really good athlete. He just hasn't played a lot of golf. But I think the sky's the limit for him."
Figuring that finishing college would be just as expensive as trying to start a pro golf career on the mini-tours, Herrera turned pro in 2019 and became a regular on the APGA Tour. "Without the APGA," he says now, "I would have never kept going in golf." The reasonable entry fees and opportunities to play PGA Tour-level courses such as Torrey Pines and Valhalla contributed to improvement in Herrera's game, and he enjoyed his best season in 2022. He posted nine top-10 finishes in 12 starts and celebrated his first APGA victory last April when he drained a birdie putt on the 18th hole at TPC Scottsdale for a closing 68 and one-shot win. Only a couple of months earlier, on the same green, current World No. 2 Scottie Scheffler celebrated his first PGA Tour victory.
Along the way, Herrera's talent and outgoing personality have attracted a number of enthusiastic supporters and sponsors—in part due to a happenstance golf course encounter with Pro Football Hall of Famer and four-time Super Bowl champ Ronnie Lott. But this week delivers the biggest puzzle to solve yet at Torrey Pines. As this year's recipient of an exemption into the Farmers given annually to one APGA member, Herrera will compete on the same grounds where he fell in love with pro golf by watching Tiger Woods win the 2008 U.S. Open. Herrera is in the field with the likes of Jon Rahm, Justin Thomas and even the player he said he'd most like to meet, Jason Day.
"I'm excited, but I'm not putting too much pressure on myself," Herrera said a couple of weeks ago between shots during a casual round on Torrey's South Course. "I'm prepared. I've worked really hard. I'm very confident. And if things get tough out there, I'm going to keep my head on straight."
Michael speaks of the "village" that raised him as a golfer and person, and a sizeable number of those people will support him when the Farmers begins on Wednesday, including his girlfriend, Tyler Wooten, and their 6-month-old son, Leon James; his dad and mom, Jelin; aunts, uncles and cousins; his past coaches; and even a high school teacher.
"I feel the emotions hitting me," Hugo, his voice quivering, said last week when asked what the experience will be like when he sees his son step up to the first tee. "It will be the same feeling of watching him make winning shots in basketball or making incredible plays in Little League. I knew he had this gift for competing at the highest level. This is different, and I know it's crazy, but I'm not surprised."
Growing up in an impoverished section of Guatemala City, the capital of the Central American country of 1 million people, Hugo Herrera understood what it was like to embrace sports as a way to soften a hardscrabble existence. His family made shoes at home for his mother to sell in the market, but against Hugo's wishes, they would eventually have to flee their homeland when neighborhood gangsters, preying on those who earned a paycheck, demanded regular cash payments from families to simply ensure not killing them.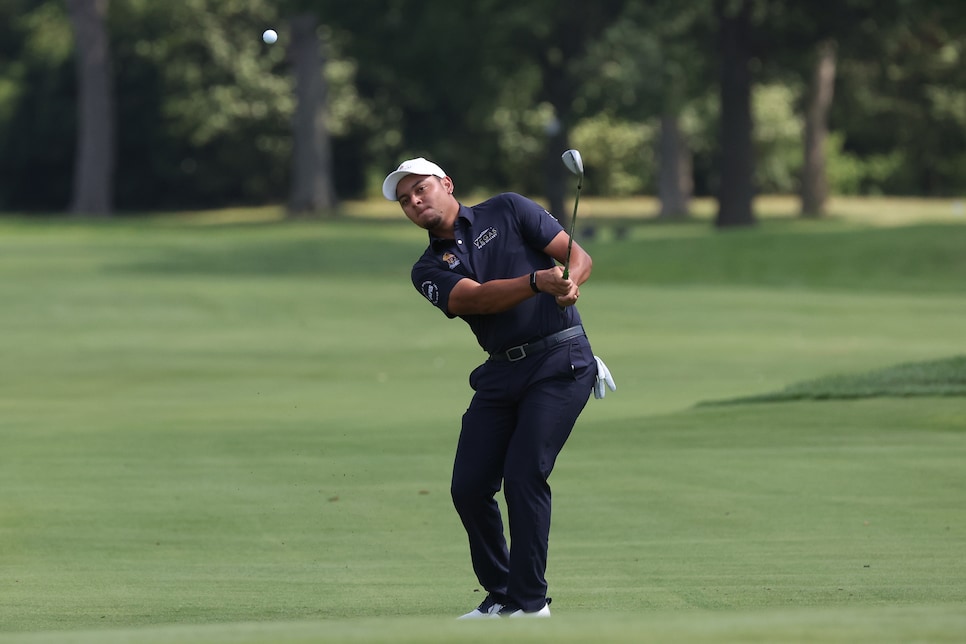 Michael Herrera played both golf and basketball in high school and college.
Rey Del Rio
Hugo's escape from his circumstances in Guatemala was basketball, thanks to his father, who formed a women's team so that his athletic wife could play, and eventually pulled together a group of boys to create a youth squad for Hugo. By his late teens, Hugo became a nationally recognized player, but then, at 19, he was whisked off to a new country full of its own confounding mysteries. He was crushed.
Married young with their first of four children, Michael, arriving in 1998, and a daughter coming soon after, the four Herreras slept in one bed of a partitioned home near downtown Los Angeles. Hugo found work as a maintenance man for shopping malls, and they eventually moved to Moreno Valley, 60 miles and a 90-minute commute east of the L.A. where working-class families could afford to buy a home.
Hugo signed his only son up for any sport he wanted to try, except golf, and he was thrilled, of course, when Michael became particularly adept at basketball. Hugo recalled waking up at 6 one morning and hearing a boom-boom-boom outside the house. It was Michael taking shots at their portable hoop. Why, the dad shouted from his bedroom window, was the kid up so early for a 10 a.m. rec game? "I have to warm up to be ready!" was the boy's reply.
"Some kids don't care if they win or lose; they just want to have fun," Hugo says. "Mike hated to lose. He wanted to get better in anything he was doing. That transferred to every sport. He basically learned to play golf by himself."
When Hugo and Michael took up golf, they were laughably bad but still loved the competition between them. They eventually pored through books and watched internet videos to gain some understanding of a swing. It wouldn't be until the APGA set Michael up with well-known instructor Dana Dalquist that he got his first formal lessons. (He's now working with Tony Grecco, who is based at Bear Creek in Murrieta, Calif.)
Early on, as Herrera's golf improved, his financial circumstances didn't. Hugo Herrera was supporting a family of six and working overtime to raise extra funds to enter Michael in tournaments. For his part, Michael worked in the cart barn at a local course. But there were times when Herrera only had the money to compete once in a month.
That would all change in the matter of minutes during a golf outing in October 2021. In one of those circumstances in life that later looks a lot like destiny, Michael was asked by the APGA to help out at a charity event at Spanish Hills Club in Camarillo, Calif. His task was to hit drives as groups made their way through a par-5 hole. Easy stuff. And from one of those groups, up walked Lott, a former USC defensive star who played the bulk of his 14-year NFL career with the San Francisco 49ers.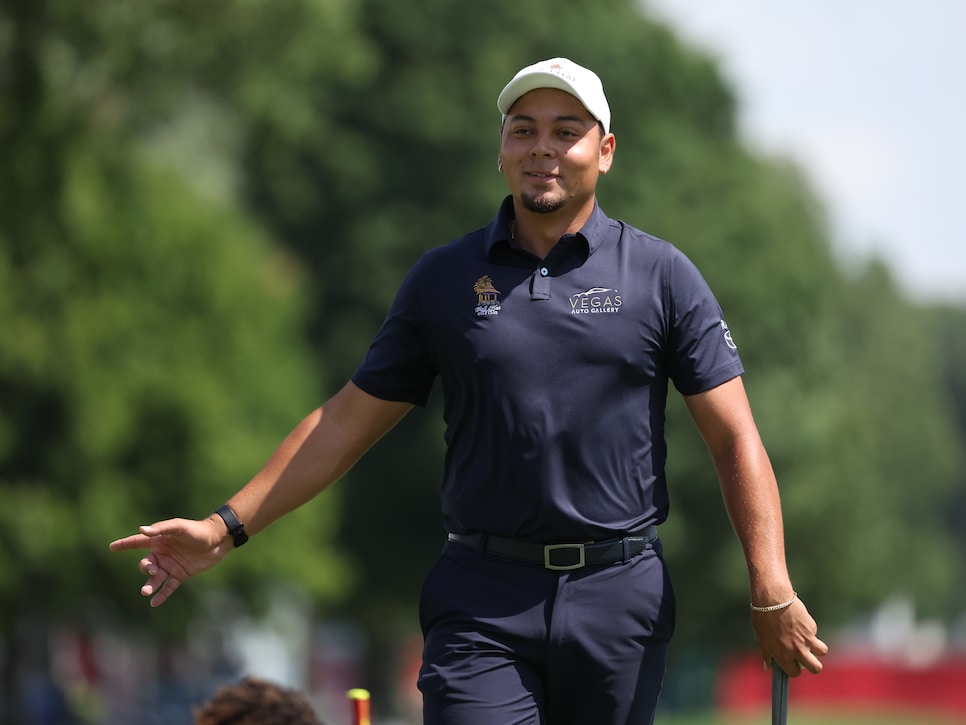 Michael Herrera posted nine top-10 finishes in 12 starts on the APGA Tour in 2022, including his first win.
Rey Del Rio
The two struck up a conversation and immediately bonded over their modest roots in working-class towns 20 miles apart—Herrera from Moreno Valley and Lott from Rialto. Impressed with Herrera's good nature, Lott wanted to hear his story, and then was moved by the work the young man and his father put in.
"It's crazy lucky," Herrera said of meeting Lott. "Sometimes, you're just in the right place at the right time."
Recalling that first meeting in a phone conversation last week, Lott, 63, said, "In life, you have some great teammates and people you meet that you really appreciate. And that's how Michael came across. It also reminded me of when I was a rookie and trying to make the team, make the cut. Michael has that work ethic and he's going to outwork you, and he's not afraid of trying to get better."
On the spot, Lott gave Herrera his phone number and offered to help, though Michael was understandably wary after hearing plenty of broken promises. "When the time comes to write a check, they disappear," Herrera said. Then he got a call about a week later that Lott would pay him to wear a Tracy Toyota logo to represent the car dealership Lott owns.
Soon, Lott introduced Herrera to his agent, Sandy Sandoval, who'd once led talent acquisition for EA Sports in the early years of the "Madden" video game. Three more sponsors have come onboard, and Herrera has so many logos on his shirt and pants he looks like a NASCAR driver. "Yeah," he said sheepishly when asked if his fellow APGA players needle him about it. "They say, 'I want to be like Mike. I want more logos.'"
Having his weekly expenses covered was huge. "It was like lifting the weight of a truck off my dad's back," Herrera said.
Recently through contacts, and with the attention that comes with playing in a PGA Tour event, Herrera had a full club fitting and was presented with a staff bag at Callaway's headquarters in Carlsbad. The APGA will cover the costs for his caddie at the Farmers, and Herrera's looper will be Nick Jones, the 2000 California State Amateur champion out of USC who was caddieing for Charles Howell III prior to the veteran going to LIV Golf.
This being professional golf, there is no way to know whether this opportunity in the Farmers will be Herrera's only appearance on the PGA Tour or the first of many. He's still got another big step to take to get on the Korn Ferry Tour; he failed to get a card last fall when it washed out a second stage of Qualifying School. (Herrera got conditional status in Latinoamerica Tour's Q School but doesn't have a high enough number to get any starts.) The puzzle is unfinished.
The small, gold hoop earrings that Herrera sports in each lobe—you don't see that too much on the tour—are a subtle statement. He doesn't lack for confidence and carries the quiet swagger of an athlete who's made his share of winning shots at the buzzer.
"I bring my competitive edge to the golf course," Herrera said. "If it comes down to having seconds left and needing a basket to win, that translates a lot into golf. If I need to make it, I'm going to make it.
"I show up at the course with a different energy. I'm used to playing a sport with contact, that's in your face. There's no holding back."
The basketball player has been there all along. It's the true golfer who's still fighting to emerge.