'A Beautiful Thing'
A Turning Point for the APGA Tour
The APGA Tour was built to provide professional playing opportunities for minority golfers. Against the odds, it has succeeded, but it now stands at a complicated crossroads.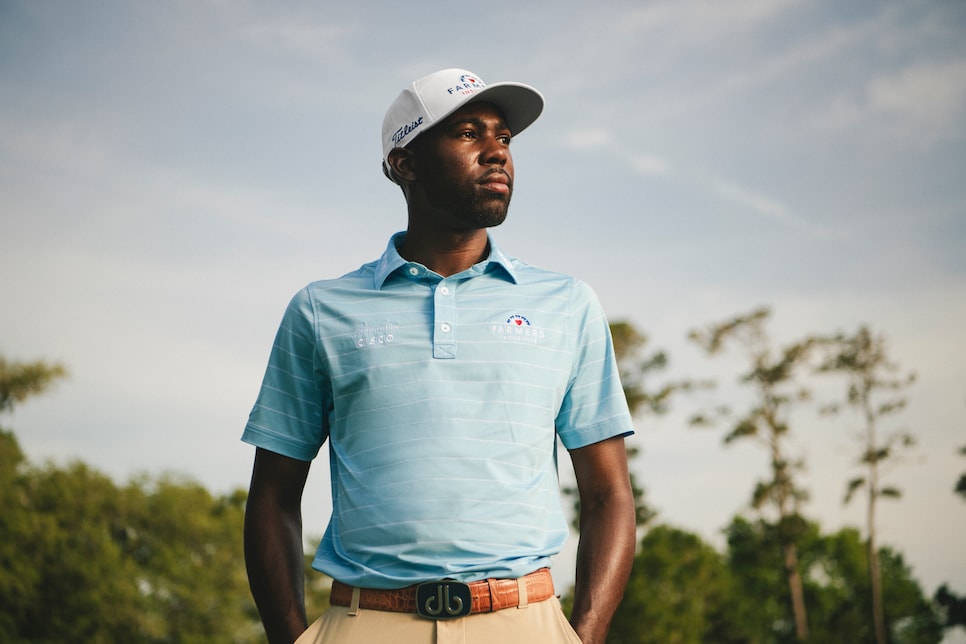 Ken Bentley has heard the praise before. He has been lauded about the wonderful things he is doing for golfers of color by giving them a professional tour on which to hone their skills. But in many instances, the same people who pat him on the back and hand him their business card later forget how to answer their phones.
So it was with learned wariness that Bentley listened to a man he had never met, Cisco Systems CEO Chuck Robbins, heap plaudits on the Advocates Professional Golf Association (APGA) Tour during a banquet at TPC Sawgrass in the spring of 2021. The occasion was the inaugural Billy Horschel Invitational by the APGA, the circuit started in 2010 by Bentley and co-founder Adrian Stills with grant money and their own cash.
At the podium, Robbins, an avid golfer, spoke of being inspired by the APGA players and their aspirations. That's when a voice rose from the crowd. "I'd like to hear more about that!" It was Bentley, obviously wielding a good-natured needle, but making a point still the same. Everybody laughed. Bentley and Robbins were seated at the same table, and when Robbins excused himself to catch a flight, he told Bentley he would be in touch. Another empty promise?
An hour later, Robbins called with an astounding offer: If the APGA could accept $500,000 in the next 24 hours, Cisco could cut a check for the donation. "I had to ask him to tell me again because I wasn't sure I knew what was happening," Bentley says with laugh.
That Cisco deal, which now includes tournament sponsorship and funding for five APGA playing ambassadors, has produced a stunning turnaround for a tour that teetered on the edge of existence and previously ended each year with a zero balance, at best. Farmers Insurance and Lexus signed on as supporters in the past four years, and they've been joined by World Wide Technology, the largest Black-owned company in America.
Today, the tour is almost unrecognizable from its early years, when tournaments were often played on well-worn munys and fields numbered in the couple dozen because even minority golfers had no idea the APGA existed. No one could possibly make a living on the tour or be prepared for the next level. Worse, the players from the early years will tell you they got plenty of disapproving stares when they showed up to compete, and some courses didn't seem to care if they were there. As one oft-told story goes, a facility punched the greens between the two tournament rounds.
In contrast, 2022 has 17 events and $700,000 in prize money. Thanks to support from the PGA Tour, the APGA's courses for its 36-hole competitions mostly have "TPC" in their title, and there are major-championship venues sprinkled in—Torrey Pines, Harding Park, Valhalla and, for the first time this year, a Baltusrol invitational event sponsored by Cisco. That venue lineup and the exposure the APGA has received should make any other mini-tour operator salivate. The first national TV bow was on Golf Channel in January when the final round of the Farmers Insurance Invitational was played Sunday at Torrey Pines after the Saturday finish of the PGA Tour's Farmers Insurance Open.
Before that, in the summer of '21, Willie Mack III became the APGA's first standout to make the cut on the PGA Tour when he reached the weekend in the Rocket Mortgage Classic and John Deere Classic. The feat made headlines, and according to Bentley, there were 3,100 articles in which Mack's name appeared, with a media value of $78 million. There's not another mini-tour player who is even close to having that much street cred.
'A LOT OF THESE YOUNGER GUYS HAVE NO CLUE WHERE IT ALL STARTED AND THE COURSES WE USED TO PLAY. IT'S A NIGHT-AND-DAY DIFFERENCE.'
"They have definitely come a long way," says Tim O'Neal, 49, an icon in the Black golf community who is an original member of the APGA and has three victories on the Latinoamerica Tour with several dozen mini-tour wins. "A lot of these younger guys have no clue where it all started and the courses we used to play. It's crazy to see that we're playing Valhalla and the TPC courses now. It's a night-and-day difference."
Bentley believes the APGA was on the rise when the American people and U.S. corporations recognized the need to do more for the underserved after the May 2020 death of George Floyd and the civil unrest about racial inequality that ensued. "Golf was booming, and people were looking for ways to tie it to social justice," Bentley says. "We had 10 years in when all of that happened."
Bentley, 70, is a retired executive of 31 years at Nestlé who is the first Black person in the 94 years of Farmers Insurance to serve as chairman of one of its three exchanges. As someone who grew up in south central Los Angeles with seven siblings and a dad who worked three jobs to support them, he has a history of breaking barriers. In 1969, Bentley was the first Black member of the University of California Santa Barbara men's tennis team, and he recalls the day one of the few Black professors at the school, Dr. Robert Norris, showed up at his dorm room with two expensive tennis rackets. "He didn't know anything about tennis, but he said he wanted me to have the tools I needed to succeed," Bentley says. "That was my early inspiration for wanting to help others reach higher levels in what they were passionate about."
Bentley's relationships at Farmers and the PGA Tour flipped the APGA's fortunes. When Farmers CEO Jeff Dailey got interested in having a concurrent APGA event played at Torrey Pines during the Farmers Insurance Open, and the PGA Tour gave its blessing, the first event was played in 2020. Dailey sat in on a press conference in which Mack and Kamaiu Johnson shared their experiences of being homeless while trying to make it in pro golf. Dailey was floored. "I need to do something to help," he told Bentley. The same week, Horschel met Mack for the first time during a clinic for kids, and the beginning of a valuable relationship took hold.
Johnson and Mack received sponsorship deals to wear the Farmers logo, and the company made a larger commitment to the APGA by sponsoring a four-event Fall Series that provided extra paydays and qualifying opportunities. This year, the Farmers Invitational had a $100,000 purse, with $30,000 going to the winner. It was eclipsed later by the Horschel, at $125,000 and $40,000.
Those numbers are startling to anyone who knows about mini-tour golf. APGA members pay $400 entry fees for full-field events, but other tours require $525 to $1,200, with total purses $45,000 to $75,000. The competition on other mini-tours is more fierce, too. Results from the APGA compared to the GProTour in the Southeast and the Golden State and Outlaw tours in California and Arizona reveal that winning scores are markedly different. In this season's first seven APGA events, the average winning score for 36 holes was 5.4 under par. In 14 GPro events played over 54 holes, it was 16.5 under. The Golden State/Outlaw has staged seven two-round events, and the champions averaged 9.7 under par. Yes, the APGA is playing more difficult courses, but the pros on the PGA Tour or Korn Ferry Tour shoot in the low 60s at those places.
"I don't want to feel like I'm pissing on anyone's dreams, but I'm not going to sugarcoat it," O'Neal says. "You have to look at the other tours and the other scores. If you aren't shooting certain scores most of the time, or you're not shooting in the 60s at your home course, it's going to be a tough road."
That's the fundamental difference between the APGA and other minor-league tours. The APGA has supported its players through the years by providing them a place to play and sometimes rent money or entry fees or even medical care. Several players said they would no longer be playing competitively without that support. It's a holistic approach, but Bentley now sees that for the tour to attain its goal of seeing its alums play on top-level tours, there needs to be more focus on the quality of the golf and what the players need to improve upon to shoot lower scores.
The APGA has several new initiatives: a player development program funded by World Wide Technologies, a junior tour supported by Cisco and organized by the Cameron Champ Foundation, and a collegiate ranking that identifies the top five prospects coming out of school each year who will receive financial backing from the tour. The developmental portion became a must when Bentley realized that many of his players had never received formal instruction and were competing with clubs they bought off the rack. "That was crazy to me," he says. Now, 11 players chosen each season are given travel money, paid membership dues, fitted clubs, new wedges every few months, instruction by top-level teachers and access to trainers and a noted psychologist, Dr. Thomas Parham, the president of Cal State Dominguez Hills.
The attention, money and success of the past few years have put the APGA at an enviable, if challenging crossroads. It has more players who want to join than its maximum of 70 members. The board must decide if it wants to keep upping the purses or devote more resources to developing prospects. Then there's the question of what the racial makeup of the tour should be. The current membership is about 75 percent Black, 10 percent white, 10 percent Hispanic and 5 percent other.
At the Torrey Pines event in January, the tone of the Sunday TV broadcast was one of celebrating a new era for minorities in golf. Then a white player, Patrick Newcomb, who had conditional status on the Korn Ferry Tour, beat O'Neal by one shot. With no understanding that Newcomb qualified for the event on the strength of his APGA performances in '21, critics got nasty on social media, unable to abide the result that didn't fit the narrative. It wasn't only them. The expression on the faces of the APGA leaders as they posed for a photo with Newcomb was thinly veiled deflation.
What few knew is that O'Neal recommended playing on the APGA to Newcomb. "Patrick is my friend, and he called me," O'Neal said. "He said, 'I'm getting a lot of negative press for winning that tournament; I wish I hadn't won now.' I felt bad for him. Patrick is a good-hearted guy. What did people expect to happen? It's golf."
There are likely changes coming to the APGA, such as more invitationals in which the organizers can control the makeup of the field, but Bentley remains steadfast that full fields on the APGA should be diverse and inclusive.
Beyond that, he is bullish on the APGA Tour's future. "There will always be opportunities to help kids and young people who don't grow up on a level playing field," he says. "What I see is us not going away but getting stronger so we can help more kids."
AGE: 29 • HOMETOWN: BOYNTON BEACH, FLA.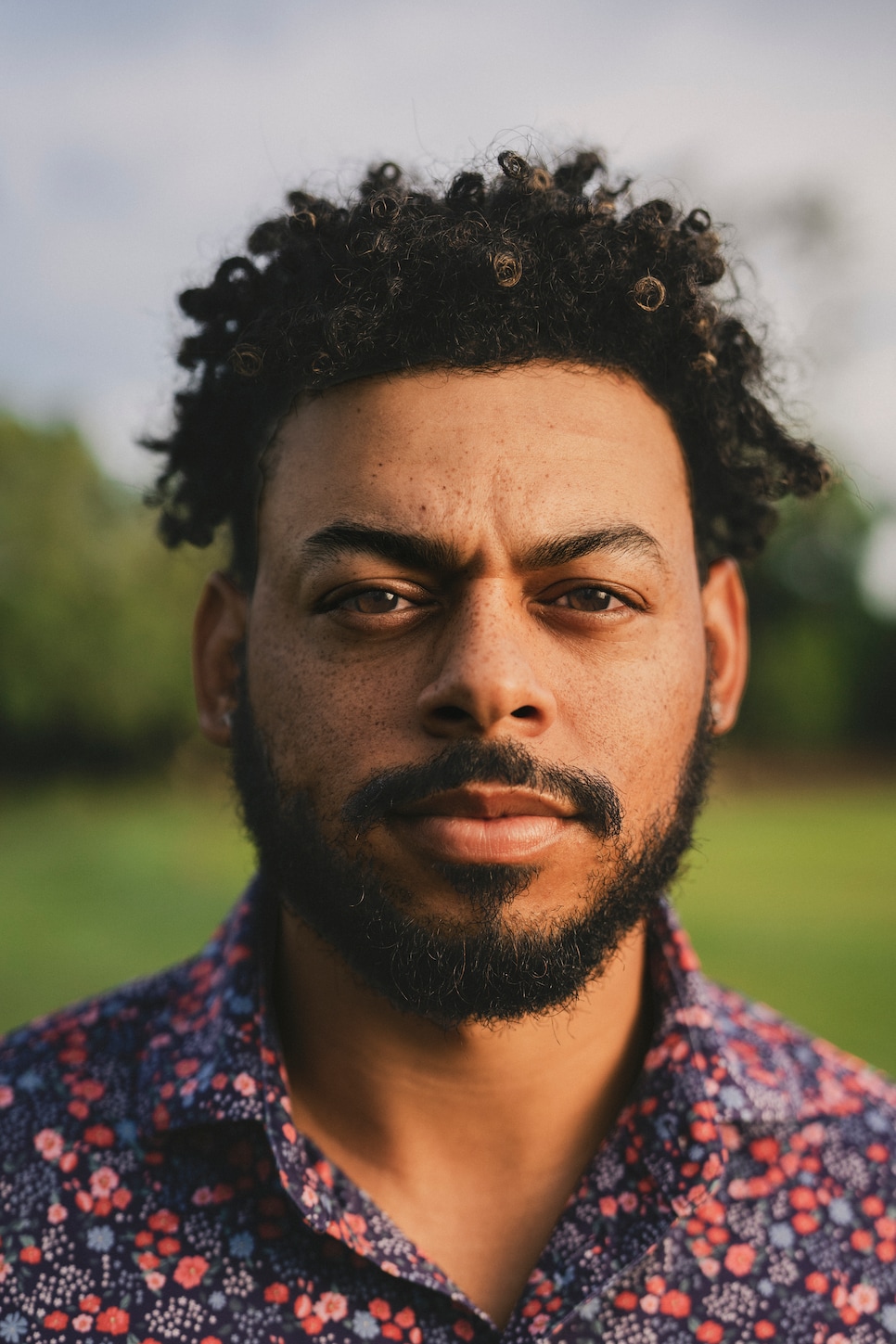 Growing up in a household in which both parents were sergeants in the Air Force, Trey Valentine could predict a couple of things about his upbringing: He would understand owning a sense of discipline, and he probably was going to see plenty of moving trucks parked at his curb.
From toddlerhood through high school, he and his family lived in Mississippi, Guam, South Dakota, Colorado, Virginia, South Carolina and Florida. Through those transitions, Trey used sports to make connections to new friends, and when golf became his focus after his dad, Fletcher, introduced him to the game, military courses served as his training ground.
"Golf was the one thing I was most competitive in," Valentine says. "I was obsessed with the skill it takes and chasing that feeling of being perfect. Of course, there is no perfect in golf."
After earning team MVP honors all four years of high school, Valentine played golf at the University of South Florida. He is among the top performers on the APGA Tour and one of its most recognizable players. A mop of curly black hair, sometimes with blond highlights, cascades out of his hat.
Trey's parents retired from the military after serving 20-plus years, and he says he inherited his tenacity from his mom, Lisa. "My dad is really competitive," he says, "but my mom is a whole different beast."
While serving in uniform, both parents experienced challenges. Only recently, while they were in Scottsdale for an APGA event, did Fletcher tell his son about being fired at while serving in Iraq. "It's a surreal moment when you realize a loved one was in such a dangerous spot," Trey says. "He was fighting for our freedom. It was a moment when I felt so proud of him."
AGE: 24 • HOMETOWN: MORENO VALLEY, CALIF.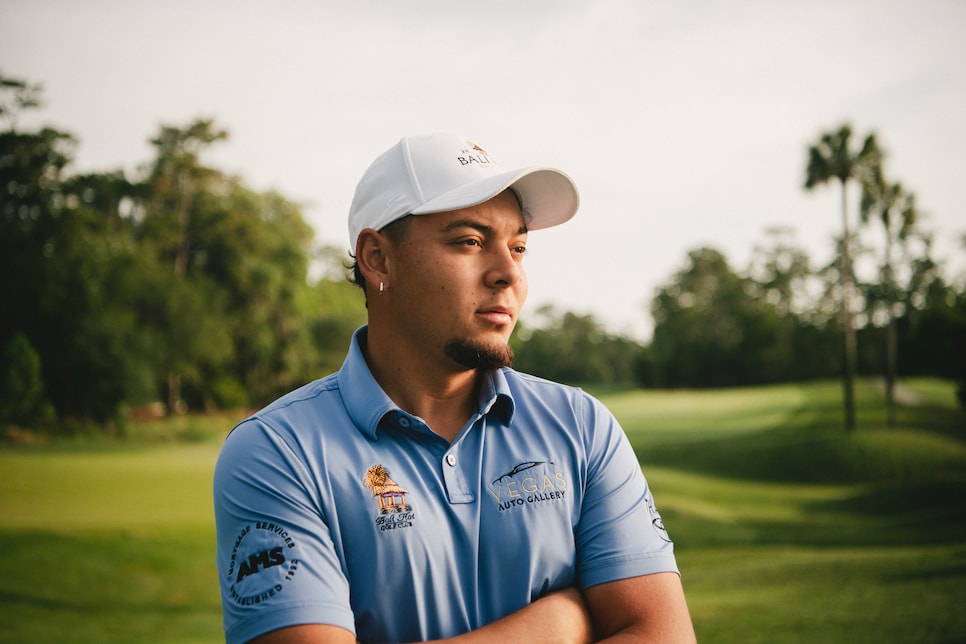 On the same 18th green at TPC Scottsdale where Scottie Scheffler won the 2022 WM Phoenix Open two months earlier, Michael Herrera had a 30-foot birdie putt to win his first 36-hole title on the APGA Tour. His mind-set was that it was just another three-pointer that he had drained so often as a point guard in a basketball career that extended into college.
The result? Nothing but cup. Hand him the trophy. "I bring my competitive edge to the golf course," Herrera says. "If it comes down to having seconds left and needing a basket to win, that translates a lot into golf. If I need to make it, I'm going to make it. I show up at the course with a different energy. I'm so used to playing a sport with contact that's in your face. There is no holding back."
Basketball was Herrera's first sporting love, and he was one of his Southern California high school section's top players. That led him to play at Riverside City College, but he was beginning to excel at golf, and his basketball coach introduced him to APGA founder and CEO Ken Bentley. The two played a round together, and everyone agreed his future was more promising on grass than hardwood.
Herrera was fascinated by golf as a kid, but his dad, Hugo, a building contractor who emigrated from Guatemala, didn't see the point of playing. "He said it was a rich, white man's sport. It wasn't for us," Michael says. But when Michael was 10, the two finally played at a par-3 muny that cost only $5, and from that first round both were hooked.
Michael turned pro at 21, and though he worked part-time at a golf course, his dad worked six and seven days a week to pay for entry fees. It was a rough go until all their lives changed by happenstance. Michael met Pro Football Hall of Famer Ronnie Lott at a celebrity golf event, and Lott was so taken by his personality and story that he pledged to sponsor Herrera. "Crazy lucky," Michael says.
The support has freed up Herrera to play without worrying about finances. More profound is having an athlete of such renown believe in him.
"He knows how to take it to the highest level," Hererra says, "and that's what I want to do."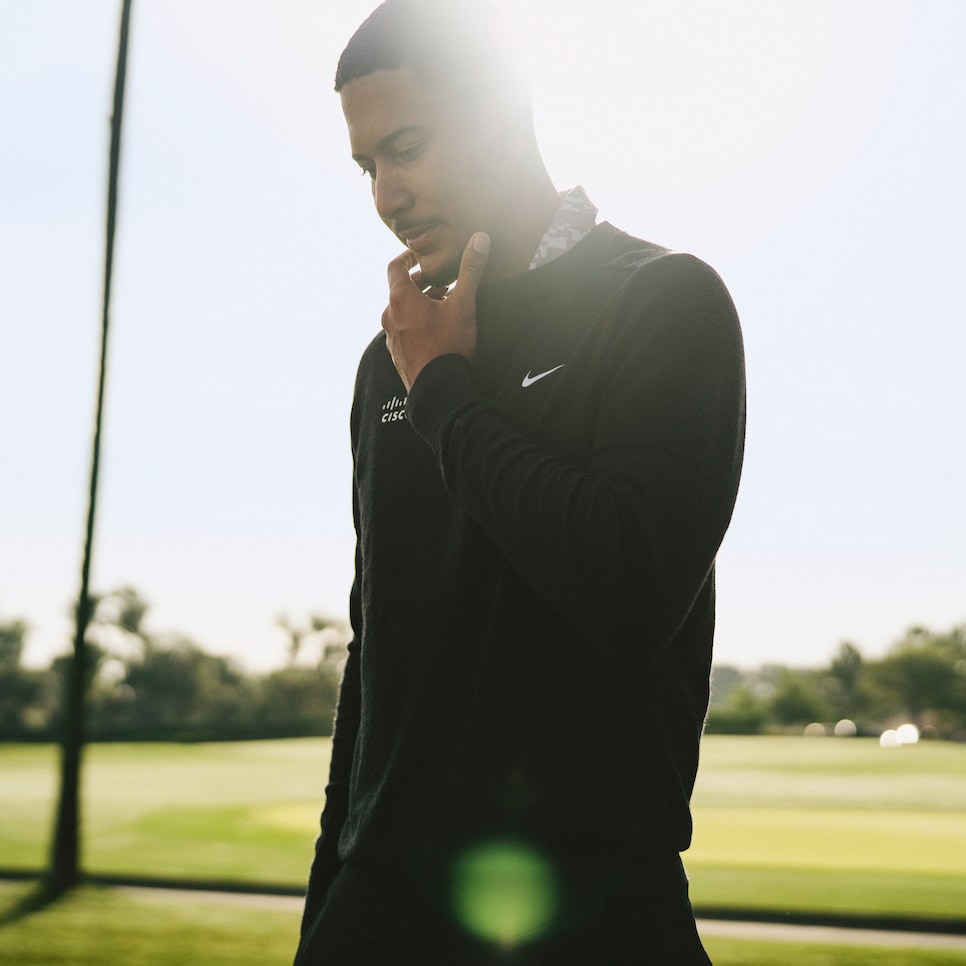 AGE: 27 • HOMETOWN: FAIRFIELD, CALIF.
In a glimpse of the guts and independence Aaron Beverly has shown throughout his life, he didn't pick the most popular pastimes growing up.
He began ballet at 3 and performed through high school.
Though he dabbled in golf, he didn't get serious about it until in his teens. "I was much better [at ballet] than I was at golf," he says with a laugh. "My mom wanted me to be a professional dancer."
Beverly faced the tribulations that come with that, of course, and it didn't get much worse than when he performed a ballet matinee and showed up at school still in his makeup. "Got ridiculed for that one," he says. It didn't matter. "My parents instilled that mental strength in me."
The 6-foot-3 Beverly does relish crowds and attention, and his nature as a ham never served him better than in February 2022, when, as the recipient of the Charlie Sifford Memorial Exemption at the Genesis Invitational, he teed off at Riviera with host Tiger Woods standing a few feet away. "It was surreal," Beverly says. "It was one of those things I had played in my mind so many times. I was hyperfocused in the moment. I look back at the video, and Tiger's got his arms crossed, watching. It just seems fake. It's a dream come true."
Beverly is among the first APGA Tour players to earn his card on a PGA Tour-sanctioned circuit, reaching PGA Tour Canada this year.
He competes with one regret: His dad and mentor, Ron, a college football coach who died of cancer in 2019, isn't around to soak in his son's success. Aaron stopped playing golf for months after his dad died because the reminders were so painful.
"I've gotten to the point where I can now play golf and do it for myself while honoring him," Beverly says. "It's gotten to the point where it's a beautiful thing."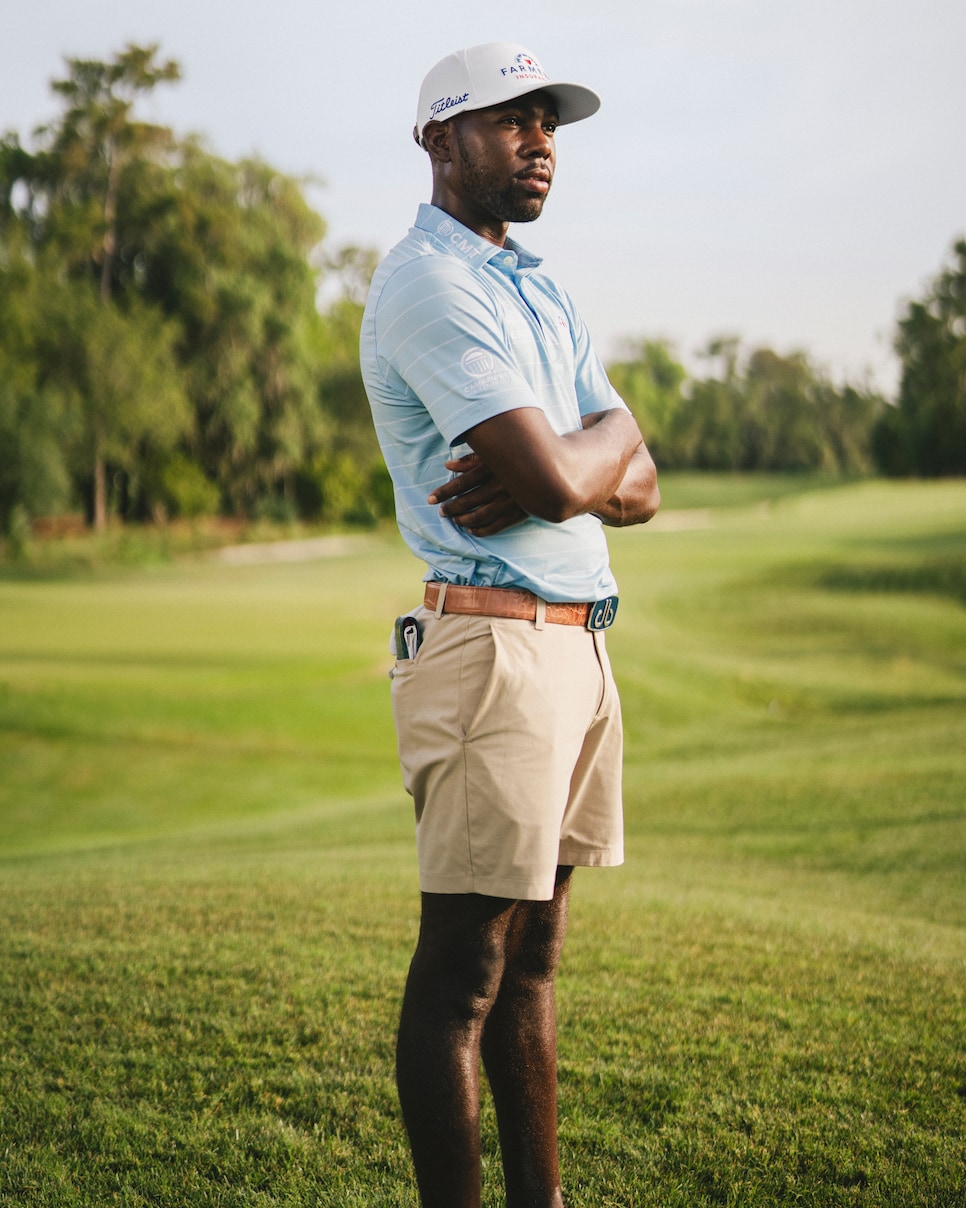 INSPIRE ME "Tell your story," says the APGA Tour's Kamaiu Johnson, "to show what you can overcome."
Photo by Josh Letchworth
AGE: 28 • HOMETOWN: OVIEDO, FLA.
Kamaiu Johnson was homeless a few years ago. Now he's running with corporate leaders on the course and in board rooms. Johnson grew up without much parental support, in Florida next to a municipal golf course.
When facility manager Jan Auger saw him swinging a stick in his backyard, she invited him to hit golf balls. Johnson became obsessed with the game and turned pro but had no cash backing and sometimes lived in his car. Playing on the APGA led to a sponsorship deal with Farmers Insurance and an exemption into his first PGA Tour event—the 2021 Farmers Insurance Open at Torrey Pines. But Johnson tested positive for COVID that week. It was devastating, but other tournaments were moved by his circumstances, and Johnson got exemptions into the AT&T Pebble Beach Pro-Am, Arnold Palmer Invitational and Honda Classic. He was grateful, but three starts on elite tour venues coming off COVID were a "blessing and a curse." Johnson shot in the 80s in three of his six competitive rounds.
"It was difficult, but I learned a lot," he says, "and it made me hungrier to play in more of those events."
Johnson got another life-altering surprise when he returned from Pebble Beach to learn he was going to be a dad. He and his partner of nine years, Reika Gideon, had their daughter, Riyah, in the fall. "I deal with my parents kind of abandoning me as a kid," Johnson says, "not showing up at the course, not believing in my golf game. I don't want my kid to go through that."
His life is full of rich experiences and relationships now. On the course, Johnson has four top-fives, including a win at TPC Las Vegas, in his first seven APGA starts of 2022. "I say this to all of the guys on the APGA: Tell your story," Johnson says, "not for somebody to show pity on you, but to show what you can overcome. I've been through all of this, and I'm still playing pro golf. It's pretty amazing."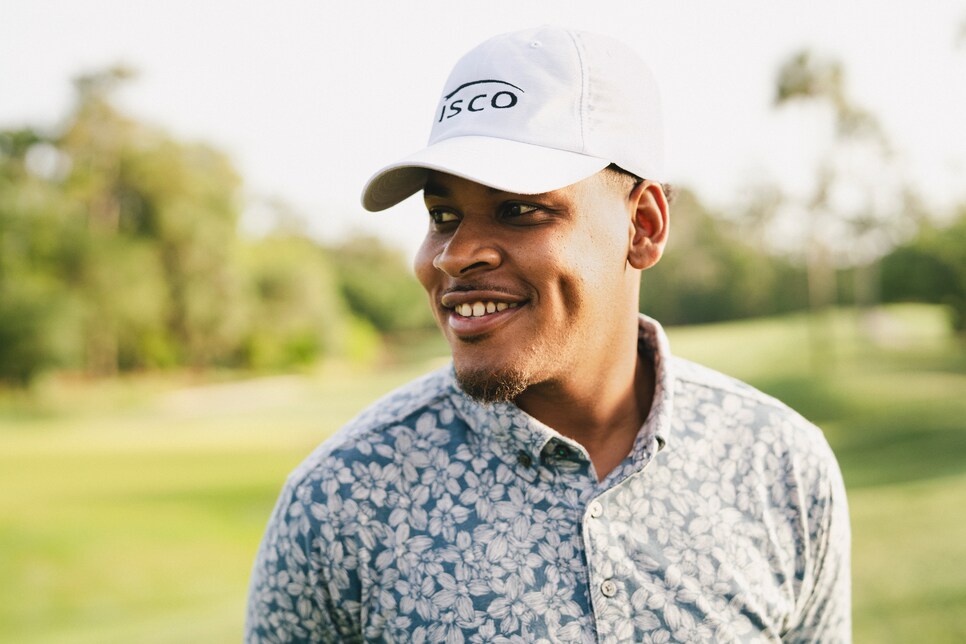 AGE: 24 • HOMETOWN: WASHINGTON, D.C.
Some professionals playing on the APGA Tour for the first time face a jarring culture shock. They're not accustomed to so many people of color joining them on the golf course. That was not the case for Marcus Byrd. He grew up outside of Washington, D.C., and from the age of 3, when his dad, Larry, introduced him to the game, his second home was the Langston Golf Course, an 83-year-old muny steeped in the heritage of Black golfers.
Each hole is named for an iconic Black player, and Byrd met many of them, including Jim Dent, Calvin Peete and Charlie Sifford. "At Langston, you're around the people who are going through the same things you are, people who look like you," Byrd says. "I wasn't too aware that African Americans were such a minority in the sport until I started playing in tournaments. That's a testament to how special the place is. Everyone was welcome, no matter your skin color."
Byrd, who moved to the South with his mom during high school, was the 2013 Georgia State Golf Association Junior Player of the Year. From there, he got a scholarship to Middle Tennessee State, where he won twice as a senior and earned Conference USA's Player of the Year award.
Those who watch the APGA regularly say Byrd is among its most gifted players, and he has seven top-three finishes the past two seasons, including a win at TPC Louisiana. One of his shots went viral early in 2022 when he smashed a driver off the deck to reach a 615-yard, par-5 hole in two at Torrey Pines.
Yet the challenges of mini-tour golf—and life—remain. Byrd's dad died of COVID-19-related complications in 2020, and he doesn't yet have the sponsor support enjoyed by some of his APGA brethren. "I can't feel bad for myself," Byrd says. "I just have to keep working and getting better. I'm doing the right things."
'FOR THE APGA TOUR TO ATTAIN ITS GOAL OF SEEING ALUMS PLAY ON TOP-LEVEL TOURS, THERE NEEDS TO BE MORE FOCUS ON THE QUALITY OF THE GOLF.'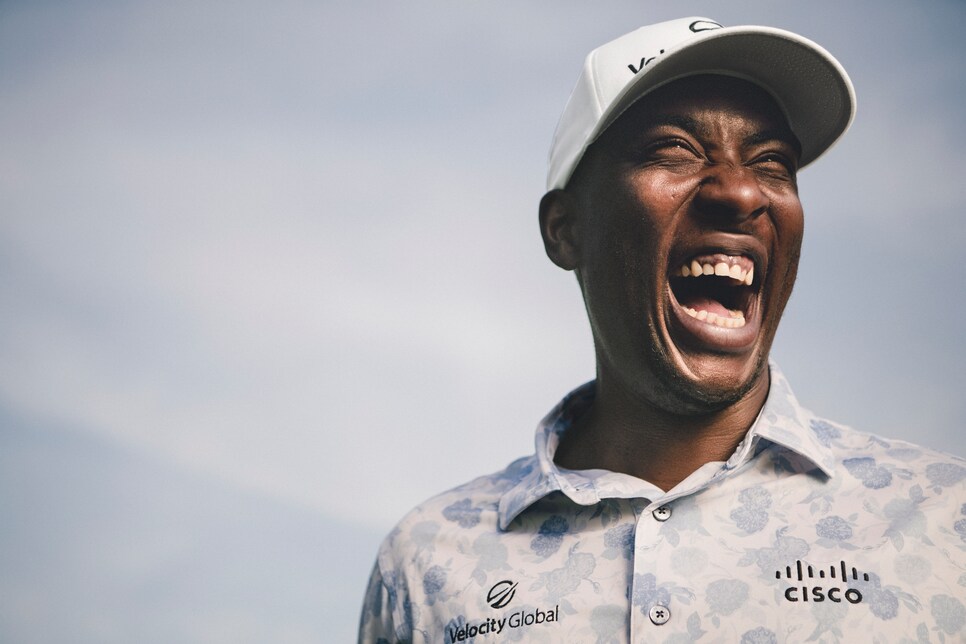 AGE: 39 • HOMETOWN: CINCINNATI
The statement by Kevin Hall seemed melancholy at the time.
"People will always see me as Black and deaf," he said in a 2006 interview. "I don't think people will see me as just another golfer. It just won't happen."
To some degree, Hall might have been right.
Deaf since he was 2 because of a medication that saved his life during a bout with meningitis, Hall won the Big Ten individual championship while playing for Ohio State. It's hard to separate himself from that distinction. But if you've seen Hall smile and flash his deep dimples, if you've heard his infectious laugh, if you've seen his mere presence create an aura in a room, you know that he's much more than a couple of labels. The good thing is, Hall now recognizes that, too.
"The older I get, the more I understand that it's very rare to have a Black, deaf golfer in the history of the game," Hall says. "I'm the only one so far; people are interested in that. I learned to embrace that because I know it inspires others."
With his parents, Percy and Jackie, traveling with him everywhere—dad caddies and mom often interprets—Hall has been on the road, mostly on mini-tours, for almost 18 years. He got a spate of exemptions on the PGA Tour and now-Korn Ferry Tour after the publicity of his stunning 11-stroke victory in the 2004 Big Ten tournament, but those opportunities have slowed to a trickle now. He has been a loyal player on the APGA Tour nearly since its beginning and has four career wins on the circuit.
"Every day the first thing I think about is, What can I do to get better? There's a fire in my belly to keep trying," Hall says. "As soon as I wake up and don't have that feeling anymore, then I'm going to hang it up."