Crunching the Numbers
Tour pro takes part in a #59Watch he might not have even been aware of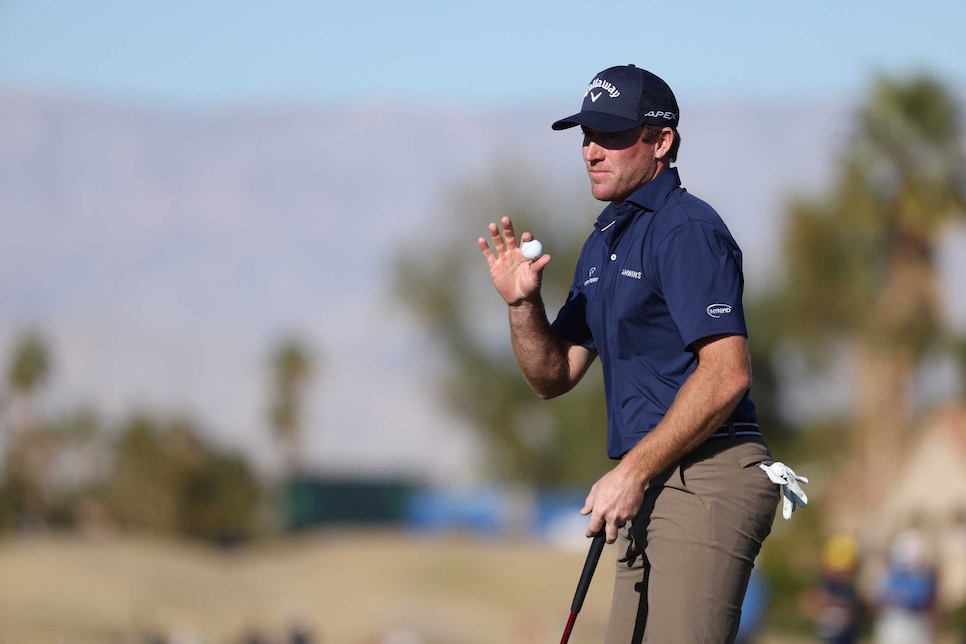 Robby Shelton reacts on the 16th green during the final round of The American Express.
Katelyn Mulcahy
Let the record show that Robby Shelton's career low on the PGA Tour remains a 62, shot during the first round of the Military Tribute at The Greenbrier in 2020. Yet over an 18-hole stretch this past weekend at The American Express, the 27-year-old was on highly unofficial yet rather unique #59watch.
On the ninth hole at the Nicklaus Tournament Course at PGA West on Saturday, Shelton made a double-bogey 6 to fall to 10 under for the tournament and require some work coming in to make sure he made the cut in the event that's played on three courses and sends players home after 54 holes. As it turned out, that wouldn't be an issue as Shelton proceeded to birdie his next seven(!) holes to close out a third-round 65 and assure he was playing on Sunday.
Shelton then continued that roll when he came out at PGA West's Stadium Course for the final round, making three birdies and an eagle over the first eight holes. That left him 12 under par through his last 17 holes and meant a birdie on the par-4 ninth hole would give him a 59 for a full 18.
Whether Shelton was conscious of the fact or not is unclear, but he set himself up with a decent chance at pulling it off when his approach shot from 155 yards hit the center of the green 31 feet from the hole. Shelton gave it a run, hitting his birdie try three feet by the hole, but made the comebacker for par. That left him with an unofficial 60.
Shelton had a spotty back nine, making three birdies and two bogeys to close our his Sunday 66 and finish tied for sixth (23 under par) for the tournament.