Bad break
'What if' game will haunt Davis Thompson after brutal birdie miss off flagstick costs him at the Amex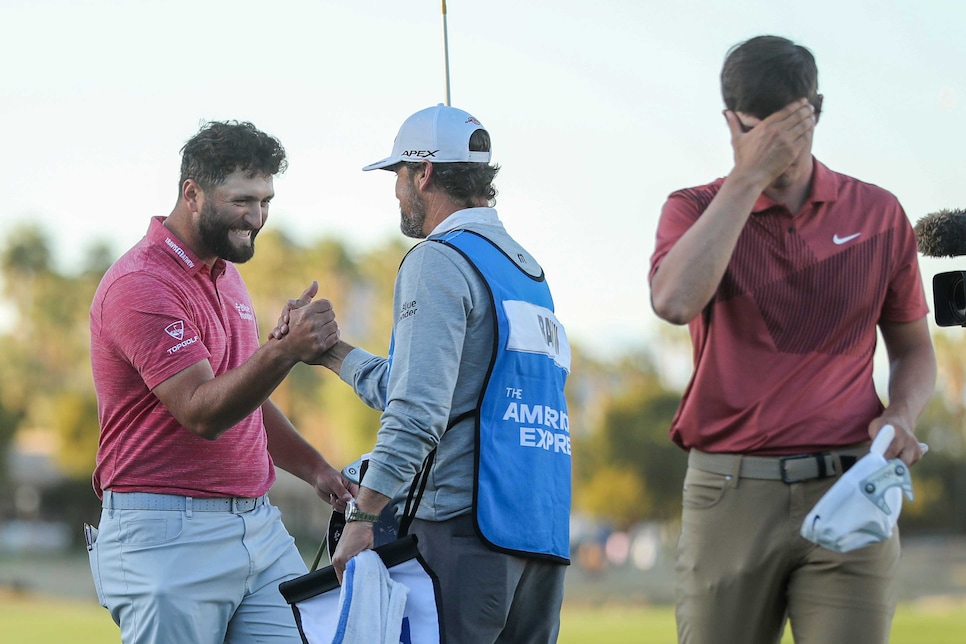 PGA Tour rookie Davis Thompson walked off the 72nd hole disappointed that he had lost to Jon Rahm, but knowing stood tall against the hottest golfer in the world the last three months.
Meg Oliphant
It's unlikely Davis Thompson will ever again leave in a flagstick. Not after what happened Sunday on the Stadium Course at PGA West. The 23-year-old PGA Tour rookie was battling shot-for-shot with juggernaut Jon Rahm late in the final round of The American Express in La Quinta, Calif., when the unluckiest of circumstances changed everything.
Thompson was just one stroke back while playing the par-3 17th hole, his tee shot finding land on the treacherous island green but some 50 feet from the hole. His birdie putt came off nicely, rolled smoothly to the hole and … clank. The ball appeared as if it was going directly into the middle of the cup, but it ricocheted off the pin and ended a couple feet away.
There were collective gasps. Thompson dropped his putter and put his face into his hands. All anyone could wonder was if the ball would've dropped had the pin been pulled.
Thompson made the easy par. Rahm, who had a 20-foot birdie putt of his own, made par, too, leaving him one ahead with one to play.
When the two reached the home hole, Thompson's approach on the par 4 went over the back of the green. His chip for birdie was a good one, but he settled for par to finish one shot behind Rahm, who has now won both his starts this year, following a victory two weeks ago at the Sentry Tournament of Champions.
"I usually always leave the stick in from a long distance," Thompson said after shooting a three-under 69 for a 26-under 262 total. "I feel like it helps me with my speed. I'll probably play the 'what if' game in my head for a long time, unfortunately.
"I had a great read. I probably hit it too firm. If it had great speed it would have just hit the flag and dropped. But we'll never know. I'm proud of myself for this week."
And he should be. As Rahm was in the midst of claiming his ninth tour title, Thompson was playing in only his seventh PGA Tour event since earning status off the Korn Ferry Tour last summer, and just the 20th of his career. Thompson's total earnings on the PGA Tour before this week were $611,871 (his runner-up check was worth $872,000).
That's not to say Thompson shouldn't have had big expectations. He was a winner on the Korn Ferry Tour in 2022 and a two-time first-team All-American during his college days at the University of Georgia who also topped the World Amateur Golf Ranking for eight weeks in 2021.
"What a heck of a player he is, he's doing all the right things," Rahm said of Thompson. "I wouldn't be surprised if he wins soon. He gave me a real battle today. It was a lot of fun. I'm sure there will be many to come."
This week in the desert, Thompson opened with 62-64 to jump into contention. A third-round 67 put him in the final grouping with Rahm and J.T. Poston. He made three birdies in the opening nine holes with one bogey, and after birdie on the par-5 11th hole, Thompson found himself on the par train for the remainder of the round with seven consecutive to close.
"I had a great week," Thompson said. "Competing against the best in the world is my dream and I did that today and proved that I can hang with 'em. It was a lot of fun."