Korn Ferry Tour Finals
How playing in the U.S. Open might have cost Taylor Montgomery a PGA Tour card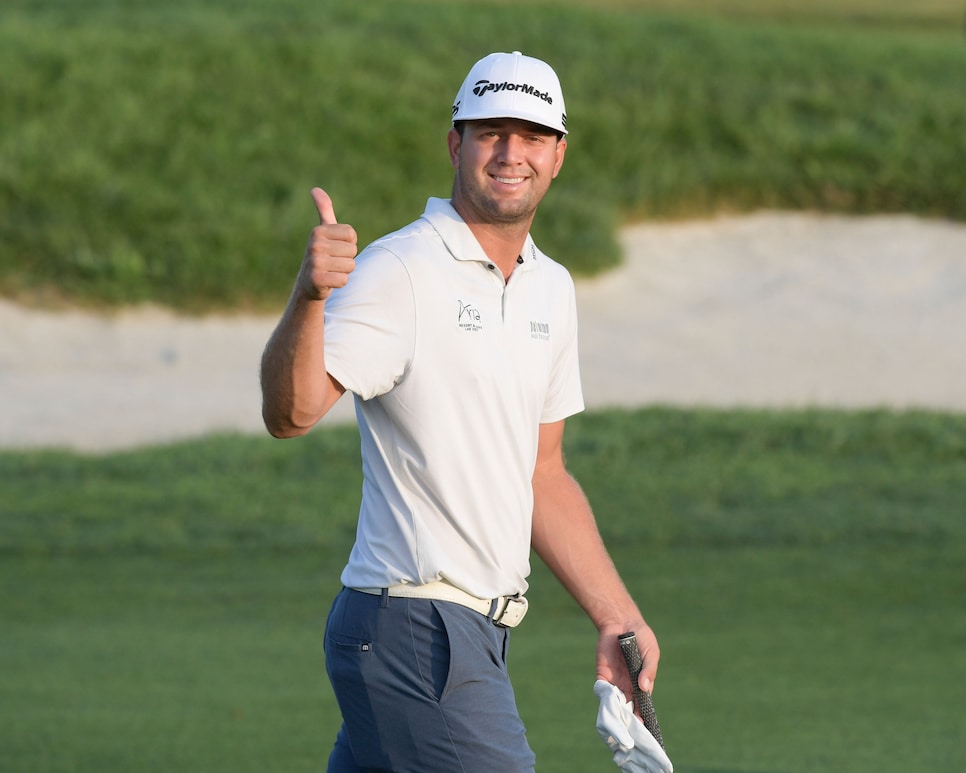 COLUMBUS, Ohio — This is a story of a near miss without tears. It's about realizing a dream while another is put on hold. It's a story void of bad bounces or bad karma. There is no choking. No rules drama. No scorecard errors. No sobbing. No scars. No swearing. No regret.
"There are so many guys with disappointing stories, terrible stories, and I can say that's not me," Taylor Montgomery begins. "I remember seeing a video of a guy at [PGA Tour] Q-School making a putt and it bounces out."
He is referring to the 2000 tour qualifying tournament, where Joe Daley watched a dead-center putt drop in and pop out. Daley missed his card by that one extra stroke. It is one of countless heart-wrenching episodes in professional golf.
"Life-changing things happen all the time in golf," Montgomery added. "Little things that end up meaning a lot. You never know."
Tall, broad shouldered and wearing a smile that never seems to fade, Montgomery has found a shady spot at Ohio State University's Scarlet Course on a sweltering Tuesday afternoon to talk about coming this-close to earning his PGA Tour card. The Korn Ferry Tour rookie, preparing for this week's Nationwide Children's Hospital Championship, holds the dyspeptic distinction of finishing 26th in the extended season when the top 25 in the year-plus points race graduated to the big tour.
Yes, he gets another shot. He's in the midst of it now. The Nationwide Children's is the second of three events in the Korn Ferry Tour Finals, a playoff series that will award another 25 PGA Tour cards. Montgomery is well down the list after tying for 26th in last week's Albertsons Boise Open, but if he can duplicate his T-2 finish last year at OSU—when it wasn't a playoff event due to the scheduling reshuffle caused by the pandemic—he'd lock up an exemption.
"I have good feelings here," he said. "I like this course, and I feel I can shoot some low scores here, so, yeah, give me another tie for second and I'll just move on."
That beats the feeling of dread he was trying to suppress just a few weeks ago. Montgomery was 24th heading into the final regular-season event, the Pinnacle Bank Championship in Omaha, Neb., but an opening 77 sealed a missed cut. He watched helplessly from his home in Las Vegas as two men, Austin Smotherman and eventual winner David Skinns, knocked him down two painful spots.
And what did Montgomery have to say about falling fewer than 17 points shy of Smotherman in the points race? Expletives? Excuses?
"That was one hell of a second round that Austin played. That was world-class," Montgomery said of Smotherman's seven-under 64 to make the cut at The Club at Indian Creek. "And then what David Skinns did … world-class, too. When you know you have to win and then do it. He deserves his tour card after that performance."
Classy take by the former University of Nevada-Las Vegas standout.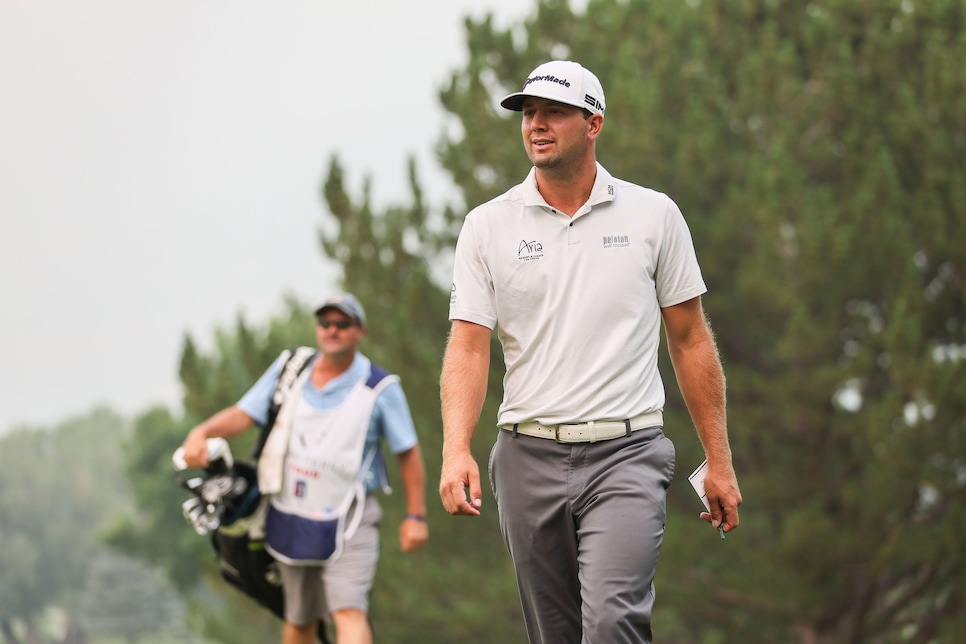 Montgomery was 24th on the Korn Ferry Tour points list enterring the final regular-season event of 2021, but got bumped to 26th when he missed the cut.
James Gilbert
Montgomery, a three-sport athlete growing up as well as a two-time high school state champion in golf, figures he could have found the scant 17 points he needed (he collected 1421.867 points to Smotherman's 1438.828) in the two events he was forced to miss in the summer of 2020 because of COVID. He was stricken in June, not long after the tour restarted following golf's three-month shutdown.
He had few symptoms except for severe aches. The inflammation in his shoulders lingered for weeks. "It didn't affect my swing that much, but if you asked me to throw a ball, I couldn't throw it 10 yards," he said.
Nevertheless, Montgomery, 26, missed three straight cuts after returning until he finally shook off the lingering effects of the virus and finished runner-up to Curtis Luck at the Scarlet Course last August.
He had to skip another Korn Ferry tournament two months ago, the Wichita Open, an event where the year before he finished T-16. A modest 38th place at Crestview Country Club would have garnered 18 points. But he never made it to Wichita. Travel issues.
He had to be in San Diego for the 121st U.S. Open at Torrey Pines.
Montgomery earned a spot into his first major after shooting seven-under 137 to finish third in the final qualifier at Rolling Hills Country Club in Rolling Hills Estates, Calif., grabbing one of five berths among 90 players. The breakthrough was especially meaningful for Montgomery because several times he caddied for his father Monte, an accomplished player who is the general manager at famed Shadow Creek in Las Vegas, in U.S. Open qualifiers. The first time was at the local level when Taylor was 11.
Taylor didn't even have to call his dad to tell him he got through because Monte was following the scoring from Las Vegas. It was a dream fulfilled for both men.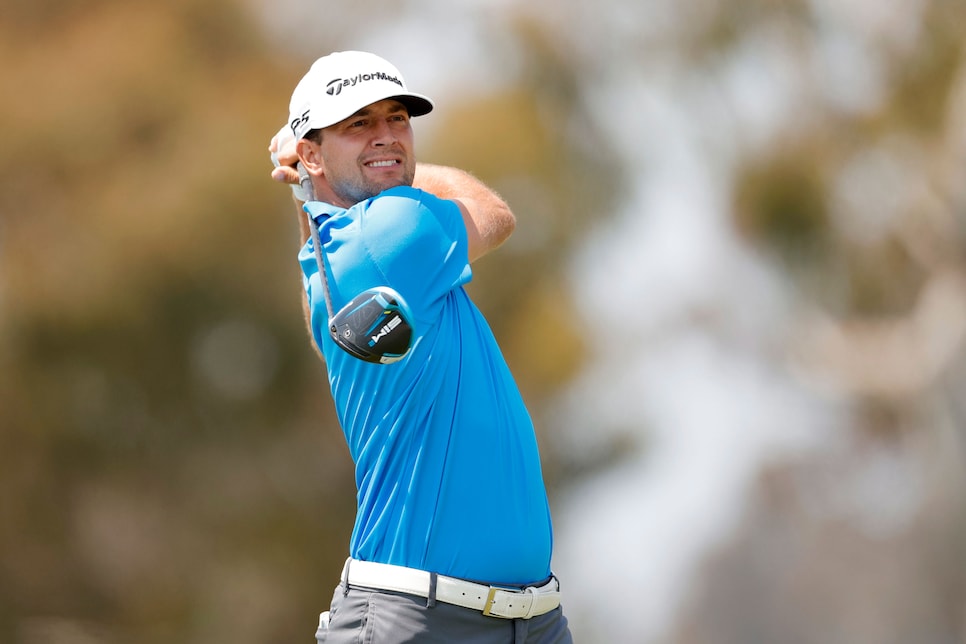 Earn a place in the U.S. Open had been a dream for Montgomery since he'd caddied for his dad in qualifiers as a teenager.
Ezra Shaw
"One of the reasons I really got into golf was because I caddied for my father in those qualifiers," Montgomery said. "He should've made it a couple times and he just putted so bad. Back in the day he hit it great. He played in some tour events. It was an awesome feeling to get through. Kind of felt like I picked up where he left off."
Taylor acquitted himself well in the national championship, finishing T-57 with a 10-over 294 total on the arduous South Course at Torrey Pines. He does not give a second thought to skipping Wichita.
"I wouldn't trade it for anything," he said. "I definitely think I'll be playing in more of them. I hope to be playing it more, but I would never miss the U.S. Open for Wichita. That's for sure. Even though I do love that golf course, I would never make that trade."
Coincidentally, the year prior, Will Zalatoris, getting a berth in the U.S. Open via a Korn Ferry Tour exemption, parlayed that opportunity into a full year on the PGA Tour after finishing T-6 at Winged Foot.
Montgomery, who won the Nevada Open in November and a Major Series of Putting title just after turning pro in 2017, does wonder why there is a Korn Ferry Tour event scheduled opposite the U.S. Open. He further wonders why there shouldn't be points awarded toward the Korn Ferry Tour for making the cut in a major championship.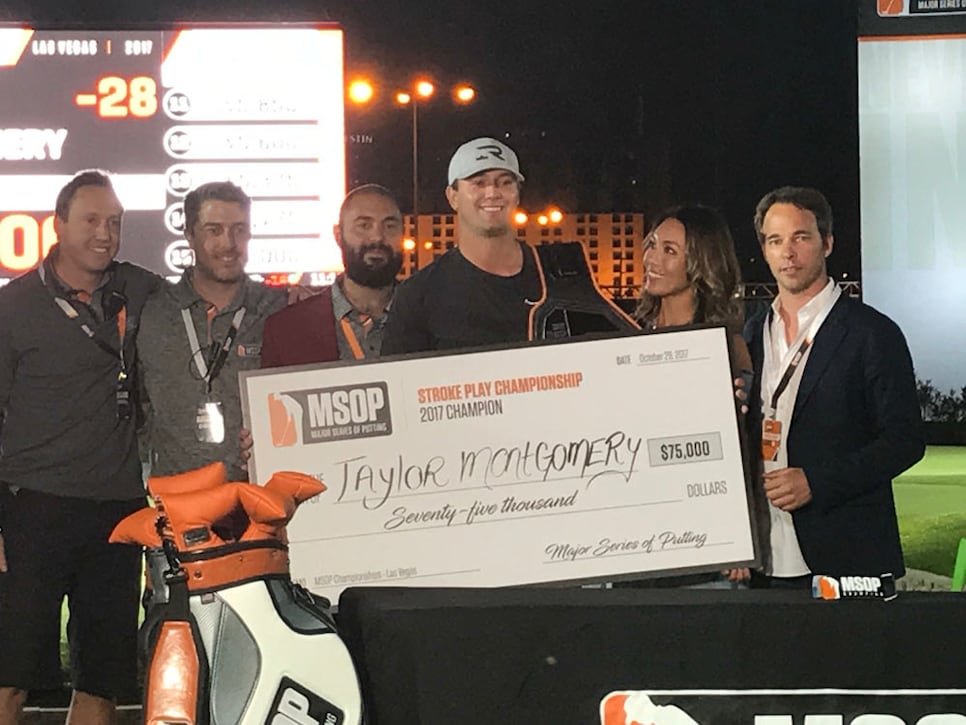 Montgomery claims his prize for winning the stroke-play portion of the Major Series of Putting Championship in 2017.
He's not complaining, mind you. He can refer to the similar circumstances of veteran Marcel Siem of Germany, mired on the European Challenge Tour, who competed in this year's Open Championship at Royal St. George's. Siem received credit on the Challenge Tour points list for his T-15 performance in the year's final major.
"I just hope that's something they think about in the future because there is nothing like playing in the U.S. Open," Montgomery said. "Golf is meant to be played against the best players in the world. And that's what we all are trying to do out here is have that opportunity."
The goal is to have that opportunity again—but on a regular basis. Montgomery, paired with Smotherman, of all players, for the first two rounds starting Thursday, allows his ever-present smile to widen just thinking about the quest. He smiles because this is always what he wanted to do, and, clearly, he is loving it.
Baggage, he carries none. Ebullience is plentiful. He laments not playing as well as he's wanted to most of the year, primarily struggling with his irons, but he saw improvement last week and is buoyed by that development. He seemingly feels no more pressure than he did playing matches against his father at Shadow Creek. He carries himself with an ease that belies the pressures of the game.
"Yeah, I am having fun out here. It's a great experience," he said. "It was a big deal not getting my card, but it's OK. I've always told myself, just try to get better every week and work as hard as you can, and if you don't make it, then you don't make it. But I feel like when I am ready, I will make it."