The top 125 finishers in the PGA Tour's FedEx Cup regular-season points standings now embark on a three-week sprint for the cash, with $60 million up for grabs when the playoffs wrap up after the Tour Championship. Each of these men is fully exempt on the PGA Tour next season—apart from major championships and limited-field events, they'll all be able to hand-pick their schedules. As far as professional golf goes, being one of these 125 is about as cushy as it gets.
Conversely, most tour pros outside the playoff spots hold no such job security—at least not yet. Hope is not lost, however, for there are 25 additional PGA Tour cards up for grabs via the three-event Korn Ferry Tour Finals series, which begins this week at the Albertsons Boise Open, followed by the Nationwide Children's Hospital Championship (Aug. 26-29) and the Korn Ferry Tour Championship (Sept. 2-5).
The KFT Finals is an option for Nos. 126-200 on the FedEx Cup list, non-members who gained enough non-member points to equal or surpass the No. 200 position on the FedEx Cup standings, players on medical extensions and Nos. 1-75 on the Korn Ferry Tour regular-season points list. The top 25 finishers on the KFT regular-season list already have secured promotion and are playing to improve their PGA Tour priority ranking for the 2021-22 season. For all intents and purposes, they are playing in a parallel competition and will not factor in the KFT Finals points race. The top 25 finishers in the KFT Finals series race will receive full status for next season.
Not everyone who missed the FedEx Cup Playoffs will play in the KFT Finals, though. A few players remain exempt because they won specific events, while others may be content to keep conditional status and count on their World Ranking and/or strong play to get into the best events. Here's a breakdown of some key names who did not secure a tee time at the PGA Tour's Northern Trust, and what would seem to come next for them.
Missed playoffs, still exempt
Fowler missed the postseason for the first time in his PGA Tour career, but he remains fully exempt on the PGA Tour through 2022-23 for his victory at the 2015 Players Championship. As such, he'll take the next three weeks to rest and recharge ahead of next season, which begins with the Fortinet Championship on Sept. 19.
The former World No. 1 and 2018 FedEx Cup champion finished as first-man out … and did so in brutal fashion: He bogeyed the 18th hole in last week's Wyndham Championship to drop to No. 126 on the points list. It was a bitterly disappointing end for more than one reason. He missed the playoffs, which is never good, but he's also now running preciously low on opportunities to impress Padraig Harrington in hope of a captain's pick for the European Ryder Cup team. The good news is that he's exempt on tour through 2023-24 by way of winning the WGC-HSBC Champions in 2017.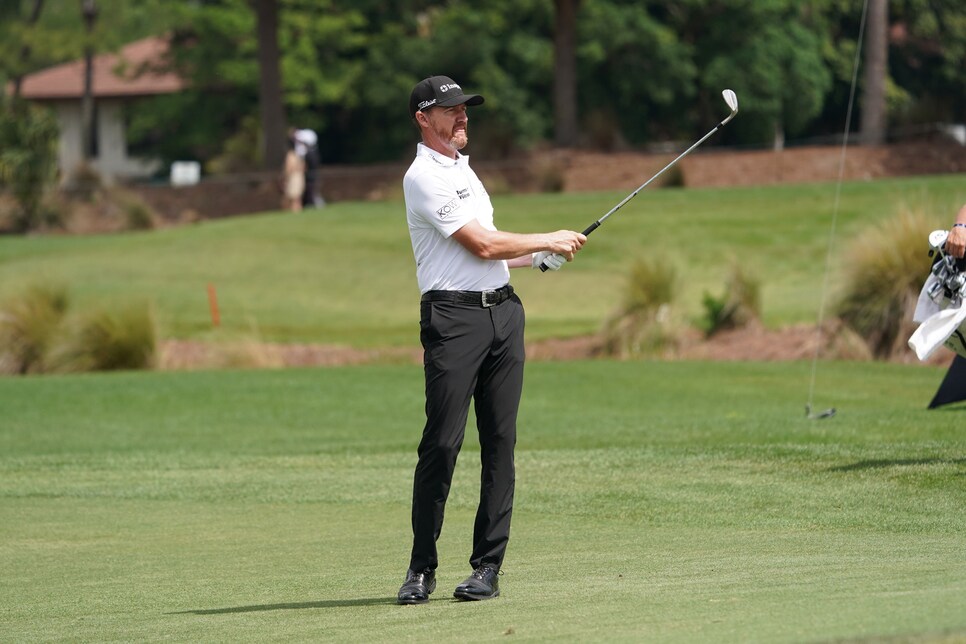 Jimmy Walker during the third round of the 2021 Honda Classic.
Icon Sportswire
Walker finished No. 166 on the points list and will miss the playoffs for the third straight season. At 42 and now ranked outside the top 300 in the world, the Texan's career is in something of a state of flux. He'll have one more season to turn things around, as his exemption from winning the 2016 PGA Championship runs out at the end of the 2021-22 campaign.
The 2018 Open champion showed signs of a comeback early in 2021, posting top-10s in three of four starts on the West Coast. But he missed the weekend in five of his last six starts to finish No. 142 in the FedEx Cup. The Italian, who has not been the same since collapsing in the final round of the 2019 Masters, is exempt through 2024-25, thanks to winning that Open Championship at Carnoustie. The last couple years have been a whirlwind—he moved his family from London to Southern California and has struggled with a back injury that kept him out of the Olympics—and he's fortunate to have ample time to sort things out and get back to his world-beating ways of a few years ago.
Another major champion who has stumbled upon hard times, the Swede finished 187th on the points list after one of the worst years of his career. In 18 starts, he made just six cuts and posted just one top-20 finish. Now 45, his master class at the 2016 Open feels like an increasingly distance memory, but it continues to pay dividends as he's exempt through 2022-23.
Lost full status, unlikely to play KFT Finals
It's a testament to how competitive the PGA Tour is; a player who is a virtual lock to play for Europe in this year's Ryder Cup did not qualify for the FedEx Cup Playoffs. The Englishman made 14 of 18 cuts on the season but managed just two top-10s, and thus missed the postseason after finishing 137th. He will lose his full PGA Tour card but keep conditional status, and he remains inside the top 50 in the world at No. 38. That's significant, because all four majors and virtually all limited-field events invite the top 50. Thus, Fleetwood will almost certainly not play in the KFT Finals, which wrap up just one week before the Ryder Cup.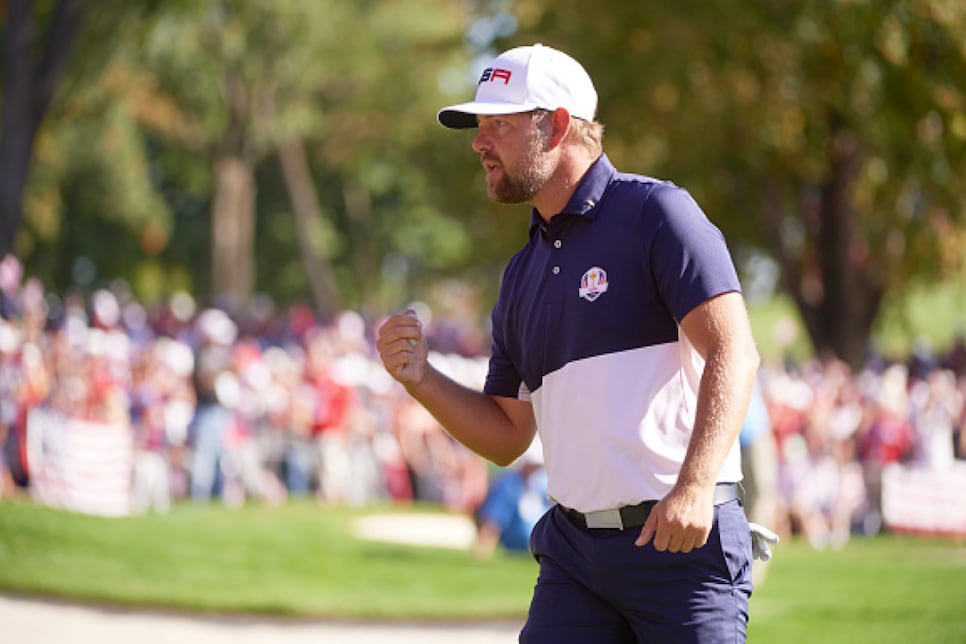 Ryan Moore had only one top-10 on tour this season.
A five-time winner on the PGA Tour, Moore played just 16 events this season and managed only one top-10 finish—but that top-10 was T-2 at the John Deere Classic, and so he guarantees some level of status for next year by finishing No. 144 in the points. Moore is eligible to use a one-time exemption available to anyone inside the top 50 in career earnings; at just more than $32 million, he's No. 35 on that list.
The Silver Slovak—an incredible nickname coined by our Brendan Porath—kept up the good form at the Wyndham, but a T-10 was not enough to move him into the top 125. Amazingly, the 45-year-old ranks 29th in all-time earnings, so he can use his top-50 exemption … or he can return to his adopted nation of Slovakia and bask the glory of an Olympic medal. Either way, it's a win-win.
Another former World No. 1, Donald hasn't made the playoffs since 2016-17 but kept his card for this past season through a one-time exemption offered to players inside the top 25 in career earnings. He's now opting to use another money-list exemption, this one for the top 50 in career earnings, rather than try his luck in the KFT Finals. Interestingly enough, Donald has never played in a Korn Ferry Tour event.
Howell had made the playoffs every year since the FedEx Cup began in 2007. But Father Time remains undefeated, and the 42-year-old will miss the postseason after a lackluster season. His victory at the 2019 RSM Classic gets him one more year on tour in 2021-22, so playing the next few weeks is not a necessity.
Headed to Korn Ferry Finals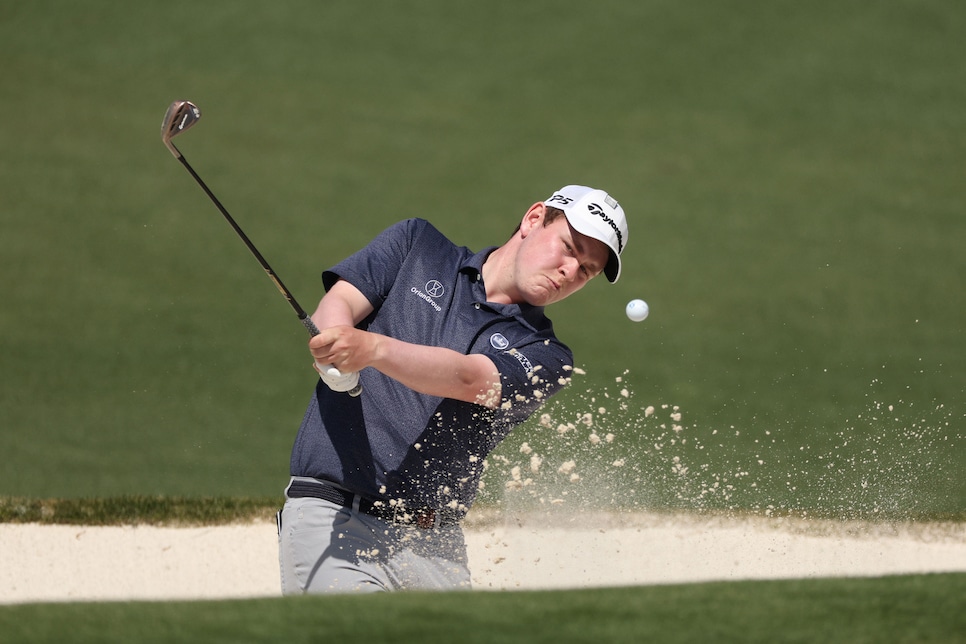 Robert MacIntyre plays a bunker shot during a practice round at the 2021 Masters.
Kevin C. Cox
The young Scotsman wasn't a member of the PGA Tour this year, but would've accrued 345 FedEx points if he were, which would've put him roughly 143rd in the points. As such, he's eligible for the KFT Finals. At World No. 51, he has to love his chances to secure a PGA Tour card and become a truly global player, for he's been a force on the European Tour for the past four years—and has an outside chance to make this year's European Ryder Cup team via a captain's pick.
The casual fan is becoming increasingly familiar with the South African—partly because of his sui generis name, and partly because he seems to make the cut in all the big events. No. 48 in the World Ranking, Bezuidenhout made the cut in all four majors and the Players this year, and finished T-16 at the Olympics. But it wasn't enough to get his card through non-member points, and so he now heads to KFT Finals. Like MacIntyre, he's absolutely one of the favorites to pick up a card.
The Barn Rat snuck into the top 200 with a T-37 at the Wyndham and now gets a chance to regain full PGA Tour status. The affable Thai, who has become something of a cult hero for blowing massive vapor clouds on the golf course, did not play for the first three months of the post-COVID restart and has dropped considerably from the late 2010s, when he reached as high as No. 29 in the World Ranking.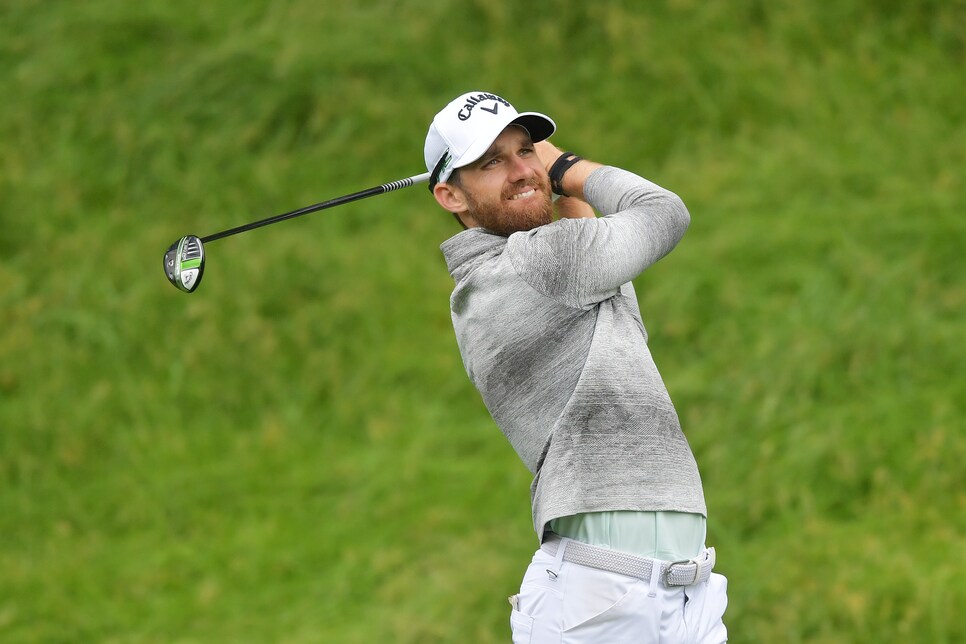 Patrick Rodgers plays his shot from the 15th tee during the second round of the 2021 Travelers Championship.
Drew Hallowell
The man who tied Tiger Woods' record with 11 wins at Stanford—full disclosure: Rodgers needed four years to do it, while Tiger only stayed two—hasn't quite delivered on the potential he flashed in reaching No. 1 in the World Amateur Golf Rankings. While he hasn't won on tour yet, he has made the playoffs each year since 2015-16 … only to finish 128th on the points list in 2020-21. The 29-year-old became a father for the first time mid-season, which may explain some of the struggles, and he remains just one good tournament away from keeping his card for yet another year.
The 2016 Ryder Cupper still hasn't broken through for his first PGA Tour win, and now he's in danger of running short on opportunities. The Spaniard did not post a single top-20 in 26 starts on the wraparound campaign and finished 176th. He likely never thought he'd be playing the KFT Finals, but professional golf cares not for your pedigree.
The former U.S. Amateur champion made the playoffs in each of the last four seasons and nearly made the Tour Championship in 2020, finishing 33rd. His putting has always been a weakness, but his elite ball-striking has kept him afloat—until this year, when he finished outside the top 100 in strokes gained/off the tee and strokes gained/approach. In related news, he finished No. 164 in the points and needs a solid finish at the Finals series to avoid playing the KFT next year. What's more, at 29, he remains on the hook to perform mandatory military service for South Korea. All the sudden, things have gotten very real.
The "other" member of the class of 2019 has been victim to the success of his peers—it's not normal for three players to become starts the way Collin Morikawa, Viktor Hovland and Matthew Wolff have. Much more common are paths like that of Suh, who was a four-time All-American at USC. The 24-year-old made the cut in six of his first seven starts this year to put himself in position to get his card through non-member points, but he missed his last four and now heads to Finals with his immediate playing future at stake.
Another amateur phenom, only Bhatia chose to eschew college in favor of turning pro as a 17-year-old. His first 18 months in the professional ranks were a brutal wake-up call, but he's since found some footing and amassed 108 non-member points in 11 starts this season, just enough to squeak into Finals. With a good run of play, he can join the very small group of teenagers who have ever held full PGA Tour status.