Tuesday Battles
Phil Mickelson and Harry Higgs finally had their match, and it was an absolute masterclass in trash talk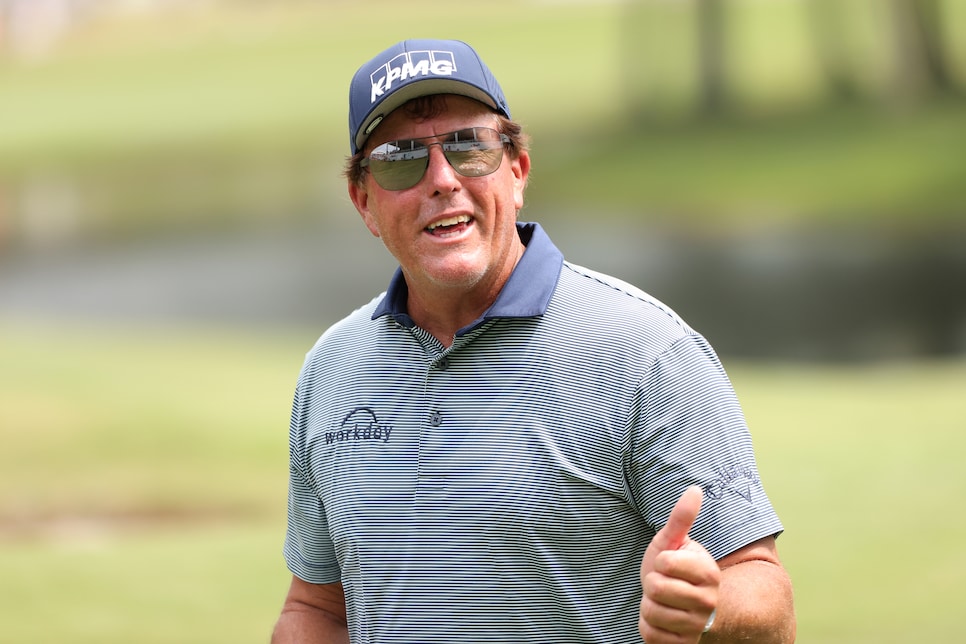 JERSEY CITY, N.J. — A practice-round tee time with Phil Mickelson has long been one of the more sought-after invites on tour. There are the tall tales of eye-popping wagers and his classic one-liners. And in his later years, the game's ultimate short-game wizard has been an open book of advice for the youngins. If Phil wants to play with you, you're officially a somebody.
Which made Tuesday's stroll around Liberty National an unforgettable experience for 29-year-old Harry Higgs. It all began a few weeks ago on Twitter, as most things do these days. Higgs was "on a long flight and bored," so he sought submissions for a Q&A session.
"Who would you want to partner with to take on @PhilMickelson and @TomBrady in the next 'The Match'? Would be a huge step up in production to have your commentary!"
"I'll play with anyone," Higgs replied. "And I don't think @PhilMickelson is ready for my trash talk."
That caught the attention of Mr. Mickelson, who's spending quite a bit of time online these days.
"I might not be ready for your trash talk," the six-time major winner wrote, "but I AM READY for you."
Mickelson invited Higgs to a match on Tuesday before the WGC-FedEx St. Jude Invitational, but there was one problem: Higgs didn't qualify for the event, so it'd have to wait two extra weeks. Higgs tagged Keith Mitchell as his partner, while Mickelson recruited Joel Dahmen—who, back in May, had his own memorable back-and-forth with Lefty. After the two were paired together for the first two rounds at the Wells Fargo Championship, Dahmen took to Twitter to express his excitement: "Tomorrow I get to check off another bucket list item by playing with @PhilMickelson. I've been trying to get a game with him for 6 months, but I think he's scared of my hellacious seeds. See you on the tee, Phil!"
The trash talk began on the very first tee, where Higgs and Mitchell arrived a good five minutes before Mickelson and the bucket-hatted Dahmen. That, of course, was some tried-and-true gamesmanship. Mitchell made it clear that he had a hard stop at 2:30 p.m., four-and-a-half hours after their tee time, as he was set to attend the closing of the New York Stock Exchange just across the river at 4:30. Mickelson assured everyone they'd be done by 16 so it wouldn't be an issue. He then announced that he'd be playing a Callaway with a logo of himself on it.
"It's from when I won the Masters. What are you guys using?"
The team of Higgs/Mitchell played first. Mitchell pulled his tee shot into a water hazard left but Higgs found the center with a sweetly-struck 3-wood. "One down," Higgs proclaimed—clairvoyantly, it turned out, as he stuffed his approach and poured in the birdie to go one up.
On the third, after Mitchell pulled his tee shot left, Mickelson had a question for Higgs: "Do you want Keith as your partner, or par?" In the bubble of professional golf, this is quite the insult—suggesting a guy who does this for a living couldn't even beat Old Man Par.
Mickelson had pulled his tee shot into a bunker down the right side and fatted his approach well short of the green. Mitchell and Higgs both found the putting surface, giving themselves good looks below the hole. Dahmen hit a baby fade to three feet, which is when Higgs punched back.
"So, do you want par as a partner, or Phil?"
Up by the green, Mickelson jumped at the opportunity to weaponize the rules in his favor. He instructed Dahmen to putt out first despite being closest to the hole; Higgs, who has not played in a million Ryder/Presidents Cups like Mickelson, couldn't figure out what was happening. Finally, it clicked. Oooohhh. It's because Phil's away.

"Are you just learning the rules now?" Mickelson asked. Dahmen rammed his putt home. "The tendency now is for these guys to miss high, when you have to make a putt so you ram it. Let's see if they fall victim to that."
Higgs did indeed miss high, but Keith—who Mickelson referred to all day as Kevin—canned his to remain 1 up. The underdogs stretched their lead to 2 up when Higgs jarred a 30-footer for birdie on 4. We could go through a hole-by-hole breakdown ... or you could simply check Mickelson's Twitter feed, as the 51-year-old spent the walk between greens and twees typing away on his iPhone, providing the masses with updates. Long gone are the days when these type of money games remained a hush-hush taboo topic.
We'll rejoin the action at the par-4 16th, where Higgs drove the green and Dahmen cozied a chip up to 2 feet for a tying birdie.
"I don't even know what to say that was so f***in' good," said the greatest short-game artist of his generation. Higgs and Mitchell were now dormie, and Phil informed them that in his normal game, a press—essentially a new bet—begins whenever the losing team is dormie. Bryson DeChambeau stopped by to watch the tee shots, and Mickelson updated his pal on the action.
"We're two up, so we're just chilling." He found himself walking next to Mitchell on the fairway.
"I can see how being two up through four, that's tough because you have your hopes up, and you're like, we might actually do this. That's tough."
Dahmen holed a 20-footer for birdie on 17 to close the match up 3 and 1—right after Mickelson gave Higgs, a similarly gregarious player, some quasi-serious advice.
"There are times when I don't want anybody around, but I usually enjoy people being around and being able to show off," Higgs said. "It gets me into a good state of mind. It's when I'm absolute best. But there are times when yo'ure not swinging it great, or there's not enough certainty in your game, where it gets hard to do it at this stage. He was saying, there are times when you need to harness it and use it, and there are times when you need to decipher what to use and what not to use. Maybe don't use it at all."
Mickelson had nothing but glowing priase for Higgs, who enters this week ranked 80th in the FedEx Cup standings.
"Harry Higgs is such a funny guy and has such great energy, and is fun to be around. He's a heck of a player," he said.
A heck of a player, but just not quite good to beat a man old enough to be his dad. At least on this day.