PGA Tour
Take that, kid: Mickelson responds to Dahmen's barbs with 64, leads(!) at Wells Fargo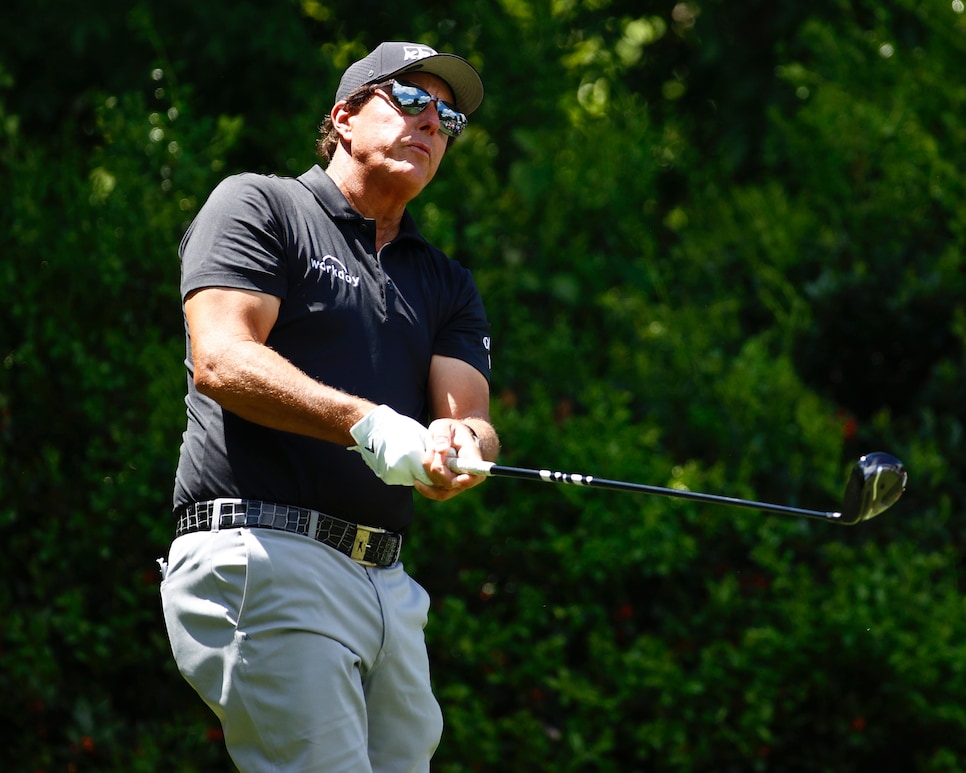 Phil Mickelson plays his shot from the 12th tee during the first round of the 2021 Wells Fargo Championship.
Jared C. Tilton
CHARLOTTE — Phil Mickelson nearly jarred his approach on his 10th hole of the day, his wedge landing past a back-right pin and flirting with the hole before stopping five feet below it. The 50-year-old rattled the putt in dead center. He was, as the kids say, cooking.
Joel Dahmen, who poked the left-handed bear on Twitter the night before, was sufficiently impressed as he walked to the next tee: "Guess Mr. Senior Tour can still play!"
A night after trading daggers with Dahmen on Twitter, Mickelson shot a seven-under 64 on Thursday to grab a two-shot lead the Wells Fargo Championship, his lowest round on the PGA Tour since last June. He's now in great shape to improve an already-great record at Quail Hollow, where he has 10 top-10s and 13 top-25 finishes in 16 starts in this event.
"I mean, I love the banter," Phil said of the pairing. "I think it's funny, and it kept the atmosphere in our group really light. We laughed a bunch. We had some fun things to talk about, but we were laughing even before we teed off. I like how he's able to laugh at ourselves and have fun with the game of golf and not take it too serious."
Perhaps all he needed was a little motivation from a player nearly two decades his junior.
Shortly after the pairings dropped, Dahmen took to social media to express his delight with being drawn with Lefty. (No disrespect to Lanto Griffin, who played third wheel.) "Tomorrow I get to check off another bucket list item by playing with Phil Mickelson," he wrote. "I've been trying to get a game with him for 6 months, but I think he's scared of my hellacious seeds."
Phil, never one to back away from some spicy trash talk—especially online—clapped back with an emoji-laden response, gave Dahmen the nickname "DaMan" and ribbed him for finally reaching his goal of 170 mph ball speed.
That's when Dahmen laid down the gauntlet: "I'm excited to see how my game stacks up against the best of the Champions Tour."
Pretty well, it turns out. Dahmen, who won his first PGA Tour event in March, shot an ultra-respectable 68 on a beefy Quail Hollow layout that seems to get longer by the year. As a bonus, he got a free neurology lesson.
"We got in some dopamine talk, frontal lobe and dopamine, and then the units of it, which I was actually impressed with," Dahmen said. "Then he hit a 6-iron to three feet, so he must have had his dopamine correct on that one.
This was Mickelson at his finest, a reminder of what the five-time major winner is still capable of, recent results be damned. He has struggled mightily with his driver this season and entered this week ranked No. 194 in strokes gained/off-the-tee. He led the field in that stat on Thursday, picking up 2.28 shots against the field—thanks mainly to his work with a new toy.
"It's just kind of a mini driver head that I use as a strong 3-wood, and out here, because the fairways are so firm, if I hit it low enough, I'm able to get a lot of chase out of it and I don't feel like I'm sacrificing any distance," Mickelson said. "So that allows me to kind of keep my misses a lot tighter. Today I hit it very successful, I hit a lot of good shots with it."
Lefty's last top-10 on tour came at the WGC-FedEx St. Jude Invitational in August; he has since slipped all the way to No. 115 in the World Ranking. He said last week that he's been struggling with his focus, that he has a hard time locking in after being distracted by a fan or a noise or, really, anything at all. It's been an area of focus—pun intended—recently.
"I've been doing some like, you know, some mental exercises and so forth just to try to get my focus to elongate over five hours and so forth. That's been a real struggle for me the last few years because physically, there's nothing physically holding me back from playing at a high level, but you cannot make mistakes at this level."
Mickelson has already qualified for the PGA Championship with his past champion status, but he'll need to get into the top 60 by May 27 or June 7 in order to qualify for the U.S. Open—which will be held at Torrey Pines, located in his hometown of San Diego. Mickelson has won the Farmers Insurance Open three times there, but he recently told ESPN that he is not sure whether he'd accept a special exemption into the field.
If he keeps playing like this, he won't have to worry about any of that. Perhaps he should keep this Joel fellow around.