News & Tours
Jon Rahm can 'guarantee' he didn't have COVID-19 despite positive test that knocked him out of Olympics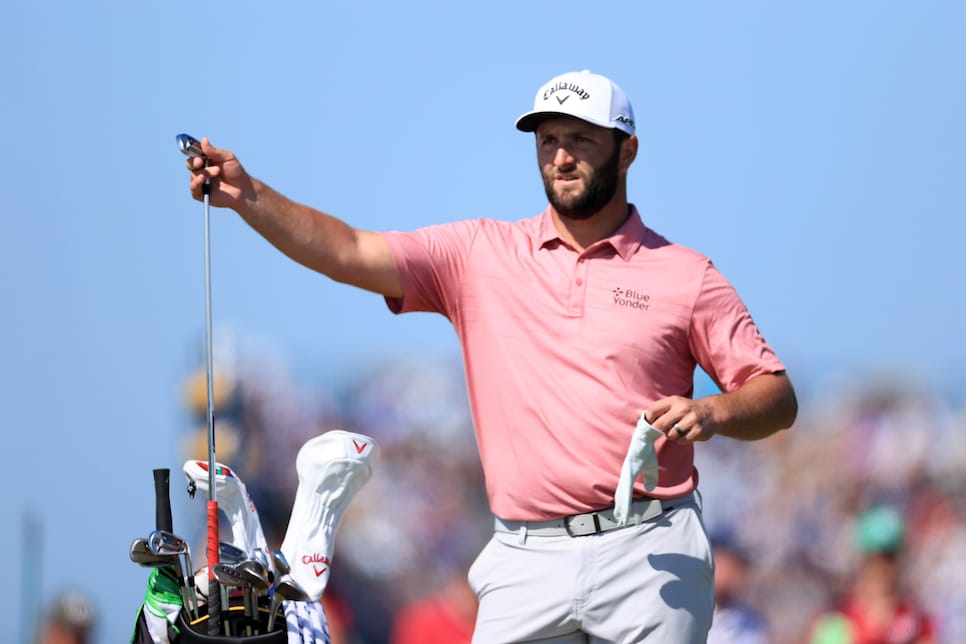 JERSEY CITY, N.J.—Jon Rahm isn't sure what happened, or how. He only knows he wasn't sick.
Rahm, you may remember, very publicly tested positive for COVID-19 during the Memorial after mounting a six-shot lead through 54 holes. Tough of a swallow as the incident was, it had a happy ending, Rahm returning two weeks later to capture his first major championship at the U.S. Open. Moreover, Rahm revealed early in the week at Torrey Pines that he was now fully vaccinated against the virus.
Unfortunately, just a month later Rahm again tested positive for the virus prior to the Tokyo Olympics, knocking the Spaniard out of the Summer Games.
Speaking for the first time since the Olympic news, Rahm said on Tuesday ahead of the Northern Trust that the Tokyo knockout was "harder to digest" than what happened at Murfield Village.
"Because I've done everything the system tells me to do," Rahm said at Liberty National. "I got all my negatives. First one on Thursday negative, Friday negative, Saturday I get my first positive. And then they tested me again that same day, and I apparently was positive again. Then I got tested the next two days. One was the saliva test, one was PCR, both negative. Got an antibody test done, so blood test, and I had the antibodies.
"So I can't really explain what in the world happened. I don't know if it's false positives or just what I had leftover from when I had COVID, just dead cells that were in there that we all know can happen. There's a reason why the PGA Tour won't test you for a while after you've had COVID."
Rahm called what happened unfortunate and weird, especially since he tested negative throughout his time in the United Kingdom during the Open Championship. He also said it "sucked" given his desire to represent his country, that he had already put himself in the mindset to play for something bigger than himself.
"Still makes me a little sad, I'm not going to lie," Rahm said. "I'm going to have to wait three more years hopefully to qualify for the Olympics, but I was really ready for this one."
It was clear Rahm had not been given an answer about what happened. But in a follow-up about his Olympic positive test, Rahm was unequivocal that he didn't have the virus again.
"I wasn't ill. I can guarantee you I didn't have COVID this time, not at all," Rahm said. "I had five tests done, four of them were negative, one was positive. That first time I did have COVID, barely any symptoms, but I had it. This time I had nothing."
Rahm continued that he didn't watch the entire Olympic competition due to its late-night telecast. As frustrated as Rahm was, and still is, about what happened, he understands it's nothing compared to the hardships others have suffered during the pandemic.
"Hopefully, I don't have to deal with any of that ever again hopefully, COVID related, and I can just keep playing golf and doing what I love and contend for tournaments. But at the same time, like I've said, it's a reminder of the times we live in. It is a serious disease. The consequences can be big, and I know—not firsthand, but I know people who have been close to me to suffer them. That's why I don't take it lightly, and that's why every day I'm still thankful that, even then when I had it, everyone around me in my family was okay and didn't get it. So that's a positive side out of it."
Rahm, the World No. 1, enters the Northern Trust ranked fifth in the FedEx Cup standings.