For many years, what was then called the World Series of Golf was played at Firestone Country Club in Akron, Ohio. It was an elite, limited-field event that, in 1995, had 44 golfers playing for what was a huge purse—$2 million—at the time. In the first round, Greg Norman was paired with Mark McCumber. Norman came off the golf course steaming after shooting a three-over-par 73 (McCumber shot 68), but it wasn't his score that had Norman so upset. No, Norman was convinced McCumber had removed a blade of grass from under his ball before attempting a putt and that, on at least one occasion, he had tamped down the rough behind his ball with a club.
McCumber angrily denied Norman's accusations and the two men ended up in a shouting match in the scorer's tent with Norman refusing to sign McCumber's scorecard. PGA Tour commissioner Tim Finchem was called in to try to make peace. Under the rules, Finchem was required to give McCumber—or any player—the benefit of the doubt unless there was absolute proof of a rules violation. He also had the authority to sign McCumber's card on behalf of the tour—which he did.
Norman then announced he was withdrawing from the tournament in protest and stalked out of the scoring area, heading straight for the parking lot. By then, word had spread about what was going on. Slugger White, then in his 13th year as a PGA Tour rules official, was waiting for Norman.
"I just told him the person he'd hurt most by withdrawing was him," White said, several years later. "He'd look like he was overreacting to a bad day, and he'd lose a chance to win a big event on a golf course he liked. I told him he should calm down and then make a decision."
Norman calmed down that night. He didn't withdraw and, on Sunday, he chipped in during a playoff with Nick Price and Billy Mayfair to win the $360,000 first prize and become, at that moment, golf's all-time leading money winner with just shy of $9.5 million.
Afterwards, Norman admitted he had to be talked out of withdrawing. He never mentioned White, which was just fine with White.
That incident is illustrative of the myriad of times White—who worked on tour for 40 years after playing the tour for four—and his partner and pal Mark Russell, hired one year earlier in 1981, quietly made life easier or better for everyone involved in professional golf from players to caddies to volunteers to media to fans.
In 1999, during the final round of the tournament in Tucson, Russell got a call from Kathryn Lowery, wife of tour pro Steve Lowery. At that moment, her husband was playing his final round with a chance to make a decent-sized check. But there was a crisis: the Lowery home in Orlando had just burned down, an electrical fire causing Kathryn and their three children to flee to safety. Everyone was OK, but the house was gone.
"I was thinking how would it help to go out on the golf course and tell him at that moment?" Russell said later. "He was 2,000 miles away. His family was safe. Kathryn and I decided I should wait until he finished."
That was fine until Russell was bombarded with calls from tour wives in Florida who were with Kathryn insisting he HAD to go pull Steve off the golf course RIGHT NOW. Russell understood their emotions but stuck with the plan. When Lowery finished off a two-under-par 70 that left him tied for 20th place, Russell greeted him by saying, "Steve, everyone in your family is completely safe, but I do have some bad news."
Being a tour rules official has often been described as similar to being an airline pilot: hours of boredom that can be interrupted by moments of terror. Sometimes, they have nothing to do with golf. Other times, their decisions can impact the outcome of a multimillion-dollar golf tournament.
They are also the ones who decide when the golf course has to be cleared because of threatening weather, and they always err on the side of caution. "Every once in a while, we'll get everybody out of there and it won't rain," Russell said, laughing. "Then we really hear about it in the locker room."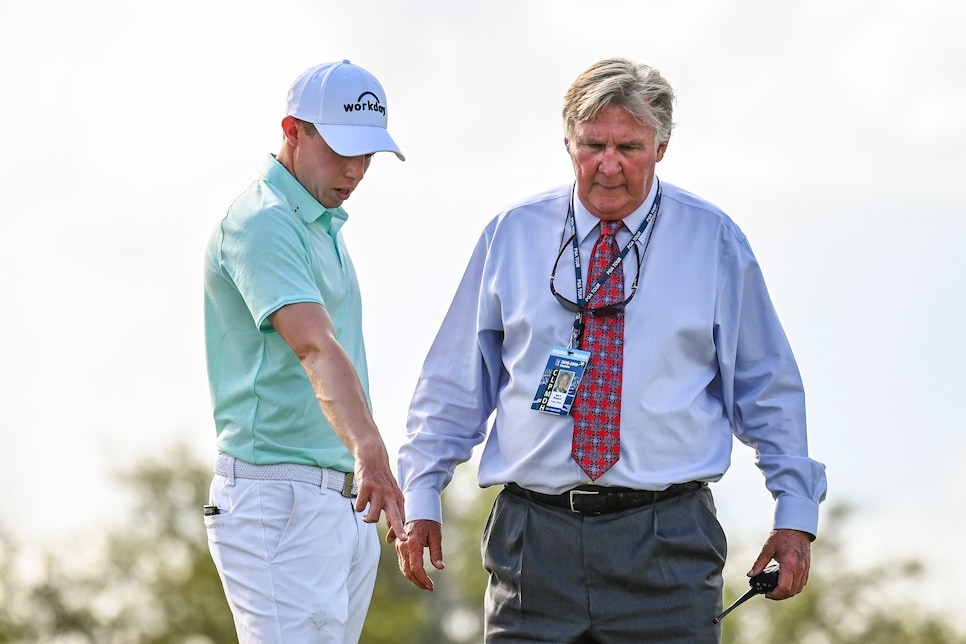 For the most part, the decisions made by Russell and White, who are both retiring this year as the tour's two senior tournament directors after a combined 81 years of working as rules officials, are treated as gospel. Some of it is because they're implicitly trusted to do the best thing by everyone in the game; some of it is because there are virtually no situations—on or off the course—they haven't dealt with.
Russell grew up in Kannapolis, N.C., about 70 miles from Greensboro, which is where he saw his first tour event as a kid and then worked his final one as a tournament director last Sunday. He played golf at Elon and was director of golf at Disney before going to work for the tour in 1981. His lilting southern accent always seems to smooth over awkward situations.
White grew up in West Virginia and was friends as a kid with Jim Justice, now the state's governor and a billionaire. It was White who convinced Justice to invest in professional golf in 2010 when General Motors pulled out of the long-running Buick Open. The tournament lasted there 10 years before date issues with the tour led to sponsorship issues and the end of the event.
Like Russell, White is the master of calm.
During the second round of the 2013 BMW Championship in Chicago, a PGA Tour Entertainment crew filmed Tiger Woods attempting to remove a twig next to his ball on the first hole at Conway Farms. The ball appeared to move. The crew brought the video to White, who was the tournament director. He looked at it carefully and then asked Woods to come look at it with him before he signed his scorecard.
Woods insisted the ball had just oscillated, not actually moved. White showed him the video multiple times before finally saying, "Tiger, I'm sorry, you've got to add two to your score."
Woods got up, punched a wall and didn't speak to the media. "Let's just say there was some frustration," White said when he was asked about it that day.
Woods wasn't the only one frustrated. "You always want the player to make that call," White said later. "The funny thing is, Tiger has always been one of the easier players for us to deal with. He never complains about set-up, never blames us when he isn't playing well. That day was completely different."
Most days, the rules officials are at the golf course by dawn to set up the golf course and to make sure any problems, many created by weather, have been fixed by the grounds crew. They have to be aware of weather conditions in deciding where to place tees and hole locations. Then they are on-call all day if a player needs a ruling or if there is a dispute. The latter happens more often than you think.
They are the tour's liaisons between local officials—including volunteers—and the tour, including players and media. Once, Russell had to intervene on my behalf when a marshal insisted that the inside-the-ropes armband I was wearing meant I was to stand one arm's length OUTSIDE the ropes.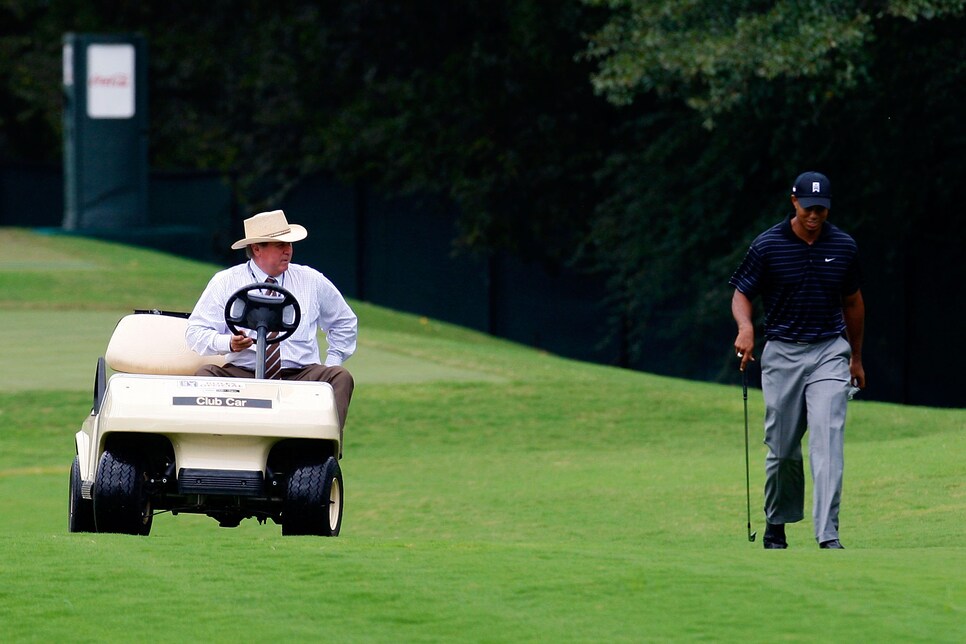 Slugger and Tiger at the 2009 Tour Championship in Atlanta.
Kevin C. Cox/Getty Images
White, who is 71, worked his last tournament at the WGC event in Memphis two weeks ago. Russell, who will be 70 in November, had his finale a week later. Gary Young is now the tour's senior director of rules with four other experienced men as his deputies. They will all miss Russell and White.
"It isn't just the experience," said Steve Rintoul, one of the deputies. "It's that they are always calm in any storm."
Several years ago, I was invited with a group of rules officials to dinner at an Italian restaurant in Akron. When White, the senior man in the group, asked for the check, the waiter shook his head and said, "Sir, it's been taken care of. I was told to give you this note."
The note was from Aaron Baddeley. "Slugger/All," it read. "Please allow me to buy you dinner tonight. It's the least any of us can do for you. We often forget how much you do out here to make our lives easier. I just wanted you to know, I haven't forgotten … Badds."
"Wow," Slugger said, getting just a bit teary-eyed as he passed the note around.
The gesture, of course, is a tribute to what a good guy Baddeley is. But it also sums up quite well how everyone in golf feels about White and Russell.
No one in authority would ever think to induct rules officials into the World Golf Hall of Fame. If you are talking about contributions to the sport, I can't think of two people more deserving than Slugger White and Mark Russell.