WGC-Dell Match Play
Spieth lets one get away, Bryson improves woeful match-play record and the Euros have a day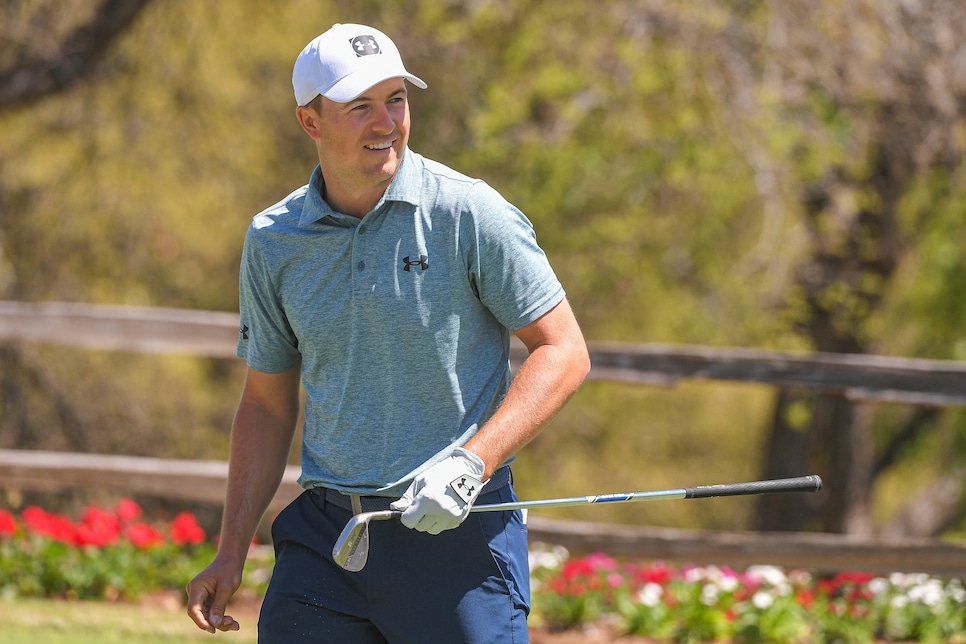 Following the snipey-est of snipe hooks to begin the day, Jordan Spieth's Day 2 clash with Matthew Wolff at the WGC-Dell Match Play appeared to be doomed from the start. Then, in typical Spieth fashion, he went full Houdini, escaping from the woods and hooking one around the trees, rolling it out to 11 feet.
From there, it was Wolff who lost control off the tee, and Spieth took advantage, going 2 up through six. Wolff worked it back to all square after nine holes, but Spieth promptly won 10 and 11, and the two halved the next five in a row.
And so, Spieth was 2 up with two to play. Impossible to lose. Pretty unlikely that he'd tie, too, especially with a 152-yard par 3 and a short par 4 remaining at Austin Country Club. Yes, each hole has plenty of trouble, and they were both designed to create a risk-reward decision (sh-t or bust, some would say), but Spieth didn't need to bring any risk into play with his lead. A safe short iron right of the pin on 17 and it's likely ball game.
But, this is Jordan Spieth we're talking about, and no Spieth round—or match—is complete without a head-scratching, what-the-hell-is-he-doing moment. On 17 tee he reverted to his first-hole form, missing left of a tucked pin and watching his ball roll into the hazard, somehow coming to rest in a few rocks. He blasted his next chip over the green into a bunker, then blasted his third into another bunker on the other side of the green. Wolff badly missed his birdie putt, forcing Spieth to at least attempt to hole out for bogey. He didn't get out of the bunker and scooped up his ball, thankfully putting an end to the pillow fight.
At 18, even after a lucky break when his wayward tee shot hit a cameraman in the foot and bounced into the fairway, Spieth made a crucial mistake on his approach, landing it short of the pin and spinning it off the front. Wolff stuffed his close, and Spieth followed by clipping his third too far past the hole. His par putt missed again, and he conceded for a second straight time in an utterly disastrous turn of events. Wolff, who was 2 down with two to play, had halved the match.
Now, rather than being 2-0-0 and controlling his own destiny, Spieth is 1-0-1, as is Wolff, who will play Matthew Fitzpatrick on Friday. Fitzpatrick won his Thursday match handily over Corey Conners, the group's fourth member, bringing his record to 1-1-0. Should Spieth lose to Conners on Friday, a Fitzpatrick victory would advance the Englishman to the knockout stage, while a Wolff win or tie would put him in the knockout stage. Even if Spieth wins, he may still have to beat Wolff in a sudden-death playoff if Wolff beats Fitzpatrick. A Spieth win and a Fitzpatrick win or Wolff-Fitzpatrick halve are Spieth's two dream scenarios. Got all that?
And to think, that entire paragraph would have been avoided had Spieth just made par on 17. Match-play vagaries, they hit different.
Four other takeaways from Day 2 at the Match Play.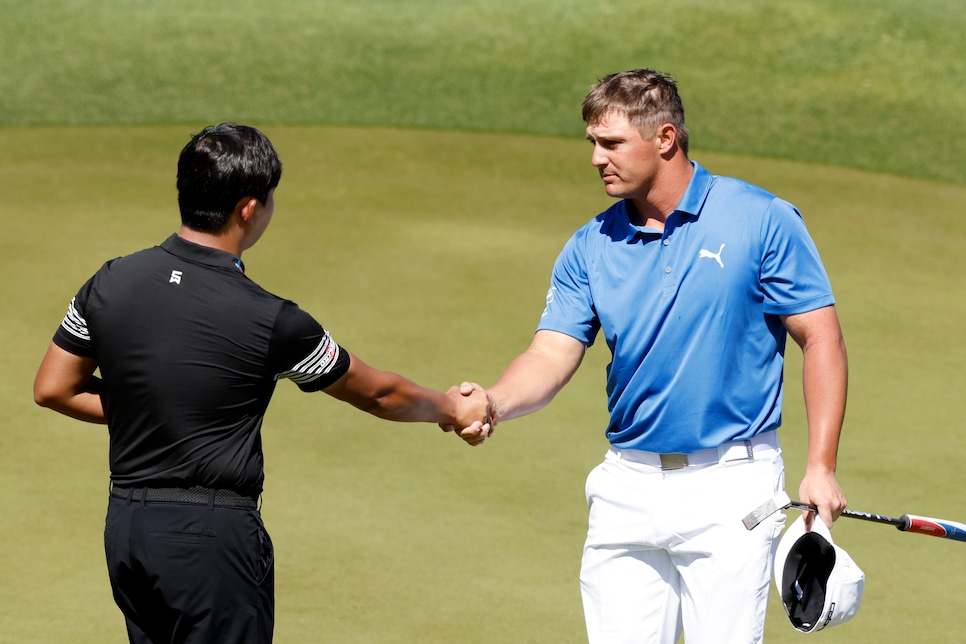 Bryson DeChambeau finally improves shocking match-play record
Seriously, this is something that shouldn't have been as shocking as it was when Golf Channel ran the stat across the screen on Thursday: Bryson DeChambeau's match-play record as a pro, prior to that day's match was ... 1-7-1?!?!
Yes, 1-7-1, but the key thing to note there is that that record includes matches with a teammate. DeChambeau's Ryder Cup and Presidents Cup career, while still in its infancy, is off to a rough start. He lost his singles match at the 2018 Ryder Cup, halved his singles match at the 2019 Presidents Cup, and lost all three of his combined matches with a teammate in the two events. His three teammates? Phil Mickelson, Tiger Woods and Tony Finau.
In 2019, DeChambeau went 1-2-0 in this event, and that record fell to 1-3-0 with his loss to Antoine Rozner on Wednesday. We're not saying he's a terrible match-play player (he won the damn U.S. Amateur after all), but the trend had become alarming. At long last, he got back in the win column on Thursday, defeating Si Woo Kim, 2 and 1. He's now 2-7-1. Afterward, he said he likes to take more chances in this format, which led to one of the worst shots of the week that, sadly, there is no video of.
DeChambeau's must-have win now gives him control of his own destiny. On Friday, he gets the 1-0-1 Tommy Fleetwood, who beat Rozner 4 and 3. If he wins, he'll at least guarantee a sudden-death playoff against … Rozner! That would be getcha-popcorn-ready type stuff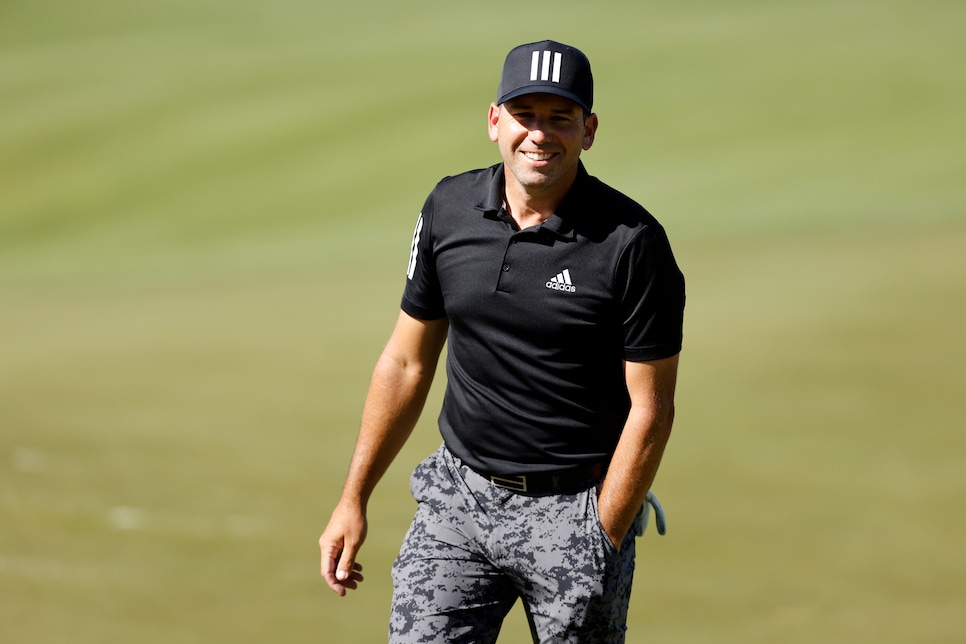 Sergio Garcia is absolutely cooking
It's no secret that the Spaniard is one of the great match-play players in recent times, but a 4-and-3 drubbing of Lee Westwood on Wednesday and a never-in-doubt 3-and-2 win over Tyrrell Hatton on Thursday really drove the point home. He's in full control of his own destiny now, and has a chance to advance to the knockout stage for a third straight time in this event. During that span, including this week, he's 7-1-0. That is … insane.
But, unlike a few guys who seem to be re-invigorated by the format change this week, Sergio has actually been playing extremely well for some time now. Yes, he's played extremely well for two decades, but he's been particularly great these last nine months. Since the PGA Tour restart last June, the 41-year-old has made 20 starts worldwide, finishing T-11 or better in six of those events, including his Sanderson Farms victory. The approach play of late has been scary good, with Garcia gaining nearly nine strokes with his irons at the Players, where he finished T-9, and almost seven strokes at the WGC-Workday at Concession.
As always with Garcia, the putter has left a lot to be desired, but as he proved at Sanderson all he needs is a decent week with the flat stick to contend and even win. Might this be the week? Might, ahem, two weeks from now be the week?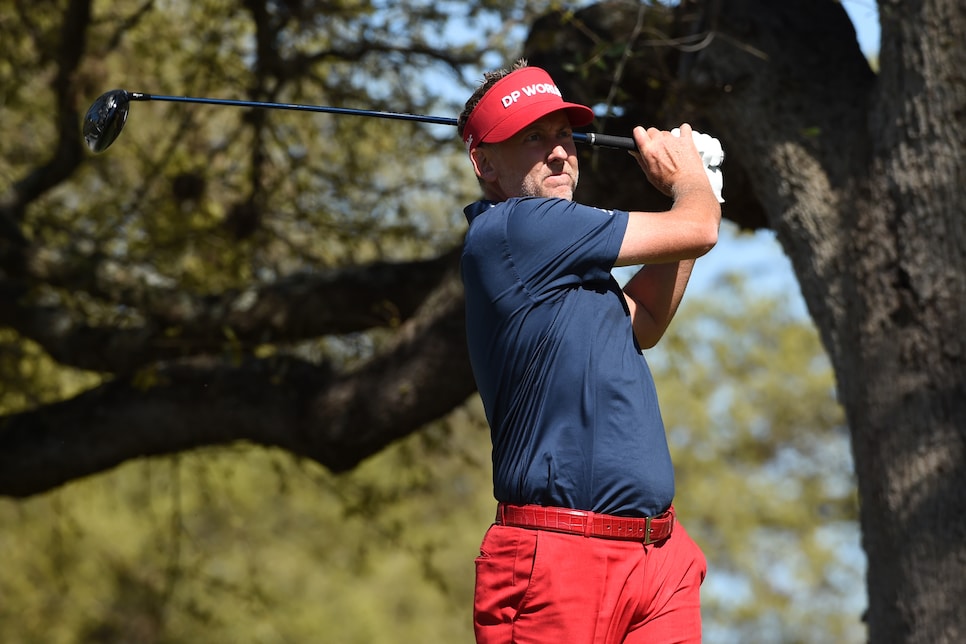 Despite Garcia beating up on two of his European Ryder Cup team brethren, the Euros still had a really solid Day 2 in Austin. Fitzpatrick, who we mentioned above, smacked around Corey Conners, which has given him a slight chance to get to the knockout stage. Tommy Fleetwood, who halved his first match against Si Woo Kim, beat Rozner 4 and 3 (more Euro on Euro crime). At 1-0-1, he can make the Sweet 16 by slaying DeChambeau on Friday. Paul Casey and Bernd Wiesberger each kept their knockout stage chances alive with clutch Day 2 wins, and Robert MacIntyre took World No. 1 Dustin Johnson to the 18th hole, halving the match to bring his record to 1-0-1, the same as Johnson's. Hell, even the seemingly lost Rory McIroy bounced back with a 4 and 3 win over Lanto Griffin.
You thought we forgot about Ian Poulter, didn't you? God no. His 1-up win over Australia's Cameron Smith got him to 2-0-0, putting him a win or a halve from making the weekend. No wonder this guy makes the Euro Ryder Cup team no matter how he's playing, and he always delivers. A true match play gawd, which brings me to my next point …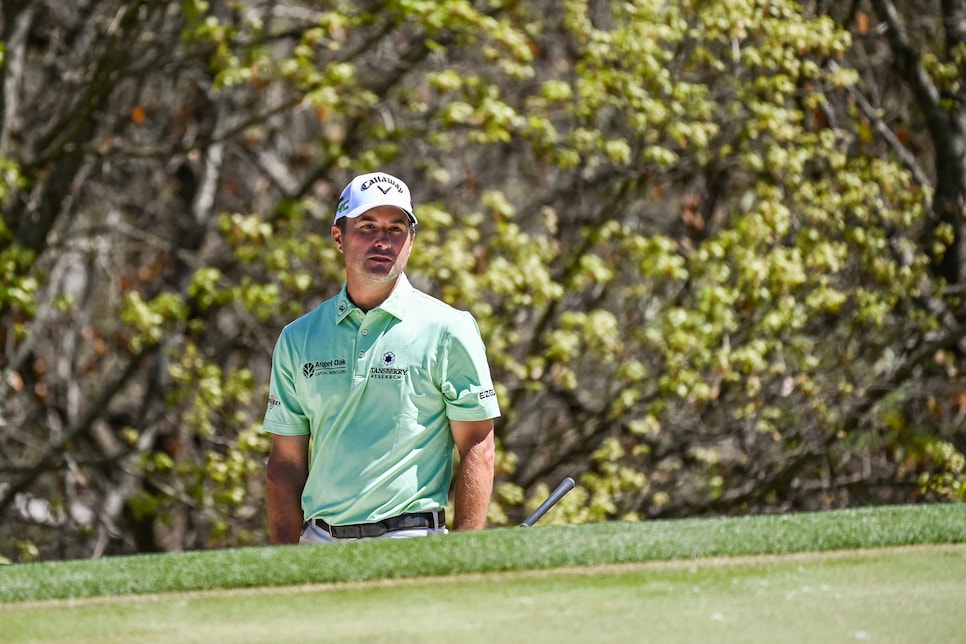 Please, just put Kevin Kisner on the Ryder Cup team now
With his win over Justin Thomas on Thursday, Kevin Kisner has now won eight straight matches in this event. Even if he loses to Matt Kuchar on Friday, I think he's proven that he excels in this format (don't you?), which, in case you didn't realize, is used in the Ryder Cup. It's obviously a very tough team to get on with all the American talent, but at some point they need to pick guys who are going to help them win key matches, not the next four most-talented guys after the top eight. Kisner would be one of those guys, an American Poulter type, and yet there's a decent chance he gets left off again. It would be criminal.