FAQs on NFTs
The latest boundary Bryson DeChambeau is pushing has very little to do with golf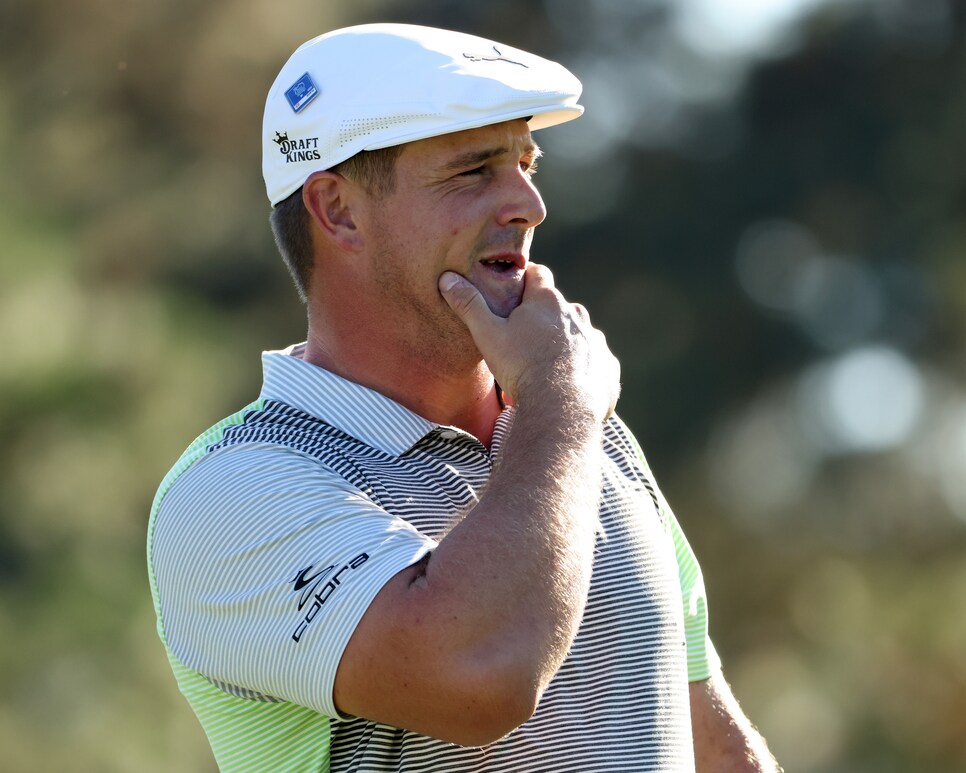 Bryson DeChambeau has been passionate about cryptocurrency for a while. That curiosity, says his agent, Brett Falkoff, is what prompted the 27-year-old U.S. Open champion to become the first professional golfer to plunge into the increasingly popular but still largely mysterious world of NFTs—or non-fungible tokens. Earlier this week, DeChambeau offered a series of limited-edition digital cards that could be acquired via auction.
"He's not afraid to try things," Falkoff told Golf Digest. "As we've learned about NFTs and saw what's happening with them, he wanted to get involved."
It's hardly the first time DeChambeau—he of single-length irons and chaser of speed to parts unknown—has ventured into a new frontier. What he found in that exploration, well, we'll get to that.
First, though, what exactly is an NFT?
In the simplest of terms, NFTs are digital assets that can range from artwork to music to sports-trading cards to video highlights. And to be clear, they only live digitally. The value of the assets is in their uniqueness. They can be purchased and traded in an instant, and there are no forgeries. Put another way, they are computer files with proof of ownership and authenticity. Ownership of NFTs is held on a blockchain.
OK, so what is a blockchain?
A blockchain is a ledger, or method of record keeping, that is a decentralized (unlike a physical bank) collective way of storing digital information securely. It was first used for Bitcoin transactions and is called a blockchain because the transactions that occur on the network are chained together using complicated math that makes them difficult, if not impossible, to hack into and alter information.
Now the important part: In recent months, NFTs have transformed the cryptocurrency market and, in turn, attracted real-world attention. The artist Beeple—a 39-year-old graphic designer from Charleston, S.C., named Mike Winklemann—has sold more than $100 million of digital creations since October, including one piece that fetched $69 million earlier this month. That instantly put Beeple among the top three most valuable living artists, according to Christie's, the auction house that handled the sale.
Wanting a piece of the increasingly lucrative crypto pie, the sports world is naturally getting in on the action, too. Last October, the NBA launched Top Shot—a partnership between the league and blockchain company Dapper Labs—as a way to offer officially licensed digital collectibles, with the league getting a cut of the action. One clip of a LeBron James dunk against the Memphis Grizzlies last month went for just a little more than $200,000. To date, Top Shot has generated more than $400 million in sales.
In the NFL, a Patrick Mahomes-autographed digital rookie card nabbed $861,000. And a series of digital trading cards from Rob Gronkowski sold last week for more than $1.6 million, including one, a "Career Highlight Refractor Card," that went for about $435,000.
On Monday, the eight-time PGA Tour winner took to social media and announced that he was auctioning five unique versions of digital trading cards. They included the "Distance" card, of which there was only one and was packaged with a chance to meet DeChambeau at a mutually agreed upon U.S. golf event, an autographed U.S. Open flag, a custom set of Cobra golf clubs, a $1,000 Bose gift card and six dozen Bridgestone balls. The "Distance" card featured a rendering of DeChambeau's memorable reaction to his driving the sixth hole during the recent Arnold Palmer Invitational. Four other digital cards, dubbed "American Champion," "Swing," "Red," and "White," each of which had 18 editions, were offered individually.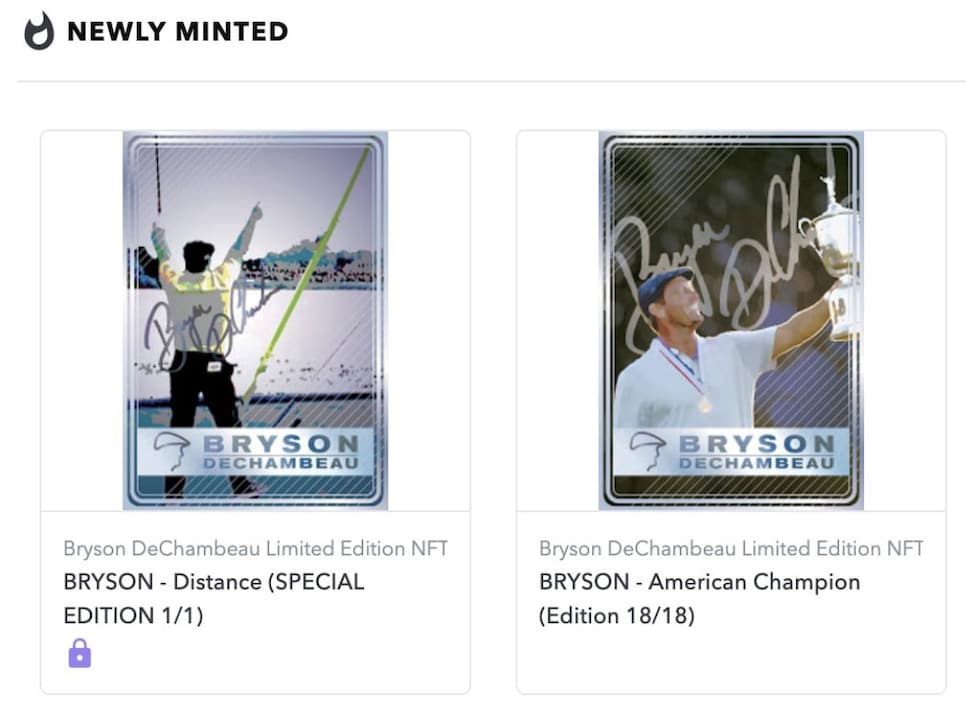 Bryson DeChambeau's first venture into NFTs included the "Distance" digital card (left) that eventually sold for more than $40,000.
But with new frontiers come unforeseen turns, and things took an interesting one once the bidding started.
As Eric Patterson of TheScore first noted, there was some curious activity around DeChambeau's auction. Sales of three of the cards that had just a single offer on each sold roughly five hours before the auction was scheduled to end. It's important to note that while bids are binding they can also be canceled at any point before the bidding closes.
This, according to Patterson, led to one unhappy bidder who was considering canceling his offer before the end of the auction. Another bidder also said he never got his NFT while yet another complained about the whole process, tweeting that DeChambeau's handling of the auction is "bad for golf and bad for NFTs" and to "take some time to critically think through how you can save face" and to start by "refunding those whose bids were pushed through prematurely."
In the end, DeChambeau's singular "Distance" card led the way at more than $40,000. But most of the editions of the other cards drew bids of just a few hundred dollars and the entirety of the auction garnered roughly $62,000 in total.
When asked about the complaints that Patterson reported, Falkoff said there was an issue with OpenSea, the platform that hosted the auction and dubs itself the world's largest digital marketplace for crypto collectibles and NFTs. He added that they're working with OpenSea and any dissatisfied customers.
"Everything was completely legal," Falkoff said. "Someone claimed they didn't receive their NFT. That was a platform issue. No money was exchanged, and we're working on resolving it to offer them the NFT for the price they bid."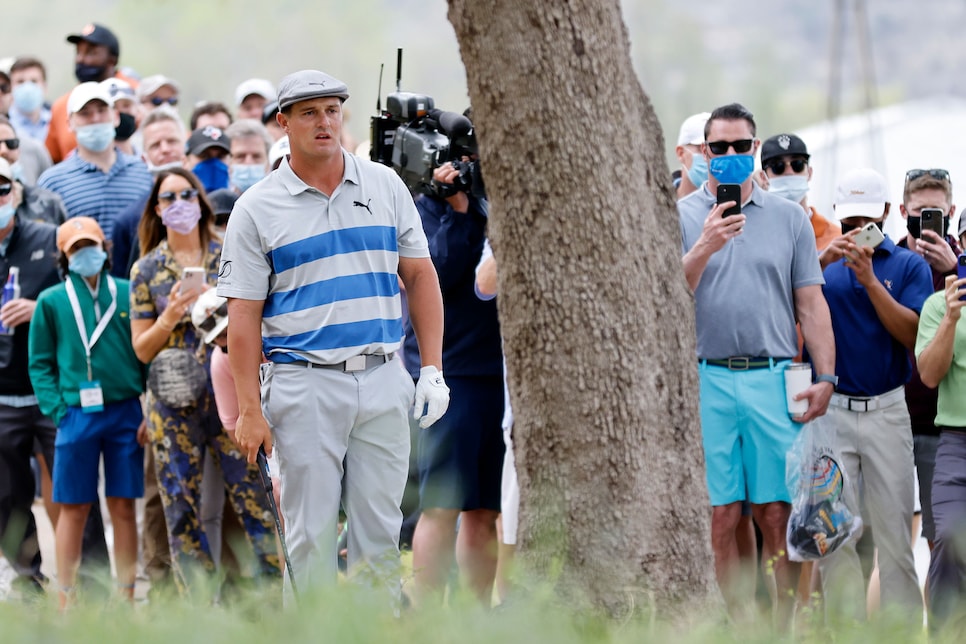 DeChambeau tried to claw back in his Day 1 clash with France's Antoine Rozner at the WGC-Dell Match Play, but lost 2 up.
Michael Reaves
Others, meanwhile, questioned where the money was going, given that DeChambeau, who has made more than $23 million in on-course earnings during his pro career, didn't initially make that clear. Falkoff said that DeChambeau hasn't figured that part out yet, either, though he added that it's certainly possible it could go to his foundation or another charitable outlet.
"Whether he made $2,000 or $20 million, he had no idea how this was going to play out," Falkoff said. "What it shows [by the total] is that golf is still a niche sport."
Still, that hasn't dissuaded DeChambeau's interest. This is just the beginning.
"It was a total experiment," Falkoff said. "This is a learning process for everyone. It's no different than how he approaches golf."
Whether the outcome is similar, that remains to be seen.