WGC-Dell Match Play
France's Antoine Rozner introduces himself to America with upset win over Bryson DeChambeau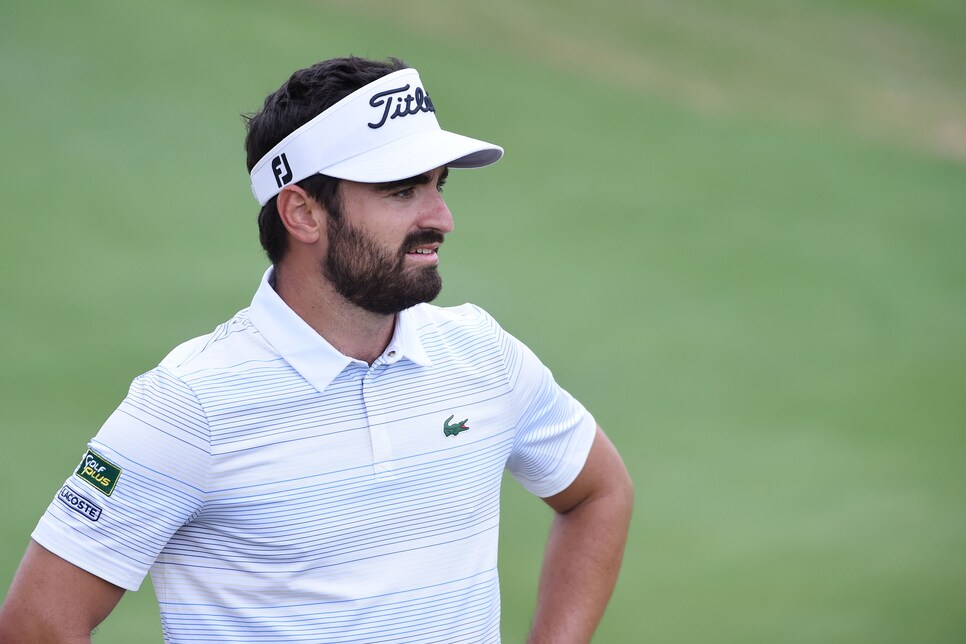 Antoine Rozner waits to putt for a birdie on the 18th green and close out his Day 1 match with U.S. Open champion Bryson DeChambeau.
Steve Dykes
AUSTIN — The two French players in the field at the WGC-Dell Match Play made eye contact outside the clubhouse at Austin Country Club on Wednesday afternoon. One of them, Antoine Rozner, was fielding questions from the media in the flash area. The other, Victor Perez, walked past as he made the turn in his Day 1 match against Marc Leishman. Perez pumped his fist twice, drawing a small smile from his countryman.
A few hours earlier, Perez was likely one of the few people in the entire Texas state capital who had any idea who Rozner was (on the PGA Tour leader board, a silhouette stood in for a picture). But they both knew that was about to change. Rozner, who made the field on the strength of a European Tour victory in Qatar two weeks ago, had just defeated the most notorious American golfer on the PGA Tour, and his profile was about to take a few leaps forward.
There are a few ways to win a match at a tournament like the WGC, and Rozner's method on Wednesday against Bryson DeChambeau was to establish a big lead and hold on for dear life. The 28-year-old, ranked 64th in the world, was rock-solid over the front nine, burying three 12-foot birdie putt on three different holes to post a 2-up lead at the turn, and he extended it to 3 up with another birdie on the par-5 12th. After that, Rozner admitted nerves set in. He conceded the 13th hole after a poor approach nearly found the water, and hit another disastrous approach on 14 that saw him poised to lose again. Rozner needed a 26-foot par putt just to tie the hole, and if it seemed doubtful that he could deliver, well, take a look at what he did on the 18th hole to win in Qatar:
By comparison, the par putt in Austin was child's play:
It was the biggest shot of Rozner's round, preserving the 2-up lead, and proved to be critical after he dropped the 16th hole and had to play 18 to try to win the match. Both players took aggressive lines off the tee on the short par 4, and after a 318-yard drive, Rozner had to play, in his words, a "Phil Mickelson flop" from 54 yards out. Watching from behind the green, a spectator couldn't see Rozner below the hole, but could see his ball rise over the ledge of the green, land softly, and come to rest seven feet from the pin.
DeChambeau played it out and wouldn't concede the seven-foot two-putt after missing his birdie attempt. Still, the script was written, and Rozner finished in style by holing his birdie for a 2-up win.
So what do we know about Monsieur Rozner? He lives in Paris, supports the Paris-St. Germain soccer club, counts Tiger Woods, Thomas Levet and Victor Dubuisson as his golf role models, played college golf in the U.S. at the University of Missouri-Kansas City, would choose Chiefs season ticket over the Royals, and only really chatted with DeChambeau to ask where he lived. As for match play, he's won the French Amateur twice, and went 4-0 for Europe in the Palmer Cup in college. He's hoping for an exemption next week into the Valero Texas Open, and when he returns to Paris, he'll have to quarantine for seven days.
That's all we could get in the short post-match interview, but considering how he played against DeChambeau, and how Qatar marked his second career European Tour title, the first won last December in Dubai, more information will be coming soon. At the very least, it's clear that he's not intimidated by much, including the massive drives DeChambeau unleashed throughout the day. Tomorrow, he'll take on European Ryder Cup hero Tommy Fleetwood, and if he wins that match, he's got a terrific chance to make Saturday's knockout round. We knew nothing about Rozner yesterday, we know a little bit today, and you get the feeling that as the days pass, we're bound to know a lot more.