WGC-Dell Match Play
Bryson DeChambeau's attempt to drive a green epically backfired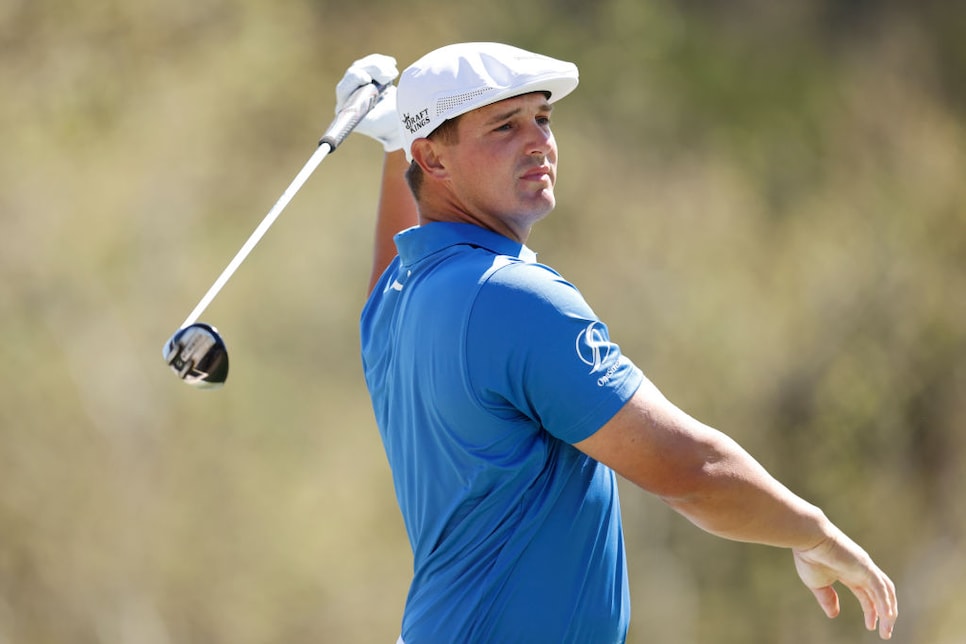 It's too bad the PGA Tour's "Every Shot Live" at the Players Championship wasn't available at this week's WGC-Dell Match Play. Because we missed a dandy of a drive from Bryson DeChambeau Thursday afternoon.
However, whereas most DeChambeau drives are the things usually reserved for NASA launches and make one question everything we know about science and physics and existence in general, this was a drive most of us see every Saturday at the local muny.
Fans following the reigning U.S. Open champ's match against Si Woo Kim through shot tracker noticed DeChambeau appeared to shank his drive at the par-4 10th, with the tour's play-by-play tracker noting the ball went 46 yards right of the tee box. Unfortunately there was no official video of the shot, so fans were left wondering if this was a simple leader board mistake (which happens from time to time) or if the big man had another tee-box blunder, a la his topped shot at TPC Sawgrass two weeks back.

Turns out it was the latter, with Bryson telling the assembled media at Austin Country Club that what happened at the 10th was an attempted hero shot gone bad.
"I heel-pulled it lower than I wanted, came off low off the face, came out low—I could have easily cleared the trees up and over like I wanted to, but I hit it on the wrong part of the face and consequently hit the tree limb," DeChambeau explained. "Hey, look, I was trying to drive the green, whether it was the practice green or the 10th green. I got it close."
Translation: Bryson rocketed his ball off the heel of his club, the ball then hit a tree left of the fairway and ricocheted all the way right, near the practice putting green beside the clubhouse. And while there was no official video, there was this clip on social media.
DeChambeau lost the hole to Kim but won three of the final four holes to knock him off, 2 and 1, and keep his weekend hopes alive with a must-see Friday bout against Tommy Fleetwood. Let's just hope the cameras are rolling for the entire ride.