WGC-Dell Match Play
A friendly format is just what Matt Kuchar needed to turn around his ailing game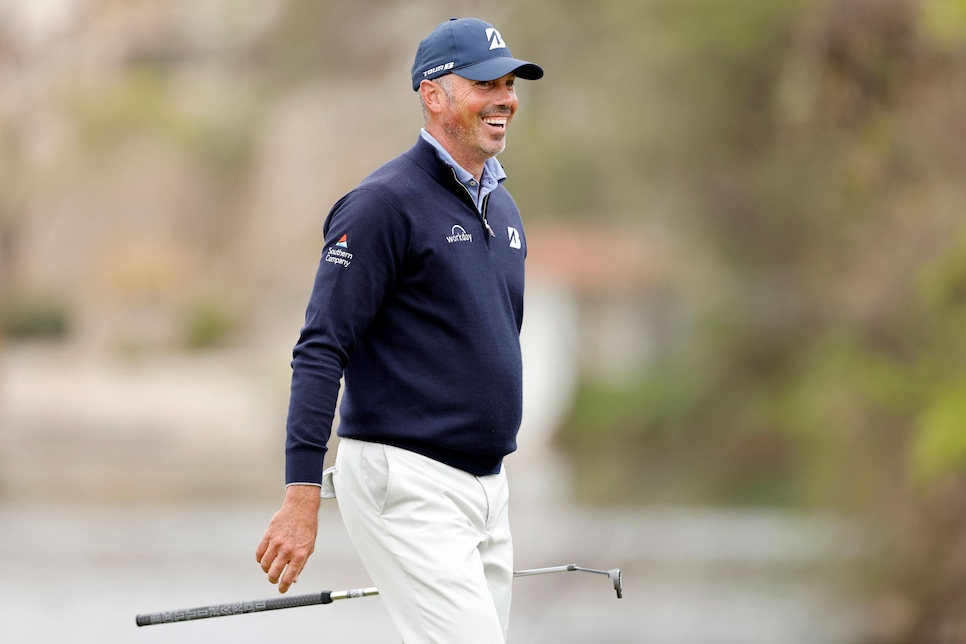 Matt Kuchar has won 30 matches during his WGC-Dell Match Play career, second only to Tiger Woods and Ian Poulter.
Michael Reaves
AUSTIN — When it comes to match play, Matt Kuchar is the ultimate paradox. In singles competition at the Presidents Cup and Ryder Cup, he's a combined 1-7-1. Meanwhile, in a long career at the WGC-Dell Match Play, he's one of the best ever: 30-10-4, with a title in 2013 and a finals appearance in 2019. His 30 wins trail just two men, and those two men happen to be the best match-play golfers of their generation: Tiger Woods and Ian Poulter. Interestingly, Kuchar could pass both of them this year.
Heading into this week at Austin Country Club, however, the deck seemed stacked against Kuchar. The 42-year-old nine-time PGA Tour winner has struggled all year, with three missed cuts in five events and just a T-42 in Phoenix to show for his best result. The rough play has resulted in a slide in the World Ranking, with Kuchar falling outside the top 50 earlier this month for the first time since January 2010. Kuchar then had the further misfortune of being drawn into not just in the toughest of the 16 four-man groups here this week, but in what is arguably the toughest match-play pod ever in the event.
Yet none of it mattered: The World No. 57 beat World No. 2 Justin Thomas on Wednesday, and on Thursday afternoon, he ground out a tough win against Louis Oosthuizen to move to 2-0. Ahead of him, defending champion Kevin Kisner survived a near collapse to move to 2-0 as well, setting up a winner-take-all group-match clash on Friday between the Georgia Tech and Georgia alums—and a rematch of 2019's championship match.
A see-saw front nine against Oosthuizen saw the lead change hands several times, with Kuchar squaring the match at the turn with a 17-foot birdie. The wind was strong along the water on the back nine, and just as in the Kisner-Thomas match ahead of them, the quality of play suffered. After Kuchar put his tee shot in the water on the par-3 11th, Oosthuizen bailed him out by visiting the drink on his second shot, and in one of the oddities of match play, they halved the hole with double bogey. ("It had been a very long time" since that happened Kuchar said afterward.) Back-to-back birdies on 13 and 14 gave Kuch a solid 2-up advantage.
There's a reason these two are competing in the "Group of Death", though; Oosthuizen has a 22-13 record at the WGC-Match Play, having made the quarterfinals three times and the finals once. The South African is not one to go down without a fight, and a buried 24-foot birdie putt on 15 reduced the lead to 1-up.
At that point, Kuchar put the heat on … at least until he reached the green. On 16, the last par 5, his third shot stopped six feet from the pin with Oosthuizen scrambling to make par. Kuchar missed that putt, but a terrific tee shot on the 17th gave him an 11-footer for the win … which he also missed. On 18, he opted to play safe off the tee, driving short of the downslope, but his ball settled in the left rough and he could only muster a mediocre approach. Oosthuizen blasted his drive 70 yards from the hole, pitched up to 14 feet, and watched Kuchar narrowly miss his long birdie attempt. That gave the South African a shot to tie, and a putt that looked halfway to the hole slid by on the right at the final moment.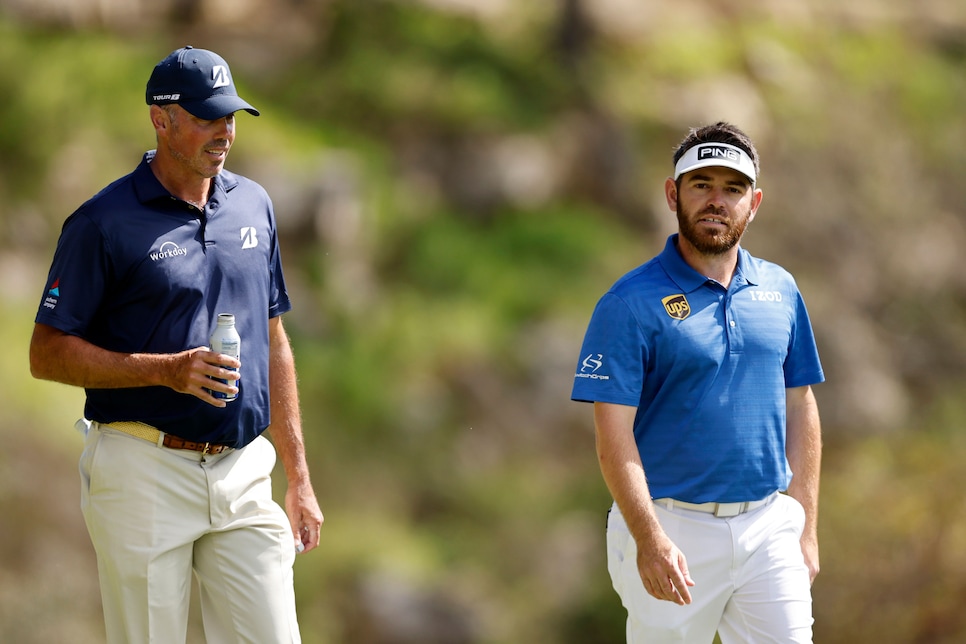 The Thursday match between Kuchar and Oosthuizen was finally decided on the 18th hole, Kuchar winning 1 up.
Michael Reaves
It wasn't the prettiest match, but for Kuchar, it sets up a massive chance to reverse the negative momentum that has dogged him in 2021. It's tempting to believe that something about match play triggers the competitor in him—an effect that Ian Poulter admitted after Wednesday's win over Rory McIlroy—but Kuchar rejected that idea.
"I don't think just by changing the format my game's going to change," he said. "I put in a lot of work with my coach Chris O'Connell and feel like we have turned the corner and are on to some good things."
Still, he knows this can be a springboard that changes the tenor of his season, especially with the Masters kicking off the major season in men's golf in two weeks. "I certainly will take the quality of golf shots I've hit with me," he said, "but some of the wins as well, to beat both JT and Louis are some great wins and certainly take a lot of confidence from those."
It's fortunate that he'll take some psychological dividends from those wins, because the practical reward is much more dubious. Kisner, his Friday opponent, has won 13 of his last 15 matches at Austin C.C., and at the moment looks to be the best match-play golfer in America. He's not invincible, as his rough back nine on Thursday proved, but he's about as tough an out as you can find in the field this week. In fact, the task is a miserable one for both players, and it's impossible not to wonder if the stress of coming through the group of death will make it very difficult for the winner to advance on the weekend.
"Even the easier wins, every hole has a higher level of intensity than stroke play," Kuchar admitted. "Every hole feels like it's last hole of the tournament. And so the level of intensity is always much higher and you always go back to the room ready to have a good night's rest for sure."
At the same time, this keeps him focused, and might explain—in part—why he's had such success at this event.
"I really enjoy the one-on-one competitive nature of the event," he said. "I really like knowing what I have to do on every shot compared to a four-day event. I kind of get lost in the motions sometimes when it's a Friday morning or Friday afternoon and everything's not going perfect. I think you got to grind all 18 holes and that keeps my head in the game."
Whatever happens Friday against the opponent Kuchar called "a grinder, a bulldog," he's put up the best result of his season, and it's a moment to mark down as a point of potential resurgence. The Match Play is his stomping grounds, and sometimes it takes a familiar place to find the missing touch.