WGC-Dell Match Play
How do you master a 'match-play mentality'? Top tour pros answer a complicated question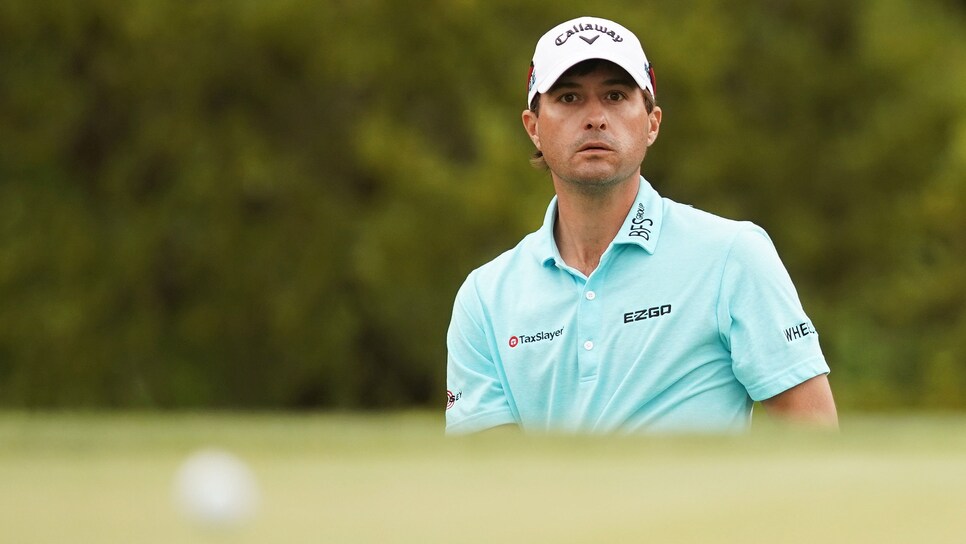 AUSTIN — There are certain adjustments players make when it comes to match-play golf that are so intuitive they barely rate a mention. If your opponent hits his approach into the water, for instance, you're probably going to take a nice, easy line to the safest part of the green and win the hole without breaking a sweat (or at least not lose it). If you're 4 down with six holes to play, you're going to attack the pin relentlessly in a desperate bid to catch up. If you're up big, you'll skew conservative. None of this is rocket science.
On a psychological level, though, what are the secrets to putting the stroke play mentality behind and transitioning into a more combative, mano-a-mano mindset? Should there be a transition, or should playing against one person feel the same as competing against a 149-man blob? This week at the WGC-Dell Match Play, a few players attempted to answer a question that is harder than it might first seem.
"In match play, it's important to take the lead and be the one who sets the pace so you don't have to react to what he is doing," said Jon Rahm, appearing before the media on Tuesday morning. "I don't see ranking. I don't see history. All that goes out the window."
When Rahm says "set the pace," he's not just referring to making more birdies and playing better, but to understanding situationally when it's time to put the crunch on an opponent. He spoke specifically of the privilege of having/grabbing "honors." When you win a hole and then hit first on the next, it creates its own kind of momentum that continues by finding the fairway, keeping the pressure on and maybe inspiring a kind of despair in your opponent … to the point that, as Rahm said, "you're not giving him time to breathe."
Scottie Scheffler made the point that even though his preparation is the same before the event, he takes a completely different approach mentally when the matches start. He didn't elaborate on the nature of those changes, but Kevin Kisner brought up the idea that the actual score and even the quality of play doesn't matter—at least not as much.
"I don't care what we shoot," said the 2019 WGC-Match Play champion and the 2018 runner-up. "I'm just trying to beat you."
Kisner also delved into an underrated skill that pays massive dividends in match play: adaptability.
"You have to be ready to change throughout the match," he said. "I think that's one of the biggest things. Normally in a stroke-play event I kind of have the same mindset for all 18 holes. … I know how I want to attack the golf course from the get-go, but added features [of match play] are if someone's in trouble or someone's played aggressive, I may have to change strategy on the go. So I think there's a huge, different dynamic one-on-one versus 72-hole stroke play against 150 others."
As Justin Thomas noted, though, it's possible to go too far in the opposite direction, with a hyper-focus on one opponent that can become a detriment.
"Something I've struggled with in the past is looking too much at maybe other matches or worrying about what else is going on or playing to my opponent too much," said Thomas, who has become a reliable match-play golfer for U.S. Ryder Cup and Presidents Cup teams in recent years. "Sometimes I feel like I try to change my game plan or do something different, and that's something that I've struggled with. I think that's why I haven't played well."
For Thomas, the same applies to the on-course adjustments, and the extent to which you should react to an error by your opponent. "If I have a wedge in my hand, and he misses the green, I shouldn't all of a sudden like try to hit it to 20 feet," Thomas said. "Like if I have a wedge in my hand, I'm trying to make a birdie because that's when I end up hitting it to 20 feet and then he maybe holes a bunker shot or hits it close, and then I either lose the hole or we halve the hole, and the next thing I know I get to the next tee, like, What was I doing?, like I should have tried to make birdie there."
At the same time, Thomas does adapt a more combative mindset when it's time for match play, and admitted that he hopes every opponent "plays the worst round of golf they've ever played in their lives."
"It's a fine line," Jordan Spieth said on Monday. "You don't want to really get too focused on what [the opponent] is doing, but you do kind of need to be aware so that you limit a mistake that doesn't need to be made."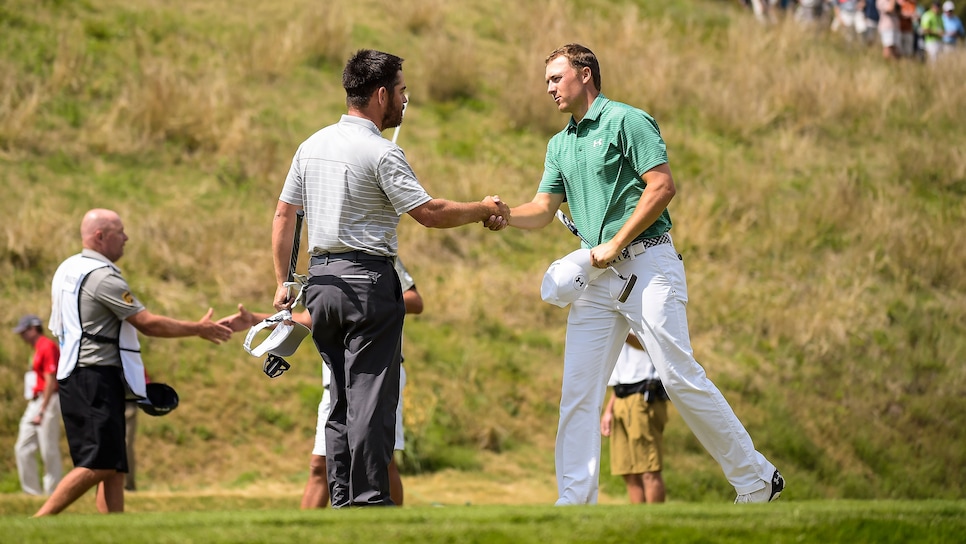 Jordan Spieth says match play lets you hone your focus, but brings with it different kinds of pressure.
Chris Condon
Match play can be liberating—a result of the fact that a poor shot can't cost you an entire tournament—but Spieth pointed out that even this freedom can be a mixed bag as it comes with its own unique kind of pressure.
"You feel a lot of freedom on shots that you don't in a regular tournament because you're like, Hey, if I don't pull this off, whatever. If I lose this hole, it's one hole," he said. "But at the same time closing out matches a lot of times can feel like the pressure of closing out a tournament. So it's kind of a little bit like you get freedom on some, but then on others you kind of feel a little tighter and that's kind of the beauty of it. I wish there were more events like this."
For Viktor Hovland, the key word when it comes to match play is "reset." As in, have a very short memory when things go bad, because when a match is just 18 holes vs. 72, mistakes can compound.
"Even though every single shot and hole matters in stroke play, now you only have 18 holes and it puts more emphasis on every single hole you play," Hovland said, "because you don't get that many holes."
Not everybody loves match play, but for Hovland, a former U.S. Amateur champ who also helped Oklahoma State win an NCAA team title in match play in 2018, the constant shifts are part of the appeal, and he knows how to use the swings in his favor. "I just like the kind of the short-memory span you have in match play and how you can take advantage of the momentum that you get through certain stretches."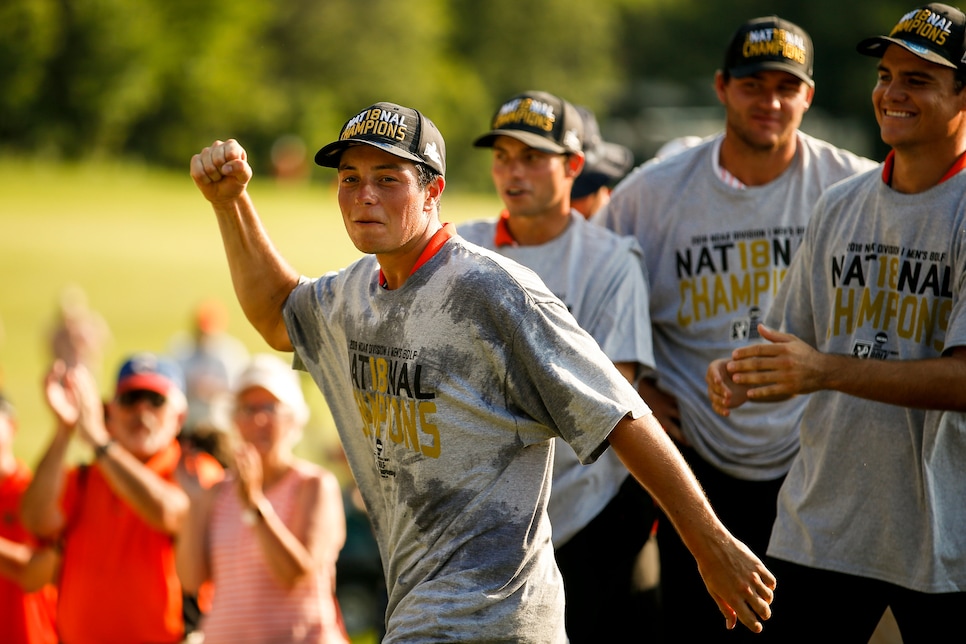 Hovland's success in match play includes a U.S. Amateur victory in 2018 and helping Oklahoma State win the NCAA team title earlier that year (shown).
Shane Bevel
None of this is easy to define, or explain, and the question of what makes a player good at match play is one we'll be attempting to answer as long as the format exists. The thoughts offered by these players, though, almost paint a picture in relief—you can see the contours, and that at least gives you the shape of the problem.
It's also what makes it so intriguing, and so timeless. To excel at match play is to solve a riddle, but one that can be asked a thousand different ways. Momentum, aggression and strategic intelligence are part of the formula, but in the end there's something even more subtle that the best players master. It's our good luck that even if they have trouble explaining it, the results of their genius are easy to see, and a joy to appreciate.
As Spieth said: Let's have some more.